*Note: some links may contain affiliate links (meaning if you end up purchasing something when you click on the link then I may get a commission on it, with no extra cost to you, of course). For more information on what this means, visit my disclosure page.

The Ultimate List for Baby Registry Must Haves
Are you currently pregnant and trying to fill out your baby registry, making sure you add all baby registry must haves to it, but are maybe unsure what to put on it?
Whether you're a first time mom-to-be and having a full on baby shower, or maybe it's your second or third child and you're just having a little baby sprinkle party thrown for you; you'll want to make sure the items below are items you already have, or go create a registry on Amazon right now and add them to your list!
Don't worry, I'm not just a first time mom-to-be sharing what I'm putting on my own registry; I'm a mom of two with a third on the way. So, I know a bit about what you actually need, what you should have, what would be nice to have, and then those fun things to put on your registry to help you create the adorable nursery you've always dreamed of.
Since I'm about to have my third baby and have been daydreaming about what I'll need and what would be nice to have for the new baby; I thought now would be a great time to put this ultimate list out there for you, too!
(We moved cross country when our youngest was a year old, and only brought with us what we needed at the time, she's now three. So, we have nothing we need for an infant, well we may have a few things, but barely anything at all.)
And, with this being our third child, I have a pretty good idea of what I'll need and want, and what mothers in slightly different situations will need (and end up badly wanting) after their baby is born!
Currently, I get to be a stay at home mom, but I worked full time for my youngest daughters first year of life; I know what will appreciated by both working moms and stay at home moms, slight differences, but still a few.
And, to take into consideration that not everyone can afford everything you may put on their registry, or would hope to get; this list of items are listed by price, lowest to highest priced items.
So, if this post pretty much sums up what you would put on your baby registry, feel free to share this post with friends and family, or copy and paste the url to your baby shower invites. (https://stresslessbehealthy.com/baby-registry-must-haves/)
And, don't forget to pin it to Pinterest, so you can find it easily after going through it, so you can refer back to it when needed!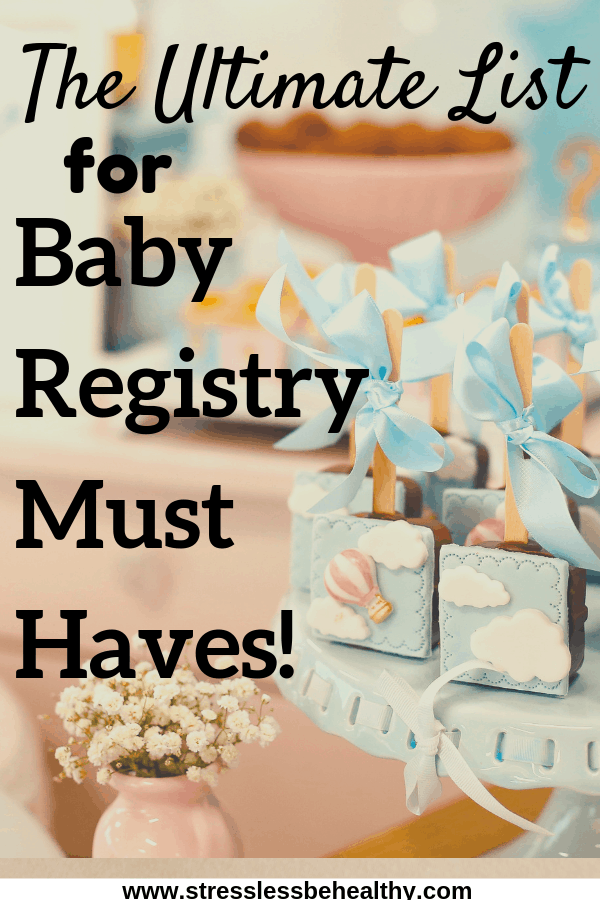 Related Posts:
Baby Registry Gifts Under $10
Most of us have friends and family who either can't afford much, or who love to bring lots of gifts to any party they come to. And, who's to blame them? Who doesn't love getting a gift bag full of little gifts.
So, this group of little items should be put on your baby registry. Just because they may be small or inexpensive, doesn't mean they aren't super useful!
Some of these items are even on my NEED to have list for newborns.
Baby Clothes
A lot of your friends or family may have hand me downs from when their kids were babies that they're just dying to get rid, so let them! Or, there are places to go, like a clothing closet or somewhere like Once Upon a Child; you can get some really cute, maybe even brand new, baby clothes under $10!
But, for cute baby clothes in regular stores, the price will probably be at least a little over $10, even at places like Burlington Coat Factory. And, if they go to other places, like Kohl's or other department stores, they may be looking at an even high price tag if the clothes aren't 'on sale'.
Honestly, I got a lot of hand me downs and clothes from the clothing closet (run by the church most of my moms side of the family goes to, half the time one of them is running it anyways, it seems like) for my first daughter.
I did not mind at all! It just meant that I knew I'd have plenty of extra clothes to change her into and wouldn't have to wait for the laundry to be done to change her, in case her diaper exploded or spit up on everything. Seriously, she must have gone through 5 to 10 outfits a day as a newborn; I actually was amazed when she wore the same outfit all day long for the first time!
Whether you are hesitant to put this on your baby registry or not, or want it or not; add it anyways!!
Some parents may be hesitant to give their babies a pacifier, especially first time parents. So, I get it if you don't want to put it on your registry. It may be that they don't want their kids to be using a pacifier til they're 4, or to not be too dependent on it. But, it's really not too difficult to break a child from using a pacifier. And, it will save YOUR SANITY and allow you to sleep for just a little bit longer, because pacifiers will help soothe the baby and allow them to sleep longer. This is super important, especially for the first couple months after the baby is born.
My youngest daughter would only ever take a NUK pacifier, but I know other brands are great for newborns, too, if they won't take a NUK. Like these pacifiers; when I worked at a childcare center (before I had my own kids), this was the pacifier that all the babies there had.
*Note: Pacifiers get lost often, and as I wouldn't suggest a pacifier clip as it could be a safety hazard, I'd like to note that you can never have enough pacifiers! With my last daughter we had to have one in the bedroom, one in her swing, at least two for the car, and one right next to me while I breastfed her.

If you're brand new to being around babies, maybe you don't know why they would need baby mittens no matter what season they are born it.
Well, after having your baby, you will soon realize how quick their nails grow and how difficult it is to cut them often enough! You'll realize this because they will either scratch you, or themselves. It's not pleasant, and no one likes to see their newborns with scratches on their face. So, make sure you add baby mittens to your baby registry; if you don't get them at your shower, make sure you pick some up yourself!
Babies don't wear shoes, let's just leave it at that. They just aren't practical, and hard to get on them without feeling like you're hurting them. However, they do need something on their little feet to protect them and help them keep their body heat.
So, make sure you put socks, like the ones above your list, or you could even find some shoe/sock combination, like these, if you really want it to look like they are wearing shoes.
You'll want to have little baby hats even if your baby is born in the summer time. They may not need to wear them all the time, but you'll be glad to have some on hand, just in case.
Like us, babies lose a lot of heat from their head, so to help them keep their body heat to themselves they need little hats. This is super important in the wintertime, and even so in the summer time. If you have to take your baby outside for any reason, you'll want them wearing a hat when very little; either to protect them from the cold, or protect their bald little head from the sun. Some hospitals will send you home with a baby hat, but I can't guarantee all hospitals do this.

All babies need to be bathed, eventually, and it can be such a fun time the first couple times. Many new moms, probably like you, want to take photos or a video of their babies first bath. But, what's even more important than how you capture the moment, is protecting their delicate skin.
Many people who come to baby showers may bring soaps and lotions for you baby, some stores make this super easy for them and tie everything together in a pretty basket or little bin. But, those soaps usually aren't doing any good for your little ones skin. I only trust Aveeno baby soap with my little girls. It doesn't have harmful ingredients like other commercial baby soaps do. So, make sure you add this to your list so friends and family know! (And, so you can keep track and make sure everyone doesn't buy you baby soaps and lotions you'll never use.)
Diaper Rash Cream
There are two types of creams I have tried for my girls for diaper rash that have worked, and I may try a third one this next time around. The first one is Angel Baby Bottom Balm, which I used to get at Wegmans, before I moved; you can sometimes find it on Amazon, but it's not always available. It may seem expensive, but it's 100% worth the money!
The second type is the one pictured above, which worked almost as well as Angel Baby Bottom Balm; it's also a little cheaper for a larger container.
You could use old wash clothes for your baby, but I always want to have new wash clothes for a new baby. They're fairly cheap, so anyone you invite can afford them. And, they seem to keep getting better over the years; strange, but true!
Adorable, and there's different animals to choose from! Not that you absolutely need new towels for a newborn, you could just use the ones you have. But, look at how cute this one is!
These nails clippers are the best! Super cheap, and great for someone on your baby shower invite list to order and add to another, bigger, gift on your list, like a diaper bag. And, to be honest, these won't only be used on your newborn; you'll end up using these on your child for their entire childhood, and possibly even yourself.
I personally use them on myself, I have tiny hands (like, my ring size is 4.5) and the 'normal' sized nail clippers always seemed huge to me; these are perfect.
If you're lucky, the hospital will send you home with one of these. However, it's not a guarantee, and maybe you're planning a home birth; you'll want to make sure you have one of these when your baby is born.
If they have any mucus in their nose, which most babies will; you can't just tell them to blow their nose, you need to get it out another way. And, although babies may hate these, they work wonderfully. At least the blue ones pictured above do, they are nice and flexible. I've tried a pink kind that came in a baby safety and health set, and it didn't work; it was too stiff. So, make sure you add these exact ones to your baby registry.
Babies will eventually be old enough to eat baby food, and when they do they'll need spoons to eat off of, and containers to hold their baby food in. The best baby spoons I've ever used for my girls are the ones that tell you whether the food is too hot or not. They also tend to be some of the cheaper spoons available now a days. These may even look like the baby spoons you used as a baby; there's no need to buy fancy spoons for babies, most of them don't work how advertised anyways. (I learned this the hard way.)
Everyone should have a bottle brush, whether expecting, have children, or don't. They come in handy for cleaning so many different types of dishes; obviously bottles, but also mason jars and water bottles, too.
This is a fun section to add to your baby registry! And, many items you add will end up being under $10. The chew-able key ring above is great, especially when your infant starts getting teeth; just stick them in the freezer for awhile and then hand them to your baby to help numb the pain.
Other great toys to get are any that are squishy, makes noise, can hang and link, and even little mirrors! Have fun with this section, just don't go too crazy!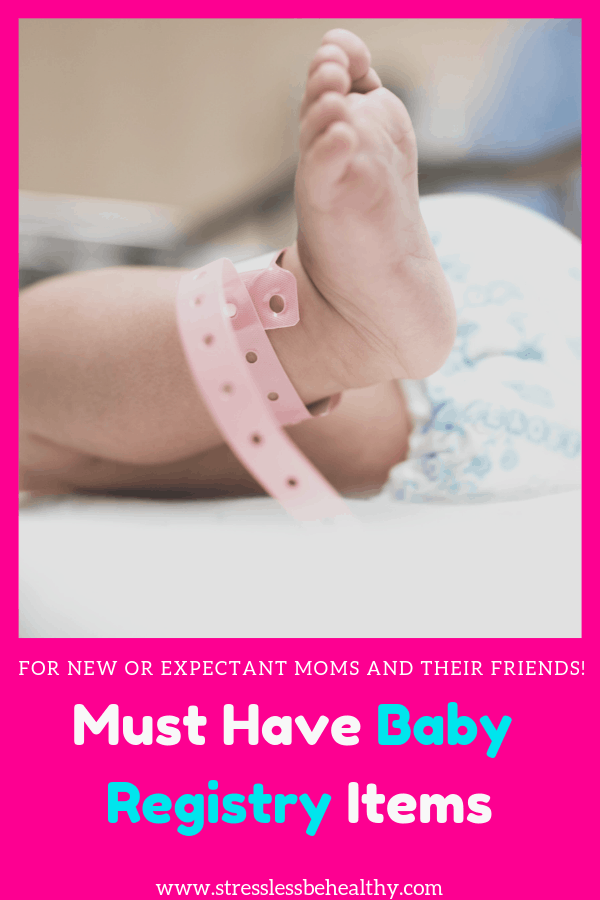 Gifts for New Baby Under $25
There will be many, many things in this category, and this will probably be the category that most of you guests choose from on your baby registry; unless they combine items together from the items under $10. Of course, you'll also have friends and family who want to get you bigger ticket items, as well. But, this category is super important!
These things are AMAZING! I didn't get one for my first daughter until she was about 3 months old and had a hard time staying asleep, which meant I didn't get much sleep. I can't say exactly, how much longer she slept while wrapped up in one of these, but it felt like double the time!
These swaddle blankets helps the baby stay confined, just like they were in their mommy's belly before being born. Plus, no having to do origami with regular receiving blankets and hoping they don't take their arms out and wake themselves up! So, if you care for your sleep or sanity at all; make sure this makes it on your registry!
Most baby clothes, whether you buy at the store or online, are going to be between $10 and $25, at least for the cute clothes or sets of clothing. And, honestly, the more baby clothes, the better. Babies go through SO MANY clothes when they are little.
But, make sure you put more than just the cute newborn sizes on your registry. Some babies don't even fit into newborn sizes when born, and if they do then they probably won't fit them for very long. Then again, some babies will need preemie clothing. Any clothing up to 12 months will be great to put on your registry, they grow so fast when little. I know my girls wore newborn clothes for maybe a week or a couple of weeks and then needed the next size up.
Now, what clothes will the baby actually need?
Some clothing items will depend on the season the baby is born in, but the basics are:
PJ's
Baby Mittens (any time of the year, these are to help prevent the baby from scratching themselves and others)
Dresses
Shirts/ Pants or Shorts
Shoes (optional- these are more for the baby to look cute in and don't serve a purpose other than that)
Babies tend to live in onsies and pj's when newborn, and if they don't need to go out of the home. Just make sure that all the clothes you get are easy to undo for diaper changes. I just saw the other day a friend on Facebook, who's a new mom, complaining about how difficult, or annoying, it is to have to unbutton and button up clothes just to change a diaper. So, maybe more pj's with zippers, instead of buttons!
It's sometimes hard to guess what type of bottle a baby will actually take. It'll depend on whether the baby is breastfed or bottle fed most of the time, and whether they have colic or not. My cousin recommended Tommee Tippee to me for my first daughter when I was trying to find a brand that worked, and it was a hit. That was the only brand she would take!
We tried the same brand for my younger daughter, and she would not take it. Both girls were breastfed. My younger daughter would only take NUK or Avent bottles. It can be a challenge sometimes to find the type of bottle a newborn baby will take, but once it's found, the mom-to-be will be so thankful!
A bottle warmer is completely optional. However, if you're not breastfeeding, or if other people will be feeding your baby; having a bottle warmer will be super helpful for them. No one wants to wait for water to boil on the stove to warm up a bottle for a hungry infant! And, you CAN NOT heat up a bottle in the microwave; just don't do it, it could scald your baby's mouth because of how unevenly it heats up!
Every baby needs a bathtub, the one you put on your registry will be up to you. There are super simple ones, cushion type things to use to give them a bath in the sink, or ones that are spa-like and such a luxury you may even be jealous! The one above is the tub we had for our oldest and we loved it! It has the three pieces you can see; the blue piece is a stool, which is super useful when they are toddlers and learning to wash their hands and brush their teeth.
All babies need diapers; A LOT of diapers! If you plan on using disposable diapers, it may be a good idea on your baby shower registry to have everyone coming bring a pack. (Put on there to bring sizes newborn to size three. Babies grow quickly and stay in size three the longest; at least in my experience.)
If you choose to use clothe diapers, make sure you put these on your registry! You could do the same thing as with disposable diapers and have all guests bring a pack, that way you'd be set. However, you won't need as many of these as you would disposable diapers. So, it's really up to you.
If you choose to use disposable wipes, if one person on your registry gets you a large pack of wipes like the one above, you should be set for a little while. Or, at least for a couple weeks, depending on how your baby adjusts to eating and how many blow out diapers they have!
This isn't a need per se, but if you have a home with multiple levels, this will come in very handy!
Some babies have really sensitive skin, and you don't want to find out the hard way. Just to be safe, put these on your baby registry and use only this type of detergent for the first couple months of washing babies clothes.
I may be a bit biased, but I love silicone products for my kitchen, like these silicone baking cups
. If you are going to be making baby food for your little one once they start eating, then you will need these, or something similar. This way you'll be able to batch make baby food, freeze it, and not ever have to worry about running out. This will be useful whether or not you are going back to work. You'll also need something to make the baby food with, you can check out my recommendation on that below (for items under $100).
This set is also great because it contains little containers for the baby food to be in, in the fridge, for the food the baby will eat that day. Although I don't recommend the baby bullet for making baby food, the little jars it comes with are perfect for storing baby food in the fridge, and they fit in most bottle warmers to quickly warm up baby food without having in warm uneven in the microwave!
Depending on the amount of bibs and burp clothes you get in a package, it's certainly possible to get these under $10. But, the pack above is just over $10 and includes both. So, I'd say it's a great buy. Plus the colors are really cute for girls, try these for boys!

If you not planning on co-sleeping with your infant, you may want to add these to your list. And, you'll want to make sure you have at least 3-4, just incase your baby wets through or has diaper blow outs during naptimes.
This isn't an absolute need, but you will regret not putting this on your baby registry. My second daughter didn't get a super soft baby blanket of her own when she was an infant; it went straight on her Christmas list for her first Christmas!

Babies need a safe place to be when you're holding them; as much as you want to, you can't hold your baby 24/7 when they are awake. Plus, the bouncing/vibration of this seat may help to calm them down if they won't stop crying!

Babies need stimuli, not too much, but some. When you start putting them on the floor (to find out what that's all about), they'll love to look up and attempt to grab the toys above them!
You will want to put this on your registry whether it's summer or winter when your baby is born. It will protect your baby from the cold in the winter, and the sun in the summer; it may even help them sleep better when out if they can't see anything!

This is a little thing that will make you feel more comfortable driving with your little one in the car. I still constantly look in the rear view mirror to check on my girls to see what they're up to while I drive, and my older girls are 3 and 6!


When I had my first daughter, the shopping cart covers were the only thing available to protect her from all the germs on shopping carts; and she obviously couldn't use it til she was able to sit up. Now, they've invented a shopping cart hammock to use with younger infants and not take up as much space in the cart; at least not as much space as putting their whole carseat in the cart!
You'll at least need electrical outlet plugs, something to keep lower cupboards closed, and guards on any sharp corners in the home.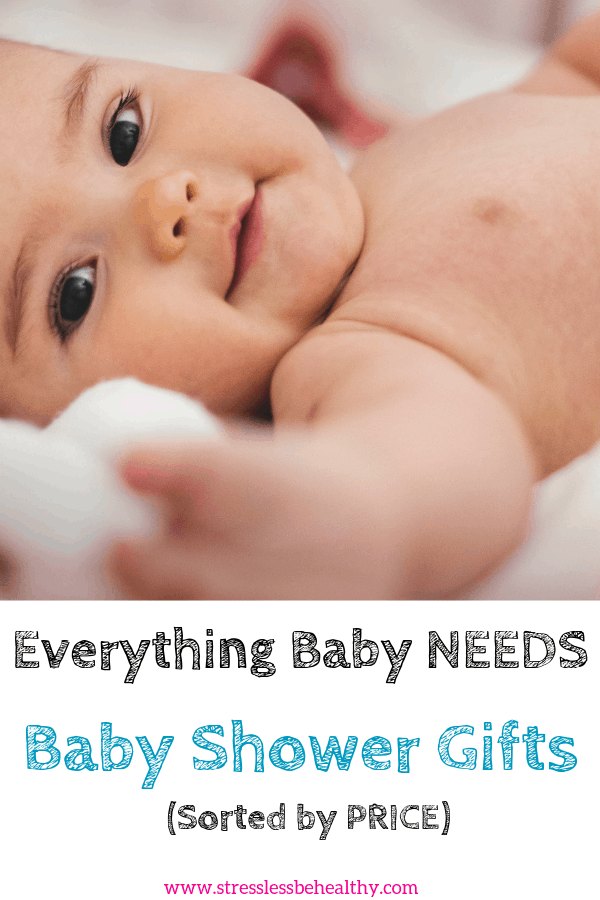 Gifts for Newborns Under $50
Many gifts for baby and mom-to-be will be in this category.
You can add these two items separately or together, either way it'll be just under $50; that is, if you're adding a good quality boppy pillow to your baby registry. There are other brands for this type of pillow, but I've always had, and loved my boppy pillow for breastfeeding. This is also the brand that was suggested to me by the lactation consultant who visited my room in the hospital right after I had my first daughter.
And, it sure beats having to prop yourself up with pillows and blankets. Your back and shoulders will hurt enough as it is while adjusting to holding a newborn for so much of the day.
It can also be used to help baby sit up a little when they are slightly older. (This is actually one item I still have from when my girls were infants, they still like using it just as a pillow. The one we have is pink and has a butterfly on it, maybe that's why my second daughter is obsessed with butterflies!)
Which one you will want will be a personal decision. There are many, many different kinds of baby wraps or carriers available. A baby wrap, like the boba wrap pictured above, are for moms who will be wearing their babies often (and aren't scared of something that will take a little practice to put on). There are other wraps available that aren't as complex, but I personally have this one and love it, but didn't get to use it as often as I would've liked, because I worked outside the home.
On the other hand, you can check out the recommended baby carrier here, which is very similar to the one I used for both of my girls, it looks like the only difference is the coloring. This is useful for long walks outside the home, not necessarily for newborns, though. I also remember, but do not recommend, wearing my oldest daughter with a baby carrier while helping my husband move our couch from our apartment to the moving van when we were moving back to New York from Florida. (She was about 10 months old.) So, it's very useful to have and much sturdier than a wrap. But, again, you may have your own preference.
There are tons of options for diaper bags now-a-days, and this should absolutely go on your baby registry. Just be sure to add the one YOU like to it, so someone doesn't buy you one that doesn't fit your style or preference. You'll find some that look like baby diaper bags, purses, or even bookbags; so think of which would be best for you and add that one. Just know, when you go out with your baby, you'll most likely have it double as your purse, too.
This is the one I had and loved! It's completely waterproof, and to be honest, you don't really need a cover on it. But, if you want it to match your child's nursery, or don't want to worry about your child being cold when laying on this; then go ahead and grab some changing pad covers, too!

Whether your co-sleep, or just plan on the baby sleeping in your room for the first couple of months; this would be a great item to put on your registry. It's absolutely possible to get one under $50, and you may feel better for the first few months (and sleep better) with your baby in the same room as you. Plus, some, like the one above, have a shelf underneath to store things you'd need in the middle of the night; extra sheets, clothes, swaddles, diapers, wipes, pacifier, etc.)
This isn't an absolute need, but babies do love listening and looking up at these. They can match the nursery you put together for them, or simply add it to your list to put on a crib or pack'n'play, to help them fall alseep.
Simple swings are the more affordable options for baby swings, but the market is starting to be overtaken by the luxury baby swings that swing every way possible! So, if you want one of these, click on the image above to add it to your registry!

You may, or may not, want to have one of these for your infant. There has been some controversy on whether they help babies learn to walk or not. In my own experience, both my girls used one and they both learned to walk by a year old. My second daughter was walking before 9 months!
Most toy boxes or organizers you'll be able to get for under $50, unless you want a personalized one for your infant with their name on it.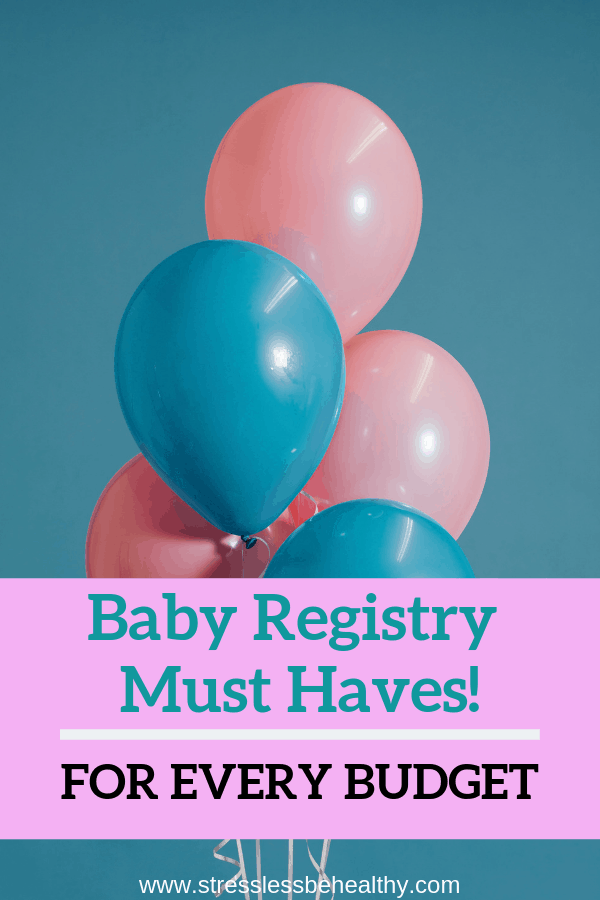 Gifts for Mom-to-Be's Under $100
If you are going to be going back to work after having her baby, and you plan to breast feed, you will NEED a breast pump. I know at least some states require employers to have a dedicated room for new moms to use to use their breast pumps
, and cannot deny a new mom time during the day to pump. I worked in New York when I pumped at work, so I know it's required in that state.
This specific breast pump is the one I used for a full year, and it worked great. Notice how it's in the category for under $100! There are certainly more expensive double breast pumps you can get, but this is the one I trusted and used. And, my daughter exclusively had breast milk until she started eating (homemade) baby food. We never substituted in formula. However, we did have a freezer full of breast milk at all times, I didn't want there to even be a chance that we would run out; I started pumping and storing milk a couple weeks after my daughter was born so that we'd have a stockpile before I went back to work.
If you're not going back to work, but are still breastfeeding, you can get a breast pump to pump one side at a time (still electric) for under $50. That's the kind I used with my first daughter when my schedule was weird because I worked part time and was finishing up my degree. Unfortunately, the specific one I used with my first daughter is no longer available, but was only $20-$30 from Burlington Coat Factory. I'm not sure how the other ones compare, because I haven't used them.
Alright, so a nutribullet isn't technically a baby food maker. But, it works a whole lot better than a baby bullet does; I know from experience. Plus, this will help you improve your health, as well.
If you can see in the picture above, it comes with two blade options. The one with one blade is called a milling blade; this can be used to grind rice, oats, or another grain to turn into baby cereal. The other blade is great for purees, or smoothies for you! This is something that will be used for years to come, too, unlike a baby food maker specifically designed for baby food.
The high chair my husband is set on getting this time around is pretty neat, and just under $100; but you can certainly get one under $50 depending on the type you get. Go ahead and browse amazons selection, or you can check out the one my husband wants here; it grows with the child!
The highchair pictured above is similar to the one my husband wants, but more expensive. So, for this one product, if you want to get one that grows with the child through toddler hood, and not spend over $100; Amazon may not be the place to get it.
This is the new version of the bumbo seat, which doubles as a booster seat. My first two girls had the old version, and it was great! I used to bring it with us to my moms when I knew they would be eating something there; kind of like a portable highchair. I guess bumbo figured out people were using it for eating and decided to improve it!
This is not an absolute need. (Although, I was able to sit cross-legged on the floor to change my girls diapers right after I had them.) It may be a nice thing to put on your registry if you are setting up a beautiful nursery; or feel it may be difficult to sit or bend over a bed for the first couple of weeks after your baby is born, to change diapers.
If the baby will be sleeping in a crib, rather than a bassinet, they'll need a crib mattress. Which also doubles as a toddler bed mattress; so it'll be useful even you end up co-sleeping with their child til in a toddler bed, like my husband and I did.
Or, for something a little thicker, you can get this one. Both have been added to the recommended baby items list here. This is great for tummy time for babies, which they will eventually need to have.
We had this one with our first two girls
. It's nice to have for infants who can already sit up, or crawl; a safe place to put them while you get stuff done, so you don't have to worry about them getting into things.

I have never personally used a baby monitor with my girls; I'm the type of mom who likes being in the same room as them while they sleep. But, this baby monitor is a best seller on Amazon, so it must be pretty good.
Who doesn't want to get a gate set that reminds them of Rugrats? Click on the image above to add it to you registry on Amazon, or if you need a simpler gate; one to keep your little one out of part of the house, or at the bottom or top of the stairs, this is the one we have.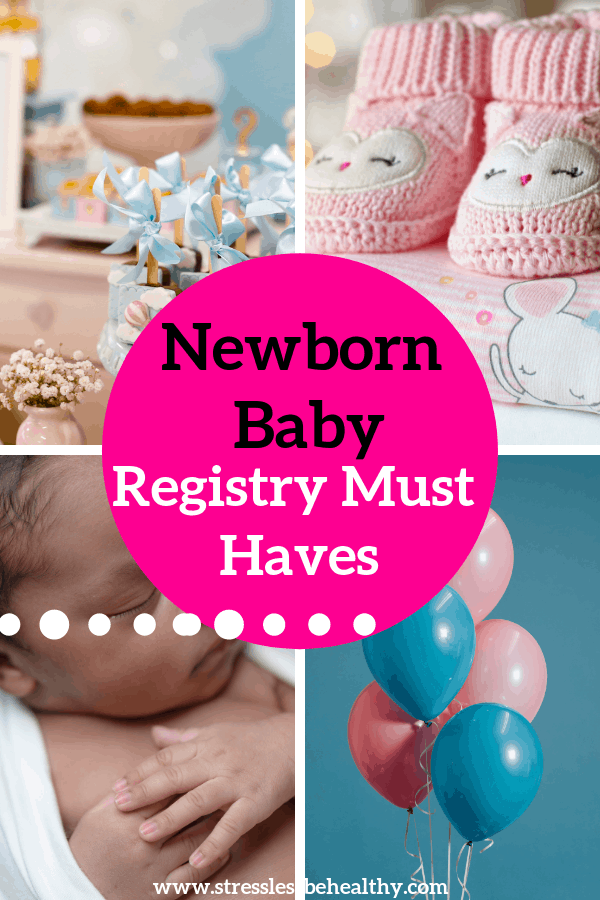 The Best Gifts for Baby Showers over $100
Mom-to-be's will be ecstatic to get a big ticket item at their baby shower!
If you can't afford one of the items below yourself; consider pooling together some money from others invited to the baby shower and buy the item as a group! Even if 10 or so people can pitch in $20, that'll be enough to get a much needed baby item!
If you want to go all out, I think the crib pictured above is absolutely gorgeous! If you need a more affordable option, check out the selection on Amazon. There are certainly some cribs that are closer to the $100 mark than the one above.
Just make sure this is something the baby will need before ordering it; some parents, like myself, co-sleep and have no use for a crib. You'd be better off with a bassinet or pack-n-play with a bassinet feature.
Also, make sure any crib you decide to use for your infant meets crib safety standards, many old ones may not. So, don't think right away that you can get away with a hand me down for cribs.
If the baby is going to be co-sleeping most nights; then a pack n play with a Bassinet feature would be a great alternative to a bassinet. The infant can use it to play in when able to sit up; it can be a safe place for the baby to be when not being held. And, if you get one with the bassinet feature, the one I had came out and could be placed on the floor and rock; perfect for placing baby right after they fall asleep and you actually want to get stuff done!
Or you could get a carseat first, and then realize you need a stroller and hope they fit together.
The one above is the type my husband wants since it drives better than normal strollers. Plus, the one pictured above is actually quite affordable compared to other strollers, whether jogger strollers or not!
For a good quality dresser, you'll likely spend over $100, actually more like around the $200 mark. I never used one for my girls. Instead I stored their clothes under the changing table we had, or in a drawer in my dresser. If you do opt for buying this for the mom to be, or putting it on your own registry; look for one that can double as a changing table, many do!
Items on Your Baby Registry Won't always be Brought to a Baby Shower
Baby showers are meant to be fun and help prepare you, to well, be a mom!
But, don't expect to get all the items a new baby will need at your baby shower. There will certainly be some items not brought, and you'll have to buy those yourself.
If you want to know what a baby absolutely needs when born, to get the most needed items; check out this post.
Most of the items I had for my first two girls were hand me downs, especially the clothes! So, don't feel offended if you get hand me downs at your baby shower. There's a good chance those hand me downs will save you hundreds of dollars! (Other hand me downs we got were: a crib, mattress (it was never used), changing table, baby swing, walker, and more! No complaints here!)