*Note: some links may contain affiliate links (meaning if you end up purchasing something when you click on the link then I may get a commission on it, with no extra cost to you, of course). For more information on what this means, visit my disclosure page.
The Ultimate List of Best Gifts for Bloggers 2019!
Sometimes, we know exactly what to ask for as a gift; other times we don't. That's why I put together a list of the best gifts for bloggers. So that you'll know what to ask for as a gift, to help move your blog and business forward.
Others, who aren't bloggers, may not understand the passion that goes into blogging, the fact that we love this thing that we can help others with. So, they may not know that what we want, for say Christmas gift or other holidays, are resources to help us and our blogs grow.
So, check out the gifts below and feel free to share this list with your blogger, and non blogger friends. Everyone needs gift ideas for the holidays, here is the gifts that bloggers would like!!
Don't forget to grab the gift tracker below, you can fill it out on your phone, tablet, or computer; no need to even print it out!
---
Related Posts:
The Best Blogging Resources That Will Actually Move Your Blog Forward!
What YOU Really Want: Gifts for Stay at Home Moms
The Best Christmas Movies for Families to Enjoy Together
---
Want to Remember This? Pin The Best Gifts for Bloggers 2019! to your favorite Pinterest Board!!
The Ultimate Bloggers Christmas List
Hosting for WordPress Bloggers
Hosting for my blog was the first Christmas gift for my blog that I was given.
It's actually what allowed me to start blogging!
So, even if hosting may not be a 'normal' gift to give, and can be costly because it generally needs to be paid for at least a year upfront; it's one of the best gifts a blogger can get, as it enables their blog to stay alive, for at least another year. If one person can't afford this as a gift, consider having multiple people pitch in for it!
If it's the first year of blogging, then pricing won't be so bad, I'd recommend SiteGround, which you can get 1 year for under $100 (including domain name and some security)!
Schedulers
Us bloggers, we love our schedulers!
They save us time, give us back our sanity, and prevent us from being consumed by social media 24/7.
Plus, as mom bloggers, we wouldn't get much traction for our blog traffic without them; we can't be attached to our computers or phones all day long. We're first and foremost moms, and if you don't have a sitter or nanny to watch your kids, then you simply can't know you'll have time during the day to post things on Pinterest or Facebook, or anywhere else for that matter!
Here are some helpful schedulers you may want to ask for:
Tailwind
– the best Pinterest scheduler out there! This is the only scheduler I personally use. (Use the link in this post for 1 month free!! And then I'd recommend asking for a year of Tailwind as a gift, which is the way I pay for it for myself; it saves you money in the long run and you don't have to worry about
1 more
monthly expense!)
Other social media schedulers I've heard good things about:
Like mentioned before, the only scheduler I use is Tailwind, I've only heard good things about the other schedulers on the list above, so I can't personally vouch for them.
Other Blogging Tools
Let's face it, without tools to help us do our jobs, well, our jobs wouldn't be very easy or even really possible. So, let's take a look at some of these other tools that we could ask for as gifts to help lesson our financial burden of growing a business!
Email Service Providers
Having someone else give us bloggers the gift of paying for our email service provider is like someone else investing in us, or believing in us. Which is much better than just having someone give us money to use on whatever we feel we want or need. If you're a new blogger, the companies I'd recommend are:
There are other email service providers, as well, such as Drip and Aweber. But, I've used both Convertkit and Mailerlite and know that they have the features that bloggers need.
I currently use Mailerlite, which is free to use up to 1000 subscribers. They recently added a new feature to allow it's users to set up an automation (sequence) for each form you create within the editing section of the forms. Which makes it much more convenient to nurture each subscriber based on what they specifically signed up for, instead of a generic welcome sequence.
So, if you use Mailerlite, this wouldn't really be a gift until you have over 1000 subscribers.
Selling Products We Make
If you're further along in your blogging journey and have started creating products for your audience, then you may need some of the tools below. Some can be paid annually to reduce the price, which would be a great gift!
Some of these products are:
Bundles of Blogging Resources
Throughout the year, you may see bundles of blogging resources selling for really cheap.
The most popular ones that I know of and have been going on for a few years are The Genius Bloggers Toolkit (which is going to be on sale super soon!) and The BC Stack. I've bought both in the past, and I will always buy The Genius Bloggers Toolkit! There are some super exciting resources in it this year! Being an affiliate, I may get early access, and may have already gone through a course or two – so worth the investment!
With these bundles only being available for a short time out of the year, you may not think of them as being good gifts for Christmas. However, they make amazing gifts, and at a great price, too!
Simply ask for an early Christmas present, I guarantee you will still be going through it when Christmas rolls around!
Send this link to whoever wouldn't mind buying you a blogging gift here, when on sale: The Genius Bloggers Toolkit 2019
Ebooks
There are so many different types of Ebooks that us bloggers enjoy; from self improvement, blogging strategies, productivity, and so much more!
Here are some of my favorite ebooks, as a blogger:
Courses
The same goes for courses. Here are the ones that have helped me grow my blog:
Cute Office Supplies for Moms Who Work at Home (AKA Blogger Gifts for Her)
Sometimes, as a blogger, you may actually want physical items, such as items to help you stay organized or simply things that make you happy!
These would be the 'normal' type of gifts to ask for for Christmas. You know, like cute office supplies, mugs, water bottles, and more to keep in your home office (whether it's an actual office, or simply a favorite seat on your couch!).
This is the planner I personally have and would recommend to any woman, not just bloggers! This would be a great gift to ask for, it's pricey enough to be a nice gift, but not too much that others wouldn't consider gifting it to you.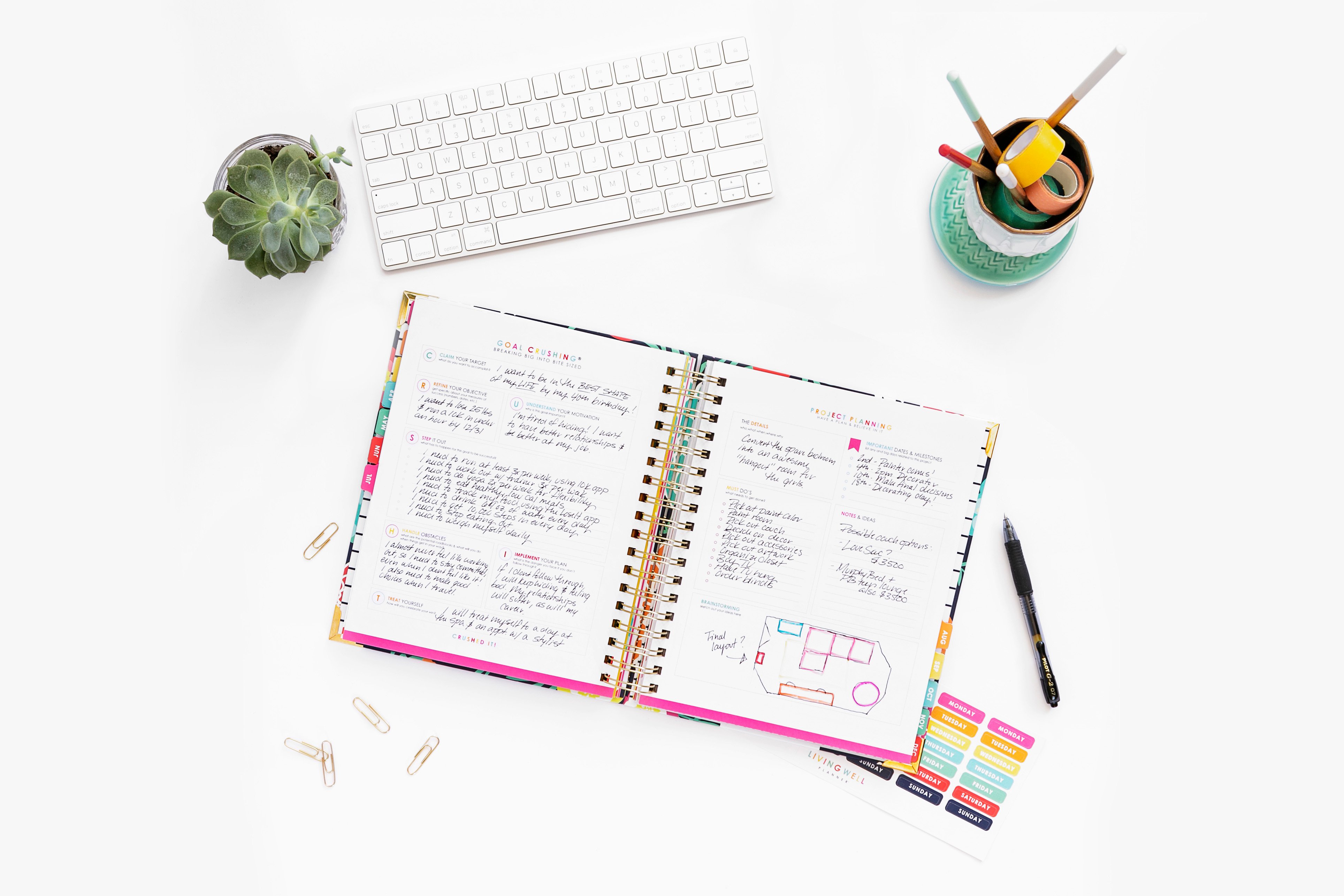 Desk Organizers

Sometimes it's nice to have something to drink out of that shows you are a blogger. The #doitscared movement was started by Ruth, the creator of the Elite Blog Academy and is a very successful blogger, herself!
And More!
Sometimes it's nice to have something to wear that shows you are a blogger. The #doitscared movement was started by Ruth, the creator of the Elite Blog Academy and is a very successful blogger, herself!
They say video is the future of blogging. (As an introvert I'm not a fan of this, but understand why it is this way.) So, I don't personally have a ring light, but watching others use one, I know how useful they could be! Click the link above to choose the one you like best to ask for.
Speaker
(for music if you enjoy listening to music while you work)
Comes in handy if you're trying to listen to podcasts or a course, especially while caring for kids. It's not as easy for them to yank out of your ears!
Practical Gifts for Bloggers are Practically Unlimited!
Just like with almost everyone else, there are almost and infinite amount of gift ideas for bloggers; from digital to physical products, maintaining or growing your blog to helping you be happy in your own work space.
What you ask for is up to you, but the gifts above would be true gifts for any blogger at any stage.
And, yes, I've barely scratched the surface above (I didn't even get into asking for a camera as a present), but there is something above that I'm sure you would love to receive as a holiday gift!
Feel free to share this post and put in the comments what you would like for gifts as a blogger!