*Note: some links may contain affiliate links (meaning if you end up purchasing something when you click on the link then I may get a commission on it, with no extra cost to you, of course). For more information on what this means, visit my disclosure page.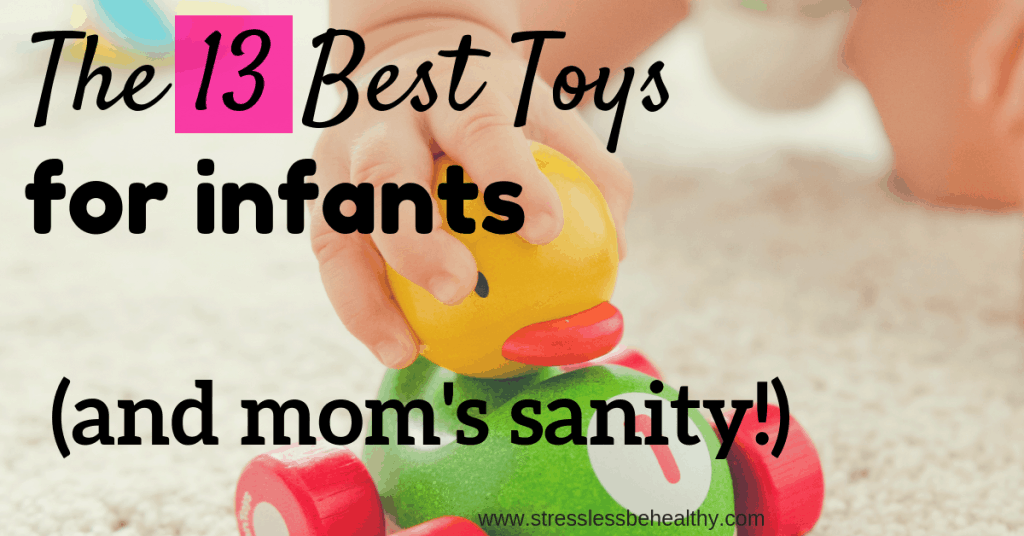 The 13 Best Toys for Infants (and YOUR Sanity!)
Babies love toys! In fact, babies need toys, to a certain point, to learn and help them develop. So, which are the best toys for infants?
There are so many to choose from and it can certainly be overwhelming to choose, especially if this is your first child and your a new mom.
How do you know which ones are worth the expensive price tags, and which ones you can buy cheaper?
Which ones will your baby like?
How do you know if your infant is getting the stimuli they need to develop all their senses, fine and gross motor skills?
Do newborns even need toys?
Those are the questions you may have been asking yourself. And, to answer a few of them, check out the list of the best toys for infants below, including why each type of toy is important! (Whether it's for your infants development, or for your own sanity as a mom to a new baby!)
---
Related Posts:
The Best Frugal Cheat Sheet For Things You NEED For a Newborn
The Ultimate List for Baby Registry Must Haves
The Best Newborn Clothes Checklist
---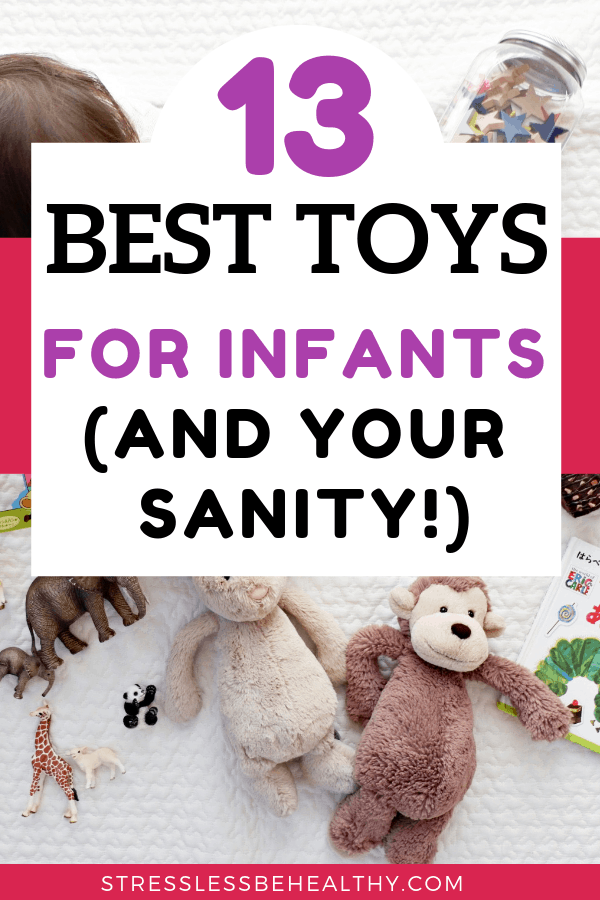 Babies love these!
They love trying to grab or hit the little toys dangling down or look in the mirror. All of which are important for development, for fine motor skills with trying to grab, and social awareness when they see another baby in the mirror (when really little they don't know it's them in the mirror yet).
These toys also provide great incentive for your baby to roll over when you start giving them tummy time!

This is a safe place for your baby to be when you're not holding them.
Unfortunately, you can't just hold you baby 24/7; you'll eventually have to go to the bathroom or get something to eat.
It's not easy going to the bathroom (postpartum) while holding an infant!
A bouncy seat may even soothe a crying baby.
Another safe place to keep baby when not holding them.
Some swings will sway them front, back, and side to side; helping to soothe them as if you were actually holding them. I don't think I'd ever want to fork over the money for a swing like this, but that's the kind my husband wants this time around.
And, some even have toys that dangle down for baby to play with while you clean up a little or make yourself something quick to eat! Being great for your sanity and motor skills!
These are not meant for newborns, and your infant will need to be able to sit up before using one of these. I bought one of these for my oldest daughter when she was 3 months old and she was too small for it. So, just know you won't need one of these right away.
But, infants absolutely love these and all the stimuli they provide! My daughters did, and so did all of the little ones my mom watched at her home daycare while I was growing up.
It also helps them start to develop their leg muscles by being able to tough the bottom and and push themselves up. And, it's another safe place to put your infant!
My girls love jumpers!
Jumpers help little ones build up their leg strength, which will help them eventually walk. Just be sure it is very secure before placing your infant in it. This is another one where your infant will need to be sitting up before using it.

Walkers are for infants a little bit older than just sitting, such as when they start trying to stand up with the help of a couch or something else. But, it will help them get the feel of what it would be like to walk, and also help build their lower body strength.
It will also help them build independence and confidence by being able to get where they want to go faster! Be careful of your toes once they get good at moving one of these!
These are safe for babies to put in their mouths, and babies are always putting things in their mouths once they figure out how to!
They're also great for infants starting to get teeth, which is why they're called 'teethers'. Be sure to get ones like these that you can place in the freezer and give your little one to help with their sore gums. These little toys, that you can get for under $5, can be a sanity saver as they will stop your little one from screaming or crying while teething.
Reading books to your child starting from day one can help with their imagination and language skills…supposedly.
I honestly believe in the theory from cognitive  psychology that children's memories don't start forming until their language skills are a little more advanced; like 3 to 4 years old. So, while it may help slightly with their language skills, spending the time with them and 'playing' with them with books is more of what it will be like. Getting soft or chewable books are best for infants.
Music is soothing, for both baby and mom. It can help decrease stress and anxiety, which is great for new moms who may be worrying whether or not they are doing a good job. (Don't worry, you are!)
Music can also help babies fall asleep, meaning mom can sleep, too!
Once babies are able to pick things up and move them; they will love any toys that make noise when they move!
They are learning how the world works, so any toys that will 'react' when they do something to it is great for their learning and development.
Plus, these toys are the best at distracting babies when they are cranky or crying.
Toys that have different textures to them are great stimuli for infants! Plus, they may be distracted by it for a minute or two if you need to run to the bathroom or get more water.
Babies love music and looking up at things. Plus, mobiles will help your little one calm down and possibly fall asleep.
These can help distract your infant for a few moments, or longer, so you can run to the bathroom or grab something to eat!
Stuffed animals are super fun to buy for infants!
You may even have one picked out that you want to be their favorite one.
But, believe me when I say you should limit the number of these they have; they add up fast and can take up quite a bit of room with a large collection. My girls have so many, it's not even funny anymore.
For as much as babies love toys, it's ultimately up to you and will depend on your unique situation which baby toys your have for you infant. Whether you have room (or budget) for the larger equipment type toys, or simply space for just one and a bunch of small toys. But, to wrap up this post, here's a checklist of everything above!
Checklist for the best toys for babies:
Use this as a guide.
What toys you choose to have for your infant can be a personal choice and up to you, your household, and your infant; use your mama instincts and go with it!
The toys above will help with your baby's development list, and if you don't buy them yourself before your baby is born; you can always add them to your registry and hope you get them!
Don't forget, you can print off this checklist, along with other checklists for infants, right here!
Want to be super prepared when it comes to tracking what your infant does and when, such as their firsts and going through developmental milestones? Grab these baby tracker worksheets!
What do you think are the best toys for infants?