*Disclosure: some links may contain affiliate links. For more information on what this means, visit my disclosure page.
The Complete Cross Country Road Trip Packing List (with kids)!
About a year or so ago, I had to pack for a cross country trip. I know, that doesn't sound very exciting, but it wasn't just any old trip; my family moved from one coast of the U.S. to the other. Myself, my husband, and my two little girls.
It was quite an adventure…and I love making lists, so of course I have a list of everything I planned on packing for inside our car for the trip over. For our four day trip!!!
And since the trip is now complete, I also have the knowledge of what we actually used and what simply took up valuable space, and space was valuable….I had bananas on my lap for some reason during the whole trip and no foot space (no one wanted to eat bananas…).
We should have invested in a car top carrier like these! It would have made the trip so much better…at least for my legs!!
The LIST
I will start off with the list I made myself of stuff to pack for the ride from coast to coast for my family of four.
This will include basically clothes and food for 3 to 5 days, which is the length of time I expected this journey to take. (Good guess, right?)
Clothes
5 outfits per person (includes shirts, pants, socks, underwear, etc.)
2-3 sets of pj's per person
Miscellaneous
diapers and wipes (for my one year old at the time)
paper towels
thermometer/ bandaids (or basically, a whole first aid kit)
plastic bags for garbage in car
plastic bag for clothes that will need to be washed after trip
chapstick(so important, couldn't live without my burt's bees chapstick on this trip)
hand lotion for dry hands
ziplock bags
hand sanitizer
blankets
pillows
stuffed animals/ dolls
toys/ tablet
Bathroom Bag
brush/ hair ties
contacts/ contact solution
glasses case
deodorant
body soap
shampoo
bath puffs
Food and Drinks
water
gatorade
peanut butter
jam
bread
cereal
bananas
cliff bars or other types of similar bars
crackers
cheese
pretzels
cute packaged snack packs for kids with fruit and pretzels/cheese
home made muffins/ healthy cookies(or muffins from wegmans)
toddler squeezable packets
goldfish crackers
peanuts/cashews
This may look like a lot, but in reality, when it's all packed up, it's not really a lot, at all.
Although, it also was not followed exactly how I planned it, either.
For example, the cute snack pack things for kids with the fruit and cheese and pretzels or crackers were more expensive than what it showed online. So, I just bought packs of pre cut apples, a whole bag of pretzels (which lasted a whole week after the move, my girls loved them), cheese sticks, and grapes. I also didn't buy peanuts or cashews, but we did fine without those. Other than those, everything else was packed(except for pillows, we didn't have room for those, now we have comfier ones).
Get the Ultimate Moving Planner!
This is the moving planner I wish I'd had years ago while moving with kids, and will be using again the next time my family moves! Be sure to check it out HERE, I love how I can easily fill it out online and print just what I want, or simply keep it updated on my phone. It's so easy to use!
What Did Not Work
Like I mentioned before, I not only made the lists and pack, but my adventure of being in the car for 4 days(…and stuck at the top of a mountain for 4 hours on the last day with everyone needing to use the restroom) is now over!
So, let me tell you what didn't work from my lists!
As for the clothes, it's not that there was anything wrong with the clothes, I just over packed.
We also could've done some more decluttering of our stuff, because even after getting rid of half our belongings, all of our stuff still didn't fit in the trailer we rented.
Some of it had to ride over in the vehicle with us! Which is why we didn't have a lot of space, and I had no foot space. (I did, thankfully, have more space than I did 5 years ago when we moved from New York to Florida….you don't want to know!)
So, that cute diaper bag I had packed with mine and the girls clothes in it for our first hotel stop; we didn't find it til we hit our final destination!
I also couldn't find the duffle bag that I packed our clothes in til the second night we stopped. Our stops at hotels weren't very long, either; just long enough for my husband and I to sleep for a few hours and shower.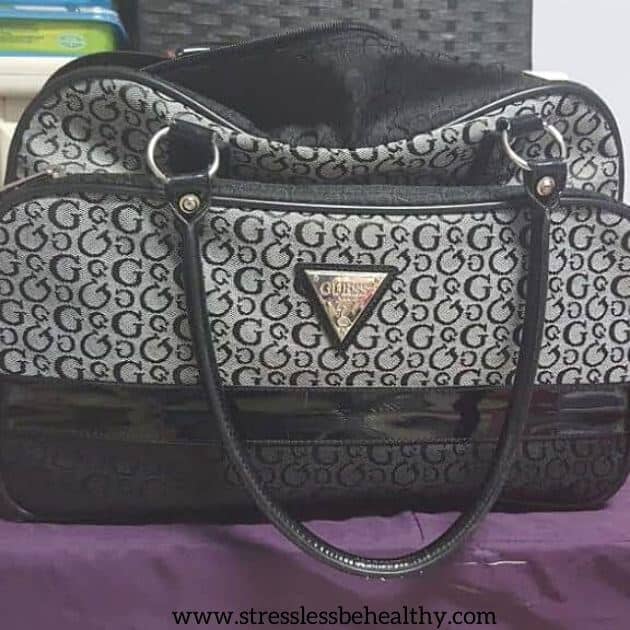 Plan for a bigger mess than you expect
So, the clothes list was good.
The bathroom bag was good.
Most of the miscellaneous stuff was good.
And, some of the food choices were good.
One thing not on the list that we brought for the girls however may have been a mistake…
…we brought crayons and a coloring book for our 4 year old (at the time).
It kept her busy like it should have, pages were colored and crayons were broken. That was to be expected.
What wasn't expected was her sharing it with her little sister and having every single page of the coloring book torn into thousands of little pieces….. This took about a week to clean out of our vehicle!
That was really the only thing from the miscellaneous list that didn't work out as planned.
Oh, and we also didn't need the thermometer or first aid kit!
Always good to be prepared though.
The Food.
Some of the food worked fine, other food did not.
I thought bananas would be a good idea; I thought wrong.
Sure, they may seem easy; they use their own skin as a wrapper, they aren't messy if eaten correctly. Then I realized, after packing them in the safest place in the vehicle (and the only place they would fit without squishing) my lap, that I have a 4 year old and a 1 year old! How could I ever expect them to not make a total mess if I handed them back bananas?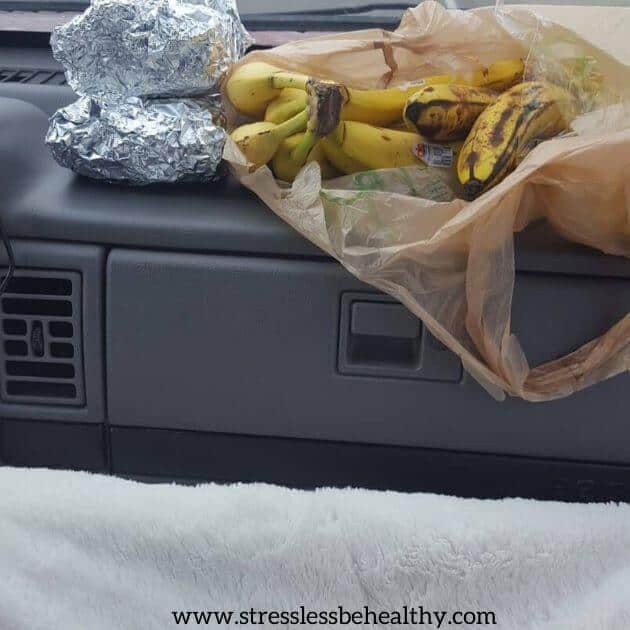 So, from fear of having a huge mess in the back seat and having it smell like bananas for the next few months; no one ate the bananas. They then became a hassle, as I decided to put them on the dashboard. Every turn made or sudden stop, there came the bananas!
They flew at me, they flung themselves toward me, there was no escaping from the bananas, for 4 days…..
My warning to you, don't bring bananas unless you either have older children who won't make a mess or you have a place to put them that won't drive anyone crazy!
(My mom also made us banana bread for the way over, which is in the foil in the picture above; that, we did eat on the way over!)
Another food item that didn't work out as planned was ingredients to make peanut butter and jelly sandwiches. Like my diaper bag, the bread was also no where to be found until everything was unpacked. And when it was unpacked, it was also very squished and unusable.
Note to self, next time we pack for a trip, I'm the one who's going to be the person to pack the car before we leave.
I'm the type of person who needs to know where things are, I don't like these horrible surprises of not knowing where something is that I need.
It's not, and it wasn't, a good feeling.
We got through it, and we only stopped maybe twice for food and twice for coffee. The coffee was another struggle though, at least after we left Wisconsin. No more dunkin donuts… 🙁
What Worked
But enough about the struggles of the list.
Let me tell you what you want to hear, and what you probably came to this list for; what actually worked from the list, so you know what to pack.
Like I said before, the clothes portion worked, I simply over packed. I'd rather over pack than under pack. Just make sure to bring clothes for different seasons….
During our journey, at the end of February, the first day we were on the road it was actually in the 70's!!
It was hard to believe, luckily we packed the girls in their seats without any jackets and my youngest in short sleeves. My older daughter was in long sleeves and wanted to take her shirt off!
By night though, it was back in the 30's, and the rest of the trip was back to winter. This is where the blankets were great to have in the vehicle! The girls, and myself didn't have to wear our winter jackets, yet we stayed nice and cozy warm.
Toys
I already said a little about what works for keeping small children happy and entertained. But, ripping up coloring books didn't take up 4 entire days. It may have taken up two though. (It's also not what anyone would probably want to do, at least now knowing what happens!)
We also brought my older daughters tablet with games on it that did not require wifi.
This is a big one to know when planning on bringing a childs tablet that runs off wifi and not data. Highways DO NOT have wifi, plan accordingly!
If that means downloading games that don't run on wifi before the trip, then do it. I planned on doing this and wasn't able to find the time to do so, and our trip turned out fine. My daughter played some of the games pre loaded into her tablet.
This may not be so important for younger children, but it may be for older children. If you have older children who download their own games; it may be a good idea to tell them this, so that they are not in for a rude awakening when they can't play their favorite game because they need the internet for it.
Other toys that worked well were any toys that made noise, for my one year old. Such as the baby computers or talking books.
Stuffed animals were another big one.
Just make sure you bring multiple special stuffed animals for your children, especially if they a young like mine. My children seemed to want the same stuffed animal though, so they had to share. In case you want to know, they both wanted to hold the small cat beanie baby that their uncle had given my one year old before we left.
Diapers
Diapers and wipes are kind of obvious if you have one still in diapers. Just pack a whole bag of diapers, it's easier that way.
The wipes came in handy for not only messy diapers, but sticky hands, as well, when the paper towels didn't work.
The plastic bags for garbage came in handy too, we just used the small plastic bags that groceries get packed in, the same ones we used to pack breakable in (we were on a tight budget). I didn't think to grab more than a few though, and more would've been better, especially with little ones!
Water and Food
Alright, last thing I'm going to give you a tip on is the food, again.
Water was a big win! I bought a 35 pack of water, there may have been one or two bottles left by the time we got to our new home. Same with the gatorade.
The pre made coffee drinks, starbucks frappuccinos in a bottle didn't make it past the second day, I really wish I had more than just four of those.
Hint, hint, if you need caffeine, or coffee, might not be a bad idea to stock up on these or other shelf stable caffeinated drinks. We don't drink energy drinks, I haven't since before I became pregnant with my older daughter, but coffee is still an essential part of mine and my husbands diet!
As for food, we did have to stop for food twice, not where I wanted to; I actually didn't even eat anything when we did stop. But, it kept my husband and girls happy.
Other than stopping to eat, we pretty much just ate snacks the whole trip. We had:
pretzels
grapes
apple slices
muffins
goldfish
cheerios
etc.
This kept us full and gave the girls something to do, other than color, rip paper, and sleep.
We SURVIVED
All in all, we survived four days in the car together driving from one coast to the other, thanks to my lists! And now, the next time we travel a long distance, such as to visit family, I will have a better, more refined list of what we will need in the car, and make improvement if need be! (Like, not bringing bananas!)
I hope these lists will help you and your family on your next adventure!
If you have any other tips or lists, or anything I forgot to mention, please comment below and let me know. We're all here to work together, and there may be something I didn't include, but you and your family couldn't travel without, and I'm sure other families wouldn't be able to live without it either.