*Note: some links may contain affiliate links (meaning if you end up purchasing something when you click on the link then I may get a commission on it, with no extra cost to you, of course). For more information on what this means, visit my disclosure page.

Things You Need for a Baby's Diaper Change
No one likes to think about having to diaper change a baby!
It can be gross, messy, and you've probably heard stories about parents getting 'stuff' on them while changing their baby's diapers!
Maybe you and your husband even slightly fight about changing diapers, and who has to change the next one. It doesn't really matter who does it, as long as it gets done. And, the items below are ones you will NEED, or at least find helpful in changing baby diapers.
So, stop worrying about who changes the next diaper, just make sure who ever does it is prepared and has what they need!
Related Posts:
Save this Post for Later!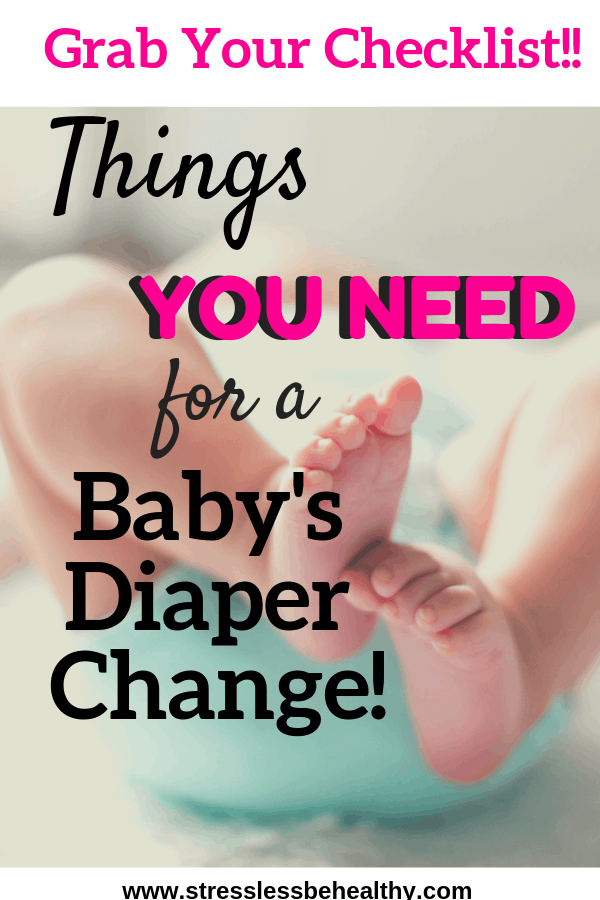 Diapers
OR
All babies need diapers.
Whether you choose to cloth diaper your child or use disposable ones; now, that's up to you and is a personal preference.
My husband hates the thought of having gross clothe baby diapers go through the wash in the same machine we use to wash everything else; and I'm sure he would never change a single diaper if we went with clothe diapers, so we sadly use disposable ones. They are easier to use, and change baby diapers when outside of the home; you can't simply throw out a smelly diaper if it's a clothe diaper.
However, if you have no fear of how clothe diapers are washed, and don't go out much; you may want to opt for clothe diapers, as they will save you tons of money in the long one.
Ultimately, it's up to you.
You're going to need something to wipe your baby's bottom with!
Like with diapers, you can choose to use cloths (with a special cleansing solution for baby's bottom), or disposable wipes.
And, like with diapers, I don't have experience using clothe wipes. However, if you choose disposable ones, make sure they are unscented! (Like the ones pictured above.) Scented wipes have extra ingredients that are unneeded and may irritate your baby's bottom, or even hurt them when you wipe them.
If they have a rash, scented wipes can make their rash even worse; no reason to put your baby through that type of pain.
Diaper Cream
I've always used Angel Baby Bottom Balm, which I used to get at Wegmans, before I moved; you can sometimes find it on Amazon, but it's not always available. It may seem expensive, but it's 100% worth the money!
The only other kind I have used on my girls as babies was Burt's Bees Baby 100% Natural Multipurpose Ointment, Face & Body Baby Ointment.
Both types work well, and rather quickly. But, choose what you're comfortable putting on your babies bottom. I've heard butt paste works well, too.
Ultimately, the type you choose will be up to you, but unscented and natural ones will be your best bets for working well!
Baby Powder
I don't remember using this too often with my girls, but I know we always had it around. If you have a baby shower, someone will probably get this for you; keep it with other diapering supplies, just in case you choose to use it.
Pee Guard for Little Boys
I don't have any boys, but I still remember my mom telling me how when my dad tried changing one of my brothers diapers, that he was peed on…in the face.
So, if you're having a little boy, you may want to consider one of these; or at least remember to always keep them covered, whether with another diaper, clothe, or you could probably even just use a wipe.
You could certainly change your baby on the floor, your bed, or the couch. However, when it comes to really messy diapers, like the blowout diapers you may have heard of; you will want a changing pad. You can get a water proof changing pad and a regular cover, or a waterproof cover to put over a non water proof changing pad.
Some of the messes you baby will make in there diapers simply go everywhere; you wouldn't want to start changing your baby on your bed and half way through find out the mess is all the way up their back to their necks!
Changing tables are super useful, especially right after giving birth and it may be difficult to sit, or bend over much, to change your baby.
Plus, many changing tables will have shelves underneath to hold baby items you'll need, like diapers, wipes, and clean clothes.
With my first daughter I had a changing table with shelves underneath it, however I was more comfortable sitting on the floor to change her diaper. My husband, on the other hand, used the changing table to change her most times.
If you end up getting one and not using it to actually change your baby on, it's always great to use to simply store baby items on!
Many new parents will want one of these to help hide the odor of dirty diapers.
I know with our first we had one. We had one with our second child as well.
They actually somewhat work for reducing the odor, and like the one above; they don't have to be expensive!
But, we're trying to be super frugal this time around (since we moved cross country and have no hand me downs for babies under one year), so I don't see us getting a new one of these this time around.
If you're not buying the minimal items you need, this would be a good thing to remember to have!
This isn't a need per se, but if you have a home with multiple levels, this will come in very handy!
You can place everything you may possibly need for a baby's diaper change in here.
Such as:
diapers
wipes
diaper cream
baby powder
extra clothes
nail clippers and nose aspirator (might as well take care of other hygiene needs now, too)
wash cloth
pacifier
and possibly even more!
Checklist for What You Need for a Baby's Diaper Change
Feel free to sign up to receive this free checklist to print out to make sure you have everything you need for diaper changes! (You'll get other checklists, as well, to help you prepare for your baby.)
But, you'll basically need:
This is not an exhaustive list, and you may not even need everything listed above, use this as a guide.
Leave a comment with what you use to change your baby's diapers, and if there's any product you wouldn't be able to live without!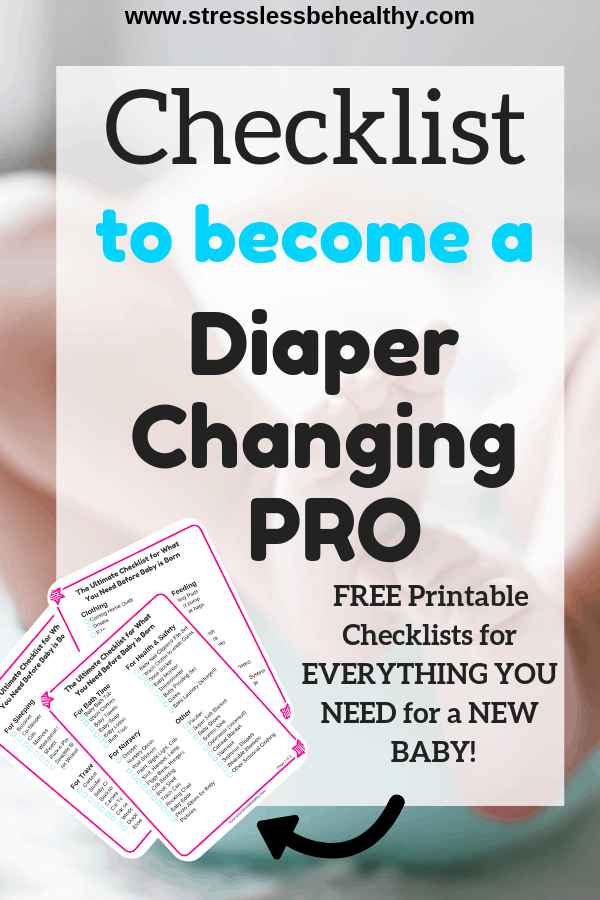 Want to be super prepared when it comes to keeping track of infant diaper changes? Grab these baby tracker worksheets!