…WAIT…Your Cheat Sheet is on it's way to your inbox, but you'll also LOVE…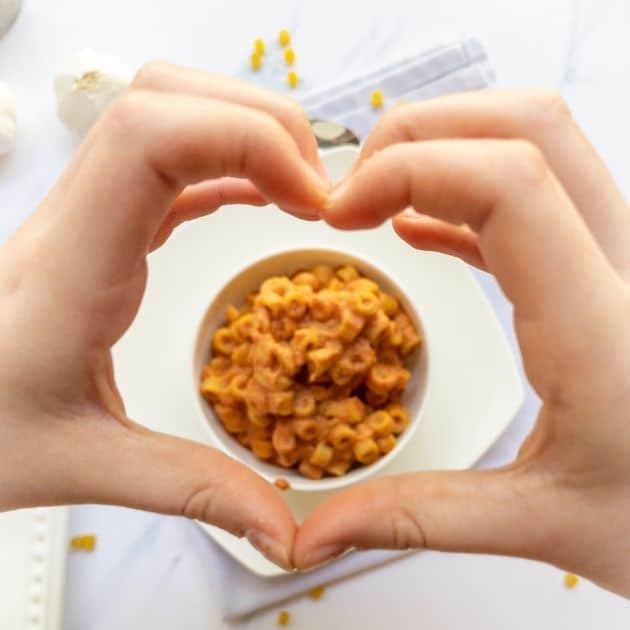 The Easy Vegan Dinner Guide
(for when you have kids!)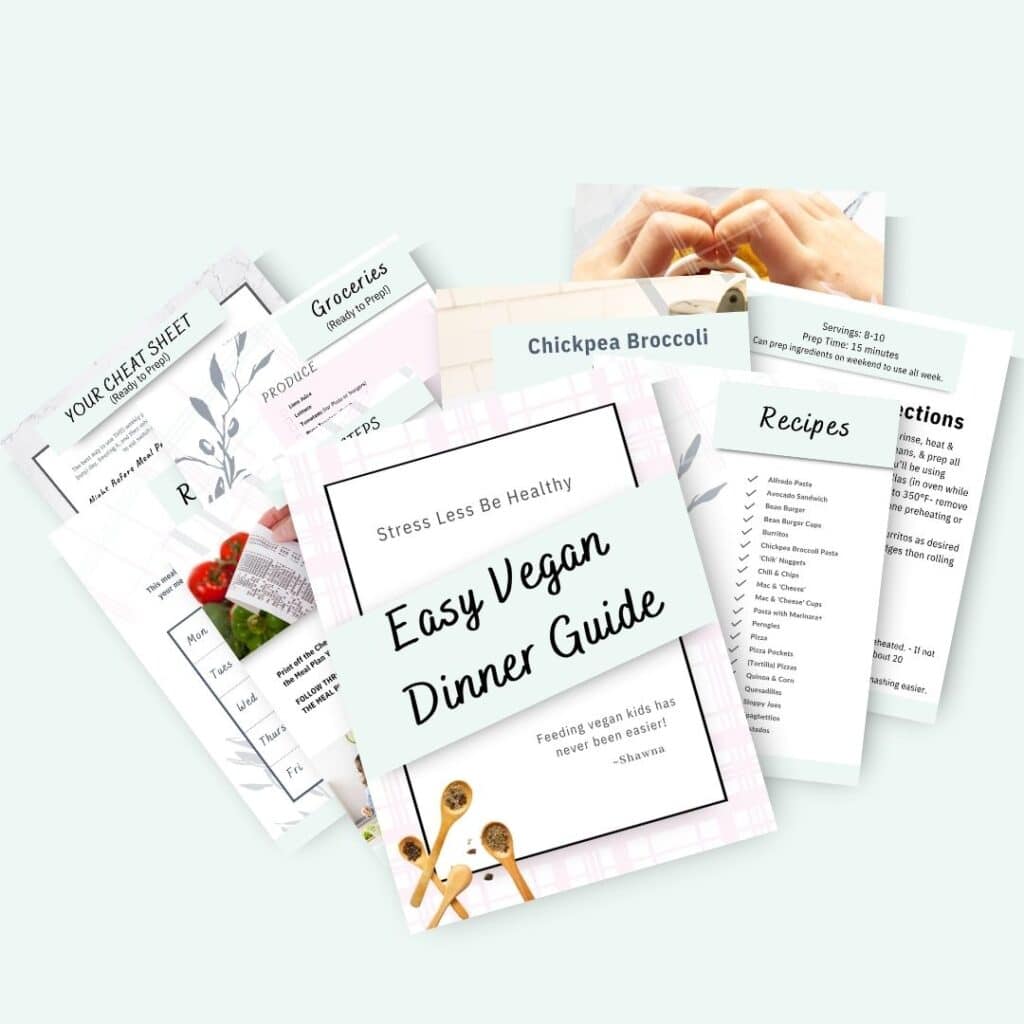 Stop stressing over dinners!
The guide you need to take vegan dinners from stressful & time consuming to effortless & something your kids will actually want to eat!
USE CODE: RAISEVEGAN2022
$13 $7
Ever feel overwhelmed at dinner time because you have NO IDEA what to make & have 30 minutes or less before the kids get hangry?
Yeah, I think we've All been there!
It's HARD.
And while most parents have the option to just grab fast food or order food for delivery; we don't really have that as vegans. At least in most areas.
Sure, it's getting a whole lot better, but it's just not quite there yet.
This is the whole reason behind why I created The Easy Vegan Dinner Guide (which is also kid approved!).
So you can get dinner on the table with as little effort as possible, even if you're short on time!
3 Simple Steps
1. Choose your dinners for the week (or DON'T)
Choose your dinners for the week, or don't; whatever works for you!
2. Buy your groceries
Most of the recipes use similar shelf stable or freezable ingredients, so nothing will go to waste!
3. Spend 5-30 minutes making dinner each night
This can be as easy as throwing already prepped food in the oven, or making it 'from scratch'; either way, you'll be spending 30 minutes or less in the kitchen making food (usually less)!
And….all of this can be done with a baby (or toddler) on your hip if need be (ask me how I know…)!
I know, some people may just tell you to just stop being 'so picky' with what you eat or feed your kids…
They'll tell you if it's too difficult or stressful making dinner because you're 'vegan' then just relax on how you eat and eat out once in awhile…
These people don't get it.
You're not vegan, or raising vegan, to make things easier.
You're doing it for a vast array of other reasons;
And so many more reasons, we could go into so much depth for WHY we're doing this. But I think you know your reasons.
You don't need to explain it to me, and you don't have to change your morals simply to not get stressed out over dinner!
You just need a better plan (or back up plan) for when things get crazy…
It doesn't matter what your 'crazy' looks like…
the day snuck by & now you don't have time to make what you wanted
don't know what you want to eat
exhausted from the day and you can't even
or something else that's preventing you from the 'home-cooked meals' you thought you'd be making for your family each night
You NEED something quick or something to simply pop in the oven at the end of a 'crazy' day…something that takes less than 30 minutes of you actually being in the kitchen.
And That's What You Get With THIS Guide!
You get to continue raising ethical kids without the stress that comes with the dinner time crunch!
Simple meals that are quick to make, delicious to eat, and 100% kid approved!
Because what fun is it to make a meal, no matter how quick it is, to find that your child won't even eat it…
It's NOT fun, at all…
After making vegan meals for my kids for the past 5 years, I know just how devastating it is to make meals that no one will eat.
And most of the meals they refused were complex; difficult to make and time consuming.
So we're going to keep things simple.
Keep them quick.
And help our kids enjoy eating for their ethical (aka-vegan) lifestyle!
Just imagine if…
What Exactly Comes in the Easy Vegan Dinner Guide?
So now you know that this guide is going to be a sanity saver when it comes to making dinner AND sticking to a vegan diet. But, maybe you want to know EXACTLY what you'll get by purchasing the guide…
THIS EASY VEGAN DINNER GUIDE INCLUDES: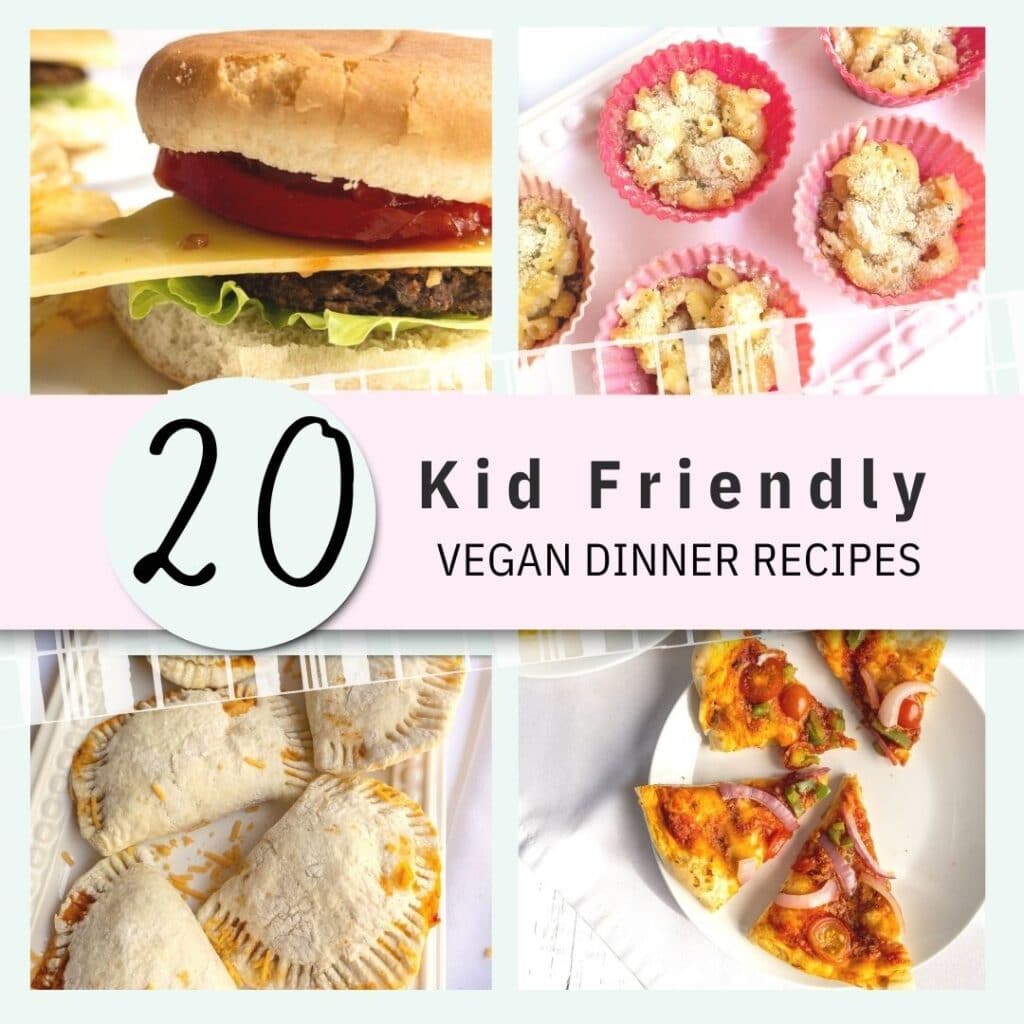 20 Kids Approved Vegan Dinners:
(Each dinner has been fully tested & have even come back picky eater approved!)
Super Quick Dinners (NO PREP WORK REQUIRED)
Super Quick Dinners (Some Prep Required)
Freezer Dinners (Fully Prepped Ahead of Time- Just Stick in the Oven)
*Some of the recipes above have a store bought alternative (just in case), along with tips on how to add more nutrients into the original recipe!
(…Because I know how satisfying it is to make a super healthy homemade meal, yet also know what a relief it is to have something I didn't have to prep, ready to go in the freezer for those extra tough days.)
---
---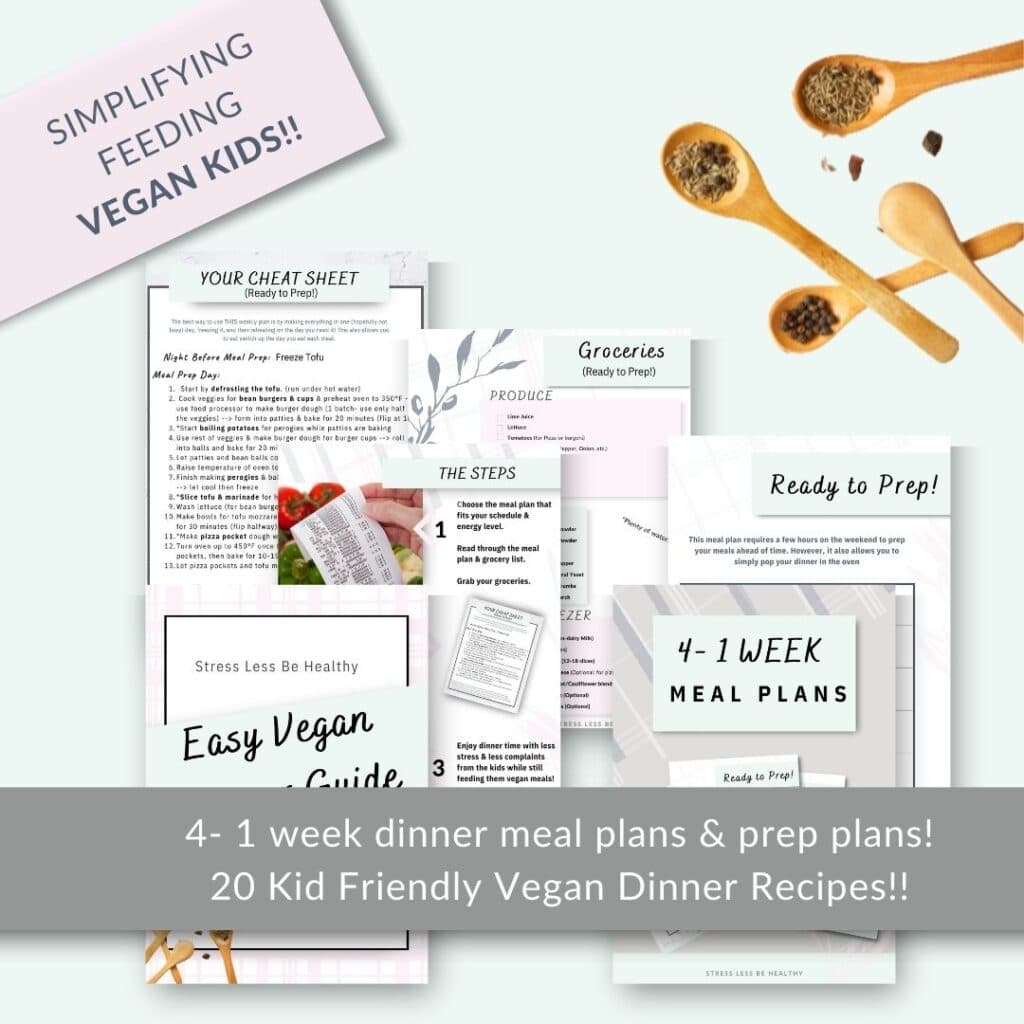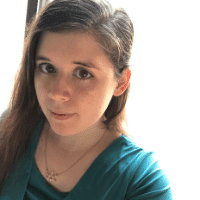 Hi there!
I'm Shawna, mom of 3 mostly vegan/plant-based kids, passionate about putting together meal plans that are healthy, kid approved, and something that you can actually stick to!
After being vegan for 9 years and helping my kids transition/eat vegan for the past 5, and with having my own picky eater, I know how hard it can be to raise/feed vegan kids.
But, I also know it doesn't have to be that way!
I went through the awkward stage of learning how to go vegan before there were tons of vegan/plant-based alternatives to buy at the store. And I've tested my recipes with my kids over and over again; so you get the best of the best, surely to be enjoyed and looked forward to from your kids!
Get started today with the EASY VEGAN DINNER GUIDE, so that you can stop stressing about dinner time and enjoy more time with your family and less time in the kitchen!
*This digital product has a 30 day happiness guarantee! If unhappy with the Easy Vegan Dinner Guide email [email protected] within 30 days of purchasing for a refund.