*Disclosure: some links may contain affiliate links. For more information on what this means, visit my disclosure page.
7 Frugal Packing Tips for Your Next Move
Did you know that four years ago it was estimated that the average move costed between $1,100 and $5,600 (depending on if it's an in-state or out-of-state move)!¹ And, that was four years ago, the price has gone up since then. And, the estimated cost for moving if you were an employee transferring to another location for the company, was about $12,000. (My thought is that they may have been taking advantage of being reimbursed and didn't spend as stingily as they could have.)
But, it still amazes me. And, that's not even considering the amount you have to pay up front to live in your new home.
Now, I understand that moving is expensive; there's renting the moving truck, replacing items in your home that you don't want to move (like shower curtains), or buying new things for your new home (like curtains).
But, it doesn't have to be that expensive. My family moved cross country just last year and we didn't spend anywhere close to $5,000. It was more like $2,500 to $3,000, and we had to buy a new couch and kitchen table because ours wouldn't fit in the little trailer we rented to move our family of four across the country.
And, and in town move; are you joking me with $1,100? It's $20 to rent a moving truck for the day, $20 for a pizza for yourself (and family or friends who help you move), and maybe $100-$200 to replace items in your home, or buy new things for your home. And, depending on how long you lived at your old place (and whether or not you had kids), maybe $20 to fix it up to get your security deposit back.
So, wanna learn a thing or two about moving frugally, to save money on your next move?
Check out my money saving packing hacks below!
Don't forget to grab these FREE and super useful Moving Printables (you don't even need to print them, you can check off the checklists right on your phone or computer!)
1. Never Buy a Box
There is absolutely NO reason to ever have to buy a box to move.
Big box stores and grocery stores will usually give them to you for FREE. And, if you know you're going to be moving within the next year or so, make sure you keep any boxes you come across, especially big ones.
Seriously, doing those two things alone should be enough for you to not have to buy a single box. If you do end up needing more, ask friends or family if they have any they don't need anymore.
Almost half of the cardboard boxes I used for my last move were diaper boxes. (I guess that's what happens when you have one in diapers for 2 and a half years, then have another child 9 months later…in diapers for 2 and a half years.)
If you generally store items, such as seasonal clothes or decor, do yourself a favor and invest in some totes to store them in; they'll last longer and hold up better through out the years. (And, if you did have those items in boxes, use those boxes to move other items…maybe kitchen stuff. Which always seems to be packed last and be the most complicated to pack, or maybe that's just me.)
2. Don't Box up Clothes
I know I mentioned packing seasonal clothes in totes in the last tip. But, what about all the clothes that are in season?
DON'T put them in boxes. DON'T put them in totes. DO leave them right as they are in their drawers.
Sure, you may have to take the drawers out to move the dresser (unless you have Hulk helping you move). But, it saves you from using more boxes and saves you room in the moving truck. Win-win!
Get the Ultimate Moving Planner!
This is the moving planner I wish I'd had years ago while moving with kids, and will be using again the next time my family moves! Be sure to check it out HERE, I love how I can easily fill it out online and print just what I want, or simply keep it updated on my phone. It's so easy to use!
3. Use Garbage Bags
Yep, you saw that right. If you want to save money, use what you already have; garbage bags included.
It's really not as horrible as you think it is. Plus, if you have any clothes hanging up in your closet, you don't even have to take them off the hanger if you simply pack them in garbage bags. Just make a whole at the bottom of the bag for the hangers.
You may also want to consider bagging up stuffed animals this way, especially if your kids have as many as my girls do. (It's a lot, let's just leave it at that!)
4. Use what you Have to Cushion Breakables
Let's go over another thing you should NOT buy; bubble wrap or packing peanuts. Now, don't think I'm crazy for saying this (or wanting all your precious belongings to break, because I don't.)
I have moved 9 times in the past 6 years, and never once did I use bubble wrap or packing peanuts. And, 3 of those moves were cross country trips….with a trailer being pulled behind our only vehicle with all of our belongings.
So, take my word or not, but I'll never buy them.
Instead, I use dish towels, other towels, blankets, those annoying plastic bags that you get at grocery stores that everyone hates, and sometimes even stuffed animals! And, of course, for the most breakable items we keep the original packaging. (Like for the TV and my husbands game systems.)
It may be more creativity than some people are comfortable with, but it works. Nothing has ever broken during a move, and I don't spend any money on preventing them from breaking.
5. Don't Skimp on the Tape
At first, making sure you buy name brand tape, and spending a little extra money to not go with an off-brand, doesn't seem like a way to save money.
But, when the boxes you do use fall open at the bottom because the tape didn't hold up, you may think a bit differently.
Luckily, this didn't happen to me; however, I did go back out to get name brand tape after my husband bought off-brand tape. It had a picture of a dinosaur head on it, so he thought it'd be good, and it was a little cheaper than the name brand tape. He thought he was doing a good thing because he knows how I like to save money. But, when the tape won't hold a completely stuffed box closed; it's time to cough up the extra dollar and get the packing tape you know and trust.
6. Don't Hire a Mover
Is hiring a mover even a thing anymore? I've never done it, and I don't know anyone who has.
Isn't moving what friends and family for. Or, if it's just you, your husband, and kids, it'll bring you all closer together and be some good bonding time.
Believe me, it is possible to move without hiring a mover. All you need is at least two adults and some money for a moving truck…and maybe some filling food afterwards when you're tired from a hard days work.
For example, my husband, myself, and oldest daughter (who was 10 months old at the time) moved from Florida to New York with no help. We had to pack the moving truck ourselves; my husband packed most of it into the truck by himself. But, when it came time to move the couch, I wore our daughter on my chest to help lift the couch down from our second floor apartment and into the truck.
Sure, it may not have been ideal, but we did it. Then, we started our drive to New York that night….We were young back then (and to think, that was only 5 years ago).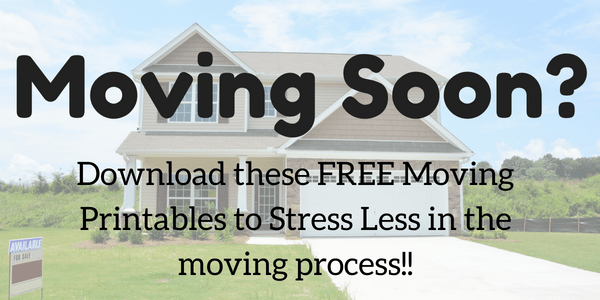 7. Fix Minor Issues at your Old Home
If you rented your old home then you're going to want to clean it well and fix any minor issues that may have occurred during your stay there.
Say…..crayon on the walls.
Hopefully you took pictures of the place when you moved in; make sure you do the same when you move out. But, as long as it looks just like it did, or better, than when you moved in you should be able to get a lot of your security deposit back.
Don't expect, and be relying on, getting your whole security deposit back, though. In general, some money will be used from the security deposit to get locks changed and carpets cleaned. Depending on the landlord or property's management, it could be a very minimal charge or it could be upwards to a couple hundred dollars.
But, if you leave the place a mess and don't fix what you break (or get the beautiful pictures your kids drew on the walls, off), then you may actually end up owing after you move. In other words, the security deposit may not cover it all.
So, think twice before thinking you don't have to clean up after yourself!
Don't be Afraid to use Those Frugal Moving Tips
With the tips above you're sure to save at least a couple hundred dollars on your next move. Just remember that every dollar counts. And, to reuse what you already have. (And, never buy a box.)
There's no sense in spending $100 on packing supplies when all you really need is to be smart with the way that you're packing.
No need to hire people to help you move, when all your friends really want is free food.
My last move cost less than $100! (Between fixing minor issues, moving trucks, packing supplies, and food for those helping.)
How much is yours going to cost?
MORE MOVING POSTS:
How to Pack like a Pro Moving: Cross Country Move
17 Places You Need to Change Your Address When You Move!!
How to Prepare a Young Child for Moving
10 Sanity Saving Tips for Moving with Kids
First Day Essentials for Moving!! 32 Items You Must Pack Separate!!
10 Simple Steps to Move out in a Month (with Kids)
The Complete Cross Country Road Trip Packing List (with kids)!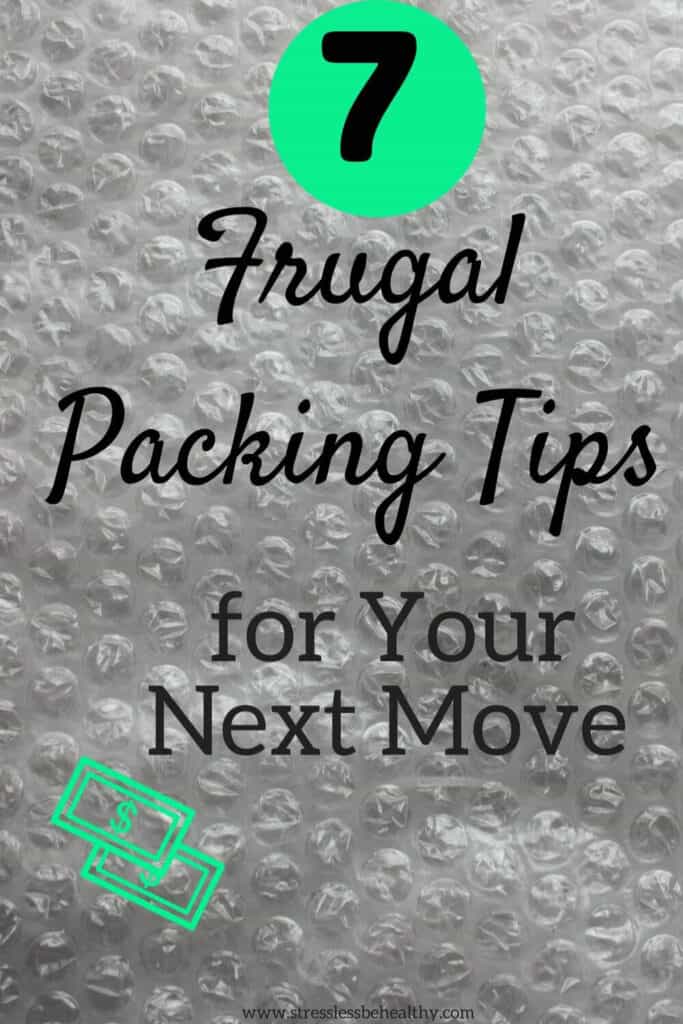 ---
¹https://money.usnews.com/money/personal-finance/articles/2014/04/30/the-hidden-costs-of-moving
---