*Note: some links may contain affiliate links (meaning if you end up purchasing something when you click on the link then I may get a commission on it, with no extra cost to you, of course). For more information on what this means, visit my disclosure page.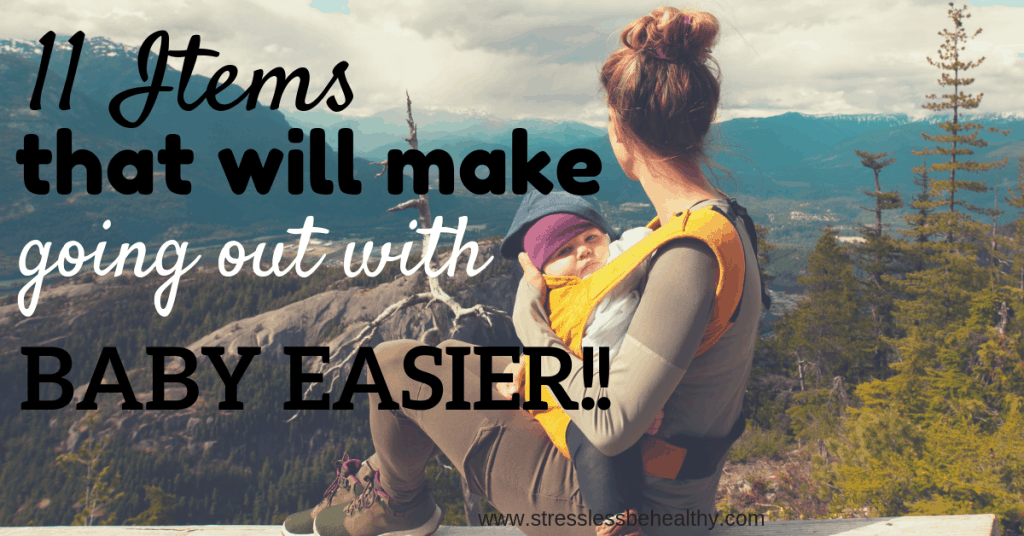 11 Items That Will Make Going Out With Baby Easier!
Going out with baby can be difficult, especially in the beginning of their life when your still trying to recover from giving birth to them!
There's so many things to worry about; from the cold and the sun to other people's germs. Which is probably why many new moms don't try to go many places with a newborn.
But, eventually, you'll need to take your little one out into the world and outside the comfort of your own home. When this day comes you'll want to be prepared, and luckily, there are some products that will make doing so easier!
Some items are must haves, like a carseat, while others you may not have thought of. There's even one item on the list I didn't know about until I started preparing and making lists to prepare for a baby!
Related Posts:
Pin this post for later!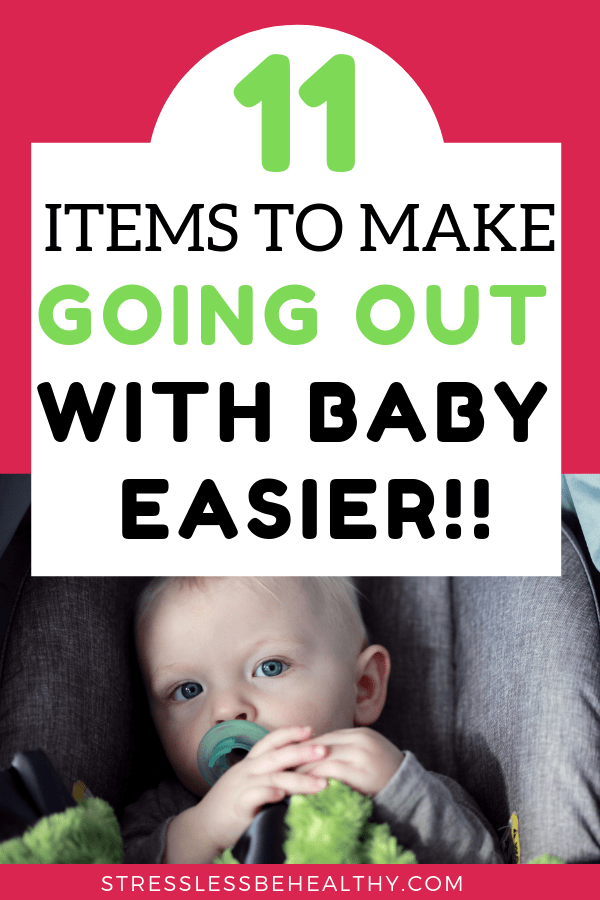 You know you'll need a carseat, and the type you get is up to you.
In fact, if you have you baby at a hospital, there's a very good chance that they won't even let you leave unless your newborn is in a carseat!
Plus, this is a necessity for infants and children up to a certain age, weight, or height. My six year is still in a carseat; in the state we live, she still has two more years before she doesn't need anything under her in the car!
There are two main types of carseats you can get for an infant.
One is a regular infant carseat, which is super handy if you go somewhere and your baby falls asleep in the car; simply bring the whole carseat, baby and all, in with you where ever you need to go. The downside to this one is that they may outgrow it within a year.
The other type is a convertible carseat. This type would be great if you don't go many places when your baby is little, or if you don't mind picking them up (even if asleep) and carrying them in where ever you need to go. There's no way you'll be carrying this carseat around! However, the benefit to this carseat is that it grows with your child, meaning you won't have to buy a new carseat after a year. There's actually a good chance you won't need to buy another carseat for your child for the entire time they need to be in one!
AND
If you are planning on going on walks (indoors at a mall, or outdoors), or other places with your baby often; you'll want to have a stroller. There are different types of strollers to choose from, and you can buy them as part of a travel system, or separate.
If you're looking for a cheaper stroller then the regular kind, with the four wheels evenly spaced out, would be the kind you want. Don't just get an umbrella stroller, sure they're cheap, but trying to get them to do what you want is a pain. If your concern isn't with price, but with being able to have your infant have a smooth ride and you not struggle with turning or moving it; you'll want a jogger stroller.
OR
If you plan on leaving your home often with your infant, you'll want a travel system.
Not only is it more affordable than buying a carseat and stroller separately, but it also ensures that the carseat can latch into the stroller, so you won't have to wake your little one up to put them in the stroller!
You can get a travel system with a regular stroller or a jogger stroller; my husband insists on getting a jogger stroller travel system this time around!
If you're planning on hiking, or going on long walks with your little one; you'll want a baby carrier.
If you're going to be home most of the time and want to get things done while holding your newborn; you'll want a baby wrap.
This is one thing I still have, luckily! My girls have been using them with their dolls; both the carrier, and boba wrap I have.
Finding the one that you like best can take some time, or you can simply pick one and try it out. You won't know if you like it or not until you actually start using it, and if you don't use it then there's no point in having it.
I always thought I'd like a wrap more than a carrier, so I got the boba wrap for my second daughter and I ended up barely even using it because I worked outside the home at that point and wasn't home with her all day long. We'll see this time around if I end up using it, since I'll be home with my next baby all day long.

This will help with your nerves when driving with a brand new baby in the car.
I don't know about you, but I'm always nervous when driving with little ones, especially when they're quiet. Having a mirror to be able to see what they're up to, or if they're sleeping is certainly reassuring!
This, I think, is a need in the winter time when winters are cold! And, it'll protect your baby from the sun and wind; hopefully allowing them to sleep more while in their carseat!
Many can even double as an emergency blanket, like say when you take them to a well child check up and forget to bring a blanket to wrap them up in during the appointment.
There are rings with little toys on them that your baby will love to hit and grab at when a couple months old! The one above is even soft and has plenty of interesting things, and colors for your baby to look at, like a mirror.
Sometimes some bright toys or something for them to play with will help calm them down if crying in the car; no one likes driving with a screaming infant in the car!
You don't need one of these, unless you want to protect your care from the indents carseats will leave. I'm not sold on them actually working as they say they do. The decision is up to you.
You may want to look into the one above, or other ones. My husband tried out quite a few when our oldest was a baby and had no success with them protecting the seats from indents.
This will help keep the sun out of your babies eyes while you're driving. Don't skimp and get a cheap one, make sure it works well and won't fall down or spring up while driving. The only reason you won't need one of these is if you have very dark window tints on your car.

A shopping cart cover like the one above is meant for infants who can already sit up. It's meant to help protect babies from the germs on shopping carts, which I'm sure there are tons of and some babies like chewing on everything they can. However, it's one more thing to remember to bring to the store.

When I had my first daughter, the shopping cart covers were the only thing available to protect her from all the germs on shopping carts; and she obviously couldn't use it til she was able to sit up. Now, they've invented a shopping cart hammock to use with younger infants and not take up as much space in the cart; at least not as much space as putting their whole carseat in the cart!
There are tons of options for diaper bags now-a-days, and this is something you'll absolutely need. You'll need one whether you are simply running errands with your little one, or if you ever leave them with a baby sitter somewhere that is not your own home.
There are many different looks to diaper bags and you'll have to choose the type you prefer. You'll find some that look like baby diaper bags, purses, or even bookbags; so think of which would be best for you. Just know, when you go out with your baby, you'll most likely have it double as your purse, too.
My current diaper bag looks somewhat likes a purse, and has an outer pocket that I use for my stuff.
Now…
You're probably thinking that I'm missing a few things on the list above.
The list in this post is not meant to be an exhaustive list, but something to get you started and guide you to what you need for when you go out with your little one. The items here are the most important items to consider when leaving the home with an infant. You may need more or less, depending on your situation. For example, a pacifier may come in handy, and that would be something you put in the diaper bag that you get/have. But, to review quickly, the items above…
Checklist for what babies need to go out:
Or
Use this as a guide.
What you choose to get for taking your infant out into this world is up to you. But, you will need a carseat! Most of the items are optional, but super helpful and will make your life so much easier!
Don't forget, you can print off this checklist, along with other checklists for infants, right here!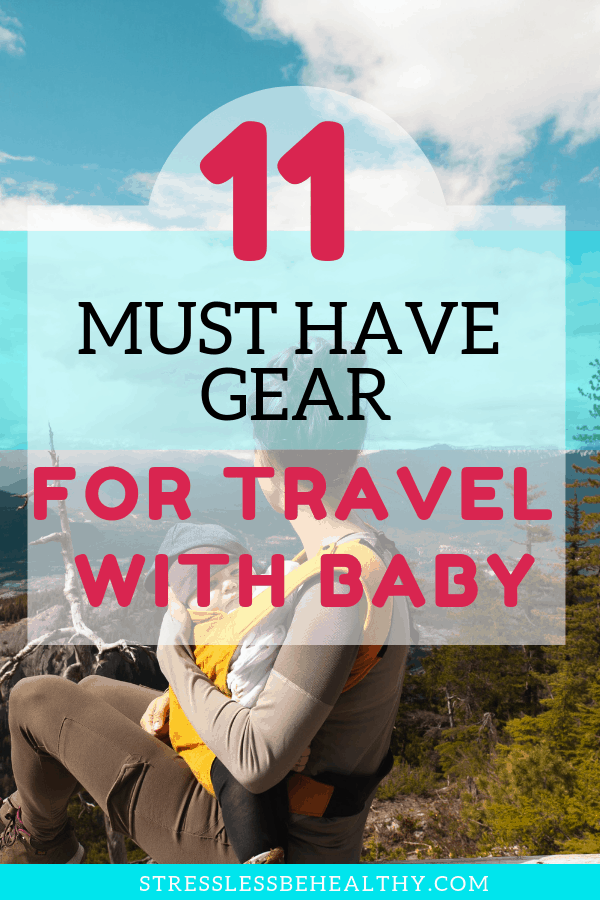 Want to be super prepared when it comes to tracking what your infant does and when? Grab these baby tracker worksheets!