Feeling your best after you have kids isn't THAT HARD!
At least that's what other moms, who work out everyday and eat as if they have a home chef, will tell you.
But, you think they have it all together…
It seems like they somehow have more time, more help, or more self discipline.
That must be how they're so productive each day.
That must be how they are able to eat so healthy and look as fit as a young 20-something.
But, you know what?
They have the same number of hours in the day as you.
They may even have the same amount of support, or help with the kids each day as you, even if that is basically non-existent right now.
Now, self discipline, maybe.
Maybe they have a bit more of that.
But you can create your own self-discipline through creating good habits, habits that you want or that you know you should have to feel your best.
Sometimes you just need something to help you get started, to remind you each day of what you need to do FOR YOU.
To remind you why you're changing your habits in the first place, remind you of the stress it will alleviate.
How healthy and good you will feel, and find out if there is something you're eating that makes you not feel so good.
Because you know what?
YOU deserve to feel good!
You deserve to feel healthy inside and out.
And, you deserve to live life the way YOU WANT.

The 'Level Up' with Healthy Habits Guided Tracker is different then simply using a habit tracker, meal planning templates, or joining a gym, instead…
You'll understand how to create habits that will stick
You'll get a chance to design your 'perfect day'

Be guided through

creating habits and routines to help make your 'perfect day' a reality
You'll track your meals, exercise, water intake, AND how you feel through out the day (so you can do & feel better the next day)
Get a chance to actually write out your meal plan, grocery list, AND meal prep plan (so you're planning doesn't go to waste!)
And more!
So, instead of becoming frustrated over and over again and feeling stressed that you don't feel great or that nothing goes as you plan…
You'll understand what YOU need to do to make YOUR perfect day a reality and know exactly what to track to help you feel better physically and emotionally!
If you want to feel better, less stressed, and create Healthy Habits for LIFE…
Then you know what to do…
You don't need more hours in the days.
Or help with the kids (though, at this point, that would be nice!).
You don't even need to have self-discipline, at first.
You'll develop that over time by creating your habits.
You simply need to be a bit more intentional with the habits you create FOR YOU.
It's a brave move.
You know, taking the time of day to do something that will help YOU feel better. To help YOU feel less stressed and overwhelmed.
You are taking the less traveled path during motherhood, so you can be healthy for life!
So you have the energy to chase after your kids.
To be intentional about eating YOUR veggies, and other healthy food, the way YOU like it.
You don't have to live your life while your kids are young and needing your help, feeling exhausted and just not yourself.
You CAN feel your best while being a mom of young kids, it's not a one or the other situation!
And, you're not alone in your choice to do better for YOU!
There are other moms who choose to not feel overwhelmed and unhealthy, with barely enough energy during the day to keep up with their kids.
Sure, it may take some upfront work to fix habits and beliefs about yourself; that you've been telling yourself about how you 'should be' as a mom.
Like being so focused on keeping your kids happy and healthy that you don't have anything left for yourself…
But that little bit of work is going to be paid back tenfold when you feel healthy, awake, and maybe even a bit younger!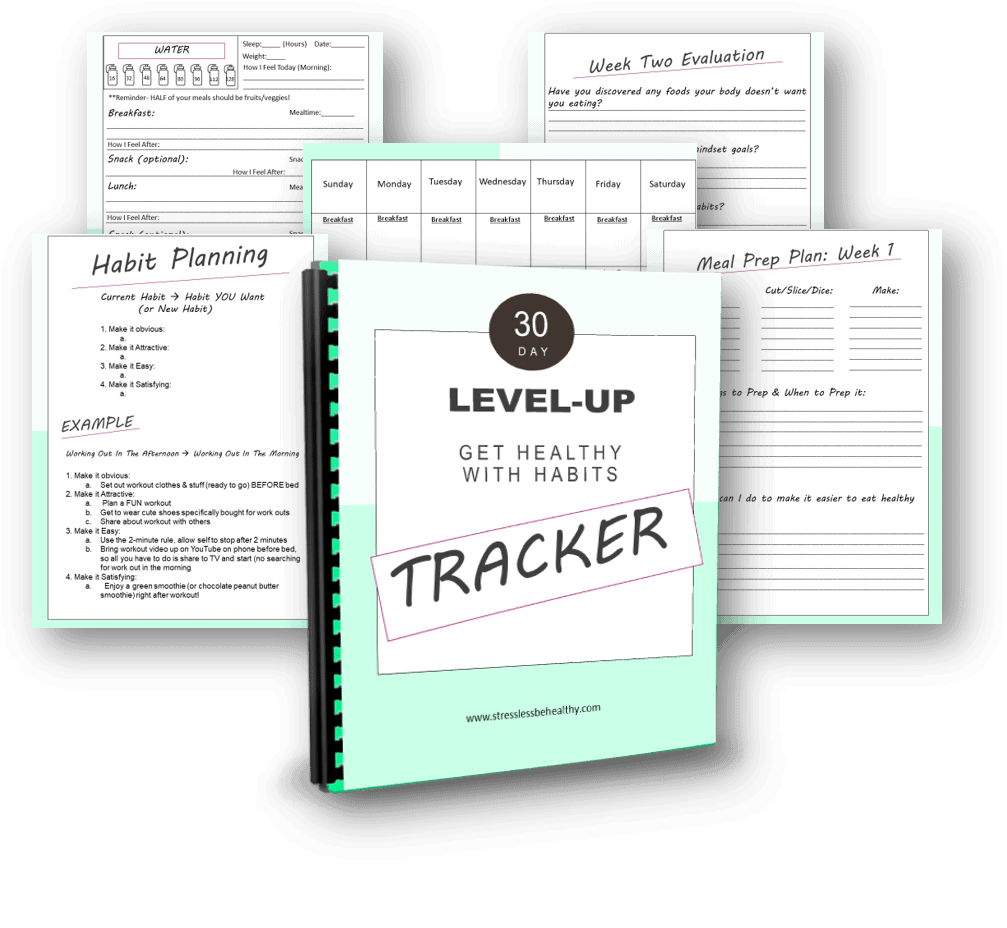 You will learn how to get your habits on track and working for YOU!!
I can't guarantee that your life will be perfect, or even that you'll have a 'perfect day'.
But, if you can get your habits in order, you have one foot in the door to a happier and healthier life.
This gives you the opportunity to tweak how you do things so you can do better each day.
Improve just a little each day…to feel better and stop feeling constantly drained during the day.
The key to living healthier starts with YOUR habits.
It's NOT having more time in the day.
OR even more support from those you live with.
YOU are in control of your life.
YOUR HABITS.
It's those little consistent habits that you do every single day that will help make a difference in how you feel.
You don't need to overhaul your entire life to feel better.
Just take it one habit at a time, little by little, and you'll get there; you'll feel healthier and less stressed.
But, you have to start!
YOU have to take action.
So, now that you know how to 'Level Up' your health and your life, you can
Take things into your own hands, using free habit trackers you find online and continue to struggle to get your habits to stick because you don't quite know how to get them to stick.
Or, purchase the guided 30 day 'Level Up' Get Healthy with Habits Tracker, to learn how to get habits to stick, track your progress, meals, and more!
Which way will you choose?
The way you've always known, tried, and have struggled with, or the new opportunity in front of you to lessen your stress and help you feel better and healthier sooner?
I think it's time you stop sabotaging yourself when it comes to your own health and happiness, and I think you know it's time, too!

Who am I?
My name is Shawna, work at home mom of 3.

When I became a stay at home mom when my oldest two kids were only 4 and 1 years old; I felt like I was going crazy with a lack of time to myself.

Then came the grazing through out the day because I had access to food 24/7, and I struggled trying to exercise at home with two little ones.

At least when I worked outside the home, I had peace and quiet on the drive to and from work.

I was limited to the healthy food I packed myself, because I refused to 'eat out'.

I even had a gym membership and went there after work with a friend.

It was quite a change of pace, switching from working outside the home to being home almost 24/7.

In the 4 years since becoming a stay at home mom I've found that the best way to stay healthy, stress less, stop feeling like you've lost yourself, and to simply feel better overall; is by creating and keeping your healthy habits strong and eating healthy food that is good for your body & your mind (and keeping track of the food you eat).