*Disclosure: some links may contain affiliate links (meaning if you end up purchasing something when you click on the link then I may get a commission on it, with no extra cost to you, of course). For more information on what this means, visit my disclosure page.

How to Find Me Time as a Stay at Home Mom
(when you're stubborn and won't ask for help)
What's 'me time'?
If you're a mom, you might be wondering this….sarcastically, because 'me time' wasn't anything you cared about before becoming a mom. But, now you feel that you need it in your life to stay sane from all the chaos going on around you!
But, how are you supposed to find anytime for yourself when you're sooo busy taking care of little ones. They need your attention 24/7, each child needs all 24 hours of your day to themselves…or at least that's what it seems like!
How are you to find time to do something that you actually enjoy, and replenish yourself, without feeling too guilty about taking yourself away from your children. Because, let's get real here, mom guilt is a real thing and it's hard to not feel it. You know what I mean here, you feel selfish if you aren't focusing 110% of your efforts and your time on your children or family.
Finding the time to do something for you is impossible, right?
Well, only if you think it is. There are ways around needing to spend every second of every day focusing on your children. And, there are ways around feeling the mom guilt for doing something you enjoy!
Like, while your kids eat
I understand if dinner time is family time, so you can't have any me time then. That's alright! But, what about all the other 15 times a day when your children decide they're hungry and need to eat?
Taking a 5 to 10 minute break from reality while your children are busy eating, and not talking with their mouths full. It's the perfect time to catch a tiny bit of 'me time' without feeling guilty. What's there to be guilty about anyways? Your kids are busy eating; they won't necessarily care if you pick up a book and start reading, or chat on Facebook for a few minutes. There's a chance they won't even notice.
Other things I tend to be able to get away with during breakfast or lunch, is working out (in the same room as them) or writing. Even if I can just get a few ideas or words typed out so I can get back to it later and remember where I left off, is good enough for me. At least I'll have something started!
Nap Time (Or Quiet Time)
What's better than getting a few minutes here and there while your children eat? Getting a solid hour or two for yourself while your children take a nap or have some quiet time with you.
This is a good chunk of time to do what you want without feeling guilty about it. Don't worry if you feel like you need to have your house spotless and work on that during nap time before you doing anything for yourself. As a mom of little ones, you're house will never be clean (or at least stay clean) for very long. So, make better use of this time and give it to yourself!
So, enjoy this guilt free time to yourself!
Of course, if you have little ones who refuse to nap, this time of the day can become the opposite of peaceful, pretty quickly! Especially, if you have one child napping and one awake, and all you want to do is relax because you've had a rough morning and need this time to yourself. I know the feeling…
When this happens try to have quiet activities for your children to do by themselves. In a perfect world, that is what I would do! But, sometimes our plans do not go accordingly, and you just need to turn a show on for them so you can get a few minutes to yourself before they start calling for you, or telling you that they're hungry, again.
Subscribe to receive emails from a mom who knows how hard it is!
Wake up Early OR Stay up Late
Another way to find a little extra 'me time' in the day is by waking up early OR by staying up late. PLEASE, please, please, do not try to do both of these things in the same day; you'll regret it. And, don't attempt to stay up late one day and wake up early the next; totally not worth it!
I know how frustrating it can be to try to get some 'me time' in during the early morning hours, and instead have a child who wakes up 5 minutes after you. I know, it's tough. There's been full weeks before where I'd wake up at 3 or 4 in the morning to get some writing in; not 5 minutes later I'll hear little footsteps walking down the stairs.
It's enough to drive a person mad!
But, don't use the fact that you've been up since super early in the morning and have been trying to get 5 minutes to yourself all day, and you just couldn't, as an excuse to stay up late to simply have a few peaceful minutes to yourself. And, then wake up early the next morning and do it all over again.
First of all, your kids will probably stay up with you, and won't fall asleep til you do; that's just how these things go.
And second, don't try to burn your candle at both ends. IT IS NOT WORTH IT!!!
Believe me, I am talking from experience here; you can't do it all, all the time. Do you really think you can function properly on 3 to 5 hours of sleep every night; you can't! Our bodies were not meant for that!
There was a time when I worked outside the home from 3pm to midnight, I had an hour commute, and had to be up again at 6am to get myself and older daughter ready and take her to preschool. I was tired all the time. And, I still know people on that type of schedule. I would do anything to help them to get out from it. DON'T GIVE UP SLEEP FOR 'ME TIME'!
Hide (I'm joking….or am I?)
But, you can attempt to hide! I attempt this all the time, with not much luck. But, my husband is great at it! Our usual attempts at hiding is 'going to the bathroom'. You know you've done it before. You tell your kids to behave while you 'go to the bathroom'. And then you bring your phone in to scroll through Facebook, or Pinterest. But, not two minutes later, and your kids are knocking on the door (or opening it).
I have better luck hiding in the kitchen and making food. If my two little girls aren't in the mood to help me cook, bake, or do dishes; they'll usually just go and play in their room when I'm in the kitchen. It's like magic sometimes; I start to listen to music or watch something while I make dinner, or other food during the day, and they simply leave me alone. As if I'm doing the most boring thing in the world. Well, the music might bring them in, but not what I'm watching!
If you enjoy those type of things, I'd recommend to give it a try, but no guarantees it'll work! It only works about 50% of the time for me.
I love to watch free summits while I'm in the kitchen. I'll go as far as purposely not meal prepping the week of a free online summit; just so I can put my laptop on the kitchen counter while I make dinner every night and watch them. They're so inspirational and puts me in a great mood all week. If I'm lucky, the mood even carries into the next week!
Schedule it in!
If you're super busy, or love to plan as much as you can and make it a point to follow through with what you plan; then schedule in your 'me time'. Whether you schedule in 5 minutes, or 2 hours, just schedule something for everyday of the week.
I don't care if your me time is reading and drinking your coffee in the morning before your kids wake up. Or, if it's spending an hour exercising during the middle of the day while your kids are eating lunch or watching a movie. If you schedule in your 'me time' it will feel more important. Sometimes, you will need to make 'me time' a priority. Especially when you're feeling overwhelmed by everything going on in your life; it's those times when it's even more important to have some time to yourself and your thoughts!
All in all
'Me time' doesn't have to be all about getting away from your kids and going to a spa or a fancy retreat. It's about unwinding, doing something that YOU enjoy doing, becoming inspired, and doing those things without feeling guilty that you are solely focusing on yourself for once.
You're a mom, you deal with tantrums, kids talking back to you, and stepping on legos. You even deal with having the lock on the bathroom door being completely useless because your 2 year old already knows how to unlock it. If anyone deserves some guilt free time to relax and do something they enjoy doing; it's you.
Whether you have 5 minutes or two hours; do something that will make YOU happy, and something that will recharge you. So, you're ready to take on whatever comes your way next!
Subscribe to gain access to my printable library and receive weekly emails with optional challenges to become a better you!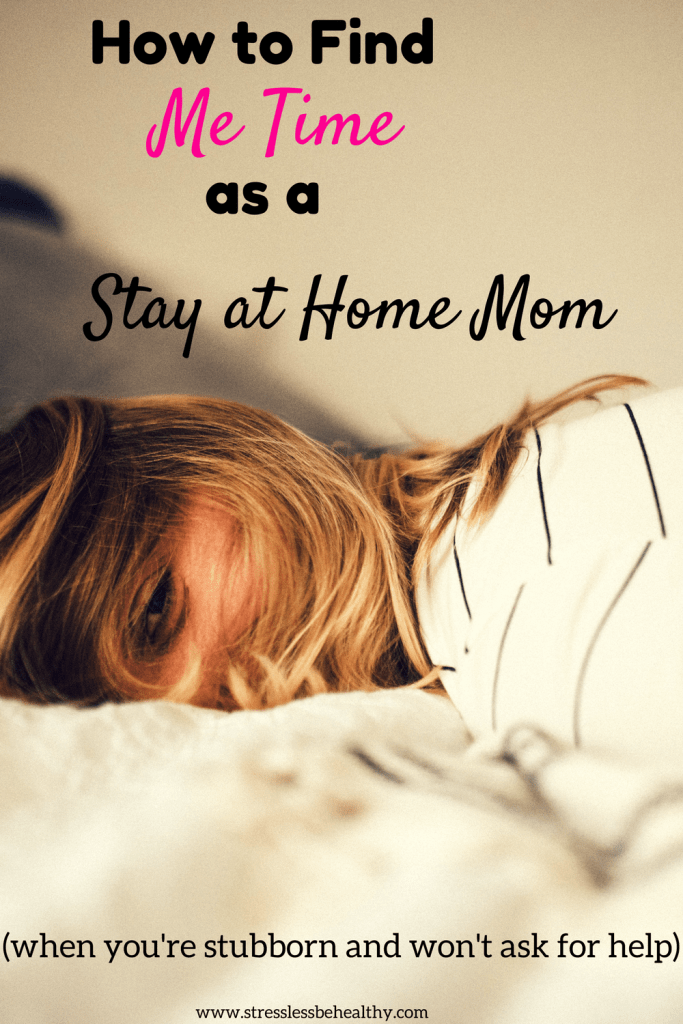 Related Posts:
Why I'm NOT a Bad Mom (even though my 5 year old drank my coffee)
10 Tips to actually ENJOY Your Day as a Stay at Home Mom
---