*Disclosure: some links may contain affiliate links. For more information on what this means, visit my disclosure page.
10 Simple Steps to Move out in a Month (with Kids)
Yes, moving on short notice is stressful. Believe me, I completely get that! And, I would've loved to have someone tell me the simple steps to move out that I needed to take, instead of figuring it out on my own (multiple times) with kids.
When my oldest daughter was 10 months old we moved back to New York after living in Florida for three months. It was a rash decision and the only way to stay in good standing and have the property manager not hurt our renting history was if we moved out ASAP. And, I mean ASAP; we had 2 to 3 days to get out!
Then, we were planning on moving a few months after our youngest was born, when our lease at the time was up. But, our duplex neighbor wanted our side of the duplex. And, he was willing to finish out our lease and his, so we had about 2 weeks notice on that one. Our second daughter was born on moving day…
So, believe me; I know how stressful moving can be, especially with short notice.
A few months ago we had about a month before we had to be out. So, I will show you, step by step, how to pack for a move when circumstances don't allow a lot of time….and, all while being a stay at home mom to two energetic little kids!
---
Want to Remember This? Pin 10 Simple Steps to Move out in a Month (with Kids) to your favorite Pinterest Board!!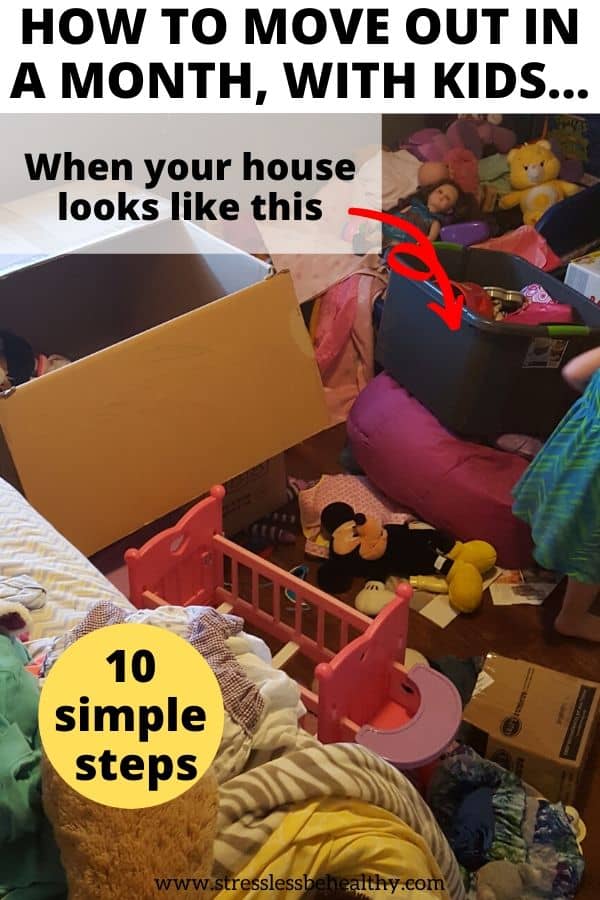 Step 1: Organize and Clean to Start Preparing to Move Out
Start organizing and cleaning your current home as soon as you find out your moving. You will thank yourself later, a few times.
This way you know what you have and you don't get overwhelmed by a messy home.
Do a deep cleaning in every room, even if the move is a month away. This way, when it comes time to clean after you have everything out, it'll be a lot easier and a lot less gross!
Organizing all the belongings in you home will help you pack like things together more easily than if everything is everywhere (like things can get with having little ones around). Plus, you'll be taking things out of closets and out from under beds that you forgot you had and was looking for; or forgot you had and want to get rid of.
If you have the time to declutter your whole home in this step; go for it!
If you only have enough time to dig things out from where they were hiding and start deep cleaning; that's fine as well.
It can be hard to tell what you can actually get done in this step until you start it, especially with having kids around all day long. (My two year old gave up naps when we started our moving process.)
If you only have 4 weeks til you move, you will not want this step to take you any longer than a week. I would also suggest to start packing up things while organizing them; but only if you know for sure you won't need them for the next month. Which brings us to the next step.
Step 2: Pack up Decor and Seasonal Items
If there are no major holidays coming up before you move, make sure you pack up all of your holiday and seasonal décor and items. Along with out of season clothes and regular décor.
If you haven't already, now is a great time to choose a space in your home to stack all of the boxes that you'll be packing up before you move.
Hopefully most of the items you'll be packing up in this step, at least as far as holiday décor goes, will already be in boxes, or at least all in the same place. So, it shouldn't take too long.
Unless of course, if your home is heavily decorated. Then it may take some time going around and collecting all of the decorations to be packed away. (Like pictures, candles, and other decorative items.) Unfortunately, this isn't a time for enjoying the way your home looks.
This step should be included in the first week, if possible, along with organizing and cleaning.
Hopefully you had some of the original boxes for holiday and other décor, if not then that's fine; it should at least be all in the same place and be ready to be packed up. Which brings us to the next step of gathering all the packing supplies. Basically, boxes and tape.
Step 3: Gather Packing Supplies
If you are moving on a budget DO NOT GO OVERBOARD here. You don't need to buy fancy bubble wrap or packing peanuts or anything like that.
Seriously, you don't, it's just a waste of money.
Use dish towels to help cushion dishes, or you know all those plastic bags you get your groceries in that you don't want; use those. That's really the only reason I don't mind when I forget my reusable bags when getting groceries.
Now, you may think I'm cheap for doing that, but they work and they don't cost you anything. Along with diaper boxes. If you have a baby or toddler in diapers and know moving is a possibility anytime within the next year or so; save those diaper boxes. They are made of strong cardboard and are great for packing a bunch of different things, especially books.
Moving can be expensive enough, use what you already have to pack, or go to large stores and ask if they have boxes they need to get rid of. That's another great way to get your packing supplies for really cheap or nothing at all.
One more thing on packing supplies; don't skimp on the tape! This past move my husband picked this t-rex packing tape for us to use instead of the regular packing tape, and it was horrible. It was a dollar cheaper than the name brand, and I'm all for cheaping out, but sometimes it's best just to stick with name brand products that you know will work.
Step 4: Meal Prep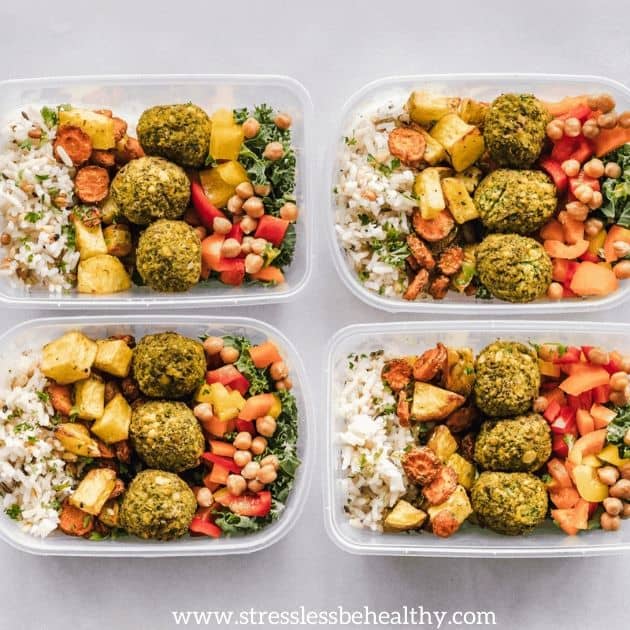 Alright, so maybe you don't get why this is such a crucial part to moving with limited time. But, trust me, this is super important!
First, if you have a month, or even a few weeks before you move, you're not going to want to spend time cooking every single day.
Cooking and preparing healthy food takes time, time that you should be using to:
pack
update your address
make phone calls
other moving tasks
So, if you have a freezer full of prepped meals that take you a few minutes of actual work to get ready, or a fridge full of food that you only have to warm up; then that's a lot of time that you just saved.
Second, if you prep everything you'll need and say freeze it so it just has to be warmed up, then you can pack up your kitchen a lot quicker and easier than if you're making food on demand.
Now, maybe you think you'll just be eating out a lot during the last few weeks. Well, if you only had a few days left then it may be fine. But, eating out for a few weeks will get really expensive and unhealthy. And, making sure that you eat healthy food is important for keeping your energy up during the whole moving process.
So, just do yourself and family a favor and meal prep. Keep everyone eating well and save time! (Or, at least plan out really simple meals to eat where you don't necessarily have to cook, like avocado tomato sandwiches.)
*Grab some meal planning templates specifically designed for moving HERE!!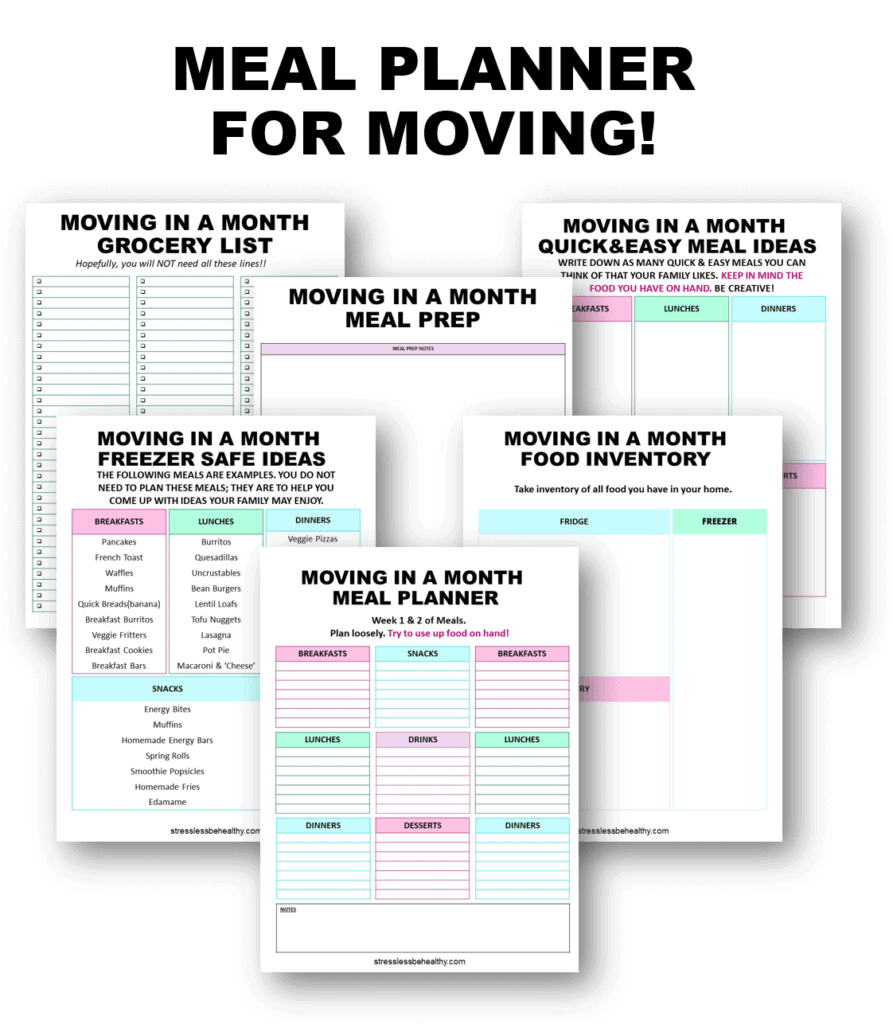 Step 5: Pack Up Anything You Know You Won't Use in the Next Few Weeks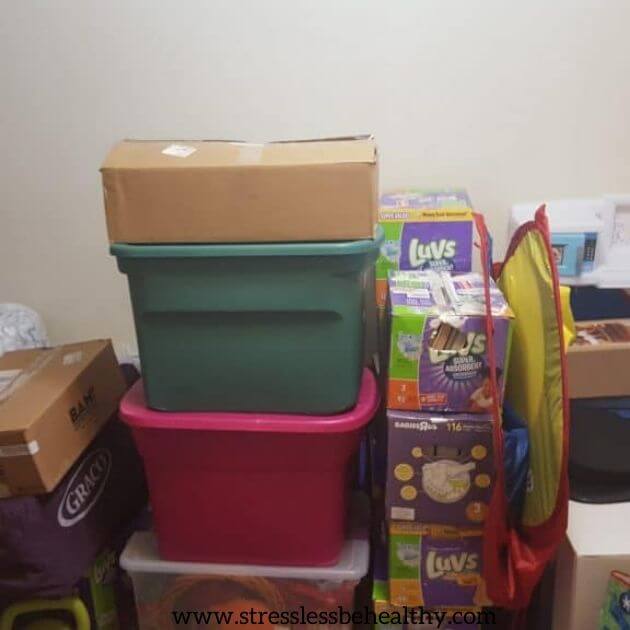 The next step, which you should start as soon as you have your packing supplies, will be to pack up anything you know you won't use in the next few weeks.
This will include, hopefully, most of the items in your kitchen, physical copies of movies (if you have any), books, and whatever else you may have that you know you could live without for a few weeks.
This should be the majority of your packing and should be done before your final week at your old home.
Get the Ultimate Moving Planner!
This is the moving planner I wish I'd had years ago while moving with kids, and will be using again the next time my family moves! Be sure to check it out HERE, I love how I can easily fill it out online and print just what I want, or simply keep it updated on my phone. It's so easy to use!
Step 6: Update Address
About 2 weeks before you move you should update your address. Along with telling friends and families about your new address, there will be companies and doctors offices that you'll need to inform, as well.
For a list of where to update your address, check out the post I wrote on that: 17 Places You Need to Change Your Address When You Move!!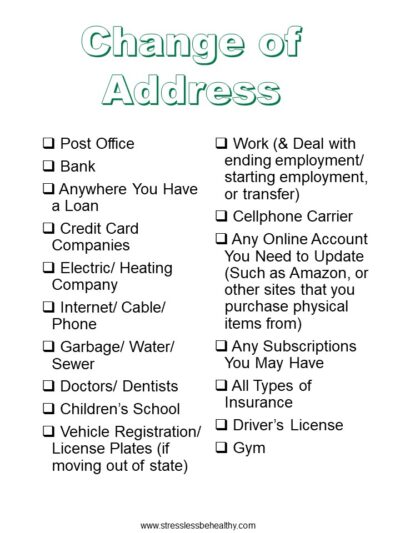 Step 7: Pack All Non-Essentials
At the beginning of your final week in your home, you'll want to pack up everything that you can live without for a few days; ALL of the non-essentials.
Think of it this way: if you were to go on vacation, whether to a hotel or camping. What would you bring or need to absolutely use while there?
Answering that question should help you narrow down what you should keep out and what you should pack up. Be really stingy at this stage with what you keep out.
(Also, don't pack up things you'll need when you're unpacking at your new home, like scissors or a box cutter.)
For a list of things to pack separate for your first few days at your new home, read: First Day Essentials for Moving!! 32 Items You Must Pack Separate!!
Step 8: Clean Again and Pack All Essentials
Once you have the majority of your belongings packed, make sure you do a deep cleaning again. It should be a lot easier this time!
Then, the day before you move, pack up the rest of your belongings. Well, all but toothbrushes, stuff to use during your shower, and whatever it is that you may be sleeping on for your last night in your old home.
The morning of your move you'll want to pack up those things.
Step 9: Move Everything to New Home
Then comes moving day!
The day you've been preparing for.
In all honesty, this is the easiest day for me, personally.
All of the packing and planning and updating information falls solely on my shoulders as a stay at home mom.
But, picking up the moving truck (because we're too cheap to hire movers), packing the truck and moving the boxes into our new home; I don't do it. I'm on kid duty!
My husband picks up the moving truck, invites a friend or 2 over; they pack the truck, and then bring the boxes and our other belongings into our new home. I don't lift a finger.
My only job that day is to keep the kids out of the way. Which can actually be quite a challenge- coloring books are recommended for this. Check out 10 Sanity Saving Tips for Moving with Kids for more ideas!
The last time I had to help move heavy boxes or furniture into or out of a home was when we moved cross country and didn't know anyone in our new area to help us out. My husband couldn't carry the couch up the porch stairs and into our second floor apartment all by himself when we first moved out here…
Step 10: Clean Old Home for the Last Time and Fix any Minor Damage
The final step you'll have to worry about concerning your old home; do one more deep clean and fixing any minor damages that may have occurred while living there. AKA making sure there's no crayon on the walls.
This step is vital for getting as much of your security deposit back as possible, if you rented. Plus, it's simply the right thing to do.
You Can Do it
So, even if you don't have a lot of time to fully plan out your next move and may be in a little bit of rush; know it is possible.
It's possible to move when given less than a month to do so.
And, honestly, I've done it in less time.
It may not be ideal and it may cause a little extra stress (to help you get it all done). But, even with having two little kids running around you attempting to unpack everything you've already packed up; know it can still be done while keeping your sanity in tack.
(Just make sure to tape up the boxes right after they're packed; so little hands can't open them and unpack what's inside.)
Do you have any tips to add to the steps to move out with kids above? If so, leave a comment to let me know!
Don't forget to share this on Facebook with friends and family who may need it and save it to your favorite board on Pinterest!