*Disclosure: some links may contain affiliate links. For more information on what this means, visit my disclosure page.
10 Sanity Saving Tips for Moving with Kids
Have you ever tried to move….with kids?
It can be quite a challenge, especially if you don't have anyone to watch them while you pack or even on moving day.
Naturally, they like to get into things; recently packed boxes and packing supplies included.
So, you may ask 'how do you move with kids?'
Or, more accurately, 'how do you move with kids, without stressing out so much that you don't even want to move anymore'?
Well, I have a few tips that may just help you. And, I'm going to let you know right now, first hand, that these are sanity savers!
(Just for reference, I recently moved for the 9th time with kids.)
Get a few printable checklists for moving HERE.
Or, grab this super useful Moving Planner HERE, it has everything you'll need for moving inside!
Before Moving Day (with kids)
Tape up Boxes ASAP
I learned this tip the hard way, and it took multiple moves to finally nail down this sanity saving tip down. You can only pack up the same boxes so many times without going insane.
Kids are curious, so of course they want to know what's inside the boxes you just packed. You can't blame them for that; when I forget to label a box, I'm the same way!
But, after having to repack a few boxes over and over again, it starts to get stressful and time consuming.
So, just do yourself a favor and tape up the boxes (and label them) right after you get them packed. And make sure you're using strong packing tape.
I even go as far as designating one spot for all of the boxes to go, once packed. Preferably a place I can keep in sight so I can make sure my girls aren't trying to open them up.
Designate ONE Box for them to Keep Their Favorite Toys
…Or laundry basket, bag, or whatever else you want. Have this be the only place they are able to get toys out of while you're packing, at least for the last week or two before moving, no exceptions!
Maybe have them choose some of their favorite toys, or choose them yourself. Make sure there are enough toys to keep them entertained while you finish packing up the rest of your belongings; but not too many that they don't all fit in a box or bag to be moved to the new place.
My girls picked out their Disney microphones, other noisy toys, and of course baby dolls, stuffed animals and some dress up clothes for our most recent move. For reference, they're 2 and 5.
Declutter Their Toys with Them
If your kids are anything like my girls, then they probably have more toys than they can play with.
They could use a good decluttering session! And, it's not that we go out and spend a ton of money on their toys, most of them were gifts.
Plus, kids grow so fast and they outgrow toys.
This last move we had a lot of developmental toys for 12-18 months that we had to get rid of because they were simply taking up space.
If your kids are hesitant about donating, or decluttering their belongings, ask which ones they would like to give to other children to make happy. Using that logic seems to go over much better with my 5 year old.
If you're downsizing, decluttering will be necessary anyways.
If you're not downsizing, having less stuff is a great way to start fresh in a new home; they'll be less to put away and organize, and less to maintain!
Allow a Little More TV
I know some moms would frown upon this tactic, but it works!
If you're pressed for time and need your kids to just sit still so you can get everything packed up and cleaned, simply put on a movie. Get what you need to get done, done, then turn off the TV.
It's simple and effective.
If you don't have anyone to watch your kids while you pack, then use this tip. It will give your kids something to do, and stay out of your way while you run around like crazy trying to get everything packed and cleaned.
Get the Ultimate Moving Planner!
This is the moving planner I wish I'd had years ago while moving with kids, and will be using again the next time my family moves! Be sure to check it out HERE, I love how I can easily fill it out online and print just what I want, or simply keep it updated on my phone. It's so easy to use!
Moving Day
Designate an Adult
Have you ever moved with kids and had no extra adult to help with the kids? Just you and your husband?
It can be difficult, to say the least; we've done it a few times.
I still remember when we moved with our oldest daughter when she was only 10 months old.
We were moving from Florida to New York in August, so it was hot.
We had no one to help watch her, or to help load up the moving truck. My husband was able to pack up most of our stuff by himself, but when it came to things like our couch, he needed a little help.
And, you can't very well leave a 10 month old by themselves, so I used a baby carrier and wore her while helping him move our couch from a second floor apartment and onto the moving truck. Luckily, he's a pretty strong guy so he carried most of the weight.
Honestly, it may be worth it to hire someone to help you pack the moving truck so that you can simply sit with your kids, especially if they're little or if you have more than one.
Use Gates or Their Car seats
If you can't afford to hire someone to help you move, or are trying to be frugal, use a gate to keep them safe, in one (still baby-proofed) room, while you help with the heavy items.
If you're children have already figured out how to open the gate, or are tall and can climb over the gate; then this may not work…But, if they still use car seats, which they should be if they're too little to know how to behave during moving day, then use those.
First, make sure you take the car seats OUT of the car and bring them inside, possibly even near the door so you can keep an eye on them at all times. They may also enjoy watching you go back and fourth and pack up the truck.
Pack a Bag
Whether you have an extra pair of hands to help out, or not, you're going to want to pack a bag for moving day. (This is outside of the First Day Essentials that I recommend for moving.)
In this bag you will want:
Extra clothes for everyone (including PJ's)
Diapers and wipes (if you still have a child in them, or trying to potty train)
Drinks and Snacks
Pen and Paper
Activities for kids (like their tablet, coloring books and crayons, magnetic doodle boards, etc.)
Your phone, keys, and money
Make sure you keep this bag easily accessible all day long. Kids like to be entertained and eat, moving day is no exception. And, you're not going to want to go through boxes or try to find PJ's for your kids at the end of the day; no one has energy for that after moving all day!
You're also probably going to appreciate having money out to have some food delivered to you at the end of the day when exhausted.
Coloring Books and Crayons
One of the easiest, and cheapest, ways to entertain kids on moving day is with coloring books and crayons. Get these at a dollar store if you really want to save on money.
Seriously, these are like magic sometimes; I've been writing for the past hour and my girls have been coloring at the table and behaving.
They don't need a table to color at, though, they're fine with simply sitting on the floor coloring. This can easily give you an hour to at least help pack up all of the heavy items that take more than one person to pack. You could even buy a cheap clipboard and let them color in their car seats (inside) while you pack the moving truck.
Relax on What You Eat
I'll admit to being a health nut and wanting to make sure everything myself and girls eat will nourish our bodies and promote health. But, it won't kill us to eat out or have food delivered to us at the end of moving day.
You're going to want to have easy snacks and meals to eat during the day, that you know your kids won't fight you with eating.
So, if that means cereal with more sugar than you'd like them to have for breakfast, a pb&j for lunch, and pizza for dinner; then so be it. This is not a day to be all that picky, especially if you only have one day to get everything packed up and out of your old home.
As for snacks, see if you can cut up fruits and veggies ahead of time and keep in a cooler, or simply get them a special snack ahead of time and don't let them eat it til moving day.
And, don't forget to have everyone stay hydrated with water; luckily it's the easiest drink to choose and good for you!
If you'd rather stay eating healthy while in the process of a move; THIS Moving Meal Planner was specifically designed for moving!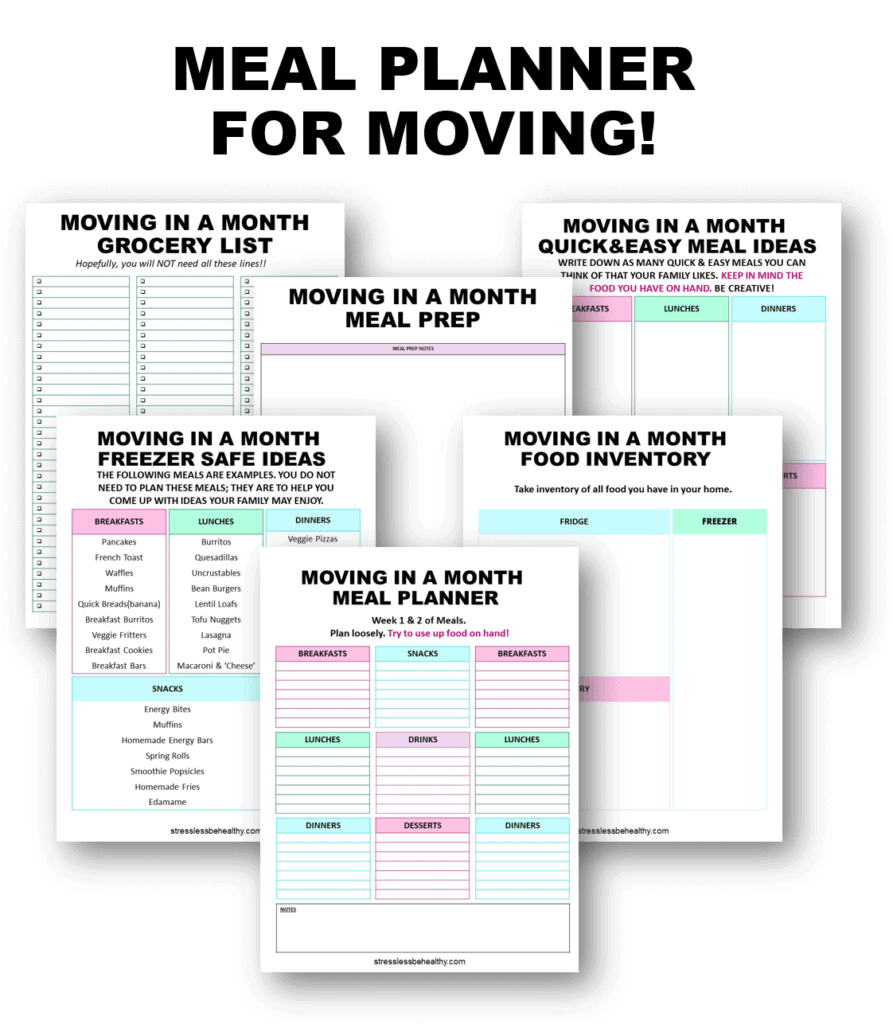 Set up Their Rooms First
When you finally get everything pack up, out of your old home and into your new home; have your kids rooms be one of the first to get set up.
Obviously, you're going to want to get a shower curtain up and have the bathroom ready to be used first.
Then, have enough things out in the kitchen for it (or you) to function (like your coffee pot).
But, then you're going to want to set up their room so they have a place to be and play while you finish unpacking everything else.
I know, some people recommend setting up their kids room first when moving to help with the transition.
But, if you've moved as often as I have with kids, moving doesn't really affect them too much, at least before they're old enough to go to school. It's more of a way to keep them entertained and busy while unpacking and organizing the rest of the home.
Be Smart and Take My Advice
Even with all of those tips, moving with kids can still be a little stressful; any type of change in your life will be. But, using at least a few tips from above will help stop you from thinking that moving is too stressful and that you just shouldn't do it.
Obviously, you're moving for a reason and can't just change your mind on moving day. So, do yourself a favor, understand that doing anything with kids is supposed to be harder than without kids. But, you're a mom, so you can handle it; we can basically handle anything.
I just wanted to share some things that I picked up from 9 moves in the past 6 years that helped reduce the stress of moving with kids. My hope is that you can also find some peace in moving, with a few of those tips and maybe even enjoy the process of moving and starting anew!
If you have any tips for moving with kids, please share in the comments, I'd love to hear them! I know this past move won't be my last with my kids!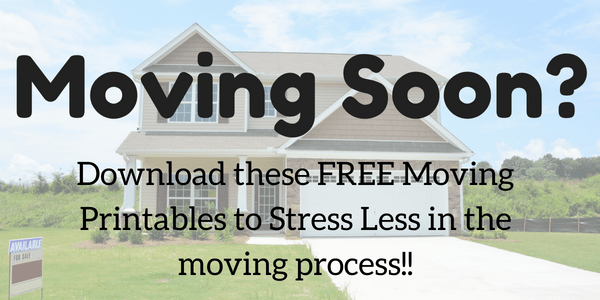 MORE MOVING POSTS:
How to Pack like a Pro Moving: Cross Country Move
17 Places You Need to Change Your Address When You Move!!
How to Prepare a Young Child for Moving
10 Simple Steps to Move out in a Month (with Kids
First Day Essentials for Moving!! 32 Items You Must Pack Separate!!
7 Frugal Packing Tips for Your Next Move
The Complete Cross Country Road Trip Packing List (with kids)!