*Note: some links may contain affiliate links (meaning if you end up purchasing something when you click on the link then I may get a commission on it, with no extra cost to you, of course). For more information on what this means, visit my disclosure page.

The Best Newborn Clothes Checklist
The Newborn Clothes Checklist for what you actually NEED, and more!
If you're pregnant and preparing for your baby, you know that there are a lot of baby items out there you can buy. Some are practical and absolutely necessary, whereas others would simply be nice to have or are a luxury.
Baby clothes run on both sides of the line; as babies need clothes, yet some are super expensive and adorable depending on where you shop.
To help you make sure you get at least what's needed; make sure to use this Newborn Clothes Checklist!
(Printable version available here!)
Related Posts:
Pin This Post for Later!!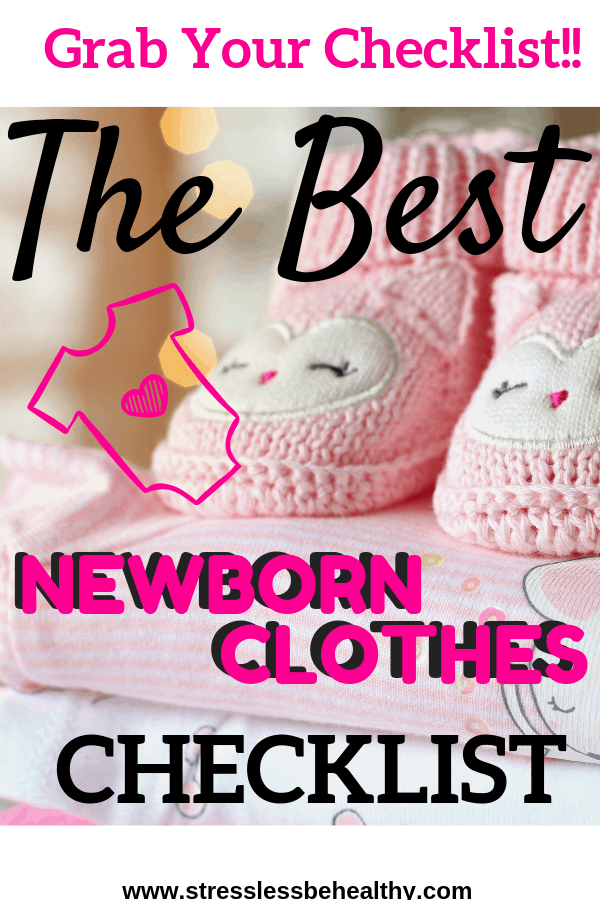 Now onto your big question…
What Clothing Does a Newborn Need?
Well, that is going to depend on a few things, such as whether they are a newborn girl or boy, along with the season they are born in.
But, let's start with the basics and then get into the specifics of what they would need if born in, say, winter, or any other season.
Coming Home Outfit
This can be super adorable and special!
Or, simply an outfit that you think your baby will be comfortable in.
It's really up to you, and it doesn't really matter as much as you probably think it does. Unless of course, if you're going to be taking tons of photos and care what others think of your babies clothing style from the second or third day after they are born.
You may want to pack a few options in your hospital bag, different sizes, too. Even if you have an ultrasound not long before going to labor and they tell you how much your baby should weigh, doesn't mean that's how much your baby will weigh.
If you're expecting to go into labor early or have a low weight baby, such as with multiples or have complications in pregnancy, make sure to get preemie clothing.
Otherwise, you should pack newborn and size 0-3 month outfits. Some babies are simply big when they come out and won't fit in newborn clothes.
This outfit should include:
the main outfit
onsie (unless it's super hot outside)
baby socks
baby mittens
baby hat
and possibly more depending on the season!
Babies live in onsies!
They are great for them to wear under pj's or other clothes in the winter (and fall, and spring), as an extra layer. Or, double up their use in the summer and use them as a simple shirt.
They protect babies from hot or cold snaps on their clothes.
My next baby is due in the summer, so I have a feeling she's going to be spending most of her time in onsies, and maybe shorts, skirts, or dresses, too!
You will want to have a lot of these on hand, at least 5 to 10 in each size (newborn, 0-3, ad 3-6 months, to start off); depending on how often you need to change their clothes and how often you want to do the wash. You may even want more!
They can help protect more expensive (or cuter) clothes from diaper blow outs; maybe not entirely every time, but better than nothing. With that being said, these may need to be changed multiple times a day.
I still remember when my oldest was a newborn, I'd have to change her clothes at least 5 times a day; simply from her wetting through (while we were still testing out which diapers to get her), diaper blowouts, or spit up covering her outfit. All babies are different, so your baby may be able to stay in the same outfit all day long; my second baby was like that!
Just like, and with, onsies; babies live in pj's, at least in the colder weather and when home. In the northwest and northeast, that means fall through spring.
When my oldest was a newborn, whenever I wasn't with her, either my mom or cousin watched her; so she was always just in pj's and a onsie. At least until summer.
They are super comfy and much easier to change diapers in than 'normal' day clothes for infants. Plus, newborns sleep most of the day anyways, might as well stay in pj's!
Also like onsies, you should have 5-10 sets of one piece pj's for each size. Be sure to leave tags on any new newborn sized pj's, just in case your baby doesn't fit into them and you need to return them; pj's aren't usually as cheap as onsies.
Babies, like us, lose most of the heat in their bodies from either their feet or their heads. So, unless it's super warm out, you'll want to make sure your baby is wearing socks; no matter how cute their little baby feet are!
You'll want to have 4-8 pairs of socks or booties, which is about how many will come in a single pack. These are far enough away from their mouths, from spit up, and their bottoms, from wetting through or blow outs; so you shouldn't need to change them more than once a day.

You will want baby mittens.
And, you will want them on your baby as much as they will keep them on!
I didn't know this with my first baby, but babies nails grow really fast; too fast to cute every time needed.
So, they accidentally scratch themselves, and us. It's not pleasant; grab these and make sure you have a pair in different places so you'll never be without them. Such as: where they sleep, their diaper bag, the main part of the home they're in, etc.
2-4 pairs of Mittens should be enough, unless your baby constantly has their hands in their mouths and soaks the mittens; then you may need a few more pairs.
Swaddle blankets are a life saver, or at least a sanity saver.
They make swaddling your baby super easy! No struggling with trying to do origami with a blanket while keeping your baby inside it. For some of these, you simply stick your babies feet in, pull it up, and fold each side over and secure; that's it!
Plus, your baby shouldn't be able to get their arms out; they'll feel nice and snug and secure, just like when in your womb. This helps them sleep longer!! Which means YOU can sleep longer!
You should only need 1-3 of these.
Babies, like us, lose most of the heat in their bodies from either their feet or their heads. So, in the fall, winter, and spring, they'll need a hat to keep them warm.
Hats will also protect them from the sun when outside; so you'll want them in the summer, too.
Baby hats will also hide the top of their heads, in case they had a hard time coming out and their head is a little odd looking before their skull finishes forming and fusing.
1-3 baby hats will be enough, unless you want to try to coordinate their hats with their outfits; then it's simply up to your own preference for how many you'll need. Make sure to get hats appropriate for the season your baby is born in!
There are some really cute baby dresses available, especially for special occasions!
Or, simple summer dresses to keep little baby girls cool in the summer. These aren't necessary, and obviously not needed for baby boys, but it does make dressing your little girl a little more fun!
Unless your baby is born in the summer and is going to practically live in light summer dresses; you shouldn't need many. With a baby boy you don't need these at all. This clothing is completely optional for baby girls, as well.
But, I'm planning on having at least 3-5 light summer dresses for my baby girl to wear through out the summer! Don't forget about special occasions, if you'd like to dress your baby up for them; such as Christmas, Easter, and other Holidays!
Unless you plan on keeping you baby in onsies, pj's, and dresses at all times; you may want some other clothing options.
They don't have to be expensive; they can be, but don't have to be. Ask for hand me downs, check out consignment or thrift shops, shop at garage sales; whatever you need to do. There are even some stores with great clearance sections to find really inexpensive clothes.
Winter babies should have long sleeved shirts and long pants, while summer babies will need short sleeves and shorts. Depending on how often you want to do laundry and how often you go out, you may only need 4-8 of each of these (or outfits).
Baby Shoes
As cute as baby shoes are, and fun to shop for! There's no use for them until your baby starts to walk.
If your baby is born in the winter and you're worried about their feet getting cold, you can always put little booties on them, like these.
Otherwise, they're just there for fashion obsessed mama's to put on their babies. You're seriously better off putting your money elsewhere until they start to walk.
These are super important to have on hand if it's not hot out, or hot where the baby sleeps.
Either these or swaddle blankets.
For safety reasons, babies should not have blankets on them while sleeping; these will keep them warm during the cold months and help them stay asleep!
If you live in a place where it's cold (or cool) most of the year, you'll want at least 3-5 of these, possibly more! Many come in a size where they will fit babies in sizes 0-9 months. Of course, not all are like this, so be sure to look at the sizes!
If your baby is born in the winter, you'll want to make sure you have a snowsuit for them for when you have to go out. The one like in the picture above is probably the best kind to get, as it makes it easier to buckle your baby in their carseat!
You may need some other warm outerwear, as well, depending on which snowsuit you choose and how cold it is where you live. For example, they may need a winter hat to wear under their hood.
Baby Clothes Checklist Review
Babies may not need a ton of things when they are first born, but they will need clothes!
Newborns grow pretty quickly, at least after they figure out how to eat and start gaining weight. So, be sure to not take tags off of newborn baby clothes until you plan on putting them on your baby.
You'll want to be prepared with clothes in the following sizes, if possible, when baby is born:
preemie (these may not be needed)
newborn (surprisingly, these may not even be needed)
0-3 months
3-6 months
My second daughter wore newborn sized clothing for maybe a week after she was born, and I'm quite certain my cousins first daughter didn't even fit in newborn clothes right after she was born. So, make sure you don't stock up on only newborn clothes, thinking that's all you'll need for a little while.
Babies grow the most, and go through the most sizes, in their first year of life. You may be able to get away with less clothes than suggested above (for each size), or you may need more. It's not really something you can guess at, sometimes you just learn what, and how much, you'll need along the way.
The number of items below should be used as a guide, not a 'you will only need this many' or 'should only need this many' type of list. Of course, if you get hand me downs, and a ton of them, keep them all in case you need them; don't pick and choose a certain number from the clothes offered to you because of the 'suggested' number of items.
Guide for baby clothes checklist:
Again, use this as a guide.
If you feel you need more, or less, of anything; use your mama instincts and go with it!
Don't forget, you can print off this checklist, along with other checklists for infants, right here!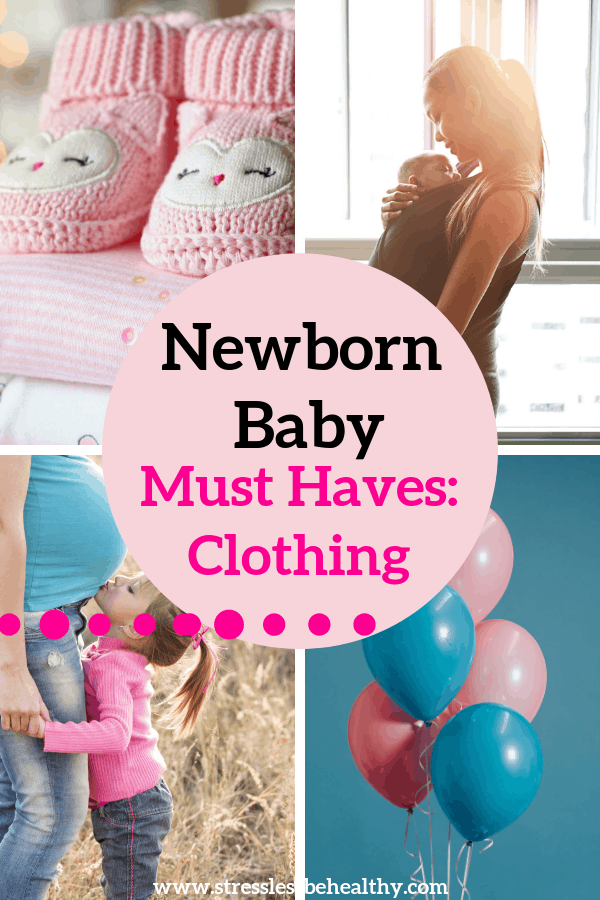 Want to be super prepared when it comes to your infants sleep routines? Grab these baby tracker worksheets!