*Disclosure: some links may contain affiliate links (meaning if you end up purchasing something when you click on the link then I may get a commission on it, with no extra cost to you, of course). For more information on what this means, visit my disclosure page.

The Best Easter Basket Ideas for Little Kids (That Isn't Candy!)
Trying to raise healthy kids around Holidays can be super frustrating! There's candy everywhere! This year, let's focus on Easter Basket ideas that aren't huge chocolate bunnies, or peeps, or other candy.
Christmas and Holloween may be the biggest Holidays, but Easter can't be too far behind; it's estimated the average American spent around $150 per person on Easter last year! That's quite a bit, especially if spent on chocolate!
Don't worry, the Easter basket ideas below aren't expensive (they certainly won't add up to $150), and they are in no way related to food.
Having non-food ideas to put in a child's Easter basket is so important, especially if you don't want your child eating it all in one day (that may have been me as a child). Plus, if your child happens to have food allergies or can't have food dyes; you won't have to worry about checking the label of everything you add to their basket!
Check out the list below for 22+ Ideas of what to put in your childs Easter Basket this year!
---
Related Post: 4 Must-Have Easter Traditions!! (Even if you don't do anything else)
---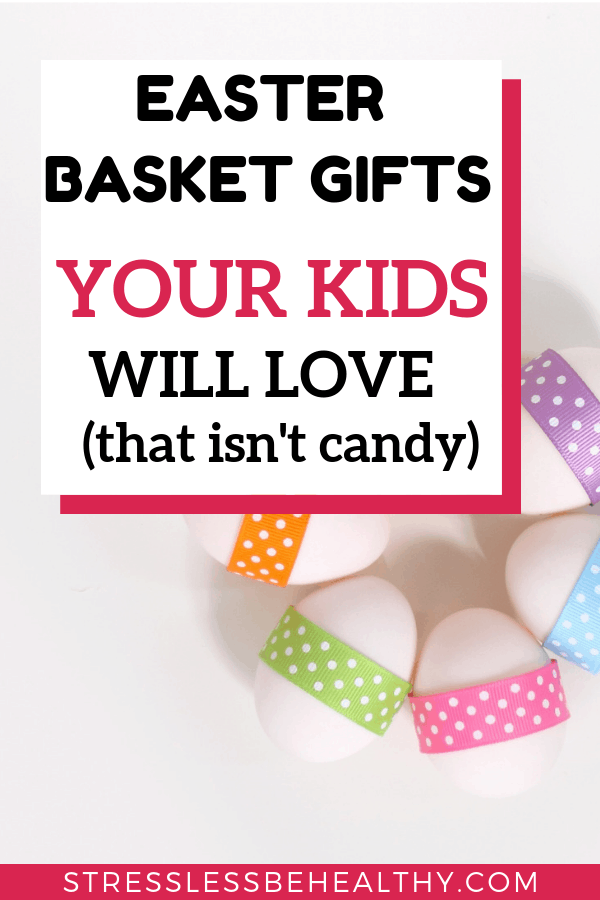 Movies – About Easter or Simply Family Friendly
It was always a tradition growing up that we would get movies on Easter to watch as a family. I've continued to do this for my own girls, and this is probably the most expensive gift my girls get in their Easter baskets each year.
Luckily, there are some ways to not spend a fortune on these. If you haven't signed up for the Disney Movie Club yet, they usually have a promotion going on for new members; get 4 movies for $1! This has got to be the best deal ever for getting Disney Movies!
Disney owns A LOT of different titles. For example, you could grab your kids the best classic, or newly released, movies, and grab yourself a Marvel movie, with this deal! You can check it out more here!
Stuffed Animals
If it's your childs first Easter, make sure to buy them a 'My First Easter' stuffed animal, you can get these super cheap, like $2-$3 at places like Walmart or the dollar store.
Or, go with TY beanies, which will always be a favorite in my home. They keep making them cuter, with bigger eyes, too!
Filled Plastic Easter Eggs
Fill little plastic Easter eggs with something age appropriate! Your options are almost limitless, the only things you need to consider are the size of the object and whether or not your child might like it.
Here are some ideas:
a ring
a necklace
a bracelet
string and beads to make their own jewelry
silly putty
small car
coins
pacifier (for infants)
gem stones
play doh
a secret message on a post it note
a small chapstick
stickers
small nail polish
etc.
You don't have to spend a lot, and you don't have to buy junk to put in the Easter eggs, either!
Just think of what types of things your child likes and see if there is something small enough to put in it.
Do they like arts and crafts? Add in some gem stones, beads, or other small items for them to decorate something with.
Do they like playing with something they can shape with their hands? Add in play doh or silly putty.
If you have a bigger item inside their basket, like a coloring book; put some small crayons in the eggs, or something that relates to the bigger item!
Doodle Pad
My girls actually got these a year or two ago and still use them to this day!
They're not expensive and makes for a great Easter Basket filler.
Puzzles
These help challenge our little ones brains!
Puzzles are another inexpensive toy. And, with puzzles, you can get them at so many different levels; you could get one for their Easter Basket every year and they won't get too easy for them, or childish.
Flashcards/ Brainquest
Flashcards may seem like something to simply help your kids for school, or prep for school, but many little ones love them!
All children love to learn when they're young, it's not until they start going through school where they 'decide' if they like it or not. And, if they don't like school or learning; it could be something else at school going on or that what they are learning is too hard or too easy.
The Brainquest products are also great! My 6 year loves the workbooks, but there are cards, as well. Have them do these during spring break, or any spare time they have when they are 'bored'!
Card Games
When kids get to a certain age, or when they have older siblings; they start to love card games!
There are classic card games like uno, or games you can play with a regular deck of cars; there are also plenty of new card games to choose from, too. My 6 year old got uno for Christmas, I'm pretty sure it was one of her favorite gifts!
This little gift in their Easter basket won't be expensive, and may even teach your children their numbers, math, or to at least try to get along with their siblings to play together!
Stacking Cups or Tupperware
Stacking cups would be great in a childs first Easter Basket when they are infants.
Or, if they're older, getting them their own set of tupperware, or plates and cups, with their favorite characters on it, may be a hit! They could even bring their lunch to school in their own tupperware containers; or use it to prep their lunch in the morning when summer comes along so they can just go in the fridge when they're hungry and know which food is theirs.
Water bottle
Every once in awhile water bottles will need to be replaced, especially if you get the cheap ones for your kids where the picture fades away after being washed too many times.
Easter is the perfect time to grab them a new one, as the warm weather will soon be here and they'll probably start drinking more water as they're able to go outside and run around more!
Easter or Spring Themed Cookie Cutters
This is something I'll probably be putting in my girls Easter basket this year. Cookie cutters of bunnies, flowers, and other spring things!
Don't think that these can only be used for cookies; I'm planning on using them for sliced melons, pineapple, and other fruit, to make fun shapes with fruit to put in their lunches.
New Toothbrush
Young kids have such fun characters on their toothbrushes now a days. Plus, toothbrushes need to be replaced every three months, anyways. Might as well add it to their basket to make it something fun!
Fun Character Bandaids
Older kids may not care so much about character bandaids, but boy do little kids care! And, they love them!
In fact, the only problem with character bandaids is that kids will want to use them on the tiniest of boo-boos, or even non-existent ones. They disappear pretty quickly.
New Hairbrush and Accessories
For girls, sometimes it's nice to get a new hairbrush once in awhile. This is the one I just bought and myself and 6 year old are loving it!
Also, hair accessories are always a great thing to add to a little, or older, girls Easter Basket. Hairbands and little hair accessories seem to go missing and need to be replaced every so often, why not make it special and add it to their basket!?!
You could even add cute little headbands for infants, or age appropriate headbands for older girls.
And, not that I have teenagers, but teenage girls may appreciate some new make up, too.
Bath Toys
Bath toys are relatively inexpensive, and tend to take up some space. So, this would be great for infants and little kids' baskets. Whether it's small foam letters, animals that squirt out water, or bath crayons! They'll be sure to love it.
Magnetic Letters or Other Magnets
Magnetic letters or magnets in general are great for kids! Either to learn their letters, while they are learning to spell, or for us or them to leave a note on the fridge!
As for other magnets, there are plenty of cute ones available, and kids love to see their drawings or homework/tests displayed proudly on the fridge for the rest of the family to see.
Sunglasses
As long as you're not buying for teenagers with expensive taste; sunglasses are relatively cheap and a great to to add to an Easter basket.
Plus, children tend to outgrow things, even their sunglasses; and with summer coming up, now is a great time to make sure they have a pair that fit!
Cute Easter Socks
I remember getting Easter colored socks in my Easter Basket, even as a teenager. Socks tend to get holes in them and need to be replaced; why not make them festive and add them into a basket.
If you're unsure about this item for younger kids, maybe get some with the Easter bunny on it, or something else. My 3 year old would be super excited for socks if they had butterflies on them; she loves butterflies!
Books
There is never a time where a book as a gift is a bad idea!
There are so many books available; you could get books about Easter, springtime, or a book your child has been asking for lately. You don't even have to stick with a regular book, such as the ones below!
Spring or Easter themed books
Soft or small infant books
Learning to Read books
Chapter books
Coloring books
Painting books
Sticker books
Workbooks
Puzzle books
and more!
Don't forget bookmarks, too!
Craft Supplies
If your child is into crafts; this opens up so many possibilities for what to put in their Easter basket!
What you put in may also depend on the type of crafts they like doing, but for starters you could add in:
Crayons
Colored Pencils
Sidewalk Chalk
Colored Paper
Glue
Tape
Safety Scissors
Fancy edged Scissors
Printable Easter Coloring/Activity pages
and more!
Play Doh Sets or Another Sensory Toy
Sensory toys are great for kids of any age!
Kids love to feel different things and try to form objects out of them, like with play doh or slime. My 6 year old is currently obsessed with getting the slime that is Jojo Siwa branded, because she currently loves everything about Jojo Siwa.
But, there are other toys that can be used for sensory play, such as:
Play Doh
Clay
Kinetic Sand
Silly putty
Slime
Play Cars
A lot of the items above may seem a little girly, I do have all girls after all. But, these are one thing that both little girls and boys can enjoy. You could buy name brand cars, like hot wheels, or generic ones. Depending on your childs age and how much they know about these small cars, they probably won't know the difference!
Outdoor Toys
Depending on where you live, Easter could be at the time of year when it's starting to get nice and warm outside, or maybe it's already that way for you!
This is the perfect time to start getting small outdoor items for your child. To either replace broken ones or introduce them to new ones!
Some suggestions for outdoor toys:
nerf/squirt guns
balloons for water balloons
jump rope
frisbee
gardening supplies
seeds to plant flowers or food for your child to grow
You Don't Need to Put Candy in Your Childs Easter Baskets!
There are plenty of inexpensive things you can place in your childs Easter Basket, rather than chocolate and sugary candies.
Start avoiding sweets on Holidays for your children as young as possible, and they won't even question not getting candy for Holidays when they are older! Plus, you won't have to deal with sugar induced craziness, or the sugar high that kids get after eating too much candy.
You don't have to spend a ton or money either.
Simply choose a few items from above, put smaller items that relate to the bigger ones, inside of plastic Easter eggs, to make it look festive, and be sure to add the fake grass at the bottom; and you're all set!
Don't forget to share this post on Facebook to help out your other mom friends, and save on Pinterest so you can refer back when needed!
You don't have to go crazy and get all the things, a few items from this list of Easter Basket Ideas will certainly be enough, especially for younger kids!