*Note: some links may contain affiliate links (meaning if you end up purchasing something when you click on the link then I may get a commission on it, with no extra cost to you, of course). For more information on what this means, visit my disclosure page.

The Ultimate Guide to Prepare your Child for Their First Day of Kindergarten
Child's first year of real school?
Mine too!
Worried they will cling to you and have separation anxiety, or cry when you leave? Or, are you worried that they have grown up too fast and are so independent that they won't even notice that you left?
Sometimes the first day of kindergarten is harder on the parents than it is on the child.
But, the only reason our kids are so chill on their first day of kindergarten is because we prepared them for it.
We do what we're supposed to do, and rely on checklists (such as this one) to make sure we do everything that's recommended to do with/ for them before school even begins.
And, on that first day of kindergarten, we are there with them, if not physically then in spirit.
Keep reading to find out what some of those things are that we should do before our child starts school, and even some things to help ease our child on their first day of kindergarten.
Let's prepare them to have the best first year of school ever and foster a love of learning!
Visit the School Together
If at all possible, which it should be, schedule a time for you and your child to visit their new school.
This should help get them get used to the building, look forward to everything the school has to offer, and gives you a chance to ask the staff any questions you may have.
When my daughter and I went to check out her new school, she absolutely loved it! It was right after the Kindergarten testing she had to do; which was more fun for her than anything else.
Luckily, her favorite place she got to explore was the library. They had a story pit!! And, books with puppies on the cover, which really piqued her interest.
And, more importantly to her; they have computers. See, my daughter wants to be just like her mommy and be a blogger when she grows up right now. They start learning keyboarding…even in Kindergarten.
Have Them Meet Their Teacher (before the first day of kindergarten)
Luckily, she was able to meet the Kindergarten teachers at her new school on the same day she had her testing.
She liked the teachers she met and would have no problem in any of the classes. But, she was able to connect more with one of the teachers than others; as the teacher brought her around her classroom to show her all of the neat things everywhere and what was in store for the next year.
Honestly, I'm hoping she is placed with that teacher, but any of the teachers there seem great!
Hopefully you can get into your child's new school to meet perspective teachers, as well.
At the elementary school I went to, there's one teacher I had (in second grade) who pushed kids too hard. (AKA: I was sick for about a month that year from the stress she put on us.) She's now a Kindergarten teacher, and I would never allow my daughter to be in her class.
Have Your Child Imagine What they may do at School
If you were able to visit the new school with your child then this task shouldn't prove too difficult.
Simply ask your child to tell you what they think they will do at school everyday.
What do they think they will do? Learn? Play? Read? Go outside? Make new friends? Ect…
You could even suggest somethings you think they may end up doing, to give them some ideas.
Help them Visualize Their First Day of Kindergarten
Similar to having them imagine what they'll do at school; get into more detail, and for the entire day.
Go moment by moment with them, describing how each piece of the day will be. At least, as much as you're able to.
Describe that they will get up and eat breakfast (let them know what's for breakfast), brush their teeth, and get dressed. You'll do their hair for them and pack a special lunch.
They'll go to school and the teacher will take over at that point. Refer back to what your child imagined they would be doing at school.
Then, let them know how you'll pick them up and how excited you will be to learn about everything they did on their first day of school. When you get home, you'll make a delicious and healthy snack for them to help with their depleted energy from learning all day.
Then let them know what's in store for the rest of the day.
Visualizing will help them with any nerves they, or you, may have about the first day of school. This technique is also used by athletes to help them perform better during games; so I'm not just telling you this, it actually has been proven to help people succeed.
Start Them on a Sleep Schedule Before the First Day of Kindergarten
Depending on their sleep schedule now, you may want to instill a bed time tonight.
Seriously, you don't want your child to be exhausted their first day of school, or any day of school.
Setting a bedtime and a time for your child to wake up by, before school starts will help prepare your child for the first day of school in more ways than just one.
Getting them in bed at a reasonable time will ensure they get the rest they need, wake up when they need to, and help provide them with the energy they are going to need for the day. It'll also reinforce the good habit of 'early to bed, early to rise'.
Waking up early enough so they aren't groggy heading into school will help them learn better. Along with having time to eat a healthy and filling breakfast.
Read 'First Day of School' Stories to them (or Educational Shows)
There are plenty of books that show children what the first day of school, of the first day of kindergarten are going to be like. Go ahead and check out the ones below.
Or, have them watch educational shows about the first day of school. I'd highly recommend the first day of school episode from Daniel Tiger's Neighborhood. (Grab the book version of the episode here.)
Pick Out a Special 'First Day of School' Outfit
This is a great first day of school tradition, no matter what grade your child is going into. But, it may be even more important for their first day of kindergarten.
This is going to be the first time they are meeting their classmates, and I probably don't have to tell you how important first impressions are.
Just be careful not to put pressure on your child to find the best first day of school outfit. They don't need stress when it comes to what they should wear.
Don't forget to choose, or have them choose, how they would like their hair done for the first day of kindergarten, as well!
Set Everything Ready to Go the Day Before the First Day of School
This may be one of the most important things you do, at least to help prepare yourself for your childs first day of kindergarten.
No one likes being rushed in the morning. But, being rushed on your child's first day of kindergarten; that's no way to start off the school year.
Be prepared and get everything set up for the morning before you go to bed at night.
This includes;
laying out your child's, and your, clothes for the next day
having everything ready for breakfast
having bags packed and near the door
have their lunch packed as much as possible
possibly even more…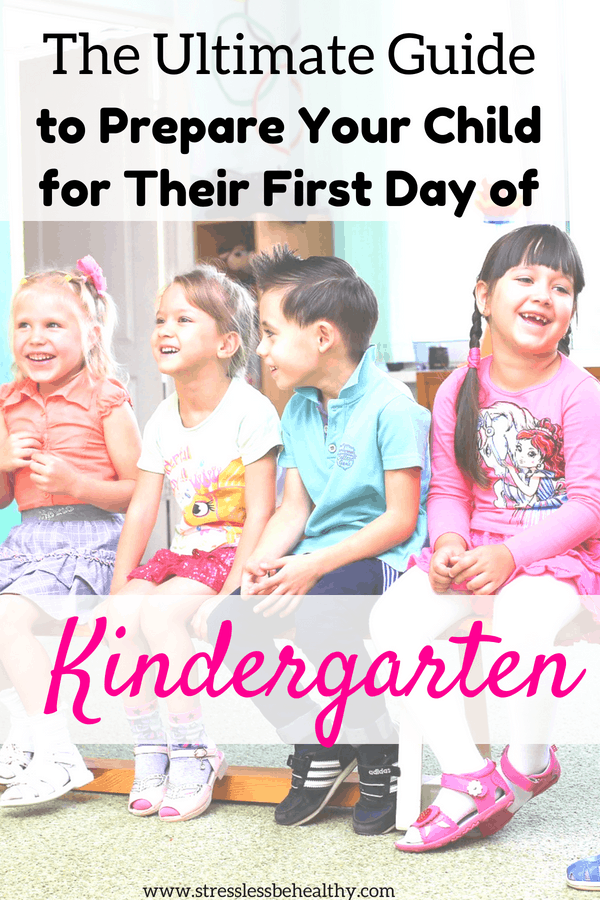 Don't Worry, They'll be Ready for their First Day of Kindergarten!
So, there may be a lot of things we should do before our child starts school, if you want a more in depth checklist; subscribe below to get one sent to your email.
But, it's important for them to be prepared for what's to come….and to have an awesome first day of school.
First impressions can determine a lot.
And, a good first impression about how fun learning is and how the whole school thing works; it's the start to a beautiful relationship between your child and knowledge!
Foster the love of knowledge in your child and help them succeed in whatever they set out to learn.
Don't forget to grab this handy checklist for things you need to do before the first day of kindergarten (and what to do on their first day)!
Share in the comments what you will do to prepare your child for their first day of school.
Related Posts:
12 deliciously healthy kid friendly breakfast recipes for easy school mornings
12 Healthy Vegan School Lunch Ideas