*Disclosure: some links may contain affiliate links (meaning if you end up purchasing something when you click on the link then I may get a commission on it, with no extra cost to you, of course). For more information on what this means, visit my disclosure page.

5 Powerful New Year's Resolution Tips
Did you set a New Year's Resolution this year?
(Let me fill you in on a few New Year's Resolution Tips that I've learned over the years; as a goal setter, someone who graduated with a psychology degree, and as a mom.)
The New Year motivates pretty much everyone to create resolutions; whether it be to eat better, finally lose the baby weight, or simply to be a better person.
This is a time when you, and I, can dream a little and make ridiculous resolutions that everyone, except us, believe we will fail at within a month or so.
And guess what, they may not be wrong.
What happened to the New Year's resolutions that you made last year?
Have you ever stayed with your resolutions for an entire year?
Even just once?
I don't think I have.
I honestly can't remember a single year where I made a resolution and then was proud of myself at the end of the year for keeping it up. Though, I never tend to write them down in a place I'll see them in a year.
Related Posts:
We have to face the facts; most people fail at their New Year's resolutions.
Not on purpose, but it happens; we forget, life gets in the way, we get too busy. There are so many excuses we use when we keep failing our resolutions, year after year!

But, not this year!
I'm going to shed the light on some of the reasons we fail at keeping our New Year's resolutions; so that maybe you can get a better understanding of why we seem to always fail!
And maybe, if you understand the reasoning behind giving up on resolutions, you'll be less likely to give them up and more likely to succeed and accomplish your goals for the year!!
5 Powerful New Year's Resolution Tips
1. Write Them Down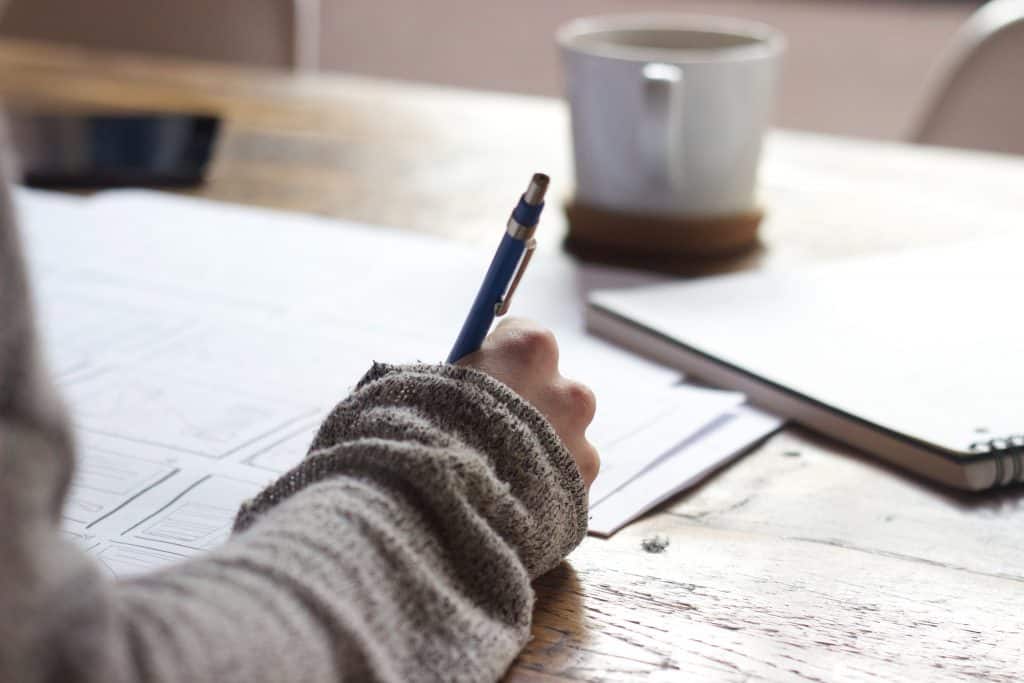 The worst thing you could do to sabotage your New Year's resolutions, or any goal for that matter, is not writing them down!
Writing down your goals can benefit you in many ways; one of which is actually remembering what they are!
When I was little I daydreamed about what I wanted to accomplish every year at the new year; you probably did, too. But, I never wrote them down. I can't really remember what any of them are now; I never wrote them down.
Take my advice: write down your goals and daydreams before you forget them forever.
Help your children write theirs down, as well.
If their resolution is to become healthy this year, grab them some free 'healthy habit' worksheets from the 'My Healthy Habits' for kids workbook. And, check out this post for healthy habit ideas for them to start!
Both you and your child will be amazed at how their goals and dreams mature over the years. It might even be fun for them!
When you have some time, or when you're done writing down your goals; grab them a special notebook to write down their goals, wishes for life, and daydreams. Help them succeed; start them off at a young age!
Though, it's never too late to start making a difference in your life with New Year's resolutions or goals, so go grab one for yourself, as well!!
Don't sabotage your New Year by not writing out your resolutions!!
Get yourself a nice planner to help motivate you to keep working towards your goals and resolutions all year long! This is the one I have an absolutely love!
2. Tell Others what your Resolutions are!
I know, it can be hard sometimes to share your resolutions, or goals, with others.
You may not want them to know that you wish you could lose some weight this year, or cut out sugar, or whatever resolution you may have.
But, if you let someone else in your life know what you want to accomplish this year; it could do wonders for you actually achieving it!
Sure, when you keep your goals to yourself then you won't feel all that embarrassed if you don't accomplish them.
But, what if you actually succeed?
You don't want to keep that all to yourself now, do you?
Probably not, right?
And, with telling others in your life about your goal, like your friends and family, then they may even help you succeed. Or, at the very least, won't make your goals harder to achieve by tempting you to break them because they don't know any better.
You'll have a support system to go to if you're feeling unmotivated; people to talk to, to help you stick with it. And, when you finally succeed, they get to be even more happy for you because they were right there with you; they knew how hard it was for you.
They knew the ups and downs you had when trying to keep your resolutions, or accomplish your goals!
So, if you really want to succeed this year, then gain some accountability and get a support system in place!
Tell others so they can help you stay on track all year long! If you set your goals, or resolutions, high enough then you will certainly need some help getting there.
There's nothing wrong with getting a little help and you're much less likely to give up if you actually have that little bit of extra help or encouragement along the way!
3. Do Everything You Can to Keep Them in Mind
When you don't tell others, and you don't write down your resolutions, it can be really easy to just forget about them.
If you don't tell anyone else then you won't really feel accountable for accomplishing them; you're the only one who knows, so if you don't accomplish them then no one will be nagging you about trying harder. And, if you don't write them down, then you'll probably forget about them anyways, especially if you have a memory like mine!
To overcome this obstacle you must have some self discipline, a plan to succeed, and then actually follow through to succeed!
I'm not going to tell you it's easy, especially if you're lacking in the self discipline area. It's hard, and I get that, like the saying goes "if it were easy, then everyone would be doing it".
If your resolution is to eat healthy all year long; I'm not going to tell you that it's easy.
You need to meal plan, meal prep, and then actually eat what you planned for and prepped. It is far too easy to just forget about it and order out.
Same thing goes with saving money, or practically any other resolution you can come up with! And, sure, you can cut corners and cheat on your New Year's Resolution without others knowing; you're an adult and I can't tell you what to do. But, it's not going to help you get any closer to your goal; it may even derail you or take you longer to accomplish.
And sure, it is far too easy to simply forget about your resolutions and do the complete opposite of them.
Sometimes your body may even feel like it's craving to do so, especially in the beginning; like it's working against you in some way. That's just because change is hard; that is why accomplishing goals and sticking with resolutions is so much of a challenge.
Now, you could fall in line with everyone else and fail your resolutions, or you can work hard and accomplish your goals and know how it feels to actually stick with a resolution all year long.
Now, you know it's not going to be easy, but like the saying goes, it will be worth it!
Use a habit tracker, sticky notes or a white board on the fridge, write it in your planner. Do what you have to, to stand out and accomplish your goals!
4. Stop Trying to Blend In!
I get it, sometimes you don't want to be the one to stand out in a crowd; you want to fit in and be like everyone else. It's natural to want others to like you, and one way to do that tends to be to act like everyone else, even when it means giving up on your resolutions.
Who do you know who has actually stuck with their resolutions all year long?
Probably no one…
…maybe one or two people.
It's not the norm to stick with resolutions, or succeed.
It's hard and most people aren't willing to put in the extra effort and do what needs to be done to accomplish their goals. You may think that no one likes that person who actually succeeds on what they set out to accomplish.
But, reality is that they are just jealous. Jealous that they don't have the self discipline to follow through on their own goals and do what they know they should be doing. So, they are really just mad at themselves for not being able to do what you're doing!
Don't give up on your goals or resolutions to try to fit in.
The only thing you're doing is hurting yourself and your dreams when you give up; you're not making people like you less. Others may even admire the hard work you're putting in to accomplish your goals. Who knows, you may even be inspiring others.
If they don't like you for succeeding, then ask yourself if you really want to fit in with them.

Another reason you may be failing at sticking with your resolutions is that you don't have the self discipline you need to actually stick with them!
Maybe you're relying on the newness of the New Year, or other outside sources for your motivation; when really, it needs to come from within you.
I totally understand that it's easier to wait til the New Year, or Monday, to start working towards a goal; it's a fresh start, a new beginning.
But, what do you think happens when it's not new anymore? Your motivation probably starts to fade and you don't have the discipline you need to stick with your resolution.
And then, there goes that dream, or goal!
That's why you can't always just rely on motivation; you need to strengthen your self discipline!
Generally speaking, a resolution isn't going to be easy; at times you may find it too difficult and just want to give up on it. You're not going to feel motivated all the time.
It's like being an adult sometimes; it's not always easy to do what needs to be done, but at the end of the day it still needs to get done, so you do it. That is what self discipline is all about! Doing what needs to get done even if you don't want to! Most people just won't do it; be different, stand out, and succeed this year!
Stick With Your Resolutions All Year Long
Now, there are more reasons why people don't stick with their resolutions all year long.
But, if you can use these 5 tips to your advantage, then you'll be much more likely to succeed.
Give yourself a fighting chance at accomplishing your goals this year and take my advice!
Use this as a little bit of motivation, learn from all the mistakes you've made in the past when failing your resolutions year after year.
Be stronger, starting now, and strengthen your self discipline; do what needs to get done!
Tell others your plans and let them hold you accountable for following through, but hold yourself accountable as well. Many times it can be an internal struggle to accomplish your goals.
Don't let anything stand in your way, this isn't a time for excuses.
You've got this!!
Pin this on Pinterest or save it for when you need a little bit of motivation to keep you going or for when you feel weak.
And, don't forget to grab this printable and hang it somewhere to avoid these New Year Resolution pitfalls!
If you need help with sticking to a healthy eating New Year's Resolution, be sure to check out what has helped me, here.