*Note: some links may contain affiliate links (meaning if you end up purchasing something when you click on the link then I may get a commission on it, with no extra cost to you, of course). For more information on what this means, visit my disclosure page.

14 Reasons Every Stay at Home Mom Should Have Amazon Prime!
I know you've heard of Amazon Prime.
Maybe you thought about getting it before, but wasn't quite sure what all the fuss was about?
Maybe you've thought:
'Ok, so it says there's free 2-day shipping, but I don't need it in 2 days, I can wait'
Or,
'I don't shop online enough to pay for Amazon Prime.'
In either case, prepare to be pleasantly surprised at all of the hidden gems you could receive with Amazon Prime!
Plus, you can get your first month free by clicking here. So, even if you're not impressed with all the benefits at first glance; you can try it out for free for 30 days.
(Or, wait til you have a ton of items you need to purchase (AKA, right before Christmas), and use some of the other benefits below: basically batch everything into a one month period, and still not have to pay for the membership when you cancel before the month is up.)
What to buy on Amazon during the Holidays:
Free Two Day Shipping
Alright, so you already knew about this benefit, either that or Amazon isn't doing their job with advertising it enough, haha. But, did you know that in some areas you can get your items even sooner; as in 1 day, or even the same day!
See if the area you live is eligible for quicker shipping here.
Because, as moms, it's hard to teach our children the value of patience. (And, even harder to teach our husbands!)
Free Release Date Delivery, by 7pm the day the product is released (Think: games, movies, books)
For us stay at home moms who are literally stuck at home (due to being a one car, or only one working car, family), this one can be a life sanity saver. Especially if you have teenagers (or a husband) who wants a new movie, game, book, or something else on the day it releases, but you are either unable to get to the store or find it ridiculous to wait in line for hours to get it.
Seriously, skip the lines, say no to the extra stress, and just join Amazon Prime and get it by 7pm on the day it's released. If you're simply too busy, this will solve your problem of waiting in line, or even driving to the store; it'll be sent to your door for you!
Live in a Major City? You could be eligible for 1 or 2 hour delivery! Prime Now.
Speaking of saving time, Amazon now offers 1 or 2 hour delivery times for those living in some major cities. This could be groceries, home products, and more!
Go check out this program, and see if you're eligible. (psst..it's the 4th slide under 'ship')
How much time would you save with prime?
Just like Netflix and Hulu; Amazon has their own streaming service.
The difference?
It's free when you choose to have Amazon Prime for all of their other amazing benefits!
If you're still relying on cable for your tv service, do yourself, and your wallet, a favor and just stop it already. Honestly, unless you're getting the most basic cable package available; you'd pay less for getting internet and Amazon Prime Video. And, I'm saying this after working for a cable company, so I know how those prices are (even when they're the lowest prices available).
With Amazons free 30 day trial, you can even check it out, take a look at the shows, movies, and documentaries they have to offer. See if it's worth it before spending a single cent.
Stream on any device (your tv, kids tablet, your cellphone)
As a mom, I can't begin to tell you how often this comes in handy.
Want 5 more minutes of being somewhat asleep; put prime video on your phone, turn it to a kids show, and let them watch it while laying next to you in bed.
Trying to get taxes done outside the home; connect your phone to the internet and turn a show on quietly for your kids to be entertained. Just, try not to watch it with them…
And, being able to watch on any device isn't even the best part of Prime Video…
Download shows to watch offline
This means that your kids can stop saying 'are we there yet?' and watch their favorite show in the car, instead!
Or, maybe your kids fell asleep on a long drive, your husband is driving, and you want to catch up on your favorite show; with prime video, you can!
Yes, you even get Prime Music with your Amazon Prime membership. Which means all the music and dance parties you need!
Sometimes you just need to break up the day as a stay at home mom. Turning on music and dancing around with your kids like no one's watching, is one fun way to do that.
Kids don't care how ridiculous you look, well, at least not until they're teens, then anything you do is embarrassing to them. But, by then they'll be asking you to download their music, anyways.
Audible Channels
Have you heard?
Podcasts are in now, everyone is listening to them, even stay at home moms. I don't know what it is, but there's something nice about just being able to hear another adults voice during the day. It's a calming feeling, a feeling that helps us believe that we're not alone with little ones all day long with no one to talk to.
If you don't believe me, go ahead and check it out for free.
Prime at Whole Foods Markets (save more money- up to 10% off select items)
Even for us health obsessed frugal moms, we can still benefit from Amazon Prime with Prime at Whole Foods Markets.
To be honest, at first, I thought this was whole foods market products available to buy on Amazon. It's not. You do have to actually live near, and go to, Whole Foods Markets to get this benefit. But, it'll also save you up to 10% on select products!
Who doesn't love to save money on groceries?
To save more money on groceries, download the Ibotta app and get cash back by selecting what you've bought and scanning your reciept!
Early Access to deals, exclusive brands, and more exclusive savings
Ever hear of Amazon Prime Day? It's exclusive for Prime Members ONLY.
It's usually in July (ha, like Christmas in July), and it's just like black Friday (or, should I say Cyber Monday), but there are more/better deals!
Like this past year when they were selling Instant Pots for about $49!
There were sales on basically everything. Even the Amazon Fire Tablet my oldest daughter has (that I spent $49 on when it was on sale) was only $29!
No having to wait in line, at a store, when it's cold, with whining kids, to get great deals. Do it from your own home; kids watching Prime Video, you in your pj's, on your couch, with your coffee in your favorite mug right next to you!
More Savings!
Who doesn't love saving money on things you actually need?
Save up to 20% on regular household items, like diapers, toilet paper, laundry detergent, vitamins, batteries, and more!
*Hint- use Amazon Prime all year round for this – or – sign up for free and buy all your non-perishable household items in bulk, on sale, with free shipping, in a single month.
You don't have to leave the home with your little ones. Comes in handy when your two year old decides to act like, well, a two year old. Or, when the roads are bad in the winter and you don't want to drive.
Pin this ↓ to save for later!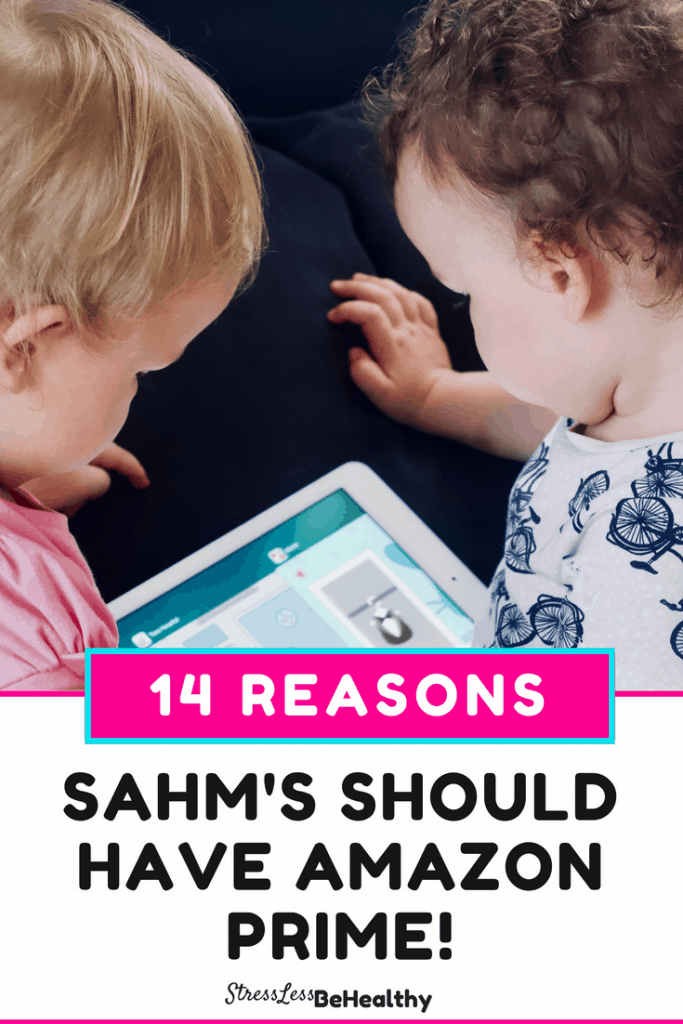 Prime Reading
Do you like to read?
Do your kids like to read?
Then this is a must have. Make it easier for everyone in your family to read by adding the Amazon Kindle app to Android or iOS devices, kindles, or fire tablets!
Challenge your kids to see who can read more. Encourage them to read before bed instead of watching a show; it's better for them!
If they're not into traditional books, there's comics available, as well. Something for everyone!
Prime Reading also includes books with audible narration
…so you don't have to stop the chapter you're on to change a diaper!
Or, if you never have time to sit down and actually read a book; find a good audible book, put your phone somewhere nearby, and listen while you do everything else you have to do as a stay at home mom. While you cook, clean, play with your kids, ect. (I know there's a lot to do as a stay at home mom…that's why I'm writing this at 11:30pm, after my girls are in bed.)
If you're not sure if you would use this feature, simply give it a try with this FREE month trial.
Unlimited FREE photo storage
As a mom, this may be something you actually NEED!
If you were debating over and over and not able to figure out if you should get a Prime Membership or not, because you're just a stay at home mom; think again!
You NEED Amazon Prime, even if just for this feature; we're talking UNLIMITED FREE PHOTO STORAGE!!
How many cute pictures of your kids do you take?
How many selfies do you take?
Or, better yet, how many selfies do your kids attempt to take with your phone without you knowing?
Do you put your phone down for 5 seconds, pick it up again and find 20 more selfies of your kids on it? (I do! My girls go crazy taking pictures of themselves, and they're too cute to delete.)
There are so many reasons you need Amazon Prime, especially as a stay at home mom!
To give you another reason, many stores are being shut down, like Toys R Us.
Where are you going to get your kids Christmas presents this year? More than likely, it's going to be online. So, why don't you avoid paying for shipping and get the items in just a few days (or sooner). And, avoid your kids sneaking a look at shopping bags that aren't ideal for hiding presents.
If you're on the edge of deciding whether or not to pay for Amazon Prime, the best way to decide is to sign up for this free trial and see how often you use the services they provide. You really have nothing to lose by simply trying it out for free!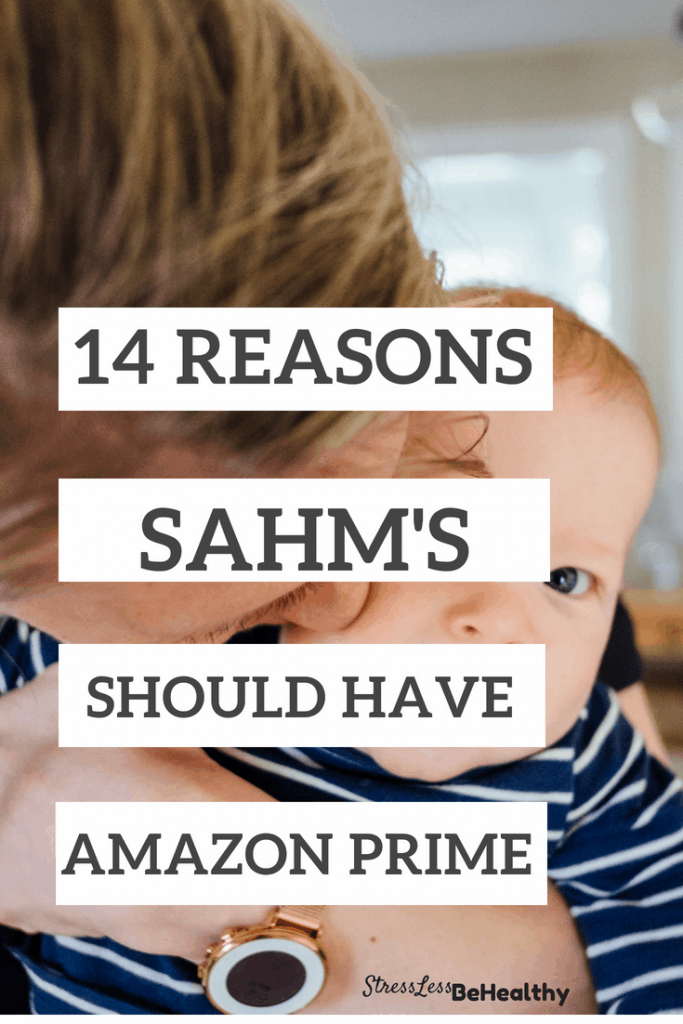 Related Posts: