*Disclosure: some links may contain affiliate links (meaning if you end up purchasing something when you click on the link then I may get a commission on it, with no extra cost to you, of course). For more information on what this means, visit my disclosure page.

How to Stop Worrying About Your Family's Health
As stay at home moms, we have a lot of stress in our lives!
From feeling the need to remember everything to ensuring our children, husband, and ourselves eat healthy meals and stay active! It's a burden we have to carry because we're the caretakers of our families. And, let's face it, no one else in our family really cares!
But, we do! We feel it's our responsibility to make sure our kids grow up healthy and strong, to become healthy and active adults and avoid diet related chronic illness. We also take it upon ourselves to ensure our husbands eat right; because without us they'd probably be eating fast food for dinner every night!
And, then comes our own health! You see that, how I'm writing about our health last. This is what us moms tend to do; always putting ourselves last. When, in fact we should be putting ourselves first so we can better ensure everyone's elses health, with the energy to do so!
But, let's dive into what exactly stress us out about keeping our family healthy; and more importantly, how to reduce the stress!
1. Health through Food
As moms, we are responsible for all the food our family eats. We also want to make sure the food they eat is good for them; that it'll help our children grow up healthy and strong, and help us adults not gain too much weight, either! And prevent diet induced chronic illnesses, that can be prevented by having a healthy diet.
We stress about making the 'perfect' meal plan, or at least one that is 'good enough'. Then we have to do the shopping, cook, and clean up after everyone after meals. And, this is a never ending cycle because everyone has to eat….and at least 3 times a day.
Plus, the more we know about nutrition and how food effects our minds and bodies; the more stressed we get about it!
Reduce the Stress
Obviously, it's important to eat healthy, but we don't have to stress over every little detail!
Let's start simple; there is no such thing as a 'perfect' meal plan, so get that fantasy out of your head right now!
And, yes, it is important to meal plan, but this is to help you reduce stress, not cause more. If it makes you feel better, just create a loose meal plan. Write down a meal for all meals of the week, repeats are fine if you know you'll have leftovers. Don't forget about snacks! Then see if you can have someone watch the kids for you while you grocery shop alone. Meal prep that day, or the next so your meals are already to simply heat up and serve! Then, if you or someone else doesn't feel like having what's planned, just find another meal on the plan and swap them. Easy as that!!
Keep a running list of meals everyone likes so you won't have to pull teeth every time you need an idea for a meal. Maybe even place it on the fridge and tell people to add to it when they come up with a meal idea. This way, you don't have to do everything, from coming up with ideas to making them!
To help yourself out a little more, subscribe to get these meal planning templates!
If you already have the planning part down, but are struggling sticking with that plan or meal prepping to ensure good nutrition for your family; sign up for Wholly Prep. This course will walk you through the meal prepping process and you'll be a meal prepping pro by the end of it!
2. Health through Exercise
Again, we want ourselves and our children to be healthy and strong. Other than food, exercise will help us be healthy, and gain strength.
So, to add to our long lists of things to do everyday; we also stress about making sure our kids get enough exercise everyday. Whether it means we take them to the park, let them just run around outdoors, or come up with a fun game for them to play indoors during the cold months of winter.
Some days it may feel like too much, on top of everything else. This takes up time. It's a good use of our time, but as moms, our time is very limited. So, anything that takes up an hour or so of our time will ultimately stress us out!
Reduce the Stress
Luckily, a great way for us to reduce the stress is by getting exercise with them! Chase them around the park, play tag, have a dance party; just join in on their fun! They'll love it even more and get to have more mommy fun time. And, you'll reduce your stress through the hormones that are released during exercise! It's a win all around!
Other than exercising with them, think about whether you'd like to create healthy habits in your kids to be active; or, if you'd like to instill the habit of simply being a couch potato. Whatever you choose to have them do will influence how they feel about exercise in the future, when they're adults!
I don't know about you, but I don't want to raise couch potatoes!
3. Emotional, or Mental, Health
And, who can forget about mental health when stressing out over an entire families well-being?
This type of health can actually cause the most stress, especially if you have a loved one dealing with a mental illness, such as depression, anxiety, or something else. And, even if you don't, you still stress about your families happiness and well-being when it comes to how they feel.
You don't want your child to be picked on at school, or feel socially awkward. And, you don't want your husband feeling like you put the children before him. This type of stress can be hard to handle and reduce. Not as hard to reduce as if dealing with an actual mental illness in the family; but still challenging enough that many of us stress over it and may think there's no way to overcome the stress!
Reduce the Stress
If there is a mental illness in the family, the best thing to do to help reduce the stress is for them to see a mental health professional. To further help, there are support groups for family members affected by a mental illness. (Unfortunately, I may not live in your area and you will have to look these up yourself or find out by asking around your community.)
If you don't have a mental illness in your family, and your stressing about normal emotional stability and feelings your family has; talk about. The best thing you can do to strengthen the emotional, or mental, health of your family is by communicating with them. Let them know they can talk to you about anything; that you'll be there for them.
Reassure your family that you will always be there for them, for the happy times and through the difficult. You've got their back, just let them know!
Yes, Health is important, but so is your Sanity
As moms, our family generally comes before anything else in our lives, even our health. But, that's a backwards way to think. We need to be physically and mentally healthy to best care for the rest of our family to fullest of our abilities.
So, there is a lot that we can stress about when it comes to keeping our families healthy. But, there are also ways to reduce it. Prepare for the week ahead, make plans, and adjust accordingly. Get in exercise to help stay active, reduce stress, and strengthen our mental health. And, remember to always communicate and accept your family as they are!
You don't have to give up your sanity to keep your families in tack. Start with yourself and keeping everyone else healthy will become so much easier!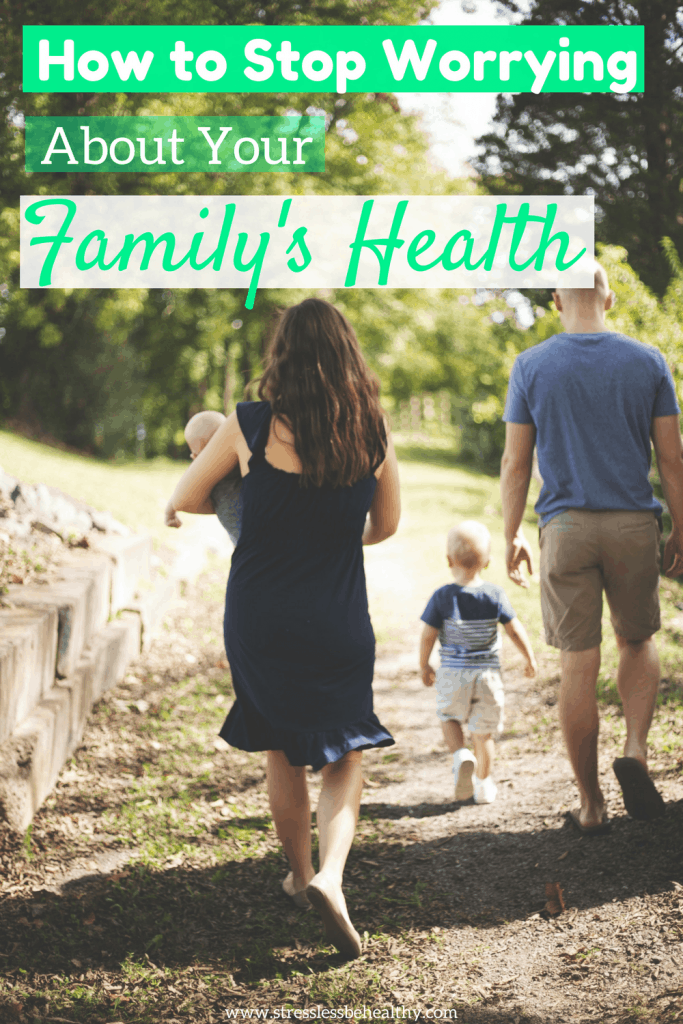 ---
This is the second part of a 5 post series! Check out the first part
This is why Stay at Home Moms are always STRESSED!!
Other Related Posts:
5 Clever Ways to Use Your Stress to Your Advantage