*Disclosure: some links may contain affiliate links. For more information on what this means, visit my disclosure page.
17 Places You Need to Change Your Address When You Move!!
Moving is stressful.
We all know this. Which is why lists are so helpful; they help combat some of that stress!
Lists help us remember what needs to be done, even if they're misplaced (possibly by a one of our kids, or maybe our memory is really just going).
Either way, we still wrote down what we needed to do, so we're still more likely to remember what was on them. I'm going to share with you my list for all of the places I needed to update my address for when my family and I moved from one coast of the U.S. to the other!
You can get a FULL MOVING printable (or digitally editable) Planner for where to update your address while moving, and A TON MORE HERE.
Seeing as how there are quite a few different reasons for moving, and different types of moves; where you need to update your address for may be slightly different from where I need to update mine.
For my family, we moved about 3,000 miles away; I needed to do a little more than just update my address. Such as:
finding a new bank
checking out the city library
getting our licenses for the new state we were in
I still feel kind of new to our home on the west coast. Even though we moved over a year ago. For the first full year we were here, we only had one vehicle, so I was literally stuck home with our girls all day while my husband worked.
First things First
Plan ahead!
The first thing you'll want to do, before anything else, as far as updating your address goes, would be to put in a request for an address change with your post office.
I scheduled this to start about 2 weeks before our move in date for our new home. This way mail would stop going to our old residence and start going to our new home. Simply doing this is not enough, though.
It's best to notify other places and companies of your move, as well, just to make sure you continue getting your subscriptions or any other important mail going to your new address, instead of the old one.
(Important mail would be like W-2's. Which took me a good two months of sending emails and playing phone tag with my prior employer to get them to update my mailing address in their system.)
For example, you'll want to notify the electric and/or heating company you use of your move a few weeks ahead of time. Just in case they need to physically come out to read the meter for you final bill. Depending on the time of year, the scheduling may already be a week or so out for a technician to come out.
You may also want to contact your new electric and heating company to make sure that services are turned on before you get to your new home.
Who wants to be unpacking in the dark? I know I wouldn't have.
When we finally got to our new home it was already dark out, and it was cold and raining. We didn't even start unpacking til the morning. Luckily, our air mattress was easily accessible, along with our blankets…and the girls favorite stuffed animals!!
Along the same lines, you'll also want to contact the cable/home phone/ internet provider. It can take quite awhile to cancel this type of account, and sometimes just as long to have it turned on.
Believe me, I used to work for cable company (the prior employer I was talking about, who took 2 months to update my address). The same cable company that took three weeks to set up internet at the home I left on the east coast. It also took about three weeks to close out my account after I canceled it and returned all of the equipment….
For our current internet provider, we only had to go 3 days without internet. And, the only reason we had to wait this long is because we missed our appointment, which was scheduled for the first day we were there.
My husband had called and scheduled weeks in advance. If we weren't stuck at the top of a mountain for 4 hours on our last day of driving, then we would have had internet within hours after arriving. And, if my husband hadn't called every day to try to get a technician to our home as soon as possible, we would've gone almost a week without internet, and I would've missed an amazing webinar that I was looking forward to. My husband is wonderful, he makes sure everything works out for us!!
Get the Ultimate Moving Planner!
This is the moving planner I wish I'd had years ago while moving with kids, and will be using again the next time my family moves! Be sure to check it out HERE, I love how I can easily fill it out online and print just what I want, or simply keep it updated on my phone. It's so easy to use!
More Planning Ahead!!
Another item on the list to plan ahead for; updating your address with
…especially if you have children.
If you're moving out of town, or out of state, you'll have to do some research and find new doctors and dentists, that accept your insurance….
Remember to read reviews of the offices and the doctors/dentists themselves. Or, if you know people in the area, ask if they have any recommendations, that would be ideal!
Also, if you have school aged children you'll need to make sure you contact both the old school and the new school your child(ren) will be transferring to, to make sure everything is ready to go when it's time for your child's first day at the new school!
You'll want ONE single place to keep all of this information straight, I'd highly recommend THIS moving planner; it has a place for all of THIS info plus more!
Luckily for me, my daughters were too young for kindergarten when we moved, so no hassle with contacting two different school districts.
Another thing you may need to plan ahead for may be updating your address at work. Especially if you are ending your employment with your current employer and seeking new employment.
You will want to make sure anything mailed to you from your old work will actually get to you. Not the people who are taking over your old home.
This could prove to be very important. Especially if the employer you are leaving mails out your last paycheck instead of leaving the direct deposit alone. My former employer told me the last paycheck would be mailed to me and it was direct deposited.
Chances are, if I was misinformed of this, others could be misinformed of the opposite. So, just to be on the safe side, make sure you update your address.
Next on the List and After the Move
The next thing you may want to think about when changing your address would be to make sure you have cell service at your new home.
If you won't, see if there's either a way your carrier provides to increase signal strength, such as a micro-cell. Or, you may need to consider another company.
On this same note, check out the businesses in your new area, if it is a new area….
You'll want to find out what grocery stores and restaurants they have to offer.
I unfortunately did not do this well enough before moving. I realized half way to our destination that dunkin donuts is not everywhere.
That was a huge, disappointing surprise. The last one I saw on our way out was in Wisconsin…and they didn't make my last iced coffee right…
So, it's better to research this ahead of time to not be as disappointed when it comes to reality.
After all of the address changes you make before the move and researching the new area you're moving to; there are also some places you may not be able to update your address for til after you move.
This includes changing your address on your license and registration for you vehicle. Or, if you are moving out of state like I did, you will have to get a new license and new license plates for you vehicle.
If you would like my non-exhaustive list of places to change your address, it is right below. And also available in this free PDF with other useful lists for moving!
Change of Address List
Post Office
Bank (may need to switch banks)
Anywhere you have a loan
Credit Card Companies
Electric/ Heating Company
Internet/Cable/Phone
Garbage/ Water/ Sewer
Doctors/ Dentists
Children's School
Gym
Work (& deal with ending employment/ starting employment, or transfer)
Cellphone Carrier
Any Online Account you would like to update (especially any account you purchase items on, such as Amazon or the Disney Movie Club)
Any Subscriptions you may have
All types of Insurance
Driver's License
Vehicle Registration/ License Plates(if moving out of state)
And, I'm sure there may be more, depending on where you're moving to/from and the reasons for your move.
There is so much that needs to be done for a successful move; whether it be across town or across the country! Use this list to help reduce the stress that you're bound to put on yourself during this time of chaos in your life!
Don't forget to comment and let me know if I'm forgetting anything!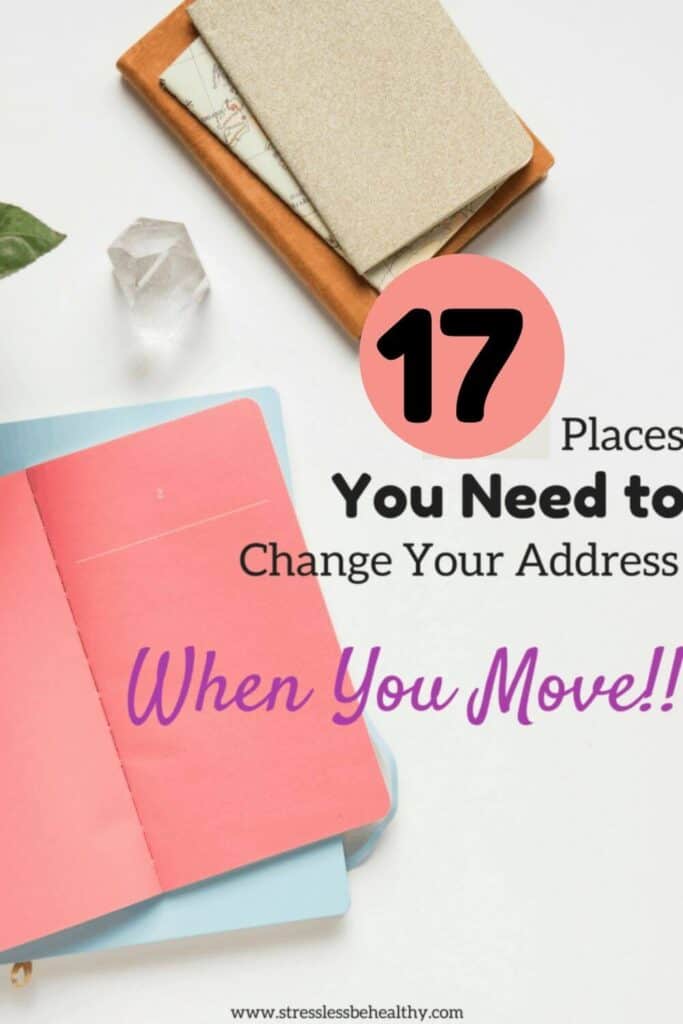 More Moving Posts:
How to Pack like a Pro Moving: Cross Country Move
10 Simple Steps to Move out in a Month (with Kids)
How to Prepare a Young Child for Moving
10 Sanity Saving Tips for Moving with Kids
First Day Essentials for Moving!! 32 Items You Must Pack Separate!!
7 Frugal Packing Tips for Your Next Move
The Complete Cross Country Road Trip Packing List (with kids)!