*Note: some links may contain affiliate links (meaning if you end up purchasing something when you click on the link then I may get a commission on it, with no extra cost to you, of course). For more information on what this means, visit my disclosure page.

What Should Newborns Sleep In?
Baby's sleep A LOT!! Like most of the day. Which is nice, but it's in little spurts. And, you may be wondering; what should newborns sleep in?
Now, I'm sure you know they can sleep in cribs, or bassinets when they're really little.
But, what all do you really need?
What will help you infant stay asleep at night the longest?
Well, this all depends on you and your preferences.
Or, more likely, what works best for your newborn and household.
So, let's go over a few basics that you may need, whether you decide to have baby in their own nursery in a crib or you decide to co-sleep.
Related Posts:
Pin this post for later!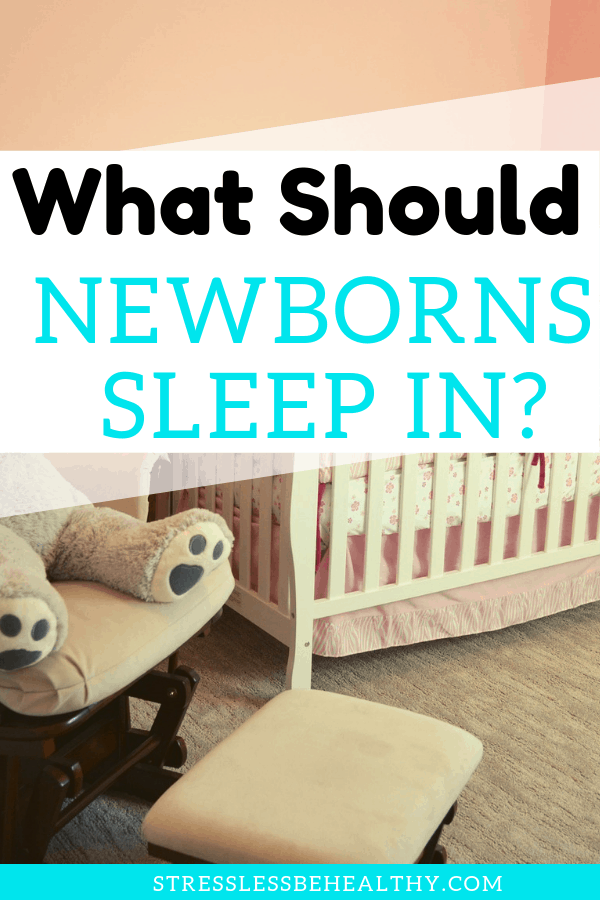 A bassinet is a great investment (you can even get a new one for like $50); it'll help you sleep better at night knowing your baby is in the same room as you for the first few months, whether you choose to co-sleep or have them sleep in their own crib after.
Many people may skip a bassinet. And, if you choose to have your infant sleep in a crib, it probably doesn't make sense to buy a bassinet, too.
But, if your a breastfeeding mom and your baby wakes up every two hours during the night, you're going to want them to be right next to you. Trust me, you're not going to want to stumble through your house half asleep to get to your crying infant. So, unless you're going to be setting up the baby's crib in your room, you should seriously consider a bassinet.
And, for us breastfeeding moms who plan to co-sleep; a bassinet makes complete sense. It can be nerve wracking for the first few months of your baby's life to have them sleep in the same bed as you. It's better to gradually let it happen on it's own. And unless you infant sleeps sleeps well at night, it will happen.
So, in the beginning it's best to get a bassinet for you infant to sleep in, so they have their own space.
If you're not breastfeeding and you plan on having your infant sleep in a crib in their own room, then maybe you don't need a bassinet because you'll have to leave the room anyways to get them a bottle. The choice is yours.
I personally plan on getting a bassinet for my next little one!
If you want to co-sleep, but feel you may accidentally roll over on your baby, this would be a great thing to have. Though, I've never used one, and we co-slept with our babies til the next one was born (3 years…).
I know people who love these for their baby's though, and would be very nervous to have their infants in their bed without one.
So, if that's you, then go ahead and grab one of these to help your nerves. We're sleep deprived enough as new moms, no sense in having to constantly worry about rolling over on our baby's, too!
If you don't plan to co-sleep; you'll need a crib. I think this is pretty self-explainable!
Many people go with buying a crib, especially they've set up an adorable little nursery for their little one.
Some people go with a crib, thinking that their infant will actually sleep in it, and then find out they won't; so they end up co-sleeping anyways.
I had a crib for my first child, but only because it was a hand-me-down crib that my nephew had use. My daughter did not sleep in it well, she just wanted to be snuggled up with mommy when little, like most babies do. They love the comfort and warmth that comes with us holding them while they sleep.
However, this is a personal preference and depends on your unique situation. Such as whether you breastfeed or bottle feed, plan to co-sleep or have them sleep in their own crib from day one, and if you have the budget for one or get a hand me down.
I know, most people will probably tell you that you NEED a crib, but that's just not true. At least, not if it's your baby your about to have. I'm sure there's laws about needing a crib if you adopt an infant or gain custody of one.
If you choose to not co-sleep, you won't only need a crib, but also a crib mattress. You obviously can't just have them sleep in a crib without one. And, unfortunately, when you buy a crib, it doesn't come with a mattress; they are sold separately.
When looking for a baby mattress, you'll want to try to find one that's already waterproof. It doesn't matter what you put on them at night, but babies will find a way to wet through everything at some point or another. So, it's better to be safe than sorry.
If you plan to co-sleep, but want to get your child a toddler bed; you'll still need a crib mattress.
With our first daughter, when we got the hand me down crib, we were also fortunate enough that my husbands old neighbors had an almost brand new baby mattress that was never even used; it was still in the plastic wrap. So, we were given that and our daughter finally started to sleep in a toddler bed, by herself, by the time her little sister was born.
So, if you buy a crib and mattress for your baby and they don't end up using it while an infant, just know that you didn't completely waste your money. You'll get a second chance for using the mattress, and if you bought a crib that turns into a toddler, or regular, bed, even better!
If the crib mattress you choose happens to not be waterproof, you'll need a waterproof mattress cover to protect the mattress when your baby wets through.
It will happen, and you won't want to have to replace an entire mattress because of it. It's much easier to simply wash the mattress cover!
Even if you did buy a waterproof mattress, it'd be smart to double up on the waterproofness, and get one of these anyways!

If you plan on using a crib mattress; you'll also need sheets that fit the crib mattress. And no, you can't substitute regular sheets in, they need to be made for a crib mattress and tight fitting.
Luckily, they aren't that expensive, and you could even find some to match your infants nursery if you set one up for them.
These are great for camping or if a relative will be watching your baby for you.
Some even come with a bassinet and changing table feature!
We had one like that with our first, so we didn't even need a bassinet.
The bassinet feature also came out and was super handy for placing her in after she fell asleep in my arms! I used that feature all day long, for all her naps. It was a life saver!
This could simply be an extra place for a baby to sleep in, or you may end up exclusively using it, like I did with my first.
And, if you plan on having others watch your infant in their home, this is super handy to just pack up and bring with you, so they'll have a place in their home for your baby to sleep.
These are super important to have on hand if it's not hot out, or not hot where the baby sleeps.
Either these or swaddle blankets.
For safety reasons, babies should not have blankets on them while sleeping; these will keep them warm during the cold months and help them stay asleep!
As for swaddle blankets, those will keep them all snug and secure, like they were before they were born, and help them sleep better.
I can't tell you how amazing it was when I first bought a swaddle blanket for my first baby, when she was three months old; she slept so much better with not being able to pull her arms out and wake herself up!
Guide for what babies sleep in checklist:
Use this as a guide.
What you choose to have your infant sleep in is a personal choice and up to you, your household, and your infant; use your mama instincts and go with it!
Don't forget, you can print off this checklist, along with other checklists for infants, right here!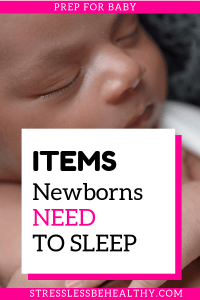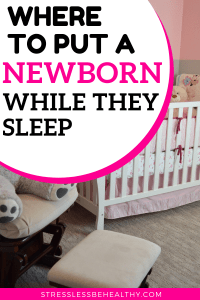 Want to be super prepared when it comes to your infants sleep routines? Grab these baby tracker worksheets!