The 2 Week Vegan Meal Prep Guide & Recipes!!
What if I told you I could save you time and energy with a kid approved meal plan AND you would only have to spend 2 to 3 nights a week cooking!?!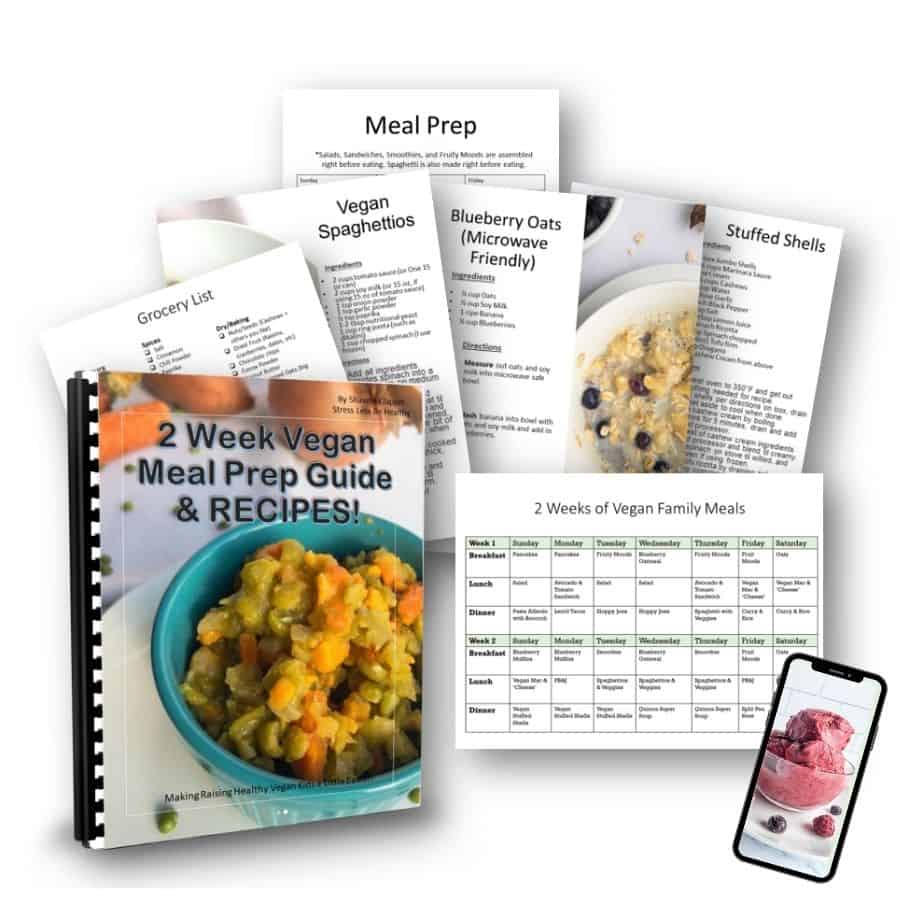 A simple meal plan is nice and all…
But, having a:
meal plan
grocery list
meal prep guide (so you know what to make when)
AND ALL THE RECIPES
All in one place.
Now that will save you quite a bit more time, wouldn't you say?
No more having to scroll past ads on a website, or search up the recipes you need.
Everything you need to get healthy, kid approved meals on the table in less time and with less fuss!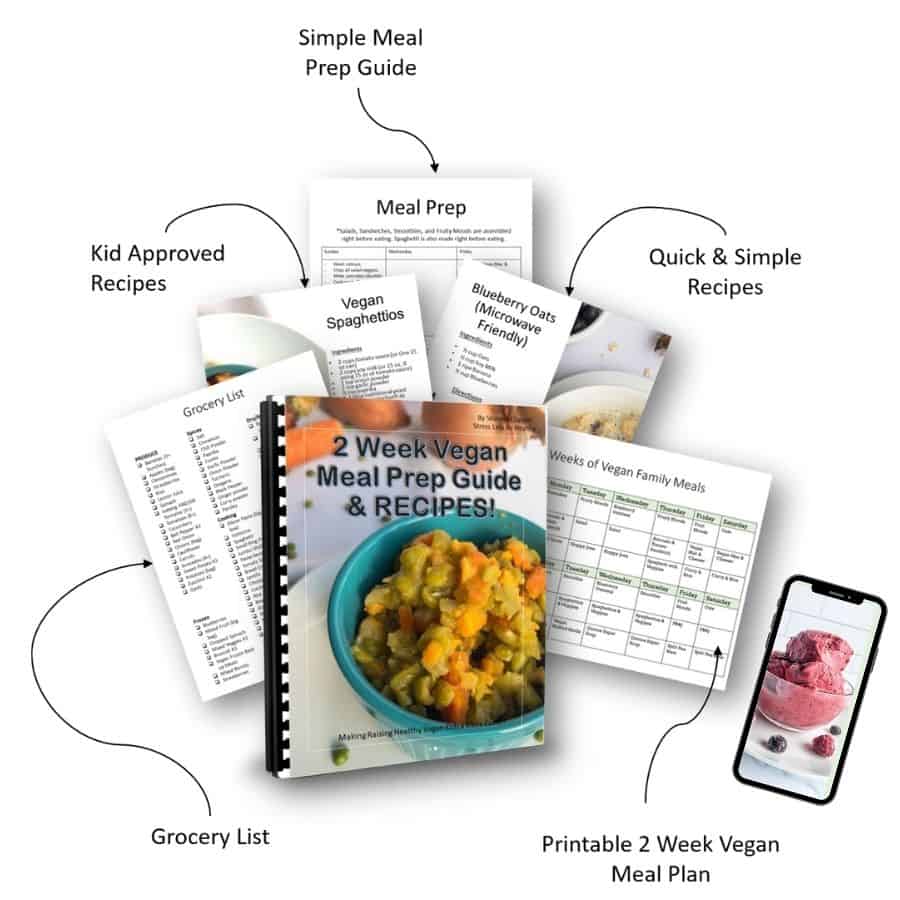 ONLY $12.99!
If you've ever felt stressed out while meal planning and just don't want to deal with that stress for a few weeks, then THIS IS FOR YOU!
Have kids?
Great! It's kid approved and includes some picky eater favorites.
Have a spouse who doesn't want 'light' meals?
Perfect! There are some pasta dishes, a curry, stew, and even sloppy joes!
Have a sweet-tooth?
Yep, totally have you covered there, too!
I know how time consuming it is to think of meals you think your family might like for an entire week.
Write them down…
Go look up the recipes…
Write up the grocery list…
Buy the groceries…
Put the groceries away…
Figure out what needs to be prepped before the week starts (so you actually follow the meal plan).
And then finally follow through everyday and get your family to eat the meals!
It's exhausting, I KNOW!
I want to make your life easier and time in the kitchen shorter.
Just follow this Meal Plan & Prep Guide to stop stressing about what to make and when to make it!
The recipes are included, and the grocery list is already written out for you.
Get back your sanity, save your money, & save your time!
You don't need to spend hours every night in the kitchen cooking to feed your family healthy vegan meals.
With the meal prep guide you'll spend 2 or 3 nights cooking, the rest of the week will only take minutes to prepare your families meals to be ready to eat!
And, I don't know about you, but it saves me so much stress, especially as a mom of 3.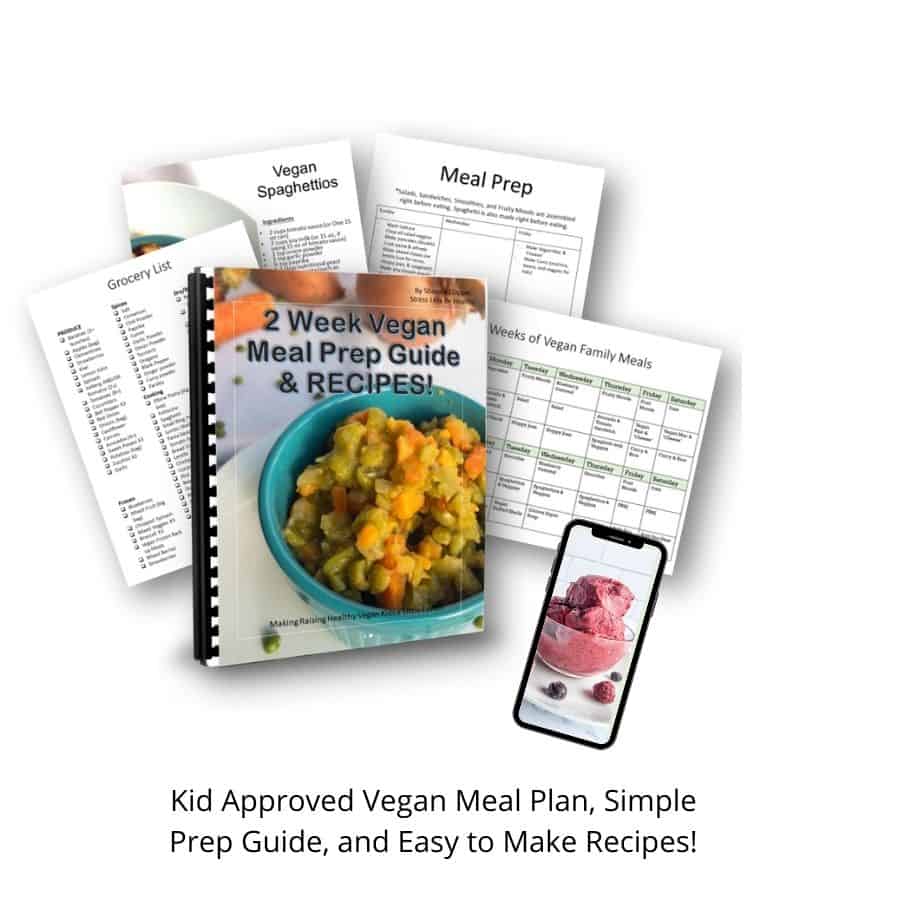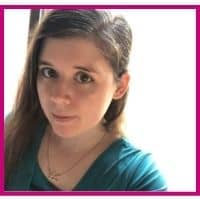 Hi there!
I'm Shawna, mom of 3 mostly vegan kids, passionate about putting together meal plans that are both healthy and kid approved.
I know how much time it can take to make a meal plan, make a grocery list, and then figure out which meals to make when, so you don't waste ingredients by them accidentally going bad.
I want to help you avoid the hassle of wasting time, food, and money; by providing you with a simple to use meal plan and meal prep guide to make getting food on the table for you family a whole lot easier!

*This digital product has a 30 day happiness guarantee! If unhappy with the Meal Plan Prep Guide & Recipe Bundle email [email protected] within 30 days of purchasing for a refund