Get your kids making and enjoying vegan food!
Feeding your kids healthy vegan food is one thing. One very difficult thing! (Especially with picky eaters.)
But, getting your kids to make their own food…
…that's a whole other game!
A game that this e-cookbook is going to help you with!
This e-cookbook will help you understand all the benefits of teaching your kids to cook, provide you with recipes easy enough for them to follow themselves or help with, and so much more!!
Only $11 for the Ecookbook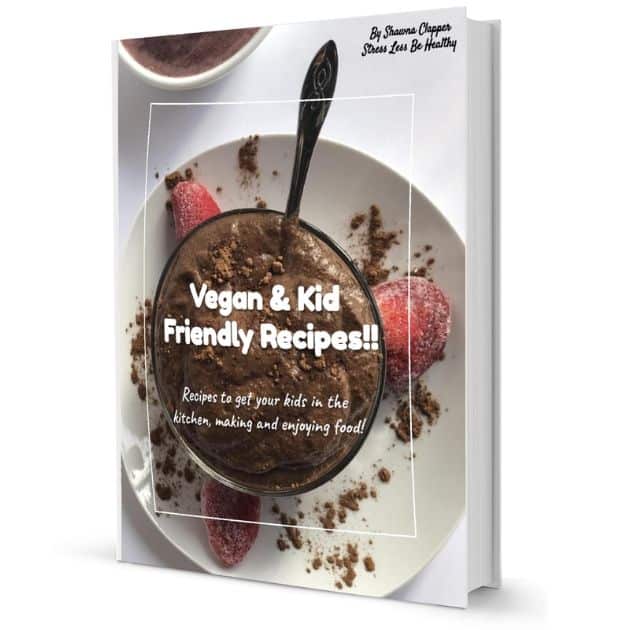 Your NEW Go-To Vegan Cookbook For Teaching Your Kids To Make Their Own Food!!
Just Imagine What It Would Feel Like…
"I am so glad to find a well explained book for parents and kids. Not just the recipes but all the explanations given to have a safe and fun time in the kitchen. Love the easy recipes!!!! My 9yr old boy is so excited to try new food. THANK YOU!!!"
Finding fun, healthy, vegan food your kids can eat & make doesn't have to be hard!!
In this 100 page digital PDF E-cookbook you will find…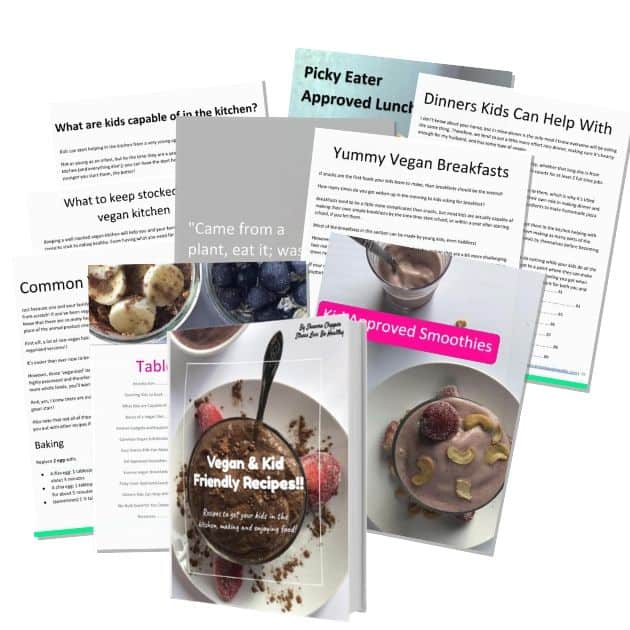 "Shawna Clapper's 'Vegan and Kid-Friendly Recipes' is a valuable resource for anyone looking to create a healthy, fun relationship between kids and cooking. This is something everyone is looking for, regardless of whether they eat primarily vegan as a family or not. For those who are looking to prepare food as a family and eat more or all vegan meals and snacks, this book will teach them how. 'Vegan and Kid-Friendly Recipes' provides everything from lists of what each age child can do in the kitchen (There's a lot from an early age!) to vegan substitutes…and, of course, the recipes. They're practical and full of kid-friendly foods."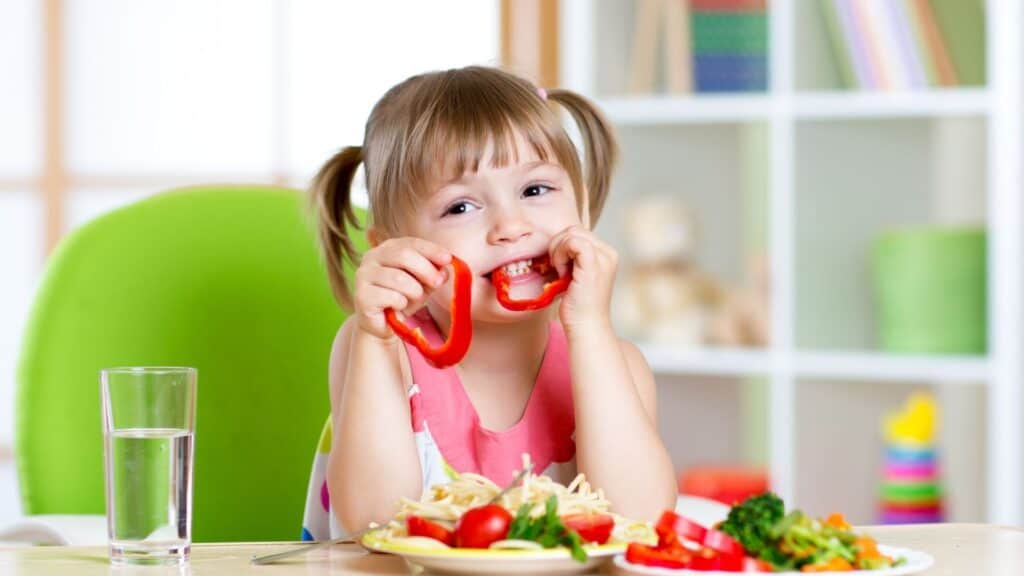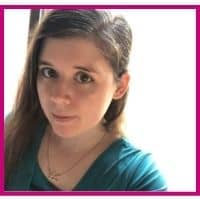 Hey there, I'm Shawna!
And just like you, I want my kids to grow up to be happy and healthy adults!
I'm a mom of three girls, but I'm also an avid meal planner, recipe creator, and business owner/blogger.
I'm still trying to figure everything out.
But, one thing I know for sure is that teaching our kids to cook and prepare their own healthy food will have more benefits than we could ever hope for.
Easy Lunch Recipes Your Kids can make all by themselves!! Like this healthy Avocado Tomato Sandwich. (And, yes, that is in fact a T-Rex salt shaker!)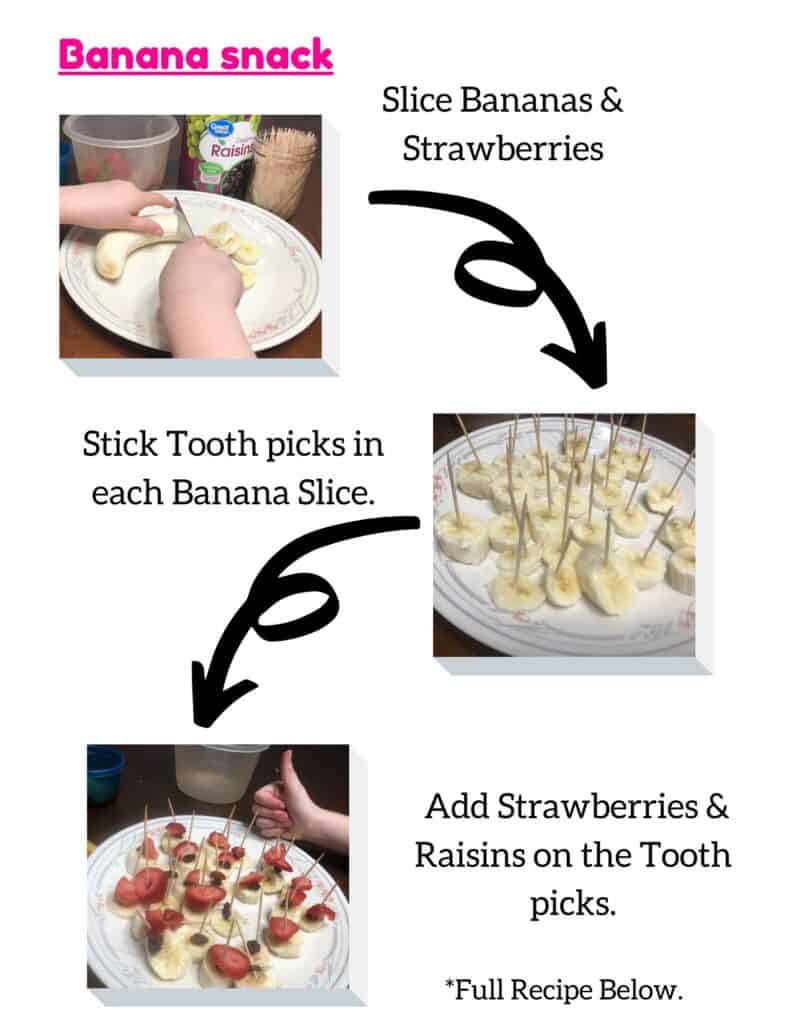 Select recipes have step by step directions to show kids how to prepare the food!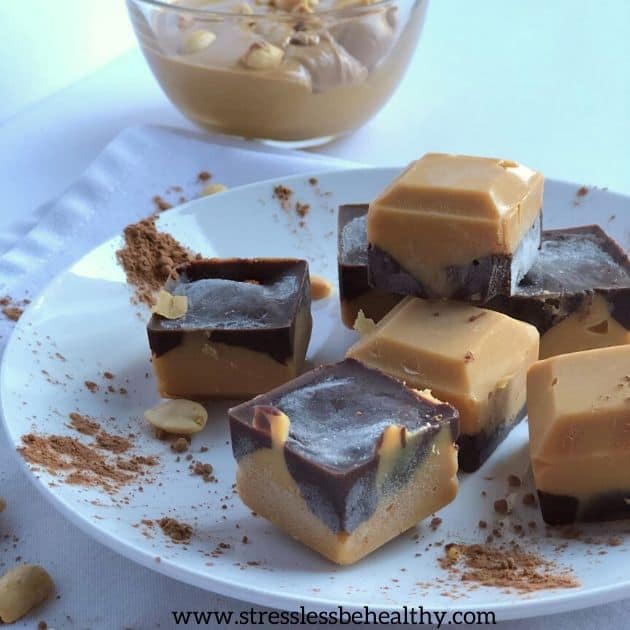 Decadent desserts that you'll have a hard time sharing with your kids, but your kids won't have a hard time making!
Only $11 for the Ecookbook!!

Don't Miss Out On The Extras!!
For ONLY $4 more get a 4 week meal plan and childs food journal!!
---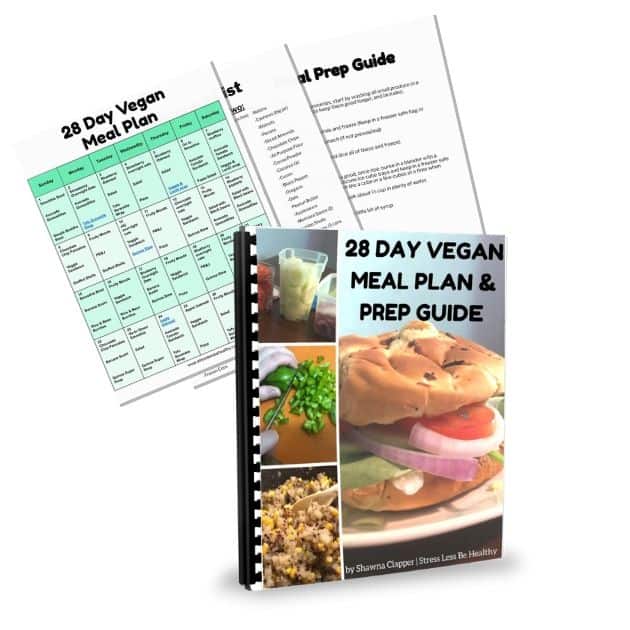 28 DAY VEGAN MEAL PLAN & PREP GUIDE
Ever struggle with coming up with a meal plan?
Or, knowing what you should be doing for your 'meal prep' or each day to stay on top of your meal plan to not waste food?
I think we've all been there, made a meal plan that we ended up not following because we didn't have a plan to stick to it. Or, heaven forbid, we didn't even make a meal plan and we're simply winging it everyday.
Well, with this meal plan and guide, you and your family will be set for an entire month! No more guessing, and no more throwing out produce that went bad in the fridge!
A must have guide for moms who need a little guidance or help keeping their family eating healthy vegan meals all month long!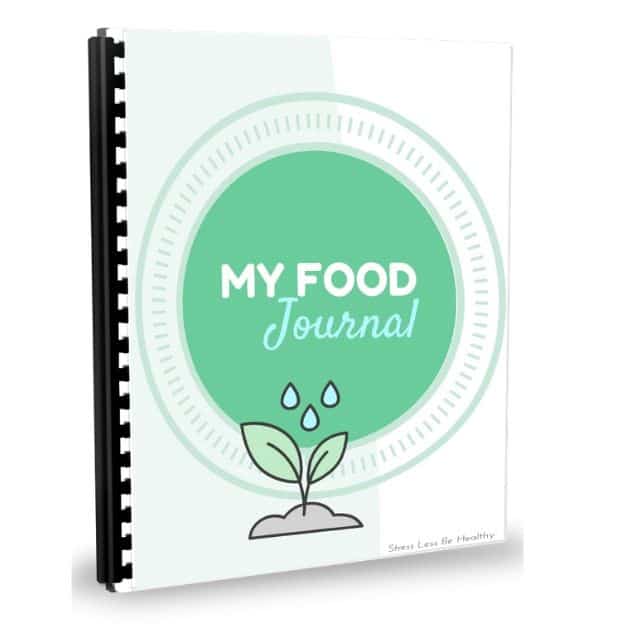 My Food Journal
This food journal was specifically designed for kids!
It guides them to be their own food detective; so they know what they should eat more of, or less of, based on how they feel after eating!
What this means for you, the parent, is that your child will get to discover, on their own, that the food you've been telling them is bad for them, is actually bad for them! AND, that food that you already told them is good for them, is actually good for them!
Kids may not always listen to their parents. But, when they get to be a scientist or detective of how they feel after each meal or snack, they'll start to connect the dots on how food effects not only their bodies, but their minds, as well!

Only $15!!
For EVERYTHING ABOVE:
– Ecookbook to Enrich Your Childs Time at Home
– 28 Day Vegan Meal Plan & Prep Guide
– a Childs Food Journal So They Can DISCOVER What Foods Are Good For Them and Which Aren't!!
*Don't forget to select the second option at checkout if you would like the meal plan and childs food journal with the ecookbook.
Money-Back Guarantee
30 day happiness guarantee! If for any reason you are not happy with your purchase, email me within 30 days of the purchase date and you'll get 100% of your money back!
*Vegan & Kid Friendly Recipes!! E-cookbook is a digital product, nothing will be mailed to you.