*Disclosure: some links may contain affiliate links (meaning if you end up purchasing something when you click on the link then I may get a commission on it, with no extra cost to you, of course). For more information on what this means, visit my disclosure page.
25 Vegan Kids Books To Help Teach Little Ones About Veganism
In this article you will find vegan books for kids to help introduce them to what being vegan means!
When you choose to raise your little ones vegan, there's probably a lot that you considered before making that choice. Such as;
Is it safe to raise a child vegan
What supplements they may need
Will they thrive on a vegan diet
What will others say or think about it
Will they get all the nutrients they need
Will the pediatrician approve
How to get them to eat certain foods during the picky eating stage
And I'm sure there's more thoughts that crossed your mind. Such as why you chose to raise them vegan in the first place.
But, having to explain what it means to be vegan, or what has to happen for non-vegans to get the meat or animal products they consume; that probably isn't one of the things you have too much thought.
Or, maybe you have thought quite a bit about that, but don't know how to put it into words in a way that they understand at such a young age, or in a way that isn't too mature for them.
It's not like you want to go up to your sweet little 3 or 4 year old and tell them that the friends they see at preschool are eating a cute little pig (just like their favorite stuffed toy) when their friend tells them they love bacon!
That might be a good way to make them cry and then never want to talk to that friend ever again (or for a day).
So, how do you explain veganism to a child without traumatizing them when you're not sure of the wording to use?
With age appropriate books!
Want to Remember this Recipe for Christmas? Pin 25 Vegan Books To Help Teach Little Ones About Veganism to your favorite Vegan Kids Pinterest board!!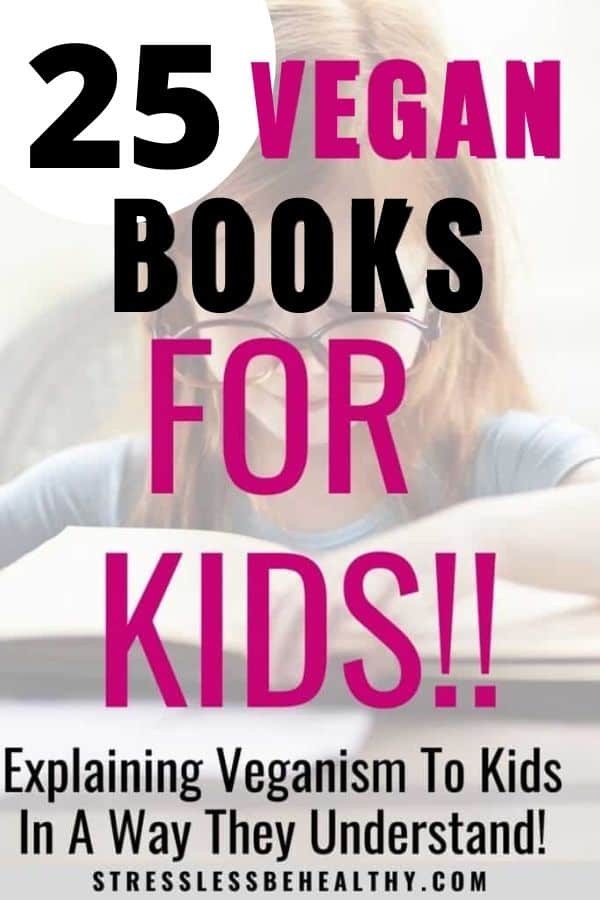 Kids Books for Raising Vegans! (Aka- Vegan Kids Books)
All of the vegan books in this article can also be found on this list on Amazon!
Reading books to kids to help them understand what being vegan is all about is a great way to teach them, but there are other ways, as well! To find out more ways to explain being vegan to your kids, check out: How To Teach Kids About Being Vegan
This easy to read book will help your child discover where the food on their plate came from. They'll explore how plant foods grow, get to be bought and sold, and then prepared at home! Even if you or your child aren't entirely vegan, yet, this is a great way to get your child thinking about where their food actually comes from!
A book meant for elementary school age children; this book shows animals in their natural habitat and also introduces children to what life is like in factory farms. It goes on to also introduce children to the effects eating meat has on the environment and how kids can help reduce the negative impact.
This book teaches kindness and compassion towards all living things through showing Lena being brave and saving her baby animal friends from being eaten by a woman who hates veggies. She saves the babies by sharing delicious vegan food with the woman! It also lightly touches on the environmental aspect of consuming meat.
This chapter book for kids is about an 8 year old boy who knows right from wrong, and knows that eating other creatures is wrong. He doesn't understand why life is so unfair for animals and why the adults in his life don't make much sense when trying to explain why. Great for kids who can read on their own!
So Many Vegan Kids Books to Choose From!
As you can see, if you have trouble opening the dialogue between yourself and your child about veganism and what that means; there are plenty of books you can simply read to them to help them understand.
For children who can read by themselves, there are books for them as well!
The books above are appropriate for little ears and eyes, unlike some health documentaries that actually show how animals are treated in the food industry.
They are for kind-hearted kids who simply want their questions answered or to know why they don't eat what other kids eat.
Don't forget, you can easily view all of these books at once on Amazon HERE.