*Disclosure: some links may contain affiliate links (meaning if you end up purchasing something when you click on the link then I may get a commission on it, with no extra cost to you, of course). For more information on what this means, visit my disclosure page.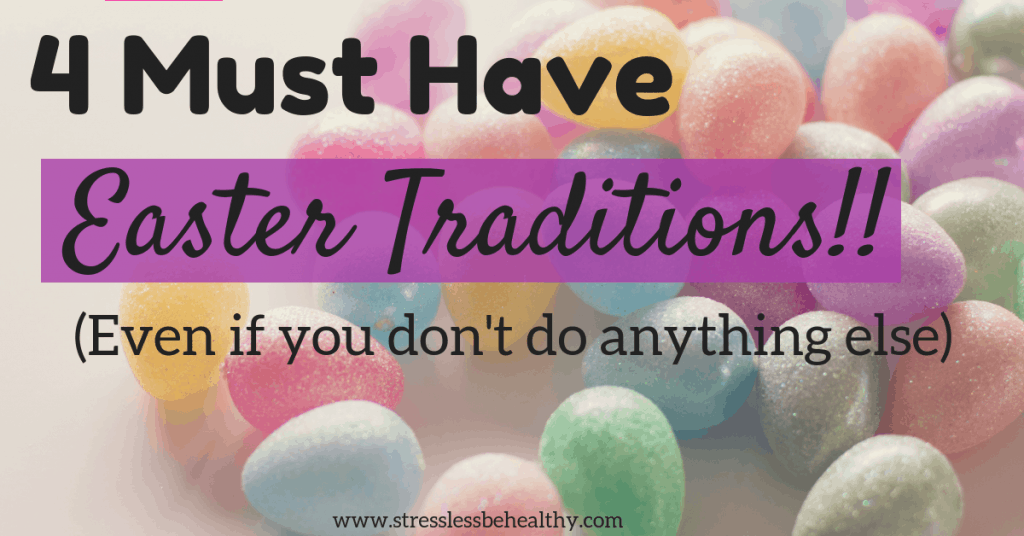 4 Must-Have Easter Traditions!! (Even if you don't do anything else)
If you're like me and grew up in the 90's, then you probably had some pretty good Easter Traditions, and traditions for other holidays!
Some traditions you may have kept for your own kids, some maybe not.
And, some may not be so good for your waistline or your teeth (like, chocolate Easter egg hunts at home, competing with your siblings to see who can find the most candy; I always used to win those)! At the time though, when you were a child, you may have enjoyed the traditions, like I did! (Who doesn't love chocolate! I once at all 60 little chocolate Easter eggs I found in one day; not my proudest moment.)
If you have a small, or growing family and don't have your traditions set in stone yet, then read on!
I'm going to tell you the 4 must-have traditions for Easter; some even taken from my very own childhood!
They aren't only the best for your children, but also for yourself. You'll see why as you read further into this!
---
Related Post: The Best Easter Basket Ideas for Little Kids (That Isn't Candy!)
---
My memories from Easter, when I was young, consist of some of the best traditions, a few which I have continued for my girls.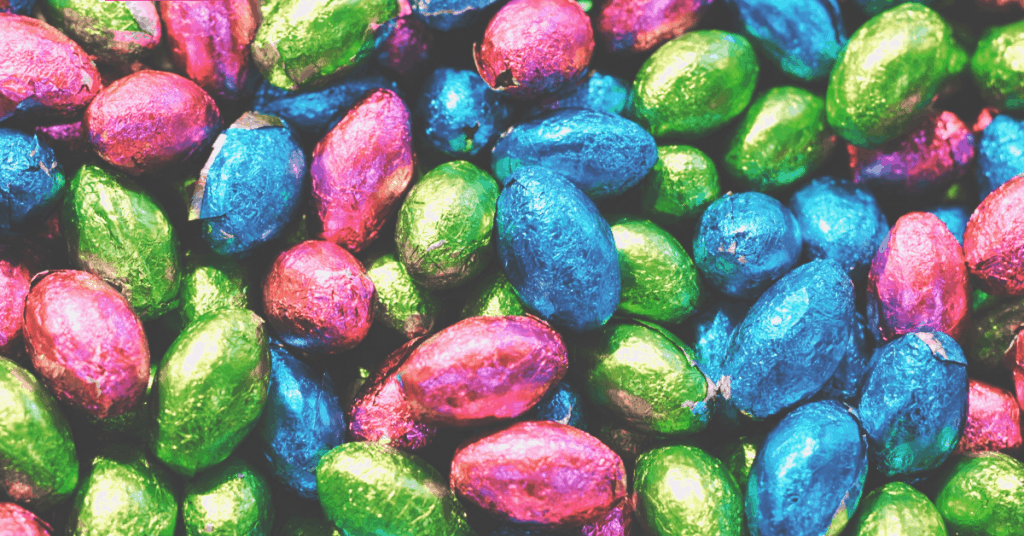 Some of the traditions I remember were:
dying Easter eggs
having sugary cereal for breakfast
watching a new movie
an indoor Easter egg hunt
and Easter baskets
I'm one of four children in my family, so this took some time. Although, I think eating breakfast took the longest. We always, or at least I always, mixed together the different cereals to 'make them taste better'. (I have changed so much from the sugar addicted child I once was!)
The sugary cereal tradition was not one I kept for my children. I try to avoid any extra sugar in their diet whenever possible; no jellybeans or marshmallow chicks, either. But, that's more so because they're sticky and horrible for their teeth.
My parents didn't skimp on the Easter egg hunt, they used chocolate Easter eggs. And, not only regular chocolate eggs, some of the eggs were extra creamy, or butter finger, or even reese's eggs.
They were hidden everywhere; in sight and out of sight! They were even hidden in candle holders that were up on the wall and hidden behind my moms Precious Moments. Finding these was always so much fun; I was actually really good at finding them!
Although, I never had issues with finding chocolate when I was younger. I remember one year in particular for Easter, where I had won the Easter egg hunt (again…) and pretty much only ate those little chocolate eggs all day long, and the sugary cereal, of course. I had about 60 of them, I don't think my mom knew until after it happened. But, I'm also pretty sure I was a teenager, and at that time could eat anything I wanted and not gain an ounce. If I were to do that today, I'd probably gain a few pounds and not even fit into my pants after!
But, enough about chocolate, ok, maybe not, we all love chocolate and there could probably never be enough!
We also had chocolate in our Easter basket, which was always full; so much stuff crammed into these little baskets that some of the stuff was just laying out on the kitchen table, along with the cereal and new movies.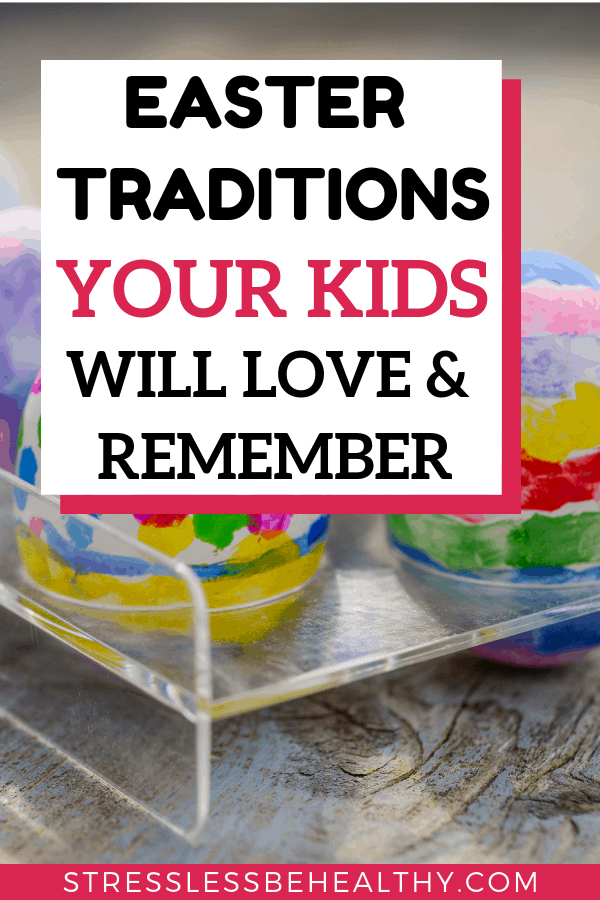 But, to get on with the 4 must-have traditions for this holiday…
1.) Easter Egg Hunt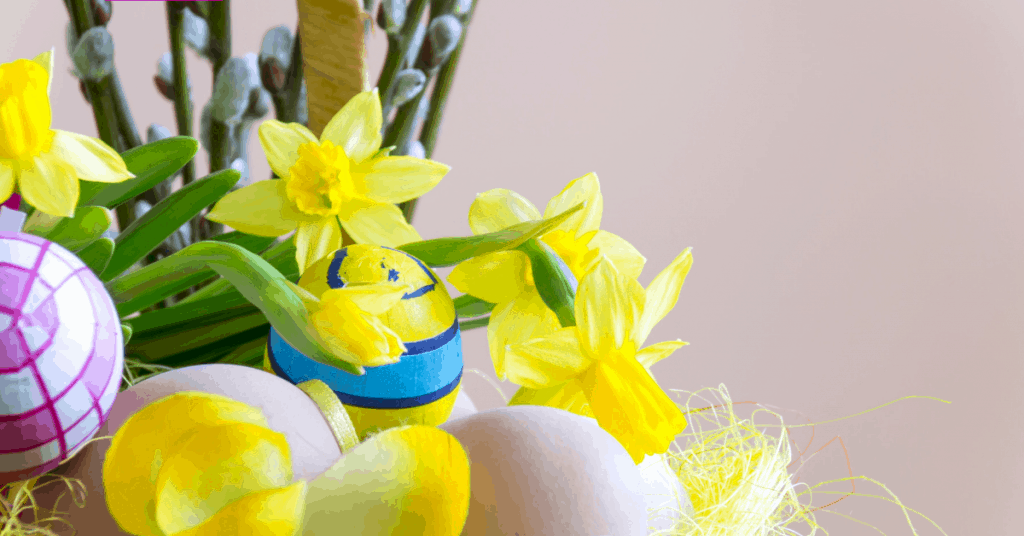 The best Easter tradition, by far, is the Easter egg hunt.
Whether you are young or old, this is one of the most loved traditions for Easter; therefore, a must-have!
It is also one of the most portrayed traditions (such as in Rise of the Guardians), and there's a reason why.
First, it's fun as adult (or an Easter bunny) to hide all of the eggs; whether they're chocolate eggs or the colorful plastic ones.
Second, it takes some time for kids to find these, especially when they are young.
And, the look on their faces while finding them is priceless!
I opt for the plastic eggs for my girls, I don't like my girls having too much sugar! And, if they're anything like me, which I know they are; the chocolate wouldn't last very long anyways!
With the plastic ones you can re-use them year after year.
You don't even have to put anything in them for younger children. Or, if you do want to fill them for younger children; just fill them up with small fruit (like grapes or cutie slices) or cheerios to make a fun noise. For older children, fill them with coins for their piggy banks, or small toys! Make it something worth finding!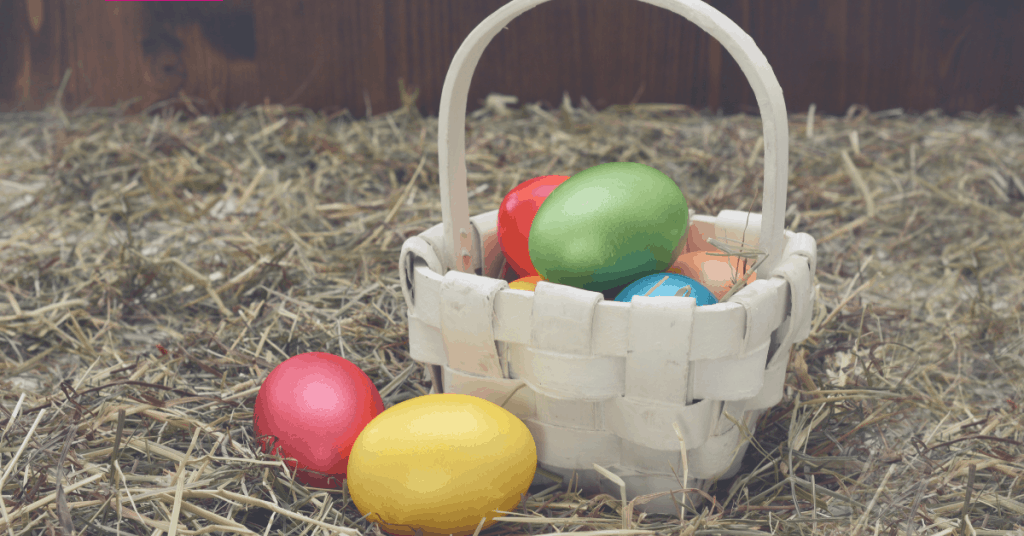 Setting out an Easter basket is another classic tradition.
Even though Easter has been commercialized for companies to make a profit off of it; this holiday tradition is still a must, at least with children.
It's kind of like setting out a stocking for Christmas; it helps keep the wonder in holidays for children and make them feel special!
And, as much as stores want you to spend, you really don't have to spend a lot on these baskets. There's often pre-made ones at stores if you're short on time (I've seen them as cheap as $5; you may not be able to get away with these if you have older children, but you can with little ones!)
Or, you could buy small toys, a few Easter eggs, and maybe a movie to put in them.
(Check out this deal from the Disney Movie Club! 4 movies for $1 for new members!!)
One item that always ends up in the basket is some type of stuffed animal. I'm not saying that this a bad thing, it is always my childrens favorite gift (which is why it always has a place in their baskets). For older children, $10 or $15 dollar gift cards may work, as well!
3.) Decorating Easter Eggs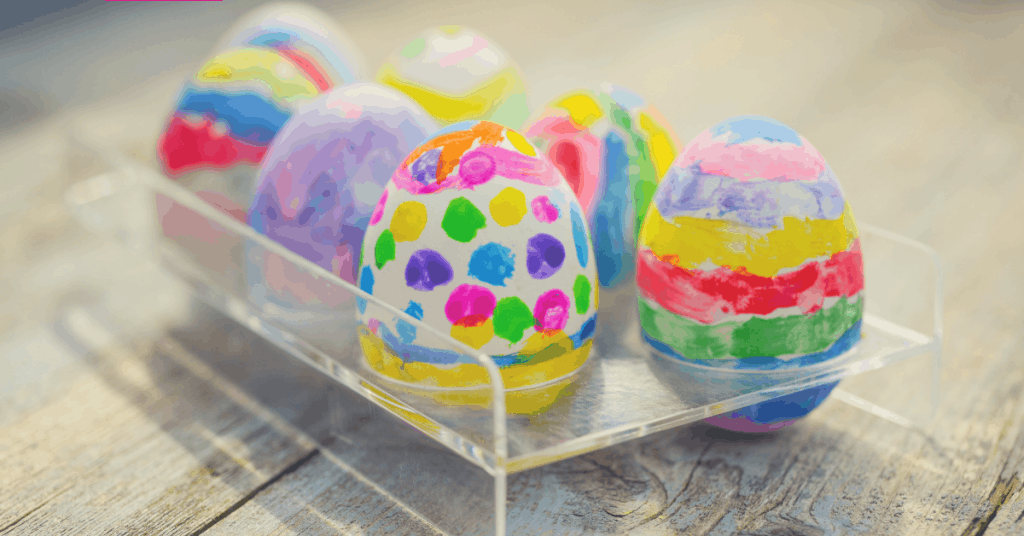 Coloring Easter eggs is one of the most fun, and messiest traditions there is, for Easter that is.
(Tied with carving pumpkins for Halloween.)
This is also a very cheap craft; all you need is eggs, vinegar, and an egg dyeing kit, which is only $1, or so.
Or, if you don't want to use real eggs, you could always dye or decorate wooden or styrofoam eggs.
Make sure you lay something down on your table before dyeing the eggs, like newspaper. This can get very messy; if you've ever tried this with children before, you understand.
If this is your childs first time dyeing eggs, don't let them wear nice clothes while doing this; they will become a colorful mess. Maybe have them wear a cheap white shirt and let them tie-dye it afterwards!
The family movie tradition is something that I enjoyed when I was young.
And now, having children of my own, I understand a little more of why we did this every year. It gives us parents some peace and quiet while the kids are calm; either to watch and the enjoy the movie with them, or clean up from the morning holiday mess. Whatever you choose to do during the movie time on Easter, it is nice to have some quiet time during the day!
Even if you don't do anything else on Easter day, if you can manage to include these 4 Easter traditions, you can guarantee that your children will have a blast and have some great Easter memories. Some people may go all out for Easter, and that's alright too. But for little ones, these are all you really need.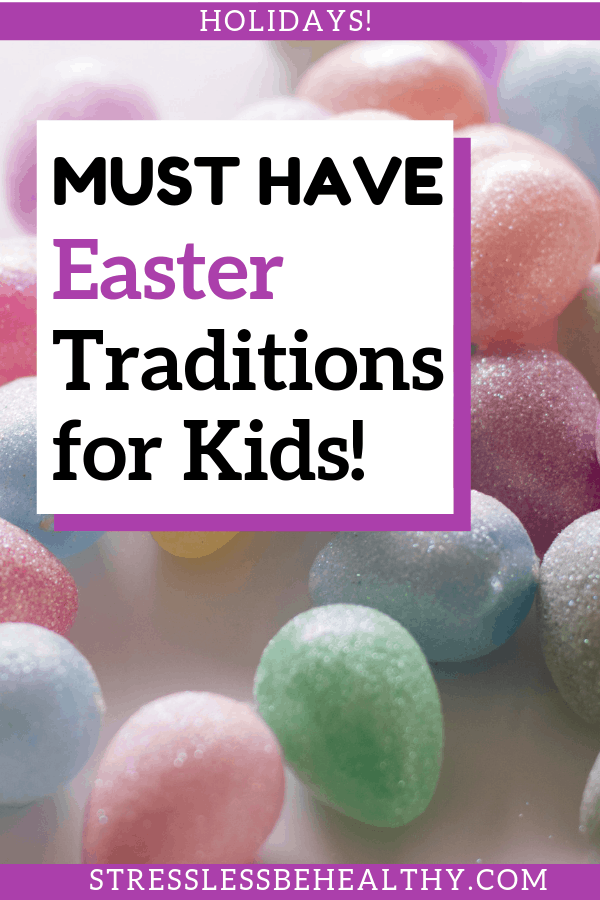 Let me know if you have these same Easter traditions, or what your families must-have traditions are for Easter. Share them in the comments below!