*Disclosure: some links may contain affiliate links (meaning if you end up purchasing something when you click on the link then I may get a commission on it, with no extra cost to you, of course). For more information on what this means, visit my disclosure page.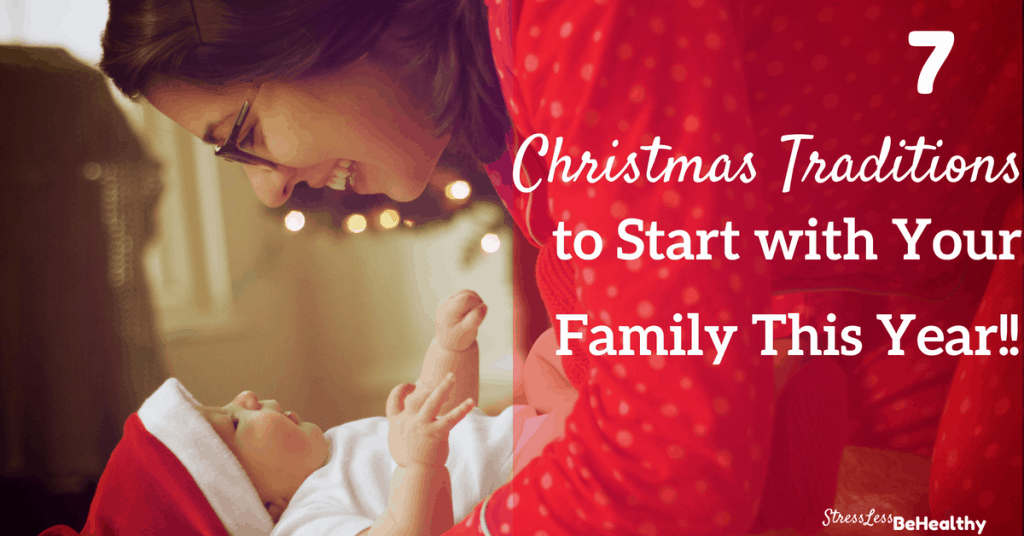 7 Christmas Traditions to Start with Your Family This Year!!
This Holiday season is upon us!
Thanksgiving was a few days ago and Christmas music is on the radio.
Decorations for Christmas started to plague all the stores a few weeks ago. And, although a lot of things we do for Christmas costs money, there are still some family traditions that are basically free (or, at the very least, affordable).
The traditions I'm talking about aren't abnormal or even really different from ones that you probably have.
But, they are the essence of Christmas for your kids!
Some of the traditions I had when I was younger, other's I started myself for my own little girls. Either way, they are important enough for me to write about, so they're pretty important!!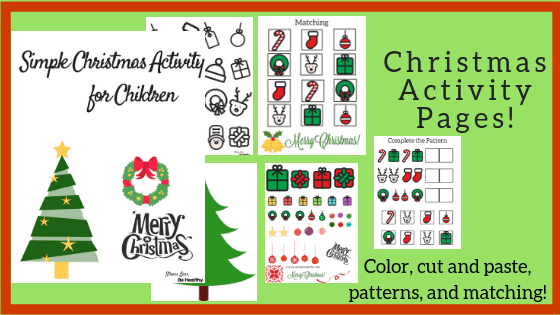 Related Posts:
Healthy Peanut Butter Balls (Vegan) for Christmas
7 Holiday Stress Relief Tips that ACTUALLY Work!
The Ultimate Christmas Planning Guide (with Lists!)
1. Decorate As A Family
My family and I did this when I was a kid. And, even after having kids of my own, there hasn't been a year in my life where this tradition was skipped.
As soon as your child reaches the toddler stage; they can start helping with the decorating, even if it means hanging up the non-breakable ornaments at the bottom of the tree. You may have to spend more time evening out the ornaments after your little one goes to bed. But, it's completely worth it letting them join in on this holiday tradition!
A few things to decorate:
Christmas Tree
Fire place (if you have one)
Your Kitchen (you're going to be spending quite a bit of time in here with all the holiday baking- might as well look like the holidays, too!!)
Entry way
Windows
Railings for indoor stairs
Anything else you can imagine- you could even create a Holiday Display on a table!! (My mom always did this with a mini Christmas village.)
2. Make Christmas Presents
This is a great tradition, especially if your budget is real tight this year. My 2 girls, who were both under 5 two years ago, made the mugs below for their grandparents for Christmas!
Well, my older daughter and myself made them. My younger daughter was less than a year old so she didn't help much.
However, we also made non-toxic clay-like ornaments and painted them, my 11 month old at the time, had a blast with that!! We had so much fun last year, that I'm hoping we can do this every year as a tradition. Not the same presents over and over again, but the DIY presents, even if my girls are just making presents for each other or myself and husband.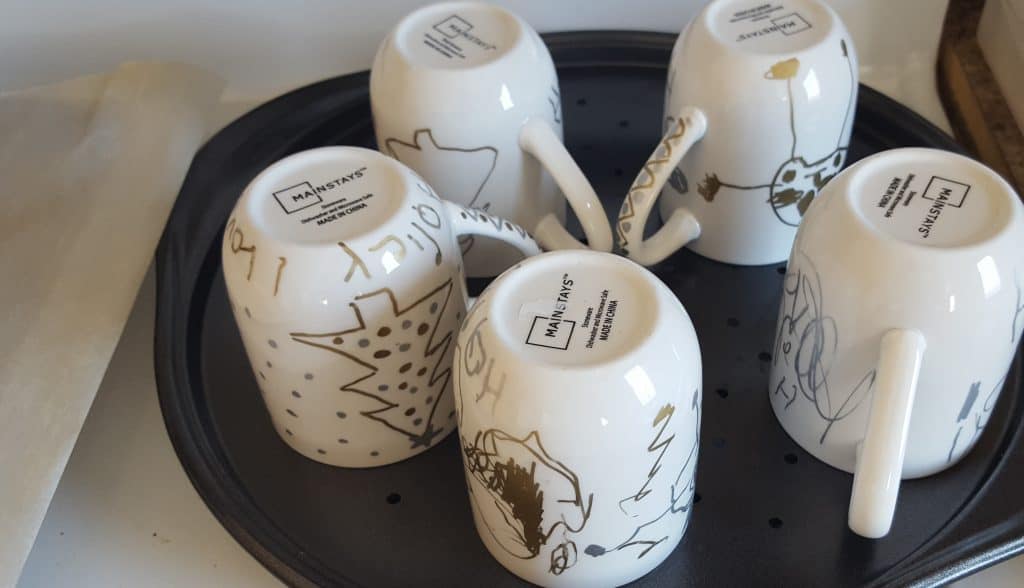 There's a ton of other presents you or your children could make as well this year. Such as:
Ornaments (clay, puzzle piece, paper, glass, beaded, embroidered, etc.)
Picture Collage
Cookie Ingredients in a Jar
Hot Cocoa Gift Package
Personalized Candles (look up how to get a picture on them-it's supposedly as easy as aiming a hairdryer)
Coasters
Simply check out DIY Christmas Presents on Pinterest for plenty of ideas! Don't forget to follow my Christmas Board on Pinterest for more Christmas ideas!
Ever since I could remember I have been doing this, whether it's been watching Christmas movies before Christmas (like Rudolph or How the Grinch Stole Christmas), or on Christmas day with the new movies that Santa brought myself or siblings.
I still love watching Christmas movies before Christmas and make it a point to do so with my husband and 2 girls, now.
This is the best tradition to have, especially with little kids. It gives them a chance to wind down, and calm down, for an hour or so, if we're lucky. It also gets them in the holiday mood and excited for the magical time of year that most of us call Christmas!!
It also has us adults remembering the simpler times of when we were kids and starts to bring back a little bit of that magical Christmas feeling. Along with giving us some peace and quiet from our childrens non-stop talking. Here are some essential movies to watch before Christmas:
4. Bake Christmas Cookies Together
I have always loved baking Christmas Cookies, ever since I can remember. I even remember one year, probably when I was a teenager or almost a teenager, I made most of the Christmas cookies myself. Or, at least it felt like I made most of them myself. Either way, I made quite a few dozen cookies!
It was a tradition to always make what felt like an obscene amount of Christmas cookies every year. We'd take them to Christmas Parties at my grandparent's houses on both sides of the family, every year. We would also eat quite a few of them before they made it out the door. And, I also remember my mom staying up late almost every year on Christmas Eve making even more cookies; we could never have enough!
Even after having my own kids; I continue to make a ton of Christmas cookies every year. My older daughter has been helping me with this since she was two. My younger daughter joined in on this tradition last year, right before she turned two!
I may have created some of my own cookie recipes; taking my favorite Christmas cookie and making it healthier and vegan!!
Here are some must have Christmas Cookies to make this year:
Peanut Butter Balls (also known as buckeyes)
Sugar Cookies (this is the only time of year I allow white sugar to be in my home, all other times it is practically banned)
Chocolate-Peanut Butter No Bake Cookies
Ginger Bread Cookies
5. Stay Home on Christmas Day
Staying home on Christmas Day is another one of the best traditions you can have, especially with kids.
Do this for as long as you can; one day your kids may move out and then you may not have them home for Christmas anymore. Most kids probably won't mind this tradition either; they get to stay in their pj's all day long and play with their new toys and watch their new movies.
What more can a kid possibly ask for?
Even teenagers can enjoy this; playing with their new electronics. Plus, with all the social media out there for our consumption, it's not like teenagers will really be missing much anyways. When I was a teenager, MP3 players were a big thing. One year I spent most of Christmas day filling my new device up with a ton of songs; transferring them from CD to my MP3 player. (Do they even make MP3 players anymore?)
Staying home also reduces the stress of having to get kids ready to go places, even if it is to a relatives.
It makes the whole day just that much better. Also, there's not many places even open on Christmas, so you can't exchange that one present your child doesn't like anyways.
No going anywhere, no stress, just a relaxing day with your immediate family!
6. Leave Out Cookies for Santa
If your children still believe in Santa, then help them leave out some cookies and milk (or soymilk) for Santa. Even if you have younger kids who do believe in Santa and older kids who don't; don't let your older ones spoil the magic of Christmas for the younger ones. And, if all your kids are old enough and don't believe in Santa; make them leave milk and cookies out for Santa.
This is where part of the magic of Christmas comes from, and a necessity on the list of Christmas traditions families need in their lives.
You'r child leaves out milk and cookies for Santa, and in the morning they're half gone; you're child believes that Santa actually came to leave them presents and toys in their stockings, and you get some extra Christmas cookies. It's a win-win, if you ask me!!
7. Write a Letter to Santa (if your child is old enough, but not too old)
Actually, having your child write out a list of things they want would even be a great tradition to teach, on a few different levels.
My older daughter is just starting to write, so this year is going to be the first year I have her try to write out a Christmas list for us. Who knows, she may even want to write a letter to Santa when I bring it up. (I'll just need to tell her how to spell every single word she writes.)
One reason this is a great tradition is because year after year they are going to be asked what they want for Christmas; might as well get them in the habit when they're young.
Writing a Letter to Santa also helps them with their writing skills; whether it be spelling, grammar, or learning to write in the style of an actual letter, and not just scribbles.
This little holiday exercise even helps with the skill of decision making. That is a huge skill to learn, and an important one. Honing in on it with a simple list of what they want for Christmas is an easy and fun way to start building up that skill for little ones!!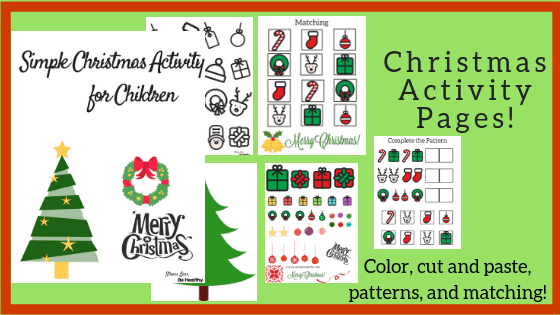 Why Holiday Traditions?
Holiday traditions have been around forever and they are what make the holidays The Holidays.
They bring the holiday feeling to life, help us enjoy and appreciate family more (and cookies). They bring hope and joy into our lives. And, they end with a New Year; a chance to start again. To start the New Year right, and surrounded by those who are most important to us.
For Christmas, it's not the presents that matter, or even the food.
What matters is being with our children and strengthening the bond we have with them. One of the best ways we can do this is by creating, or instilling, Holiday traditions in our homes that are meaningful and that everyone will enjoy and participate in.
This Holiday season start some of your own with your children. Share this post if you found it useful, or leave a comment to let us know some of your holiday traditions!!
Happy Holidays!!