*Disclosure: some links may contain affiliate links (meaning if you end up purchasing something when you click on the link then I may get a commission on it, with no extra cost to you, of course). For more information on what this means, visit my disclosure page.
Vegan Peanut Butter Blossom Cookies (with peanut butter cups!)
With Christmas coming up, and all of the empty calorie foods that we eat this time of year; I wanted to share a healthier version of one of my favorite Christmas Cookies. Peanut butter blossoms!
Sure, the title of this recipe isn't 'Vegan Peanut Butter Blossoms', it's 'Vegan Peanut Butter Cup Blossoms' because I use vegan peanut butter cups instead of hershey kisses.
For the substitute of peanut butter cups for the hershey kisses, you can thank my husband!
A few years ago, when I was making my moms recipe for peanut butter blossoms, my husband decided to top them with mini reese's instead of kisses. And, they were sooo much better. This was before I started trying to become vegan.
So, if you're not vegan, don't care about eating empty calories all holiday season, or simply want another unhealthy recipe to make your family this year; just swap the kisses with reese's for your peanut butter blossoms.
But, if you want something that gives you some actual nutrients and helps fill you up so you don't eat a whole tray of cookies yourself; keep reading for my healthier recipe!!
Let's Bake
First, get out all of the ingredients except for the peanut butter cups; those can wait for now.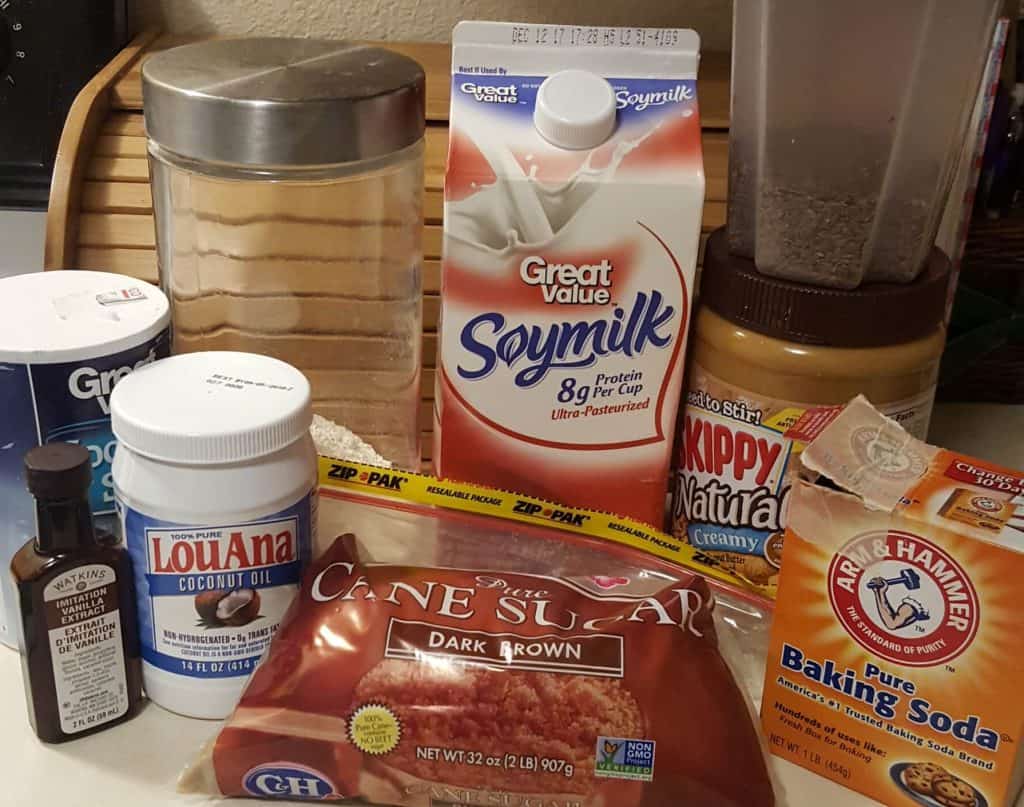 Then, if you don't have oat flour, that's fine; simply grind your old fashioned oats til they turn into a flour. I used the milling blade with my nutribullet for this, you could also use a food processor, coffee grinder.
Make your flax eggs by mixing 1 tbsp flax meal with 2.5 tbsp water. (To make flax meal, grind flax seeds. I use my the milling blade with my nutribullet to grind this. You could also use a coffee grinder.) The flax egg needs about 5 minutes to turn into an egg like consistency, which is why you're making it now. I tend to let it sit until it needs to be mixed in with the other ingredients, just be sure to stir it again right before adding it in.
Combine all of the dry ingredients in one bowl and combine the peanut butter and coconut oil in another bowl. When the peanut butter and coconut oil mixture is completely combined, go ahead and mix it into the dry ingredients, along with the rest of the wet ingredients.
It should look like the picture below when mixing is done.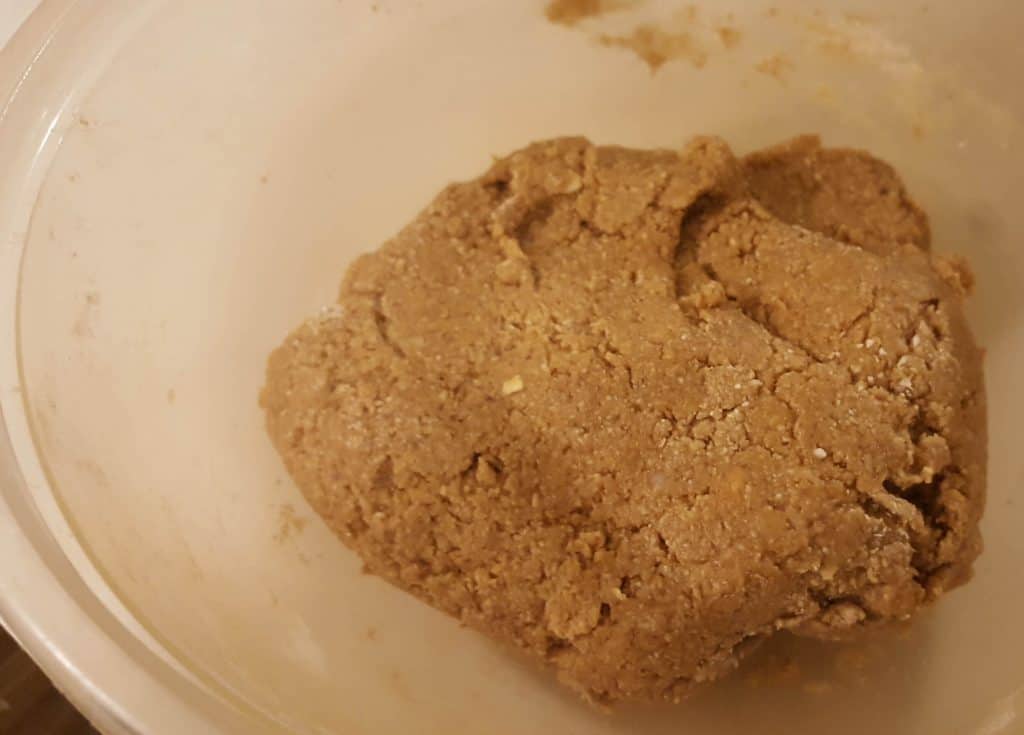 Roll the Dough
When the dough is done; roll it into balls. They should be about an inch or so in diameter, if they're bigger or smaller that's fine too. Just make sure they are big enough so you can fit a peanut butter cup on top.
Optional: if you think these need more sugar in them than just a half a cup, then roll the balls of dough in sugar to coat them.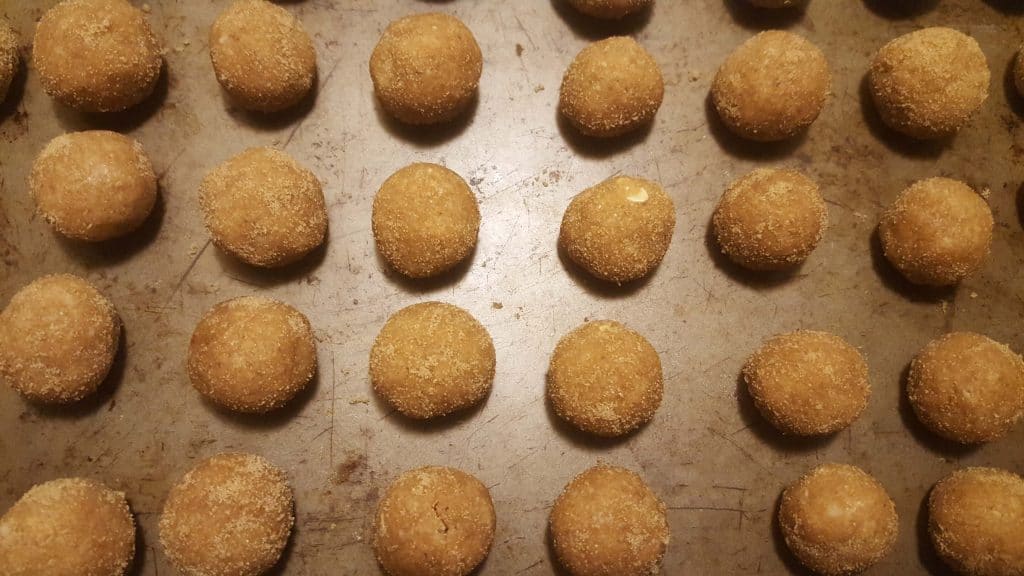 At this point, you can either bake the cookies or freeze the balls of dough to bake at another time. Or, you can bake half now and freeze the rest for another day.
The recipe does make about three dozen cookies; so it's up to you what you would like to do.
After they are baked and topped with the peanut butter cups, I would not recommend freezing them; they'll be too fragile and the peanut butter cups will fall off. I've tried it before and it just doesn't work, freezing the dough does, though.
When you bake the cookies, bake them for 10 to 12 minutes at 375°F; this is the time regardless of the dough being frozen or not. If you bake them for too long then the bottoms will get too dark and they'll start to crumble.
While the cookies are baking, unwrap the peanut butter cups. Top the cookies with the peanut butter cups as soon as they come out of the oven. It's alright if they melt a little bit.
Allow the cookies to completely cool before eating. Enjoy when cool!!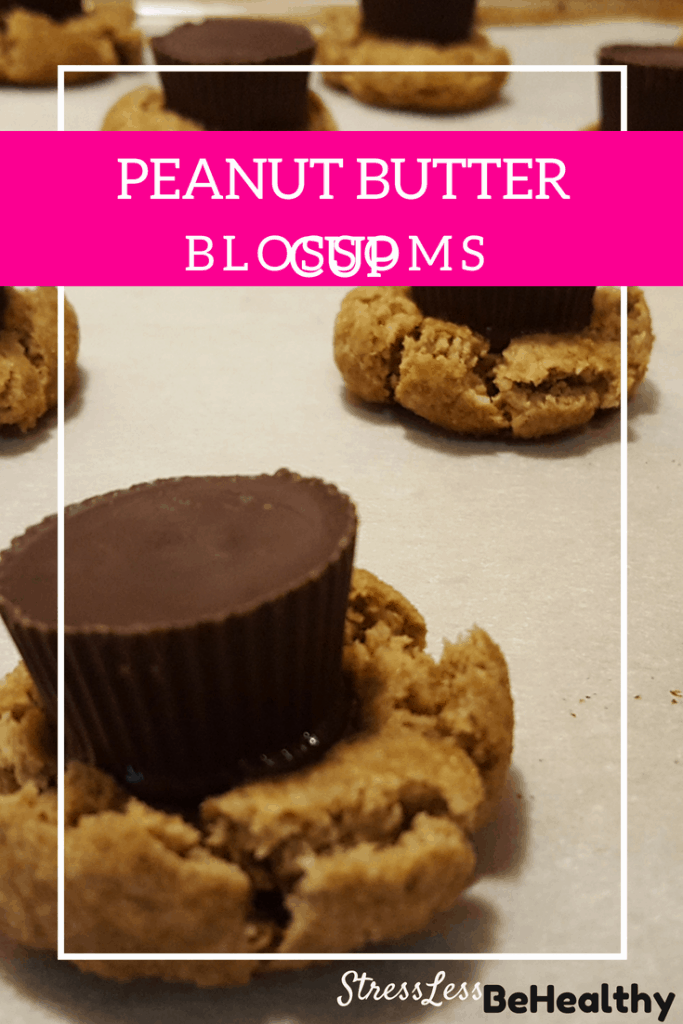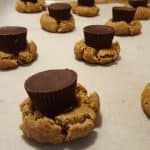 Vegan Peanut Butter Cup Blossoms
Christmas cookies the healthy way!! This recipe adds in some health benefits, like fiber from oats and flax seeds and protein from peanut butter. No more empty calorie cookies that'll leave you craving for more and more til you've finished off an entire tray. Share these with friends, family, and your kids to give them a delicious sweet and keep them full.
Ingredients
1 3/4

cup

oat flour

1

tsp

baking soda

½

tsp

salt

½

cup

brown sugar

about ¼ cup more for rolling balls of dough in is optional

½

cup

peanut butter

¼

cup

coconut oil

1

flax egg

2

tbsp

soy milk

1

tsp

vanilla extract

3

dozen mini Justin's Dark Chocolate Peanut Butter Cups
Instructions
First, preheat the oven to 375°F and prepare* the oat flour if you don't have oat flour readily available.

Then prepare the flax egg; mix 1 tbsp flax meal(ground flax seeds) with 2½ tbsp water, stir well, and let sit for at least 5 minutes.


Stir all of the dry ingredients together, except the peanut butter cups.


Then combine the coconut oil and peanut butter in a different bowl til completely combined.


Then add this mixture and the rest of the wet ingredients to the dry ingredients and mix well.


Roll the dough into balls.


Optional: roll the balls in brown sugar.


Then bake for 10 to 12 minutes; you can unwrap the peanut butter cups while the cookies bake.


Top the cookies with the peanut butter cups as soon as they come out, then let cool. Once completely cool; enjoy!!

Recipe Notes
* Prepare the oat flour by grinding the oats with a milling blade(I use my nutribullet), or a food processor or blender will work as well.
Don't forget to share with friends and family who need healthier/ vegan options for Christmas cookies!! Or, pin it for later on pinterest!
Missing something in your kitchen to help you eat healthy, go here.
Related Posts:
Vegan Peanut Butter Cup Blossoms
Vegan Sugar Cookie Recipe For Christmas For Kids!!