*Disclosure: some links may contain affiliate links. For more information on what this means, visit my disclosure page.
Apple Spice Energy Bites (the Perfect Energy Bites for Autumn)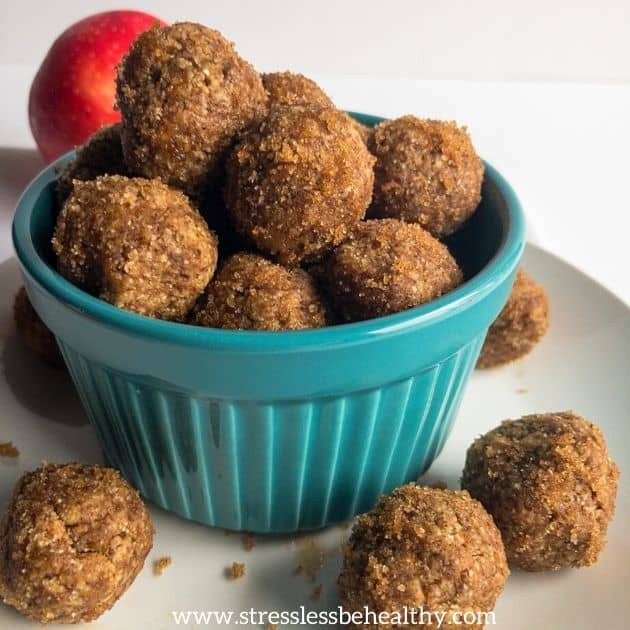 So, it's headed towards fall and I wanted to share with you a recipe I have been making since last fall!!
It's simple, like most my recipes.
Delicious.
Vegan.
And, kid approved, like all my recipes are!!
My daughters are great taste testers for me!!
And, I created it specifically for the fall season.
But, let me let you in on a little secret…THEY'RE AWESOME ALL TIMES OF THE YEAR!!
The first time I fed my second child (2 years old at the time) these, she opened her mouth for one and ended up with the whole thing in her mouth. Then started chewing it and spit it out realizing it was indeed too big. Then she took a bite small enough for her little mouth and immediately asked for more when she finished!
It was so cute!! She's 4 and a half now, and I learned my lesson with her. Because when I gave them to my now 15 month old, I broke one 'bite' up into 5 or 6 little pieces. She loves them, too!
Let's Make These Apple Bites!
First, get out all the ingredients.
The few items not labeled in the picture are oat flour, ground flax seed, and my homemade applesauce.
If you haven't tried my homemade applesauce yet, you'll want to make it some time this season!!
Makes a perfect side dish to bring to Thanksgiving!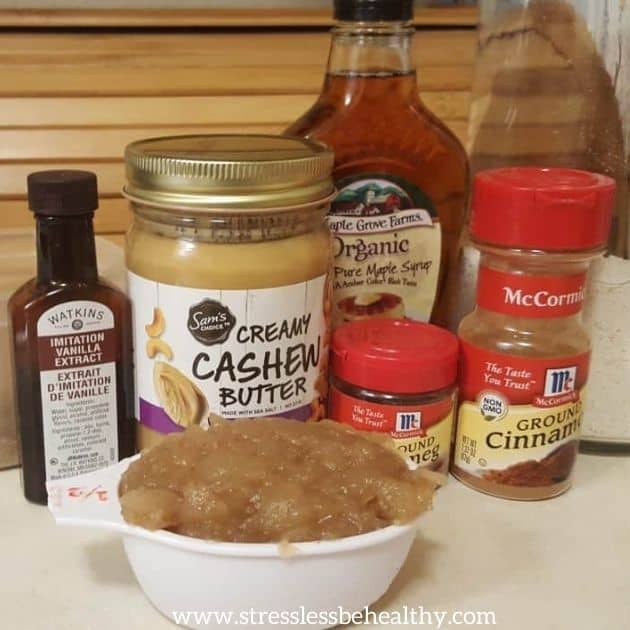 But, to get back to these little bite size pieces of deliciousness themselves; they are packed full of nutrients and fiber.
So, they're a good snack to grab for on the go. Which I know is really important as school is going to start soon and the busy season is coming up!
No stove required, and they refrigerate well. I'd actually recommend it- they taste better after left in the fridge over night to stiffen up a bit, if they're not gone the same day you make them; which happens quite often in my house!
Next, add in all of the dry ingredients and stir til everything is combined.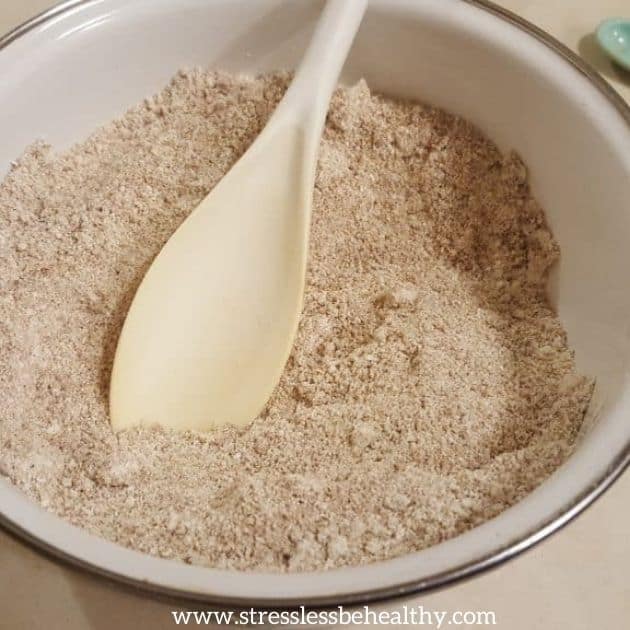 Then add in the rest of the ingredients and stir til everything is combined, it should form into a tough dough.
When I created this recipe it was tough to get it to form the dough, it simply requires a lot of stirring, if more wet ingredients were added then the 'bites' wouldn't form right.
So, make sure you just keep stirring, and don't add in more wet ingredients!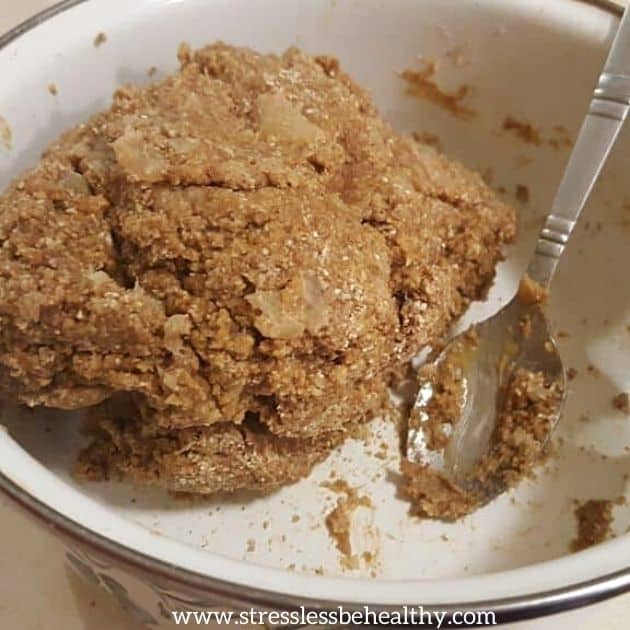 When the dough is formed, you can go ahead and roll them into balls, about the size of bouncy ball, or large bouncy ball.
Or, if you want to compare them to Christmas cookies, since that is right around the corner; about the size of peanut butter balls, or some people call them buckeyes.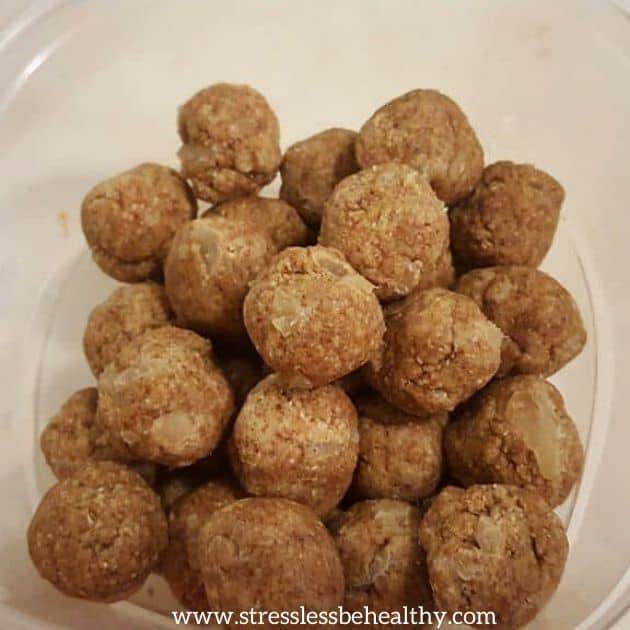 Now, you can call it a day and enjoy them as is…or, you can add an outer layer of brown sugar and cinnamon.
Honestly, it's up to you whether you add this or not.
I personally add the coating every time I make these. It's not like it's hard; my 5 year old did this part of the recipe for me! (She's now almost 8 at the time I'm updating this!)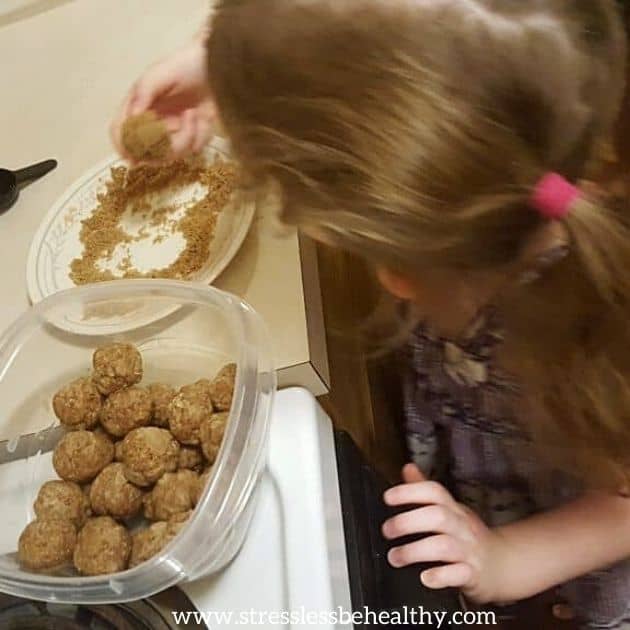 She had fun, too.
Just in case you're looking for a seasonal snack to make with your little ones.
This is a snack that they can actually help with and you won't feel bad giving them; did I mention the apples, oat flour, and ground flaxseed in these?
They have plenty of fiber and other nutrients to keep your kids full between meals; which can be a challenge in itself sometimes.
I hope you enjoy these like myself and 2 girls do!!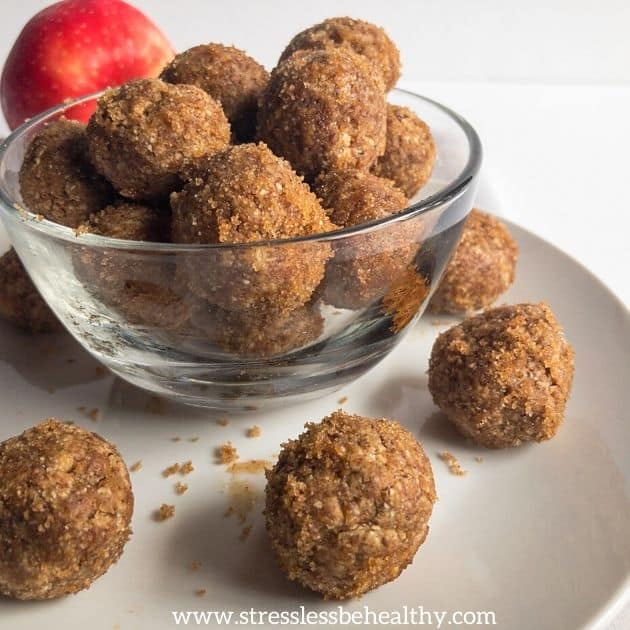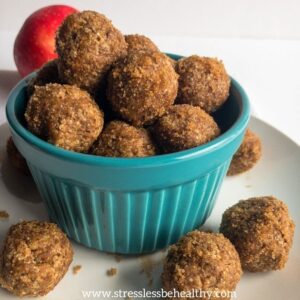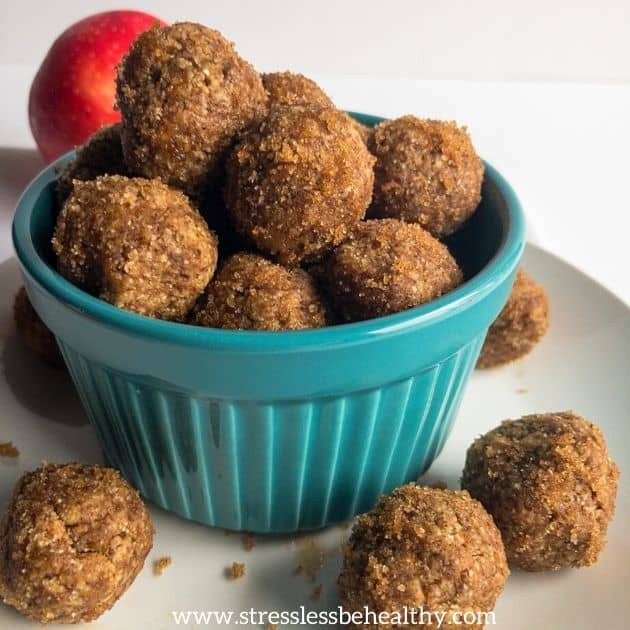 Apple Spice Energy Bites
Ingredients
Bites
1½

cups

oat flour*

½

cup

ground flaxseed*

1

tsp

cinnamon

½

tsp

nutmeg

½

cup

cashew butter

could use almond butter if you prefer

½

cup

homemade applesauce **

1

tsp

vanilla

2

tablespoon

pure maple syrup
Topping
¼

cup

brown sugar

a few sprinkles of cinnamon through out rolling

about ¼ tsp in total
Instructions
Combine all dry ingredients.

Add wet ingredients to dry mixture and stir til a ball forms.


Roll pieces of the dough into bouncy ball sized bites.


Roll in topping and enjoy!


If not devoured right after making them; place in fridge to store up to 5 days.

Notes
(5 days is the longest they've stayed in my fridge without disappearing- my 5 year old likes getting her own snacks….)
* For the oat flour I simply grind old fashioned oats into flour. For the ground flaxseed I grind whole flaxseeds. You can grind these with either a grinding blade from a nutribullet, a food processor, or even a coffee grinder.
** Click here to get the recipe I use for my homemade apple sauce. If you prefer to use store bought; you may need to add some brown sugar and extra cinnamon to the mixture.
If you want more snack ideas for kids, subscribe below for snacks from A to Z for kids.
I hope you enjoy these and don't be afraid to share with friends and family!!
Find more energy bite recipes here:
The Best Energy Bites Recipe of All Time
Cranberry Energy Bites (Kid Friendly Vegan Snack To Go!)
Find more Vegan Apple Recipes below:
My Simple Homemade Applesauce (that you'll regret not making)!!
Surprisingly Delicious Healthy Apple Muffin Recipe!!!
How To Make The Best Stovetop Cinnamon Apples
The Best Vegan Apple Cinnamon Pancakes Recipe
Want to Remember This? Pin Apple Spice Energy Bites to your favorite Pinterest Board!!