*Disclosure: some links may contain affiliate links (meaning if you end up purchasing something when you click on the link then I may get a commission on it, with no extra cost to you, of course). For more information on what this means, visit my disclosure page.
The Best Vegan Apple Cinnamon Pancakes Recipe
What's better in the fall than apple cinnamon pancakes?
Or, really, apple cinnamon anything?
Maybe I got it from my mom, but I love anything that's apple cinnamon flavored or scented. It reminds me home, fall, and new beginnings with the school year starting. I know, we're a few months into that season by now. But, that doesn't mean the apple cinnamon food has to!
A version of this recipe used to be a favorite of mine when I was younger and my mom still made my food. She used to make a ton of apple pancakes, enough for leftovers in a household of 6, and then keep the leftovers in the fridge. (It wouldn't take long for them to disappear.)
Though, her recipe wasn't vegan. And, not quite as healthy as I make mine. I'm a bit obsessed with making sure the food I feed my two girls have plenty of nutrients in them!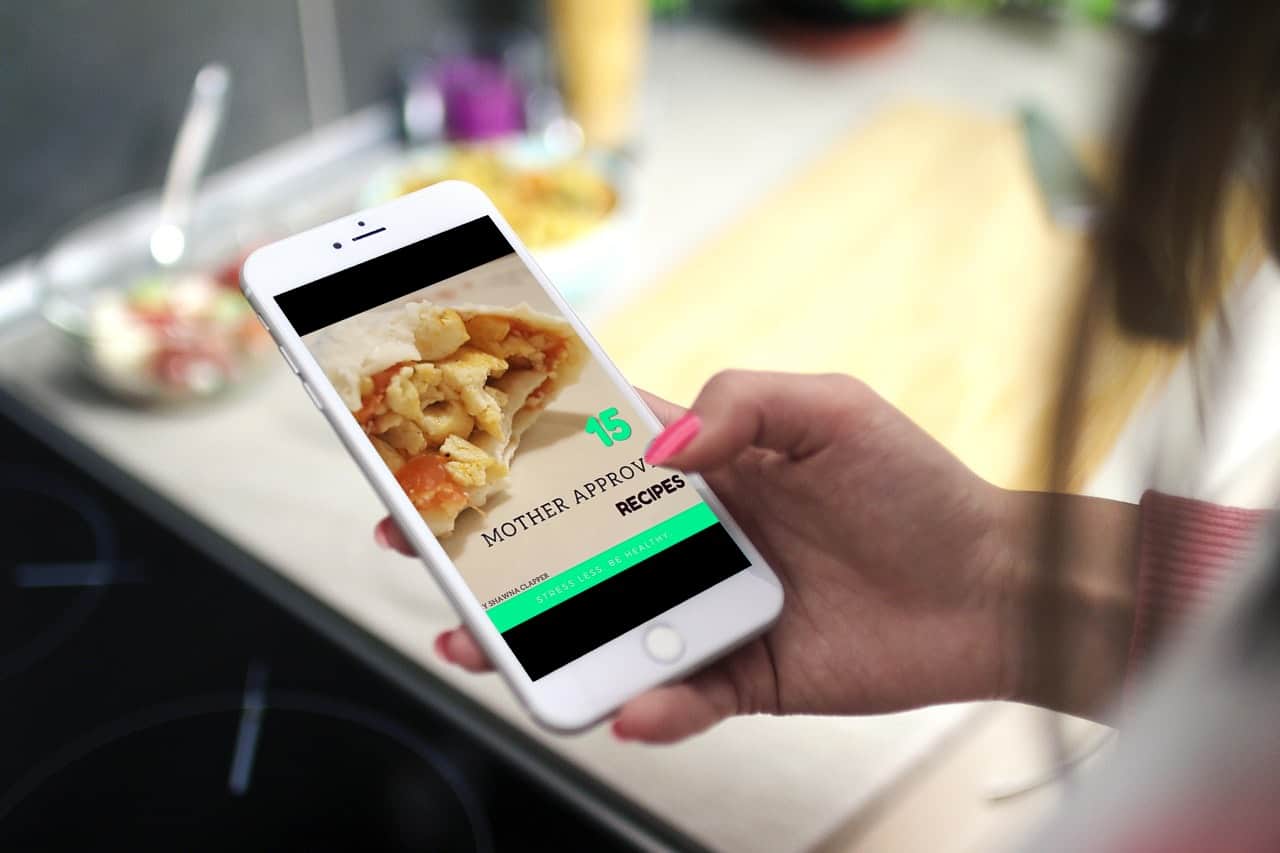 If you'd like to check out my other apple recipes, I've compiled all of them I have on this blog (up to the date I publish this post) below:
And, I assure you, there are more to come, such as the apple nachos that I make my girls for snacks occasionally and they can't get enough of!
About these Apple Cinnamon Pancakes
When I first made these pancakes, I simply made them with only all purpose flour. And honestly, I had no hope of them turning out well since I barely had a skeleton of a recipe when I started putting ingredients together. (And because I didn't have any oat flour ground up.)
Once I started cooking these, though, I knew they were going to be a hit. My picky eater 6 year old asked me if I was making cookies, because that's what she honestly thought they smelled like when cooking.
You know something that smells that good when cooking can't taste all that bad!
My girls and I loved them. They were so good that I decided to experiment with different amounts of all purpose flour and oat flour, to make them a bit healthier and more filling with the fiber from the oats. Turns out, half and half is perfect. So, be assured that this recipe has be tested and tried quite a few times to make it just right.
Let's Make Apple Cinnamon Pancakes
Possible prep work to make Apple Cinnamon Pancakes
To start off, you'll want to make sure you have oat flour and flaxseed meal. You can buy these already ground, or you can grind them yourself. I like to grind them myself because it tends to be cheaper in the long run, when using them all the time, and because I get to choose the fineness.
Use either a nutribullet or a food processor (s-blade) to grind oats into oat flour. I've been using my food processor lately because it can grind more at once, making life easy! I save the leftovers in a glass container in my cupboard. I'm not sure if this is supposed to be stored in the fridge or not, it tends to get used pretty quickly in my home, so I don't bother having it take up space in my fridge.
To grind flaxseed into flax meal, I use a coffee grinder. It helps with making it more fine, which is what I prefer. I save whatever leftovers I have in a glass jar in the fridge.
Onto making the batter of these Apple Cinnamon Pancakes
Once you're done with the prep work, or if you bought oat flour and flaxseed meal to save yourself some time, it's onto actually making these pancakes.
Start by making the flax egg, to give the flax meal time to absorb the water and turn into and egg-like consistency.
Then measure out all the dry ingredients and adding them to a mixing bowl. Stir well.
Add in the soymilk (or other non-dairy milk of choice). Melt the coconut oil and add that. And, add in the flax egg. Stir everything together until there are no dry ingredients that are still 'dry'.
Next, peel and dice the apple. Or, peel the apple and slice off small parts of it right into the bowl or other ingredients. This could potentially save time if you don't care that all the pieces are different sizes. Fold the apple pieces in til mixed well.
Place a pan on the stove, turn on medium heat with about a tablespoon of coconut oil.
Once completely heated and the coconut oil is melted, measure out about a quarter cup of batter, slightly less, and add to pan.
When the batter starts to bubble, flip it over and cook on the other side.
They should be a light golden color when done.
Continue cooking the pancakes this way til you're out of batter.
Once done, top with maple syrup, serve, and enjoy!
*These freeze well, too. So, go ahead and double or triple the batch for an easy make ahead breakfast for the week!
Apple Cinnamon Pancakes
Healthy and delicious apple cinnamon pancakes that your kids won't even know are good for them, because they taste that good!
Ingredients
¾

cup

oat flour

¾

cup

all purpose flour

2

tbsp

brown sugar

1 ½

tsp

baking powder

½

tsp

salt

¾

tsp

cinnamon

1 ½

cup

soymilk

2

tbsp

melted coconut oil

1 tbsp for pancakes, 1 tbsp for the pan

1

flax egg

1 tbsp flaxseed meal mixed with 2 ½ tbsp water

1

large apple

diced

maple syrup for the topping
Instructions
Make the flax egg by combining 1 tbsp flaxseed meal with 2 ½ tbsp water. If you don't have ground flaxseed, do that first.

Combine all dry ingredients and mix well.

Add all wet ingredients in with the dry and mix well.

Peel and dice the apple and add into the mixture, making sure it's all through out.

Add some coconut oil to a medium pan, turn the heat on medium.

Once the coconut oil is melted add about a quarter cup of the batter to the pan.

Once the batter starts to make small bubbles, flip and let it cook on the other side.

Continue this process of cooking the batter til there is no more batter.
Recipe Notes
*You can sub in maple syrup for the brown sugar, just make sure to add it in with the wet ingredients, not the dry.
Be sure to share with friends and family, or anyone you know who would enjoy these.
And save to a relevant pinterest board so you don't lose this recipe! (Follow me on Pinterest here.)
Also try my Easy Vegan Pumpkin Pancakes