*Disclosure: some links may contain affiliate links (meaning if you end up purchasing something when you click on the link then I may get a commission on it, with no extra cost to you, of course). For more information on what this means, visit my disclosure page.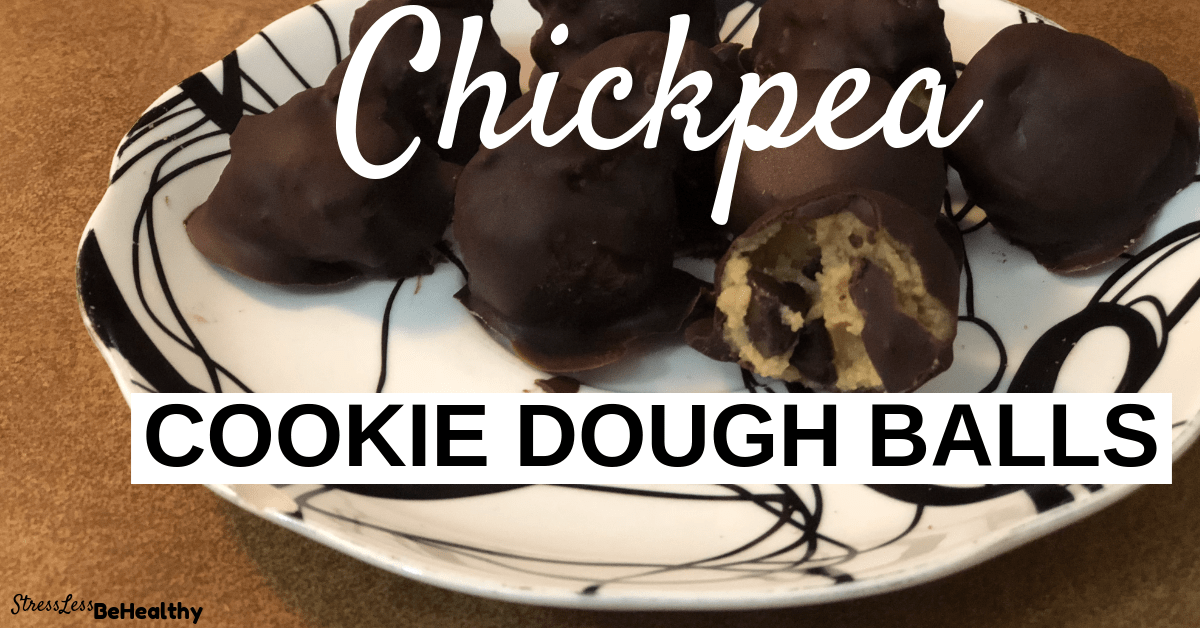 Chickpea Cookie Dough Balls
I don't know if you've seen the 'normal' version of cookie dough balls on Pinterest, or any other place on the internet; but it always makes me think of how horrible they must be.
Not in taste, but in safety, and feeling alright after eating them.
I always tend to think back to the toll house cookie dough that says right on the package to not eat until cooked. This isn't because they only want you to eat it how it was designed to be enjoyed, but because of safety issues.
You wouldn't eat a raw egg or raw flour (which also sometimes says right on the package to not eat raw), so why eat it raw in the form of cookie dough?
So, that was the inspiration I had to make this recipe.
To make cookie dough balls that are edible and healthy.
Related Posts to Chickpea Cookie Dough Balls:
How do you make edible cookie dough?
It's actually not that difficult!
But, you will need a food processor, something I didn't invest in til after my second daughter was born. (This is the one I have.)
Having little helpers won't hurt either. My 6 year old loves helping form the dough into balls, just like when we make peanut butter balls at Christmas time.
You'll want to start by getting out the chickpea, peanut butter, and maple syrup.
If you're using dry chickpeas, which is what I always use because they are so much cheaper than canned; you'll need to boil them first, until they are squish-able in between your fingers.
When boiling chickpeas, add enough water that there's are few inches of water above the chickpeas. Once boil, cover and lower the heat to make sure it doesn't boil over. This is the longest part of making these, so if you're short on time, go ahead and get canned instead.
Next, take the 'skins' off the chickpeas. This will help the cookie dough taste smooth. Feel free to get your little helpers for this part. It needs to be done whether starting with dried or canned chickpeas.
Making the Rest of this Vegan Cookie Dough Recipe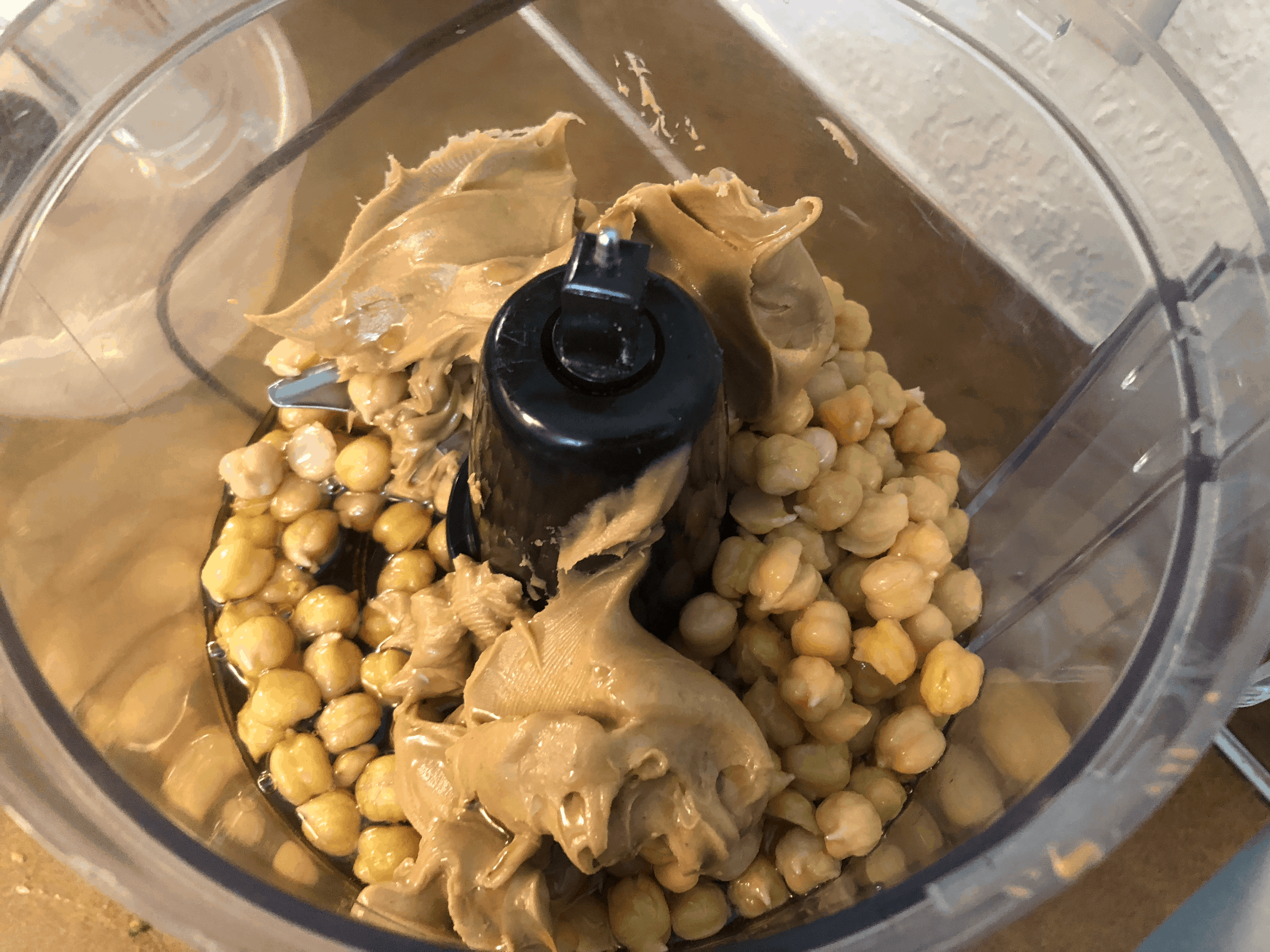 Once the chickpeas are skinned, add them to your food processor, along with the peanut butter and maple syrup.
Pulse or blend the mixture til smooth.
Add the mixture and the chocolate chips not meant for melting. Stir them in with a spoon and mix well.
Place the dough in the fridge for at least an hour, otherwise the dough will be too sticky to roll into balls.
Once you're able to, roll the dough into balls. Place on a cookie sheet lined with parchment paper and freeze. This way they won't fall apart when covering them in chocolate.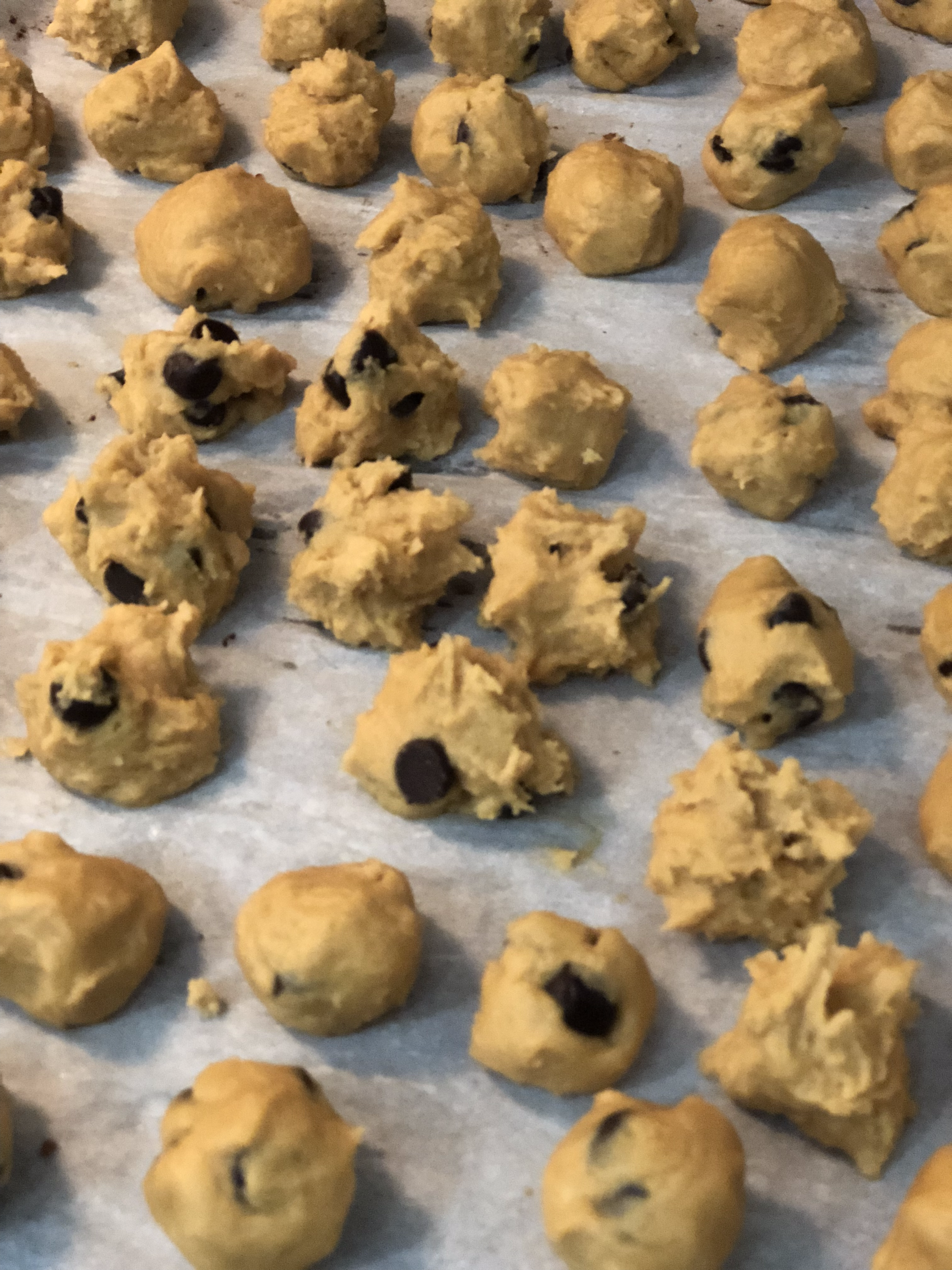 Add the chocolate coating to the edible chickpea cookie dough balls
Once frozen, leave in the freezer and melt the rest of the chocolate chips and coconut oil in a double boiler.
Or, if you don't have a double boiler, use two different sized pots.
Boil water in the larger one and put the ingredients in the smaller one, and put the small pot in the larger one.
Get the cookie dough balls out and add one or two to the melted chocolate at a time.
Roll them in the chocolate, use a spoon or fork if needed, then place back on the parchment paper to cool. Do this for all the rolled dough.
Once done, place in freezer to help the chocolate solidify.
Enjoy!
Store in the freezer til gone to make sure the chocolate doesn't melt.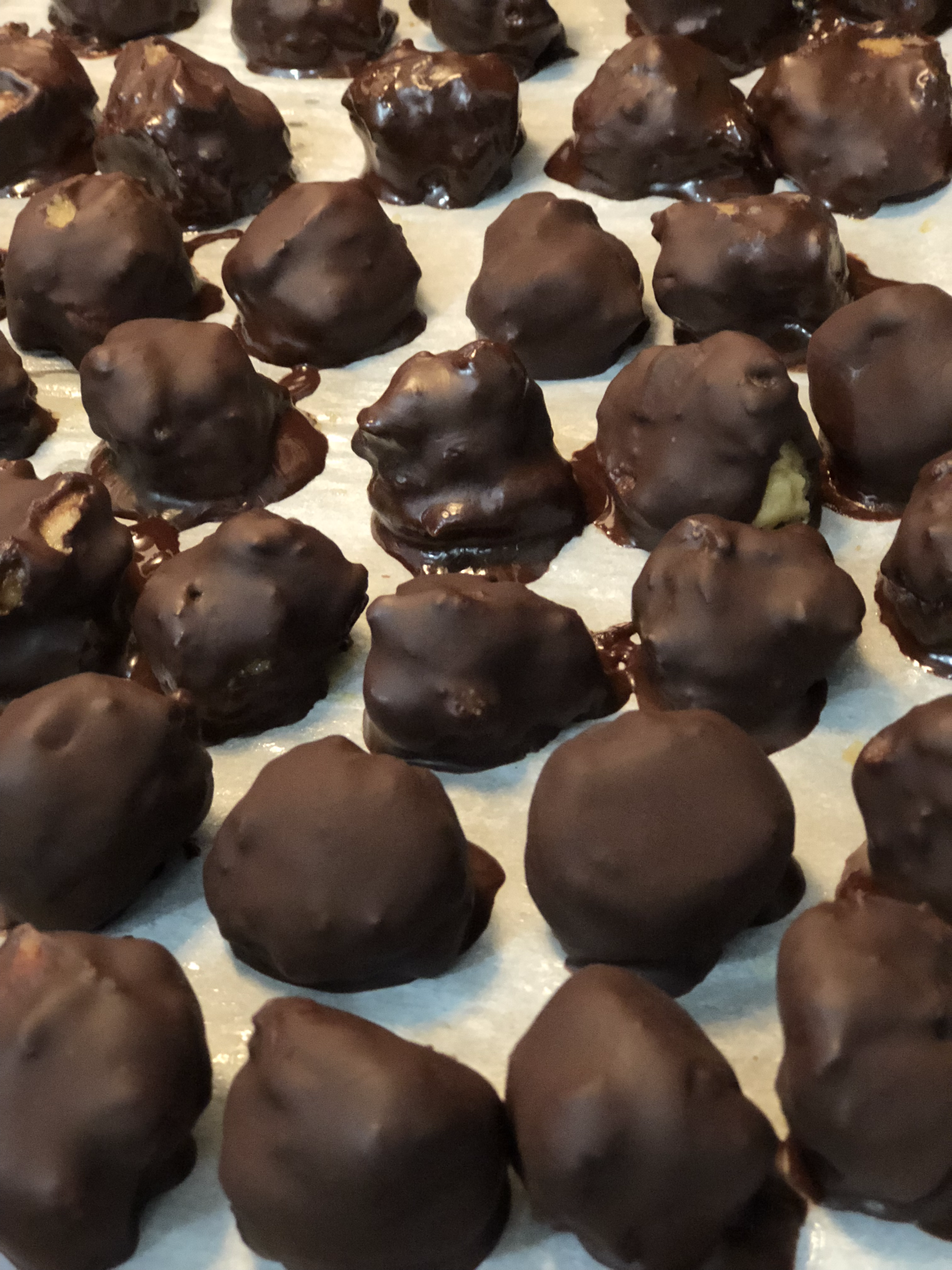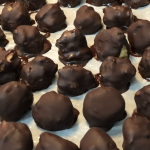 Chickpea Cookie Dough Balls
Healthy protein rich peanut butter balls that your kids will love! They won't even be able to tell that these cookies are healthy for them.
Total Time
1
hour
30
minutes
Ingredients
1

can

chickpeas

or 2/3 dry chickpeas to boil til soft

¾

cup

peanut butter

½

cup

maple syrup

½

cup

chocolate chips

dark, vegan

1

cup

chocolate chips

to melt

2

tbsp

coconut oil

to melt
Instructions
Boil the chickpeas if not using canned.

Take the 'skin' off of each chickpea. Whether canned or dry.

Put the chickpeas, peanut butter and maple syrup in your food processor and turn on low til blended well and smooth

Place mixture in a bowl and add in ½ cup chocolate chips ad mix well.

Let dough sit in the fridge for a few hours.

Roll the dough into balls, about 1 inch or so in diameter. (Does not have to be perfect.)

Freeze for an hour or so.

Melt the rest of the chocolate and the coconut in a double boiler. (Or, use two pots, one smaller than the other; boil water in the bigger pot, and the ingredients in the smaller pot, placed inside the bigger pot.)

Once the chocolate and coconut is melted, roll each ball in the chocolate and place on parchment paper on a cookie sheet.

Freeze the balls in the freezer to help the chocolate harden up. Then keep in the fridge or freezer.