*Disclosure: some links may contain affiliate links (meaning if you end up purchasing something when you click on the link then I may get a commission on it, with no extra cost to you, of course). For more information on what this means, visit my disclosure page.

Vegan Quesadilla – No Cheese Avocado Quesadilla
This is a MUST-TRY vegan quesadilla!
Just because you're vegan, or trying to raise kids who don't get addicted to cheese (before they even get a chance to decide for themselves if they want it or not); doesn't mean you have to give up on ever having a quesadilla again!
In fact, there are a ton of different ways to make delicious (and healthy) vegan quesadillas. The recipe below is how my two year old and I love to eat them! Unfortunately, my picky eater 6 year old is not a fan….unless it's simply the tortilla shell and avocado. Both of my girls absolutely love avocado; they'd eat a whole one plain everyday, that is if I didn't mind spending $15 a week on avocados. But, I try to stick to a budget when grocery shopping, and spending $15 on one thing isn't in the budget.
Related Posts:
Benefits of No Cheese Vegan Quesadillas
Even if you aren't vegan, you can still benefit greatly from avoiding cheese in your diet, or your childs.
Plus, you don't even have to think about as 'giving up' cheese; simply think of it as adding in a lot of nutrient dense foods that will keep you satisfied for longer and taste delicious!
For example, avocados contain plenty of healthy fats. These are so great for you that it's the second type of produce I fed my girls when they were babies…after bananas, of course. And, they still love both of these to this day!
If you're worried about lacking protein in this quesadilla, DON'T.
I'm not going to calculate the amount of protein this meal has in it, but it does have black beans hidden inside. So, there's a great source of protein without the saturated fat or the addictive-ness of cheese. I don't know about you, but I don't know anyone 'addicted' to black beans; I do, however, know some people who'll admit to being 'addicted' to cheese.
How to make these No Cheese Avocado Quesadillas
To make these quesadilla; start by making sure you have black beans ready to use. Either canned, or boil dried black beans til they are soft enough to eat (like they would be from a can). If starting with dried, try to make these ahead of time; they can take awhile to cook.
Then dice all the veggies that need to be diced (bell pepper, tomatoes, and onion).
Once the veggies and beans are ready to cook with, saute the peppers and onion for 3-5 minutes. Then add the black beans and seasoning, mix well, and let cook for another few minutes on medium heat.
Next, add in the corn and tomatoes, mix everything well; once everything is the same warm temperature, take off the heat and place the filling in a bowl til you're ready to add it to the tortillas.
Spread a quarter of an avocado on each tortilla shell and then add the filling.
Fold the tortilla in half and cook on medium heat til both sides are golden. Remove and repeat.
Let cool before eating and add ketchup or salsa to dip them in. Enjoy!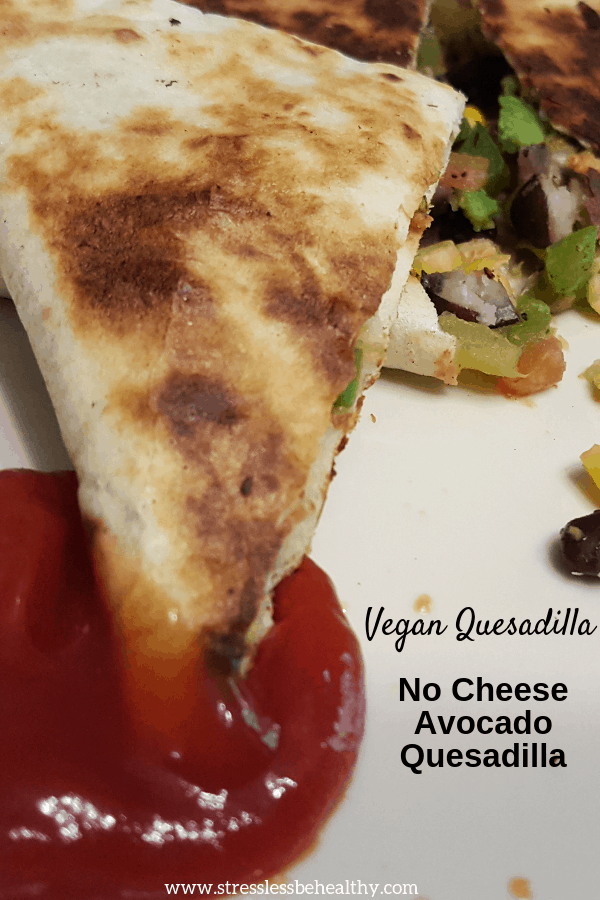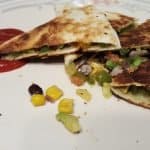 No Cheese Avocado Quesadilla
Delicious vegan, no cheese, avocado quesadillas! Toddler and kid friendly.
Servings
12
half quesadillas
Ingredients
3

ripe avocados

12

soft tortillas

medium

1

cup

corn

1

green or red pepper

diced

1

tomato (beefsteak or roma)

diced

1

red or white onion

diced

½

tsp

seasoning

Mortons Nature's seasons, seasoning blend

1

cup

black beans

canned or already cooked

ketchup or salsa

for dipping
Instructions
Saute pepper and onion for 3-5 minutes, then add in black beans and seasoning.

Add corn and tomato, mix well and cook everything til heated.

Place in bowl and set aside til ready to add to tortillas.

Use a quarter of avocado per tortilla; spread avocado onto tortilla and add the filling.

Cook on medium til golden on both sides. Let cool and cut.


Serve with ketchup or salsa, and enjoy!
Recipe Notes
*The filling will stay good in the fridge up to 3 days, not including the avocado.
If you loved this vegan quesadilla recipe, you'll be sure to love these:
Or, get a FREE Easy Recipe Ebook for Busy Mom's here!