*Disclosure: some links may contain affiliate links (meaning if you end up purchasing something when you click on the link then I may get a commission on it, with no extra cost to you, of course). For more information on what this means, visit my disclosure page.

Busy Mom's Tofu Scramble Wrap Recipe
Have you ever had a love hate relationship with something before?
I'm not talking about with a person, but with a tool or computer program, or even a type of food?
Well, as you can probably guess by the title of this post; I have had a love hate relationship with tofu.
When I was 7 years old I decided to be a vegetarian (haven't ever looked back, either); and the first memory I have of tofu was when I was young and my mom added tofu to a smoothie or milkshake she made. I didn't know she had put it in at first, but then I tasted something different in it that I never tasted before; it was tofu. I was not happy about it! (Probably because I didn't know exactly what it was and had never had it before. I was also probably the pickiest child you ever would have known back then when it came to what I ate.
Since then, and learning exactly what tofu is, I've been trying to find recipes to include it in my diet. I pretty much did a 180 with my thoughts on tofu since childhood. And, honestly, the first time I was able to eat, and actually enjoy, tofu was this past year when I found a recipe I actually enjoyed. It was just for simple cubed tofu cooked on the stove on a pan. But, it took sooo long to make because of having to 'press' the tofu.
No one has time for that, and I wasn't about to go out and spend money on a tofu press. (And, by go out I mean hop on Amazon and order one because they don't sell them anywhere near me.)
So, that is where this tofu recipe comes into play. A simple, easy, and quick way to add some extra protein from tofu into yours or your childs diet without having to wait 5 hours for tofu to press. (And, no having to remember to press it the night before, cause who's actually going to remember to do that!)
Let's Get Started
Start by getting out your tofu, olive oil and spices, or seasoning blend.
Then, go ahead and warm a pan on the stove with the olive oil in it. While it warms, open and drain the tofu over the sink. Place on pan and gently slice into blocks. Or, you can slice it into blocks on a cutting board, I simple don't like to make more dishes to wash than absolutely necessary. And, honestly, you could skip over cutting the tofu with a knife entirely and simply chop it apart with your spatula.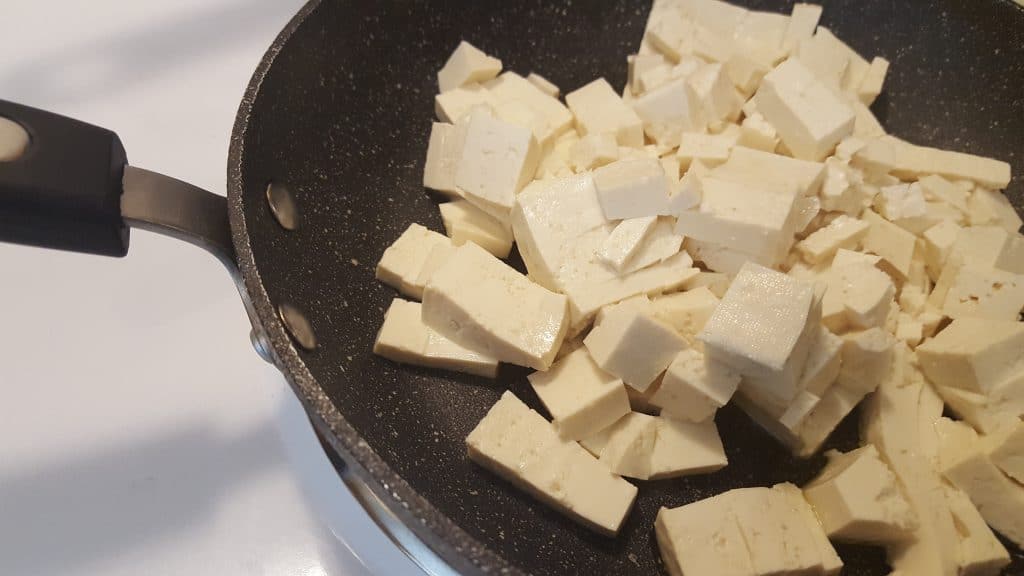 Then you'll want to add in half of the seasoning and keep chopping the tofu with your spatula until you get the desired size.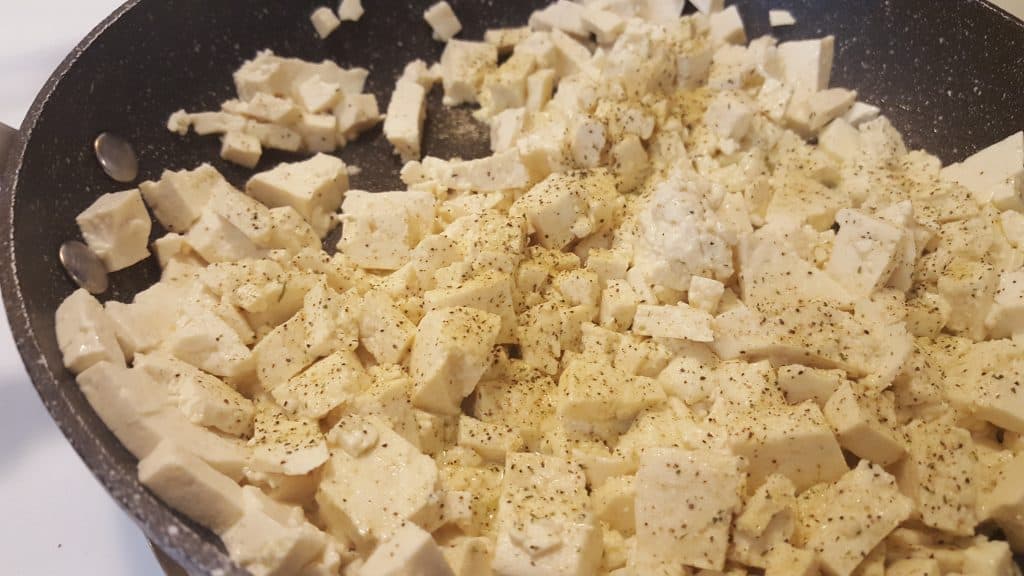 Keep cooking them on medium heat, and flipping them once in awhile, until they start to golden. Wash and dice your tomato while the tofu cooks. Once the tofu is pretty golden, you can go ahead and add the diced tomatoes.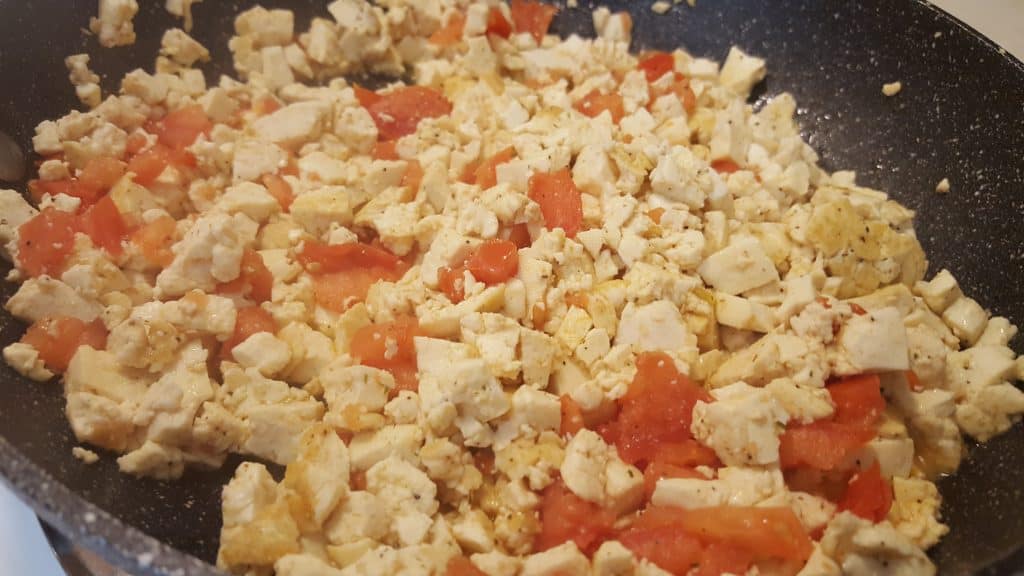 Add in the rest of the seasoning and continue to cook to warm the tomatoes and til the tofu gets little darker.
Once it is at your desired golden color, turn the stove off and remove from the heat. Lay the tortillas on plates and place about a quarter (maybe less) in the very middle of the shell.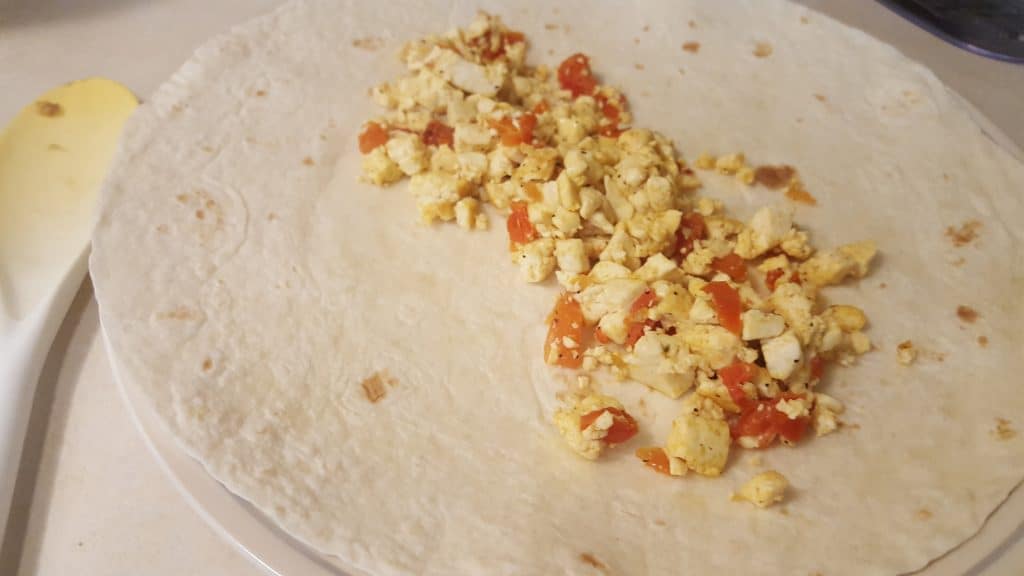 Then add in whatever other toppings you'd like, I sometimes add in some organic ketchup. And, roll like a burrito. Enjoy!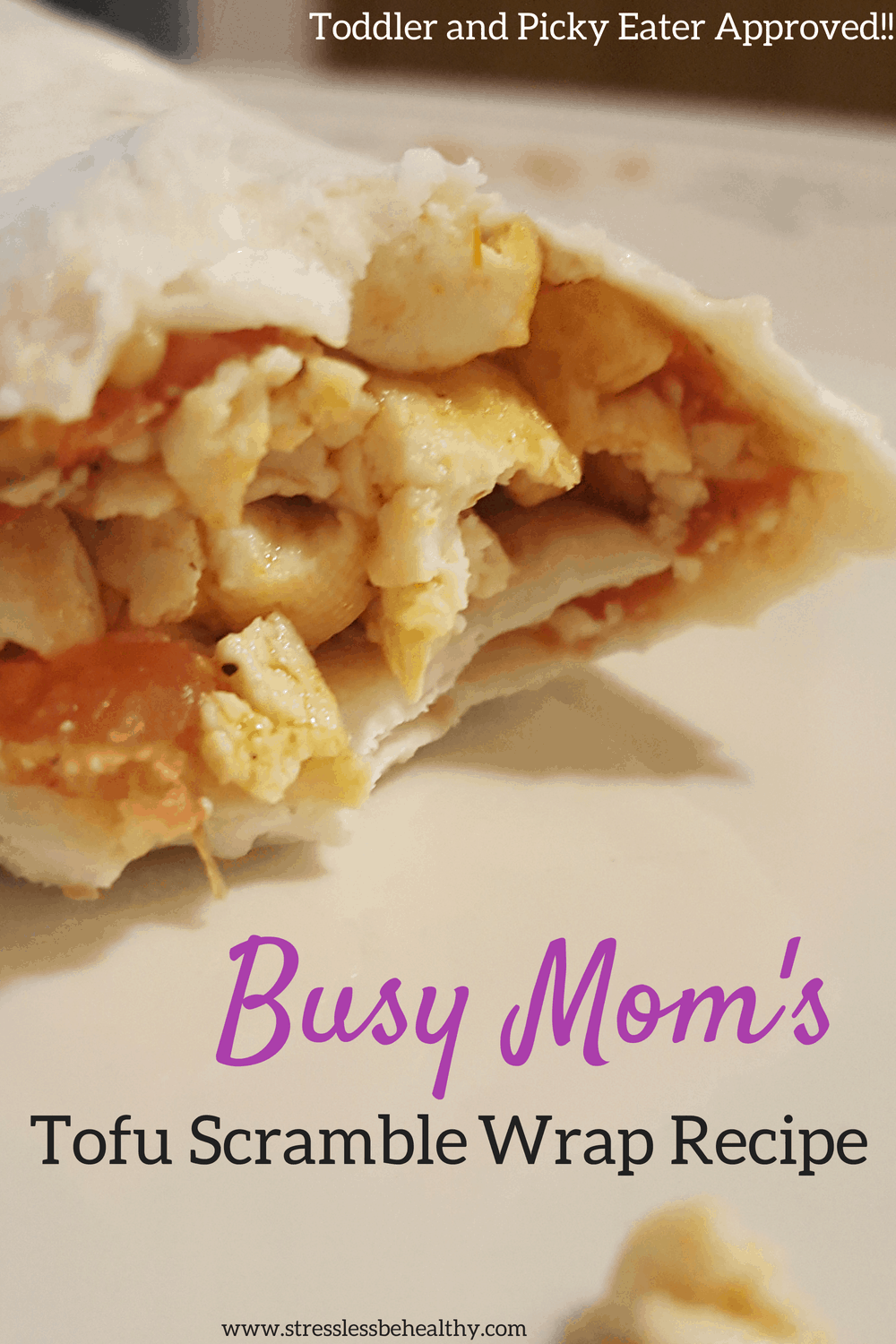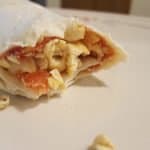 Tofu Scramble Wrap Recipe
A simple tofu recipe that even your kids will eat!
Ingredients
1

tbsp

olive oil

16

oz

firm tofu

1

tsp

seasoning blend

(mortons natural seasoning blend)

1

medium tomato

(my favorite is vine-ripe)

4

medium tortillas
Instructions
Heat the oil in a large pan.

Drain tofu, cube, and place in pan.


Continue to chop tofu to desired size with spatula.


Dice the tomato and add in once tofu starts to golden.


Add in rest of seasoning.


Allow tofu to golden a bit more.


Once done, add to tortillas, add any toppings you'd like (like ketchup), then wrap like a burrito.

Recipe Notes
The tofu scramble portion of this recipe can be saved in the fridge up to 4 days and then reheated for an easy breakfast option for busy mornings, or a super quick dinner in between taking kids to their after school activities!
So, take a break from working so hard to get dinner (or breakfast) on the table, and stop stressing to ensure your children get the nutrients they need in their diet. If you want, you can even add some spinach to this wrap (as long as your kids won't freak out that there's green stuff in their food!). Make this easy tofu scramble that even the pickiest of eaters (including my 5 year old daughter) will eat!
Don't forget to share this recipe with other busy moms, or moms of kids who choose to be vegetarian and are worried about protein intake! (But, also have them read this if raising a vegetarian or vegan.)
Related Posts:
8 Quick and Healthy Vegan Meal Ideas
Delicious Diced Veggie Vegan Burritos
Excellent Eggplant Fries Recipe