*Disclosure: some links may contain affiliate links (meaning if you end up purchasing something when you click on the link then I may get a commission on it, with no extra cost to you, of course). For more information on what this means, visit my disclosure page.
Excellent Eggplant Fries Recipe
Do you have trouble getting your kids to eat veggies?
I know it can be a challenge, even with the best eaters sometimes. If you ask my 5 year old on any given day what she wants to eat, I could pretty much guarantee you she will say pb&j.
It's hard to get kids to eat their veggies sometimes. And, sometimes hiding veggies in other foods can help, such as smoothies. Or, check out 12 Ways to Get Veggies into a Childs Diet for more ideas on that topic.
But, what if you and your kids are craving fast food? You could always make homemade fries with potatoes. Or, you could up the diversity a little and add another color of the rainbow to you diet with eggplant fries!!
Eggplants are unique in a few ways; they have a sponge like texture which may make people run from them because it tastes funny. And, they are a beautiful dark purple color.
Eggplant fries, when seasoned as in the recipe below actually taste so good that you'll forget that it started with something feeling like a sponge! And it's up to you if you want to leave the beautiful purple skin on, or not, when preparing these fries; my preference is to remove it. One benefit, however, of leaving the skin on the eggplants; eggplant skins contain nasunin. Nasunin is a phytonutrient and antioxidant. If you don't already know, antioxidants are good for you, they protect us from free radicals.
Eggplants have other nutritional benefits, as well. Such as being a good source of fiber, B1, B6, manganese and other vitamins and minerals. Fiber is good for digestion and metabolism, B1 for metabolism and nerve and heart functioning. B6 helps with the immune system, and manganese helps with a healthy bone structure. Many veggies have loads of vitamins and minerals that are essential to living healthy. Keep reading to find out how to turn something with so many health benefits into something you and your children will enjoy!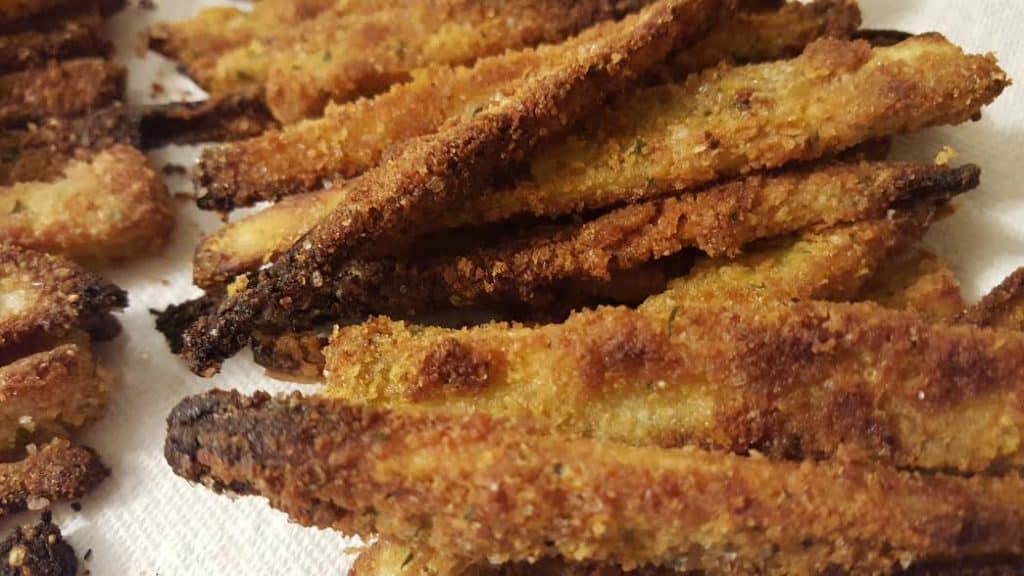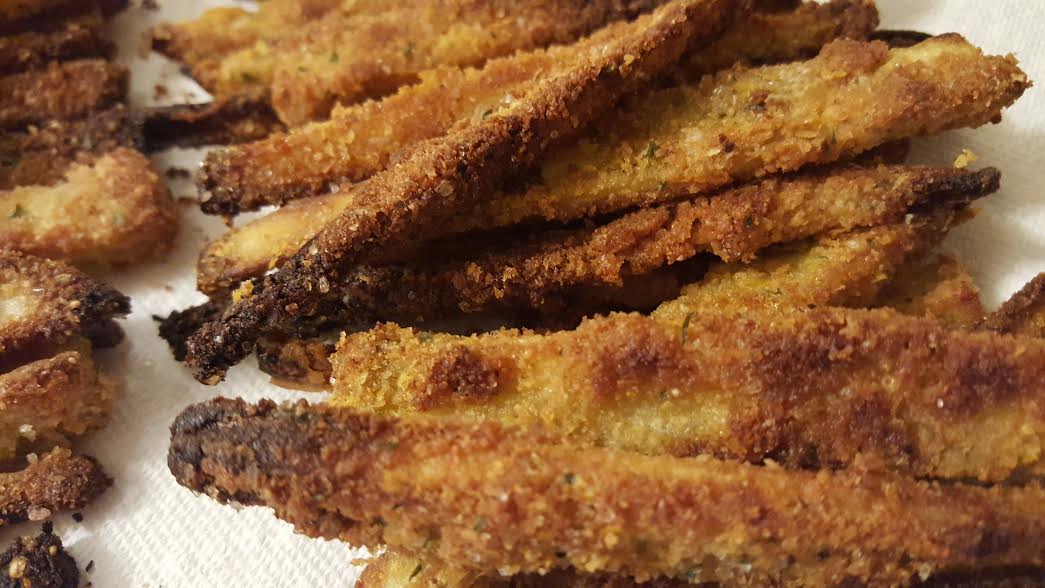 Let's Begin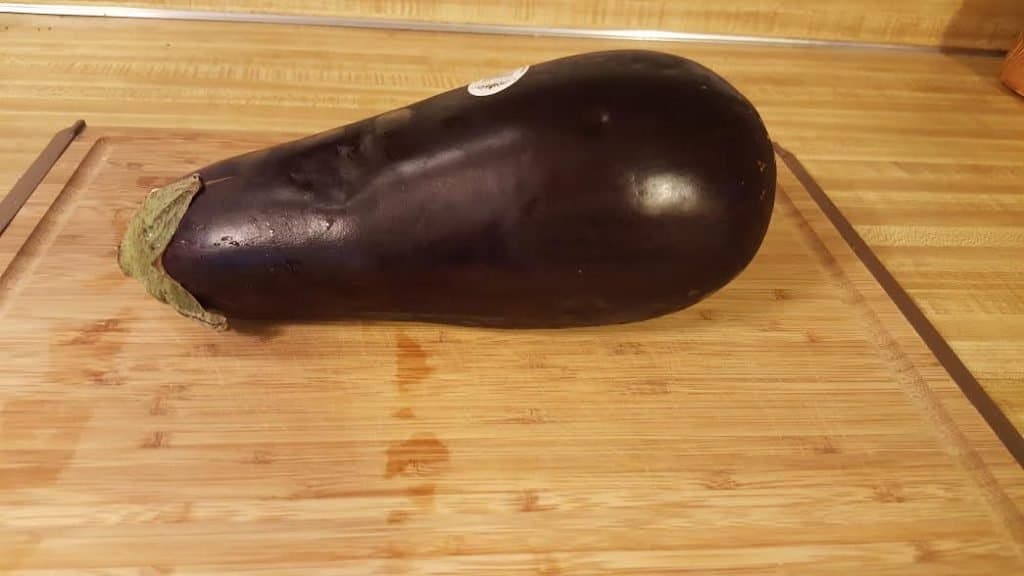 To start we need to prep the eggplant to be cooked. I personally peel the skin and then start slicing the eggplant. If you want to keep the skin on, that's perfectly fine, just make sure you wash it. Once you're either done peeling and/ or washing your eggplant, go ahead and start to slice it up. The easiest way to start this is by cutting the eggplant in half the short way, then slicing it into 8 long strips the long way on both halves. You may have to cut the slices thinner; the smaller the slices are, the crispier they get.
This next step is optional. If you don't know, I'm some what new to baking and cooking; I've only been coming up with recipes for a year or so. I come up with recipes based on trial and error, mostly. For this recipe, I did some research on how to cook eggplants and came across multiple websites insisting on salting the eggplant to reduce it's bitter taste; just as common were websites insisting that salting them is not needed. This is why salting the eggplant before cooking is optional. My personal preference is to sprinkle salt on the sliced eggplant and let sit 20 minutes, which is a shorter amount of time than the hour suggested on multiple websites. Then I blot off the liquid that is drawn out from the eggplant before seasoning them to go in the oven.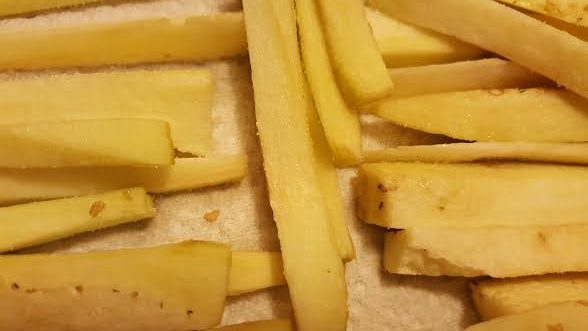 If you decide to salt the eggplant for the 20 minutes, then this would be an excellent time to set up for the next step. If you don't salt the eggplant, then go ahead and set up for the next step now. To set up for the next step, you will need to get out 3 plates or shallow bowls. In the first one you will need flour, second – olive oil, and third for the seasoning.
Seasoning the Fries
This next part is the fun part, and the part you can have your kids help with, if you have the patience to clean up a larger than necessary mess! For this recipe I used two different seasoning mixes to test out; one with parmesan cheese, the other with nutritional yeast, both with breadcrumbs and garlic and sea salt. And, before you start this next step you should pre-heat the oven to 450 F° and line a baking sheet with parchment paper to reduce clean up in the end.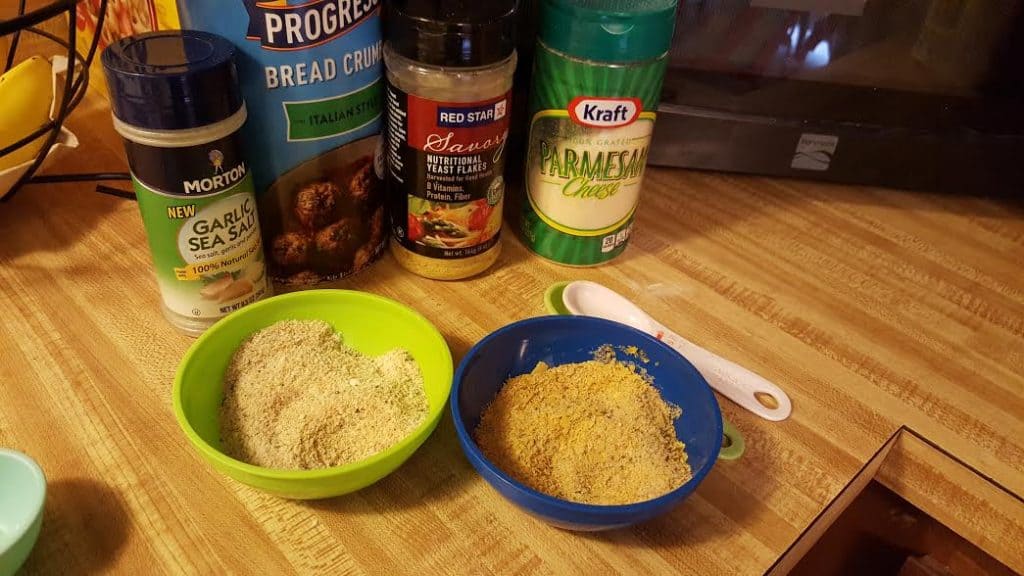 What you will want to do first is pour some flour on a plate, then roll each piece of eggplant in the flour until it is covered.
Then dunk it in the bowl with oil in it, til you can't see the flour anymore.
Then roll in the seasoning mix til covered; they should look like the pieces in the picture below.
This is why kids love helping with this part; it can be messy. All of the pieces will take up more than just one tray, so you're kids can stay occupied while the first batch bakes! It's sometimes worth a little more cleaning up if it entertains your kids, plus, you already saved some time cleaning up if you used parchment paper to cook on!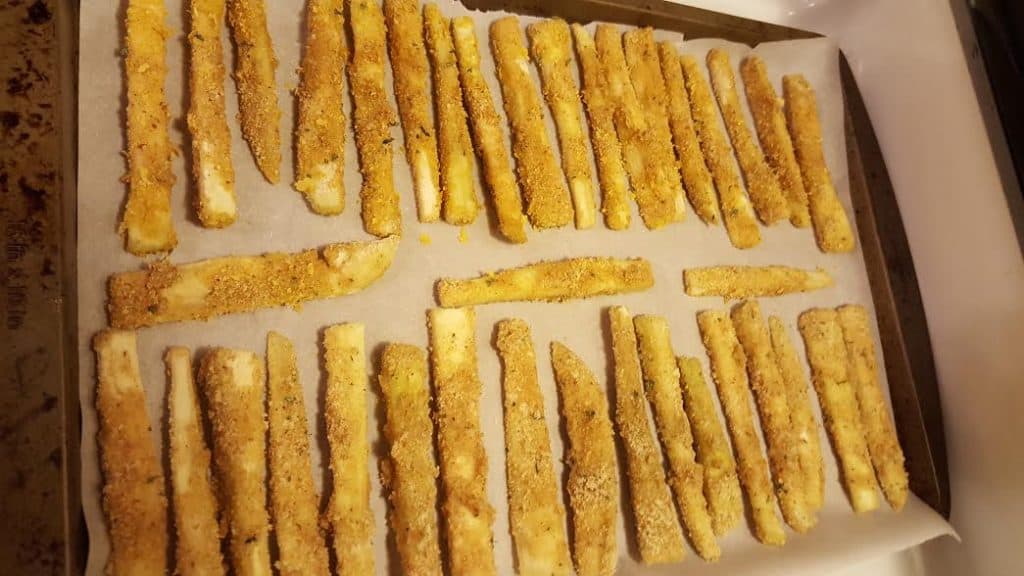 This next part your children can't really help with, unless they're old enough to use the oven. Bake the fries for about 10-12 minutes, then remove from the oven and flip each one over.
Place back in the oven and bake for another 10-15 minutes, or until golden and crispy. If you need to add an extra minute or few minutes that's fine; the thicker they were cut the more time they will need. This also means if you cut them thinner than I do then they will not take as long to bake. Just be sure to take this into consideration as not to burn them.
Now, you can pour some marinara sauce into a dish and dip away. Enjoy!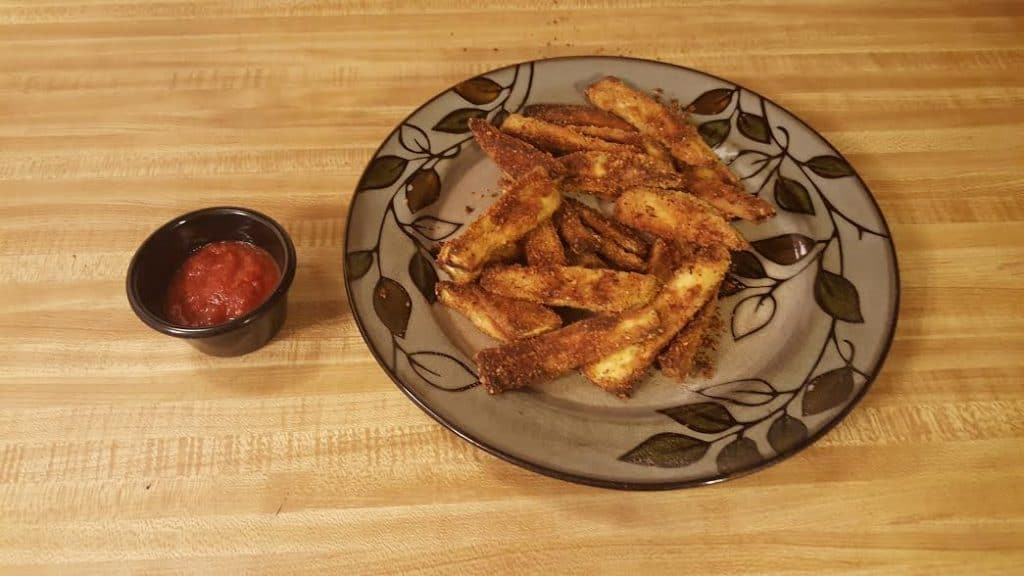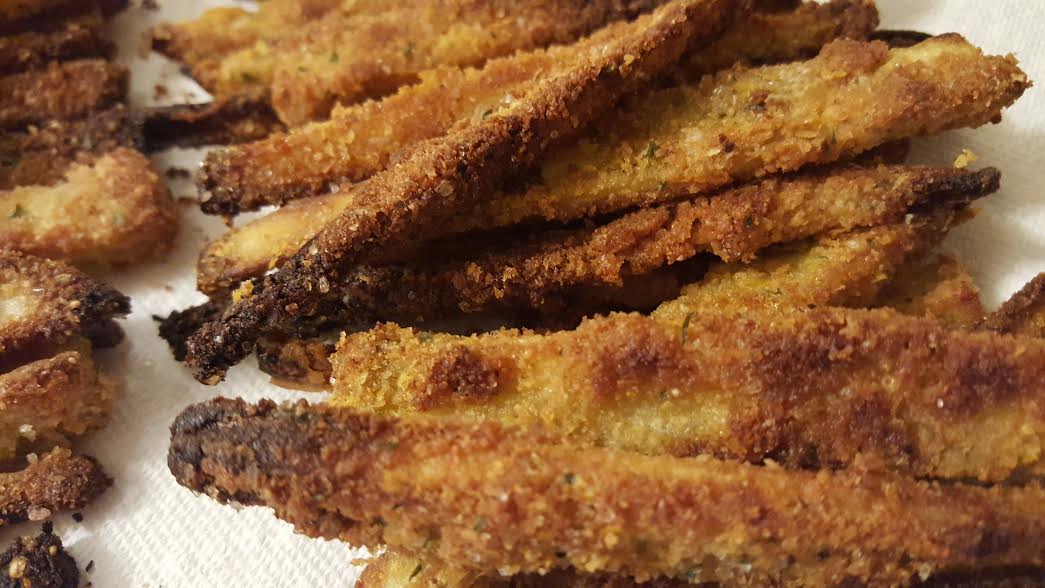 EXCELLENT EGGPLANT FRIES
You and your kids are sure to love these breaded eggplant fries, crispy and a good way to use up any extra eggplants!
Ingredients
1 medium sized eggplant
1

eggplant

salt

½

cup

flour

⅔

cup

olive oil

½

cup

bread crumbs

¼

cup

nutritional yeast

4

tsp

garlic powder

seat salt

1

cup

marinara
Instructions
Peel and chop off the end of the eggplant, then slice into half an inch sections.
Sprinkle with salt and let sit for 20 minutes.

While the eggplants are sitting with salt on them, go ahead and assemble the spices and cheese (or nutritional yeast) on a small plate, put oil in a shallow bowl, and the flour on a plate.

Blot the eggplants off with a paper towel; the salt pulls out any bitter liquid the eggplant may have inside.

Preheat the oven to 450 F°. Now, start assembling the fries to be baked. Piece by piece cover in flour, soak in olive oil, then cover with the spice mix.

Place on a baking sheet covered with parchment paper. Once the cookie sheet is full bake for 20-25 minutes, flipping the fries halfway through.

Let cool for a couple of minutes, then enjoy with some marinara sauce!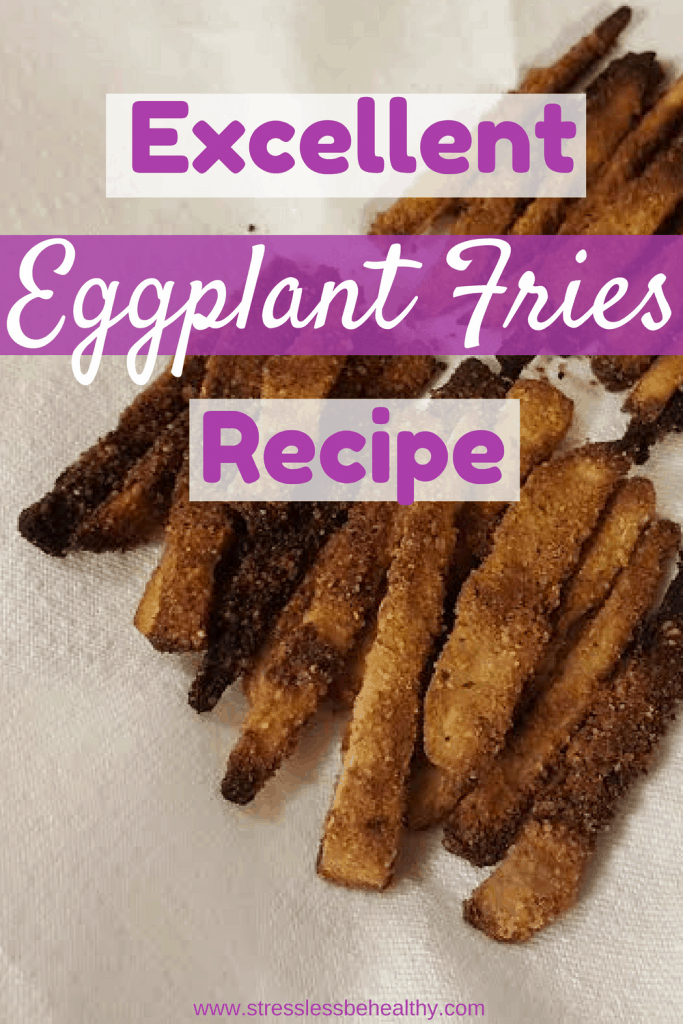 My girls and I also had these fries during our A to Z Healthy Snack Series for the Letter E. My 2 year old can not get enough of these! She loves them either way; with parmesan cheese or with nutritional yeast. I've been working on having a vegan diet, so I opted for the nutritional yeast version. They were delicious and crispy! Just as they should be! I hope you enjoy them, as well!! Comment to let me know!
*all links in the recipe lead to products I used to make these
Related Posts:
7 Awesome Meals for Beginner Vegans!
Delicious Diced Veggie Vegan Burritos