*Disclosure: some links may contain affiliate links (meaning if you end up purchasing something when you click on the link then I may get a commission on it, with no extra cost to you, of course). For more information on what this means, visit my disclosure page.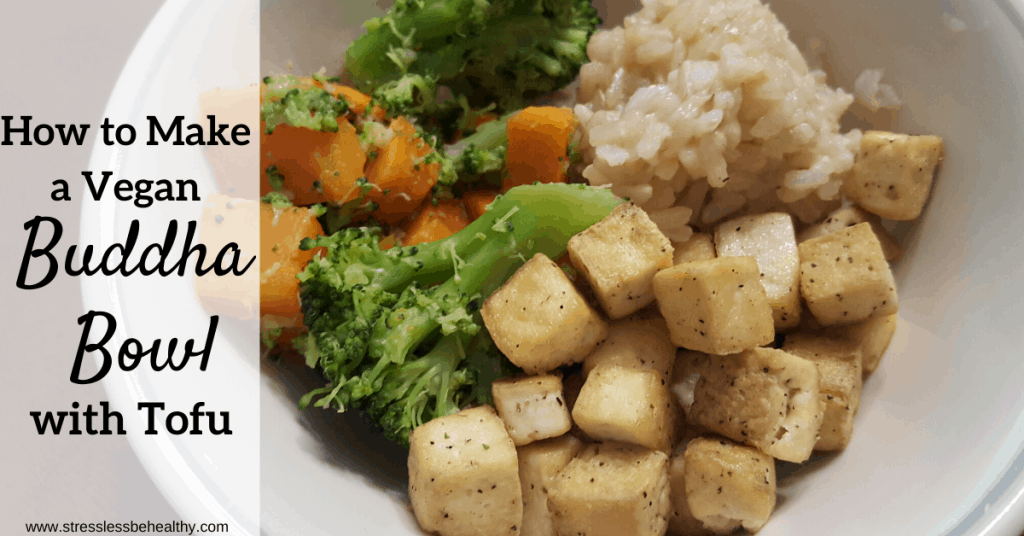 How to Make a Vegan Buddha Bowl with Tofu
Need a cheap and healthy dinner that is also super easy to make, with tasks you can delegate? Then you NEED to keep reading and check out this simple to make vegan buddha bowl with tofu!
The great thing about any buddha bowl is that you can basically just throw a bunch of different foods together and call it dinner!
Perfect for using up all your leftovers or when you think there's nothing to eat for dinner.
Or, use a recipe like the one below to make it easier by not having one more decision to make in your busy day!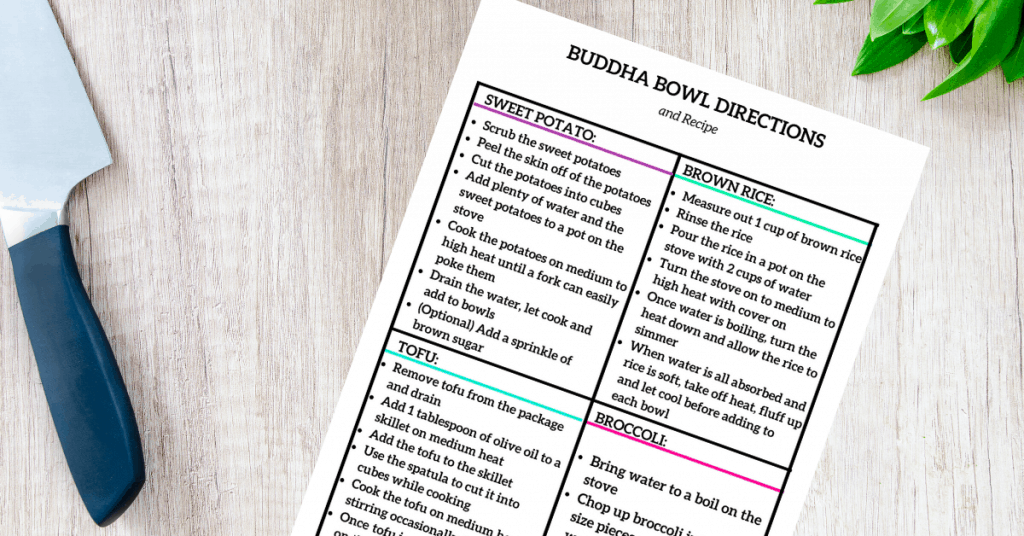 ---
Related Posts:
Easy Vegan Spring Rolls Recipe
Super Soup: The Best Vegan Quinoa Soup Recipe!
Veggie and Lentil Vegan Wrap Recipe with Fries
---
Want to Remember This? Pin How to Make a Vegan Buddha Bowl with Tofu to your favorite Pinterest Board!!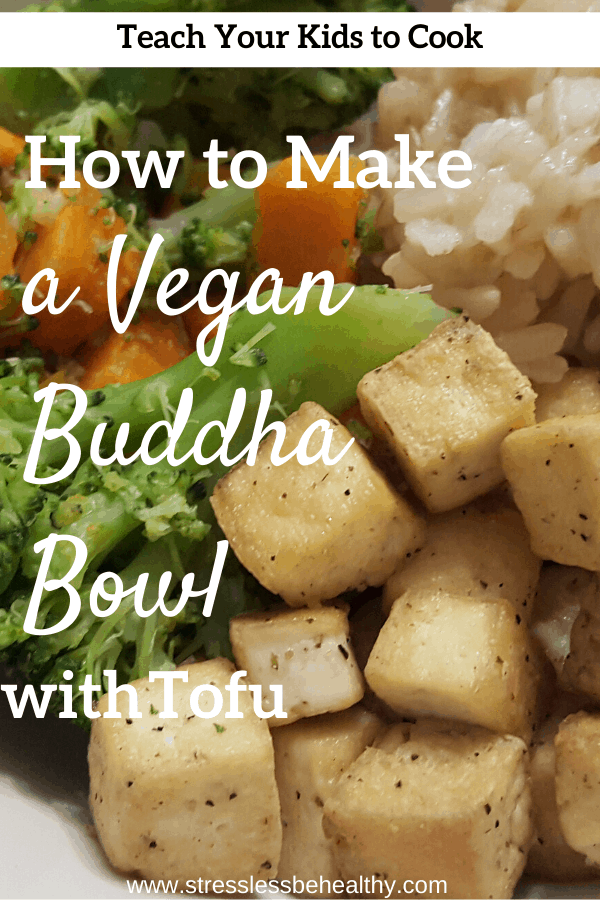 But, first…
What is a Buddha bowl made of?
A buddha bowl is made of a various foods.
But, generally, they contain some type of veggie, either raw, cooked, or roasted. Some type of bean or other protein, like tofu. Some type of grain, like rice, quinoa, or something else. They could have nuts or seeds, and maybe even a dressing on top.
They're so versatile that anyone could make one that they like.
The perfect food for picky eaters!
How many calories are in a Buddha Bowl?
The amount of calories in a Buddha bowl really depends on what's inside of it, and since there are so many variations, I can not tell you how many calories they have in general.
But, the good thing about buddha bowls is that they're so healthy that you shouldn't need to worry about the amount of calories. Unless you have a medical condition where you need to worry about calories, such as PKU.
Are Buddha bowls good for you?
How 'good' a Buddha bowl is for really depends on the ingredients added to it.
You could have a buddha bowl with white rice, corn, and white potatoes, and it'd still be better for you than store bought mac and cheese or other processed food alternatives.
Or, you could have a kale, quinoa, sweet potato bowl with a 'cheesy' sauce made of cashew cream and have it be super healthy!
It all depends on what you put in it!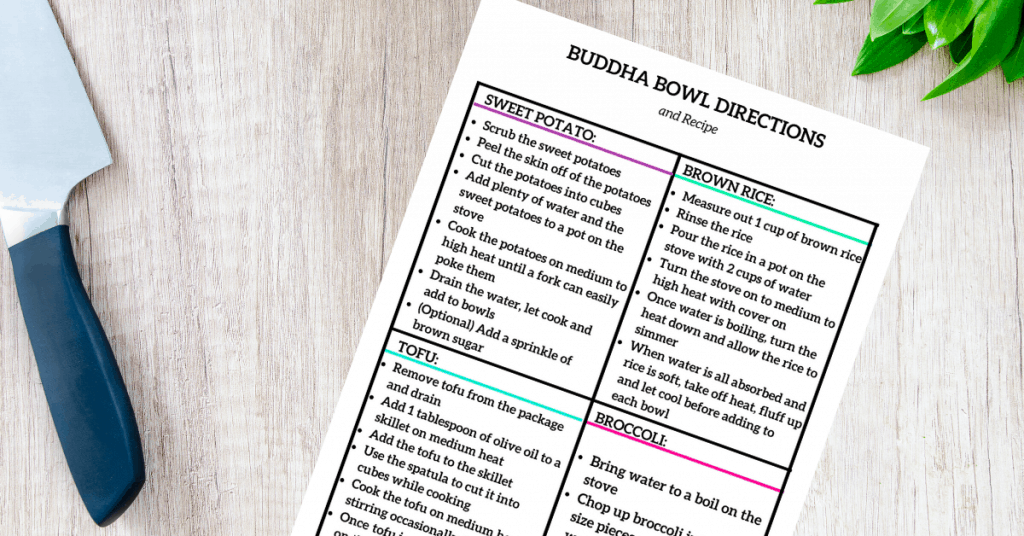 Now….
How to Make a Vegan Buddha Bowl with Tofu
This vegan buddha bowl is super easy to make…
However, it does have several components and would be a great meal to have your kids start learning how to cook with!
They'll feel important as they can contribute one portion of the bowl to the family dinner.
Let's start with cooking The Rice
Cook brown rice like you usually would…
Ok…if you need actual directions for cooking brown rice, like I would've 8 years ago, here you go:
Measure out 1 cup of brown rice
Rinse the rice
Pour the rice in a pot on the stove
Measure out 2 cups of water and pour into the same pot
Turn the stove on to medium to high heat with cover on
Wait for the water to boil
Once water is boiling, turn the heat down and allow the rice to simmer
Wait til the water is completely absorbed before lifting lid
Take off of hot burner, fluff up and let cool before adding to each bowl
(Optional) Add a sprinkle of brown sugar
*Don't lift the lid before the water is absorbed, or it will take forever.
**Careful to not let the rice burn, it'll stick to the bottom of the pan and the bottom layer will not be usable.
The Sweet Potato
Bake the sweet potato at 400ºF for 25 to 30 minutes.
Here's the detailed instructions:
Preheat the oven to 400ºF
Scrub the sweet potatoes
Cut the sweet potatoes in half
Place skin side down on a lined cookie sheet
(Optional) Add spices and/or dribble a little olive oil on the sweet potatoes
Once oven is preheated and sweet potatoes are prepped, place in oven
Bake for 25-30 minutes, or until a fork easily goes into them
Let cool
Scoop the inside of the sweet potato out of the skin
Mash the potatoes or cut into cubes (whichever is easier or you prefer) before adding to each bowl
(Optional) Add a sprinkle of brown sugar
Or, cook the sweet potato on the stove.
Scrub the sweet potatoes
Peel the skin off of the potatoes
Cut the potatoes into cubes
Add plenty of water and the sweet potatoes to a pot on the stove
Cook the potatoes on medium to high heat until a fork can easily poke them
Drain the water, let cook and add to bowls
(Optional) Add a sprinkle of brown sugar
*You could also simply wash, poke holes it, and microwave the sweet potatoes if short on time.
The Tofu
Add a block of tofu, a little olive oil and seasoning to a skillet. Chop the tofu with the spatula and cook on medium heat til golden and crispy on the outside.
Here's the detailed instructions:
Remove tofu from the package and drain as much water out of it as possible
If time allows, press it; if not, that's fine, the heat will help remove excess water
Add 1 tablespoon of olive oil, no more, to a skillet
Let the oil heat up using medium heat
Add the tofu to the skillet (you can cut it into cubes before adding to the skillet)
If not cutting the tofu into cubes before adding to skillet, use the spatula to cut it into cubes while cooking
Then, add a quarter to a half of a teaspoon of seasoning to the tofu and stir well
Keep sauteing the tofu on medium heat, stirring occasionally til it starts to brown or golden
Once the tofu is crispy and golden on the outside, it is done and done be removed from the heat
Let cool and add to the bowls
*Don't add more oil than necessary, it'll take longer to cook if you do.
**Feel free to experiment with the types and amount of spices or seasoning, to your families own taste preference.
The Broccoli
Boil the broccoli for the Buddha bowl.
Or, roast it or steam it. It's really up to you. If you're really pressed for time, get a microwavable bag of broccoli and stick in the microwave and follow the directions on the bag.
Here's the detailed instructions:
Bring water to a boil on the stove
Chop up broccoli into bite size pieces and add to the water
Boil broccoli til tender
Let cool and add to bowls
(Optional) Add a tiny bit of salt
Or…
Grab bag of microwavable broccoli from freezer
Place in microwave with the correct side up
Microwave for 4 and a half to 5 and a half minutes
Let sit for a few minutes before opening bag and adding broccoli to bowls
(Optional) Add a tiny bit of salt
By now, you should have 4 different foods in everyone's bowls.
You can add a sauce or dressing to this bowl if you'd like. We don't do any fancy homemade dressing for this. Sometimes my girls ask for ketchup for the tofu, and they need to have brown sugar on their brown rice or they won't eat it. This bowl is meant to be picky eater friendly, so if you or your child needs a specific dressing or condiment on it or on the side to dip the food in, so be it!
Enjoy!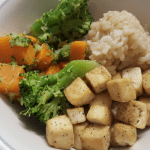 Vegan Buddha Bowl with Tofu
Make a delicious and versatile meal that even your picky eaters will like! Have your kids help and make one of the foods to add to this family meal; sweet potato, rice, broccoli, and tofu!
Ingredients
Brown Rice
1

cup

brown rice

dried

2

cups

water

sprinkle

brown sugar

optional
Sweet Potato
3-4

sweet potatoes

medium
Tofu
1

package

tofu

firm or extra firm

¼-½

tsp

seasoning

1

tbsp

olive oil
Broccoli
4

cups

broccoli

approximate (or use a bag of frozen broccoli)
Instructions
Cook the rice in the water on medium to high heat with a cover on the pot

Once the rice is boiling, turn to low and let simmer til water is gone and rice is soft, then add to bowls once cool

(Optional- add some brown sugar to the rice and mix well.)

Skin and cube the sweet potato and add to a pot of water with no lid, turn heat on medium

Chop up broccoli, and once water with sweet potatoes are boiling, add them in

Once you can stick a fork through the sweet potato and broccoli easily, drain, set aside to cool, then add to bowls

Add oil to a skillet and turn on medium heat

Drain tofu from package and add to skillet

Cube the tofu in the skillet with your spatula

Add the seasoning and cook on medium heat til golden

Let cool and add to bowls, then enjoy your tofu buddha bowl!