*Disclosure: some links may contain affiliate links (meaning if you end up purchasing something when you click on the link then I may get a commission on it, with no extra cost to you, of course). For more information on what this means, visit my disclosure page.
Easy Vegan Mac and Cheese
In this article you will find a delicious and super Easy Vegan Mac and Cheese Recipe that your kids will love; just a couple of ingredients and you'll be all set for this super kid friendly meal!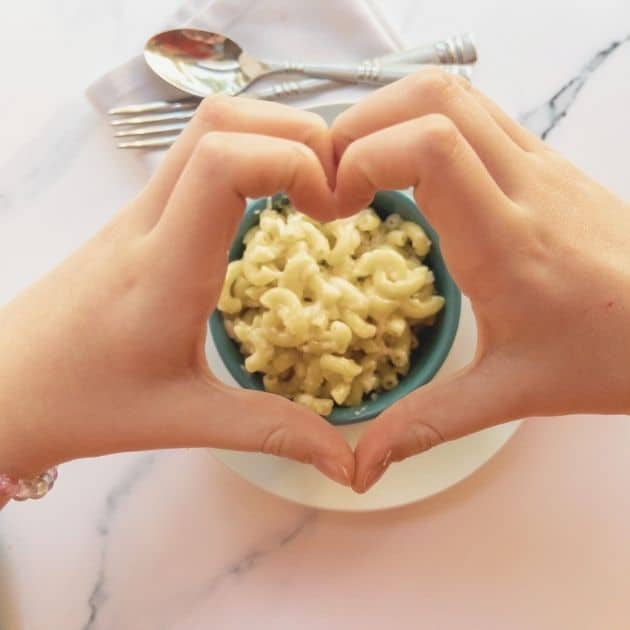 This recipe is ridiculously easy and picky eater approved!
If you've ever tried to please a picky eater, or any really child for that matter, when it comes to food; you'll tend to find that the simpler the dish the better things go…
And that is where THIS vegan mac & 'cheese' is better than other vegan mac & 'cheese' recipes, even other mac & 'cheese' recipes you'll find on this site; it's simplicity!
Want to Remember This? Pin This Easy Vegan Mac and Cheese to your favorite Pinterest Board!!
So, how do you make this super easy vegan mac and cheese without nutritional yeast?
Simple.
ALL YOU DO IS…
Cook up some pasta (elbows or shells seem to be a favorite in my home)
Add in some vegan cheese and stir until all the 'cheese' is melted and combined well with the pasta
Seriously, that is it!
It's really that simple!
The only 'trick' to it is giving plenty of time to allow the 'cheese' to melt.
Different vegan 'cheeses' melt differently, so you may need to experiment with this part a little bit.
We personally use Aldi brand vegan cheese and it does take a little time and a lot of stirring for it to melt, but it tastes amazing, and it usually a dollar (or more) cheaper when compared to other brands.
With the price of food right now, spending a dollar or so less on any item, in my opinion, is totally worth it, especially when it has the same or similar quality.
Why you'll love this lazy vegan mac & 'cheese'…
Well, you already know it's easy and you can make it in just about 15 minutes.
But it's also one that your kids will start asking you for.
It easily replaces non-vegan mac & 'cheese' and could easily be the base to a 'fancier' baked mac & 'cheese' recipe.
It's literally 2 ingredients, plus water to boil the pasta, and maybe some vegan butter (but that's optional). This means it's cheaper to make, especially if you tend to clear out your fridge and cupboards (by eating all the food) before getting groceries again. (Box of pasta ~$1, Aldi vegan 'cheese' ~$3.29.)
The only downside is that you might not have leftovers!
But seriously, who would have thought making a vegan dinner that kids love could be this easy and delicious?!
Easy Vegan Mac and Cheese
Making vegan mac and cheese does not need to be hard, contain veggies, nuts, or even nutritional yeast! Try this super simple and easy vegan mac and cheese and change the way you make your mac and cheese. PSST…it's even easier than the boxed stuff!
Ingredients
2

cups

Pasta

(such as elbows)

1

tbsp

vegan butter

(optional)

8

oz

vegan shredded cheese
Instructions
Drain pasta, add butter and stir, then stir in the cheese til it fully melts
---
If you like this recipe, you may also enjoy:
Super Soup: The Best Vegan Quinoa Soup Recipe!
Vegan Mozzarella Sticks Recipe
Vegan Stuffed Shells with Tofu Ricotta
Want to Remember This? Pin THIS Easy Vegan Mac and Cheese Recipe to your favorite Pinterest Board!!