*Disclosure: some links may contain affiliate links (meaning if you end up purchasing something when you click on the link then I may get a commission on it, with no extra cost to you, of course). For more information on what this means, visit my disclosure page.
Homemade Vegan Spaghettios
In this article you will find a tasty, picky eater approved, Homemade Vegan Spaghettios Recipe! Replace the old canned 'food' with this healthy homemade alternative, that tastes even better!
What's so great about Dairy Free Spaghettios?
First off, any recipe you can sneak a leafy green into and get your kids to eat is always a win;win!
Second, the nutritional yeast provides a little bit of extra B12 to the dish, something that isn't that easy to find in a vegan diet. (And something you should supplement for if you are vegan, however, I'm not a doctor or RD, so make sure you check with them for any specific advice for yours or your child's own health.)
Third, kids may be thinking they are getting something 'special' when you tell them they get to eat spaghettios…or maybe that's just my oldest daughter. She transitioned to a healthier vegan diet after she was already accustomed to the Standard American Diet (at around the age of 4) 🙁 Luckily, this recipe hits the spot for her whenever she's wanting spaghettios!
Want to Remember This? Pin Homemade Vegan Spaghettios to your favorite Pinterest Board!!
How to Make Homemade Vegan Spaghettios
Honestly, this recipe is super easy to make!
There isn't any;
chopping or peeling veggies
sauteing
or any other fancy cooking skill needed!
It's truly a measure and dump into a pot recipe.
First, gather all ingredients besides the spinach, these are;
tomato sauce
soy milk
onion powder
garlic powder
paprika
nutritional yeast
ring pasta
Measure each ingredient and add it to a pot.
Then stir.
Turn the stove on medium heat and cover with a lid.
Stir occasionally, but keep covered when not stirring. Having it open when you're not stirring will make a huge mess as the sauce will splatter out; trust me, it's happened to me enough times to know better!
The sauce mixture will thicken and the pasta will cook.
Once it has thickened and the pasta is cooked, measure and pour in the frozen chopped spinach, stir, and cook til everything is nice and warm!
Serve to your kiddos and enjoy that they are eating more nutrients than if you had simply heated up a can of spaghettios!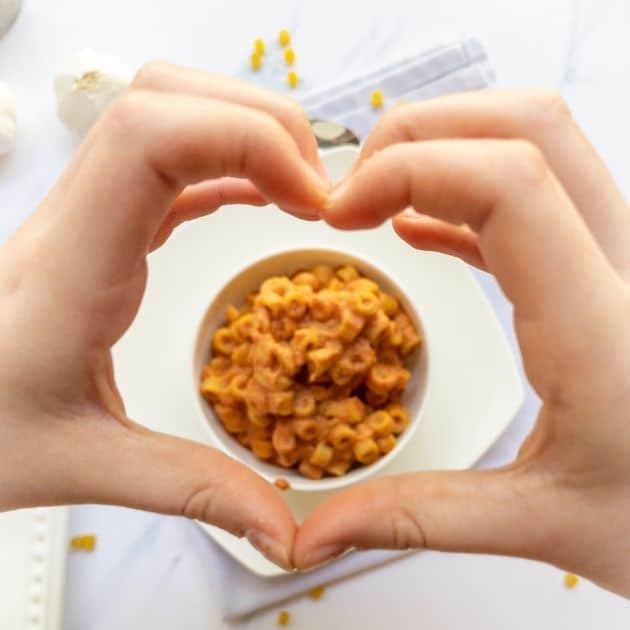 Have More Questions about Store Bought Spaghettios (& why you should try the ones below instead!)?
Are SpaghettiOs dairy free?
No, at least not the kind you can buy in stores in the United States.
Every single brand in the U.S. contains some type of cheese- which is why I chose to include nutritional yeast in the recipe below.
Nutritional yeast has a cheesy flavor, without messing with your dairy intolerance or compromising an ethical diet or leading to major health issues later in life!
Are there vegan SpaghettiOs?
No, at least not in the United States. See the reason above.
THIS is why I created the recipe below, so that my kids can eat spaghettios without having to worry about contributing to animal exploitation, the destruction of our world, or having negative effects in their little bodies.
Are SpaghettiOs healthy?
Not the ones from a can!
I don't think I needed to tell you that, though!
If you're looking for healthy spaghettios, you're going to have to make it yourself. It's the same way for a lot of canned goods.
Most canned goods were created to have a long shelf-life, for better profits for the companies that make them. Unfortunately, most of these companies (not all) don't really care about your health, they care about profits.
Homemade Vegan Spaghettios
Warm thick tomato sauce covered O's, packed full of nutrients you simply can't get from the can!
Ingredients
2

cups

tomato sauce

(or One 15 oz can)

2

cups

soy milk

(or 15 oz, if using 15 oz of tomato sauce)

1

tsp

onion powder

1

tsp

garlic powder

½

tsp

paprika

1-2

tbsp

nutritional yeast

1

cup

ring pasta

(such as ditalini)

1

cup

chopped spinach

(I use frozen)
Instructions
Add all ingredients besides spinach into a pot and turn on medium heat.

Stir occasionally and cook on medium heat til the pasta is cooked and the sauce has thickened. This can take a little bit of time; cover the pot when not stirring.

Once the pasta is cooked and the sauce is thick, add in the frozen chopped spinach and continue to cook til everything is warm.
Notes
*Either use 2 cups of tomato sauce and 2 cups of soy milk OR 15 oz tomato sauce and 15 oz soy milk; don't mix and match!
*Keeping the pot covered while you're not stirring it will help prevent tomato sauce splatter all over your stove! (Don't ask how I know!)
Want more vegan copycat like recipes that taste better than the highly processed version sold in stores or somewhere else? Check out:
Also, be sure to follow me on Instagram for my newest recipes! I tend to post them there before I have a chance to write up the full article for them!
Want to Remember This? Pin Homemade Vegan Spaghettios to your favorite Pinterest Board!!