*Disclosure: some links may contain affiliate links (meaning if you end up purchasing something when you click on the link then I may get a commission on it, with no extra cost to you, of course). For more information on what this means, visit my disclosure page.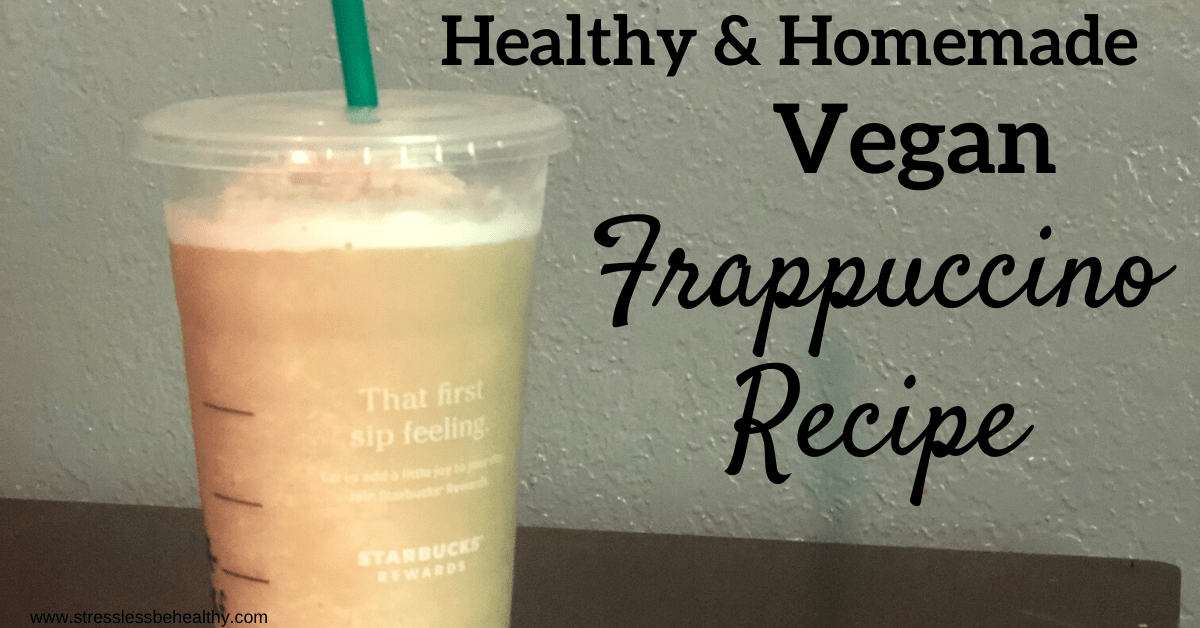 Healthy Homemade Vegan Frappuccino Recipe
You're a mom, right?
In need of a pick me up?
Of course you are!
You NEED this vegan frappaccino recipe in your life, and you know it!
So, keep reading to make this recipe…
Or, if you don't want your curiosity cured to questions you may have about vegan coffee, you can use the link below to simply skip to the recipe.
Jump to Recipe
---
Related Posts:
Easy Vegan Cinnamon and Sugar Tortilla Chips with Fruit Dip
---
Want to Remember This? Pin Healthy Homemade Vegan Frappuccino Recipe to your favorite Pinterest Board!!
Questions You May Have about Vegan Frappuccinos…
How do you make a Starbucks Frappuccino vegan?
How you make a Starbucks Frappuccino vegan depends on what type of Frappuccino you want. I don't go to Starbucks very often, so I'm not a pro at what their drinks contain.
However, you can find a guide on how to order your favoriteStarbucks drinks vegan here!
Can a frappuccino be vegan?
Yes, a frappuccino can be vegan!!
I don't go often, but when I do head to Starbucks, I always order a caramel frappuccino with almond milk, no caramel drizzle and no whip.
But, there are many other variations you can get. Check the guide above for a few more examples.
Can you get a Starbucks Frappuccino with almond milk?
Yes!!
This is my favorite kind of non-dairy milk to order my coffee with when ordering out, or making it myself.
I have tried the soy and the coconut milks, but almond milk is absolutely the best! So, thank goodness Starbucks offers this option!
Do vegans drink coffee?
YES!!!
Vegans DO drink coffee!!
I have no idea what I'd do without my daily cup of coffee.
As a mom of three, who has been drinking coffee since 14 years old, I can't quite see going a whole day without coffee….at least not anytime soon!
The only reason coffee wouldn't be vegan is because of the creamer. Luckily, there are vegan creamers.
Sure, I'll be the first to admit that many vegan creamers suck. But, they've come a long way since my first attempt at becoming vegan, over 7 years ago!
One thing you'll want to be sure of when buying vegan creamer for your coffee is to make sure it is name brand. It has to be Silk brand, and it has to be almond milk. No exceptions!
However, if you don't just want a simple coffee, and instead want an iced coffee or frappaccino, you can use almond milk, instead. And, for almond milk, the brand of milk does not matter, so you can get the cheaper store brand version!
How to Make this Healthy Frappuccino Recipe
The first step to making this recipe is to make the coffee ice cubes and regular ice cubes. Preferably, the night before, so the coffee and water have enough time to turn into ice cubes. These are the ice cube trays I use, but any should work fine.
Once those are frozen, this recipe only takes like 5 minutes to make….even with kids around! (If you don't have kids around, it should only take about 2 minutes!)
Now…just quickly grab all the ingredients, the ice cubes, coffee cubes, vanilla, sugar, and milk.
Dump them all in a blender. This is the one I currently have.
And, blend.
Blend til it's to the consistency of your liking.
Pour it in a large cup you love, or your last Starbucks cold drink cup that you washed and saved, and enjoy that Frappuccino that cost a fraction of the 'real thing' but tastes just as good!
No need to gather your kids and get them in the car, just so you can get a fancy coffee you're craving!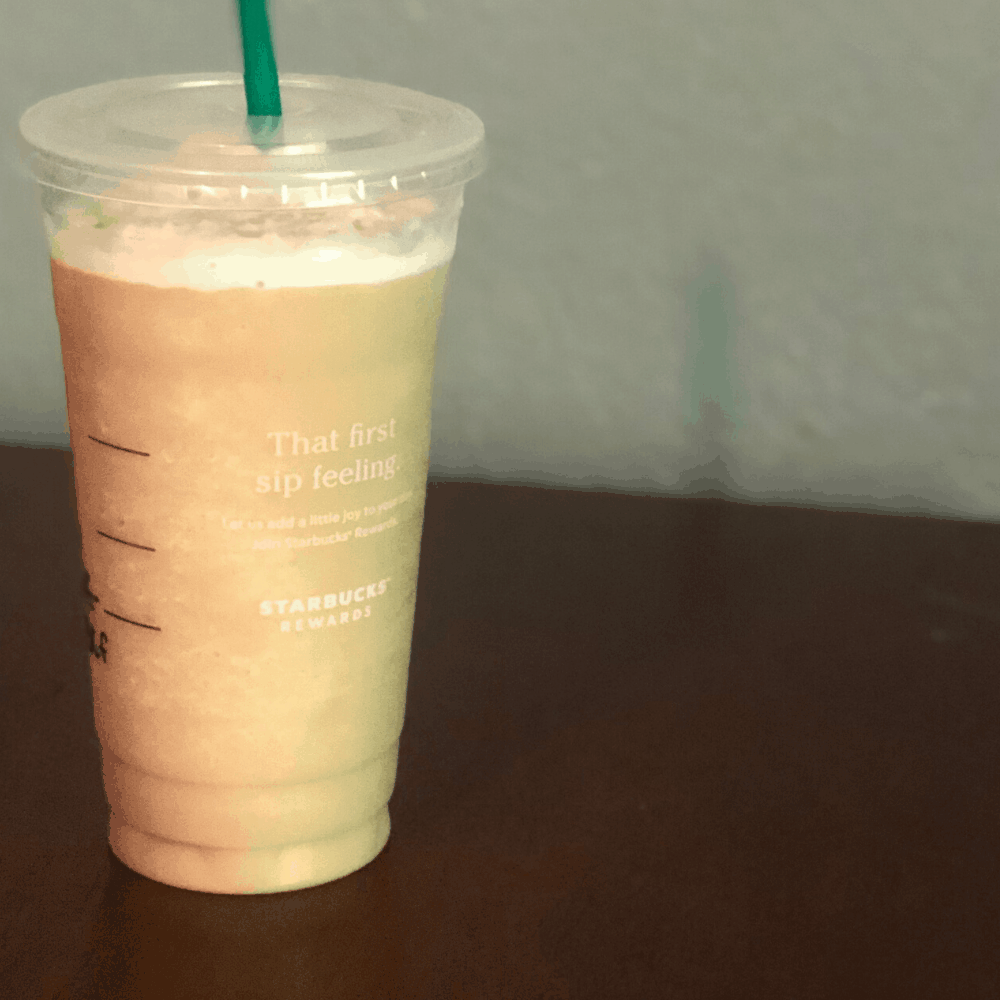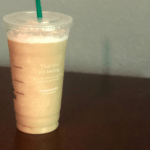 Vanilla Frappuccino
Make your favorite cold beverage at home this summer, and save tons of money, too! This Frappuccino recipe will surely be your go to drink in the hot weather when you need a pick me up from all the chaos!
Ingredients
5

coffee ice cubes

5

ice cubes

1

tsp

vanilla extract

2

tbsp

brown sugar

1 1/2

cups

vanilla almond milk
Instructions
Add all ingredients to blender.

Blend for about 45 seconds, or until all ice cubes have broken down. Enjoy!
Recipe Notes
Number of ice cubes you'll need for the right consistency may vary depending on size of ice cubes. These are the ice cube trays I use. Feel free to play around with the ratio of coffee ice cubes and regular ice cubes. I'm currently a breastfeeding mommy and am trying to limit my caffeine intake.
I hope you enjoy this copycat vegan frappuccino recipe, for a fraction of the cost! Don't pay extra for asking for almond milk, just make it yourself at home and save a ton!
I love this easy to make, pick me up coffee drink. It really helps me get through my day with three kids, a business to run, and homeschooling!!
What will it help you with?
Leave a comment below and let me know!
Want to Remember This? Pin Healthy Homemade Vegan Frappuccino Recipe to your favorite Pinterest Board!!