*Disclosure: some links may contain affiliate links (meaning if you end up purchasing something when you click on the link then I may get a commission on it, with no extra cost to you, of course). For more information on what this means, visit my disclosure page.
Cinnamon Bun Smoothie
In this article you will find a delicious Cinnamon Bun Smoothie recipe that even non-vegans will love! Honestly, they probably won't even realize it's no vegan! And kids love it, too!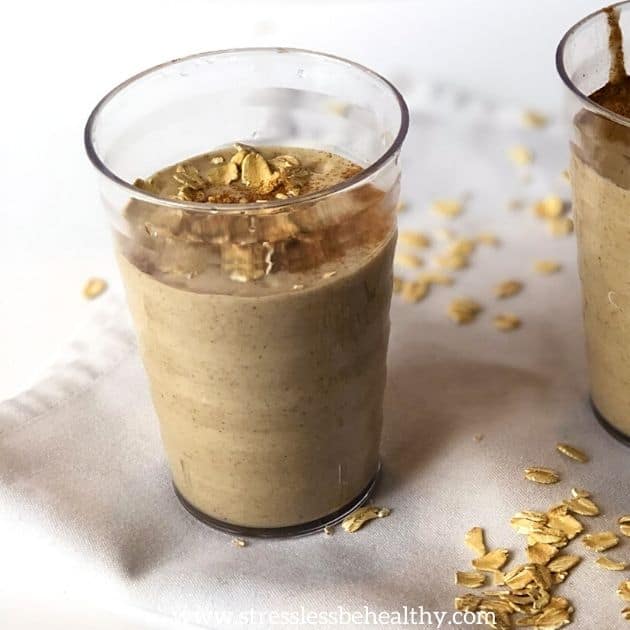 Keep reading to find a delicious vegan Cinnamon Bun Smoothie recipe, that even picky eaters will eat!
Want to Remember This? Pin Cinnamon Bun Smoothie to your favorite Pinterest Board!!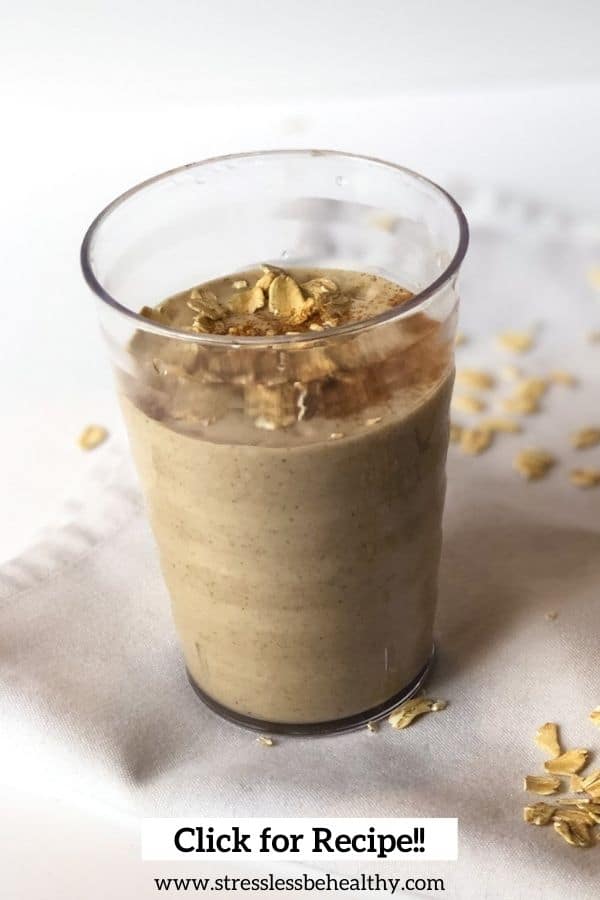 How to Make This Cinnamon Bun Smoothie
Start by getting out all of your ingredients;
bananas
oats
non-dairy yogurt
cinnamon
vanilla
flax meal
almond milk (or other non-dairy milk)
Then fill your blender the way your blender directs you to.
For this recipe I used my nutri-ninja, the order I placed the ingredients were in the same order as I listed them above, starting with the bananas.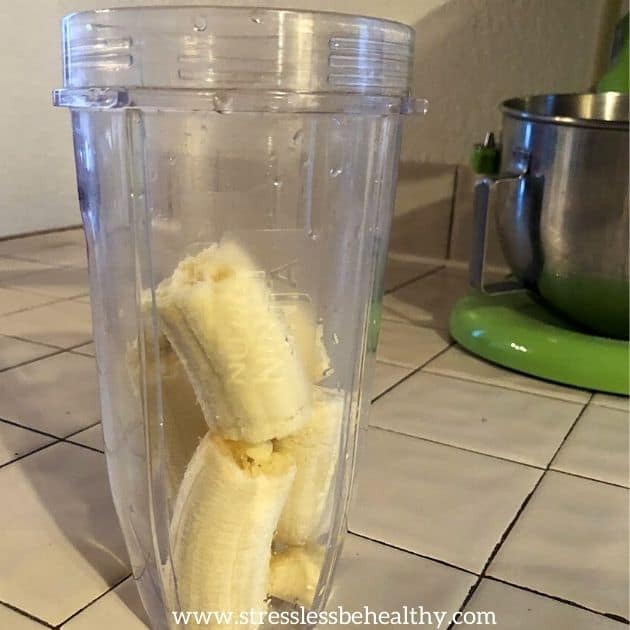 For a nutri-ninja, the liquid goes in last.
If you're using a vitamix, add them in using the order here;
non-dairy milk
vanilla
non-dairy yogurt
bananas
flax meal
cinnamon
oats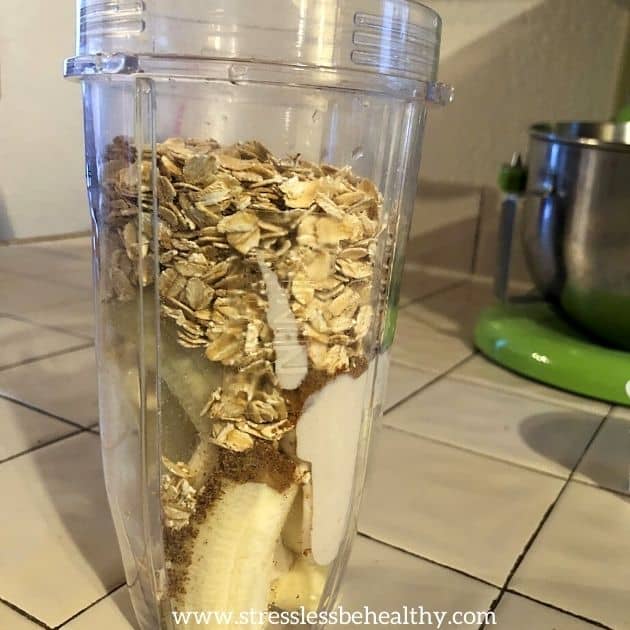 Then blend for about 45 seconds, in 10 to 15 second intervals if using a nutri-ninja (use the Auto-IQ BLEND button).
If using a vitamix, it may not need the full 45 seconds, but at least 30 seconds, starting at 1 and then slowly increasing to 10.
Enjoy immediately once done blending!!
Q&A's About Smoothies You May Have…
Can you put cinnamon in smoothies?
Absolutely!
I don't like putting cinnamon in really fruity or citrus-like smoothies.
But, they go great in smoothies that have oats, bananas, and non-dairy yogurt, like this recipe.
Cinnamon in smoothies would also pair nicely with;
apples and oats smoothie
pumpkin smoothie
pear and oats smoothie
and more!
What can replace Banana in Smoothies?
My kids and I LOVE BANANAS!!!
Seriously, we go through so many bananas in a week that my husband calls us monkeys.
But, he can't stand bananas, even in smoothies.
Yet, I know how many nutrients and how beneficial smoothies can be in anyone's diet; so I've had to be creative to get him to drink them…without complaining about bananas.
Some banana replacements for smoothies;
avocado (by far my husbands favorite replacement)
cauliflower
pumpkin
sweet potato
coconut cream
rolled oats
yogurt
quinoa
mango
silken tofu
pineapple
pre-soaked cashews
and even beans!
Should you put yogurt in a smoothie?
Honestly, it depends on the type of smoothie you're having and why you're considering adding it and how you want your smoothie to taste.
I understand that non-dairy yogurt isn't cheap, unless maybe if you make your own. I don't know, I don't make my own.
So, if you're worried if your smoothie won't be complete unless it has yogurt in it; don't be!
This recipe is one of very few recipes that I use that uses non-dairy yogurt; most of the recipes I make don't need it.
For this recipe though, YES, you do need yogurt in it for it to taste the way it is intended to taste.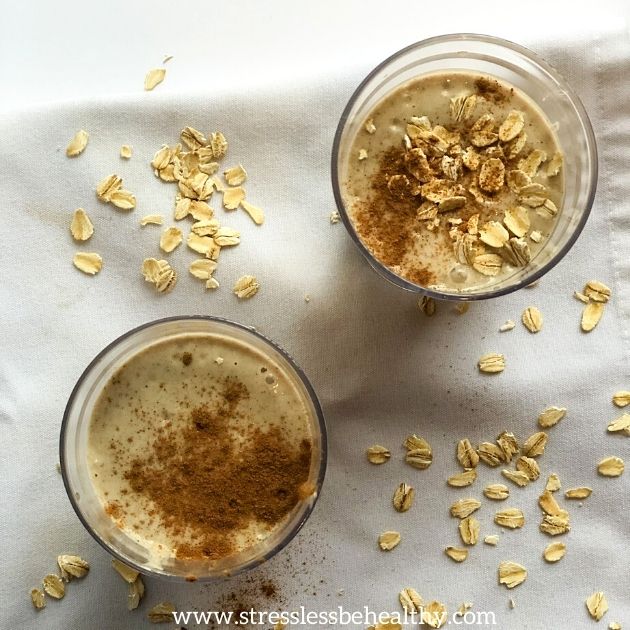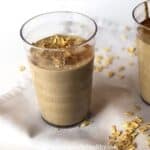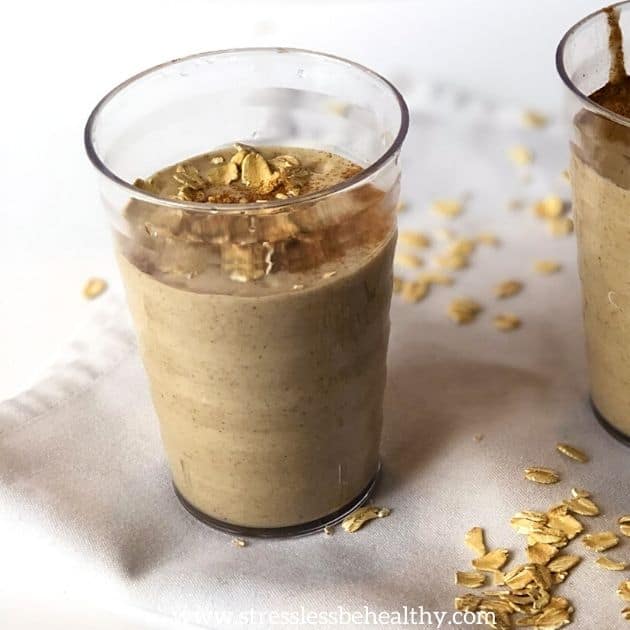 Cinnamon Bun Smoothie
Perfect for fall; check out this cinnamon bun smoothie to treat your tastebuds to the deliciousness of the treat without all the 'bad stuff'!
Ingredients
2

Bananas

1

cup

Oats

1 (5.3 oz)

Vanilla Almond Yogurt

1

teaspoon

Cinnamon

¼

teaspoon

Vanilla

1

teaspoon

Flax Meal

1

cup

Almond Milk
Instructions
Peel bananas and add to blender.

Measure out all other ingredients and add to blender.

Blend well, around 45 seconds in 10 to 15 second increments til done.

Enjoy!
If you enjoyed this recipe, you may also like:
Want to Remember This? Pin Cinnamon Bun Smoothie to your favorite Pinterest Board!!