*Disclosure: some links may contain affiliate links (meaning if you end up purchasing something when you click on the link then I may get a commission on it, with no extra cost to you, of course). For more information on what this means, visit my disclosure page.

Healthy Vegan Green Smoothie Bowl Recipe
Have you ever seen on instagram or tumblr and wonder how someone was able to make something so beautiful and delicious looking?
Well, I have, so I tried it for myself, and 2 little girls, and it was quite a success!
This green smoothie bowl recipe will teach you exactly how to make a breakfast that is:
quick to make on hectic mornings
beautiful
delicious
fruity and flavorful
very healthy
high in potassium, vitamin C, omega 3 fatty acids, and more!
Once you make this once, you're going to want it everyday! I'm not joking, my 5 year old begs me to make this for her EVERY SINGLE MORNING.
How good would it feel if your child did the same?
No more forcing your child to eat their veggies; now they're begging you for them in this beautiful breakfast!
(Which, by the way, you're probably going to want to take a picture before you eat it and post on instagram #slbhsmoothiebowl)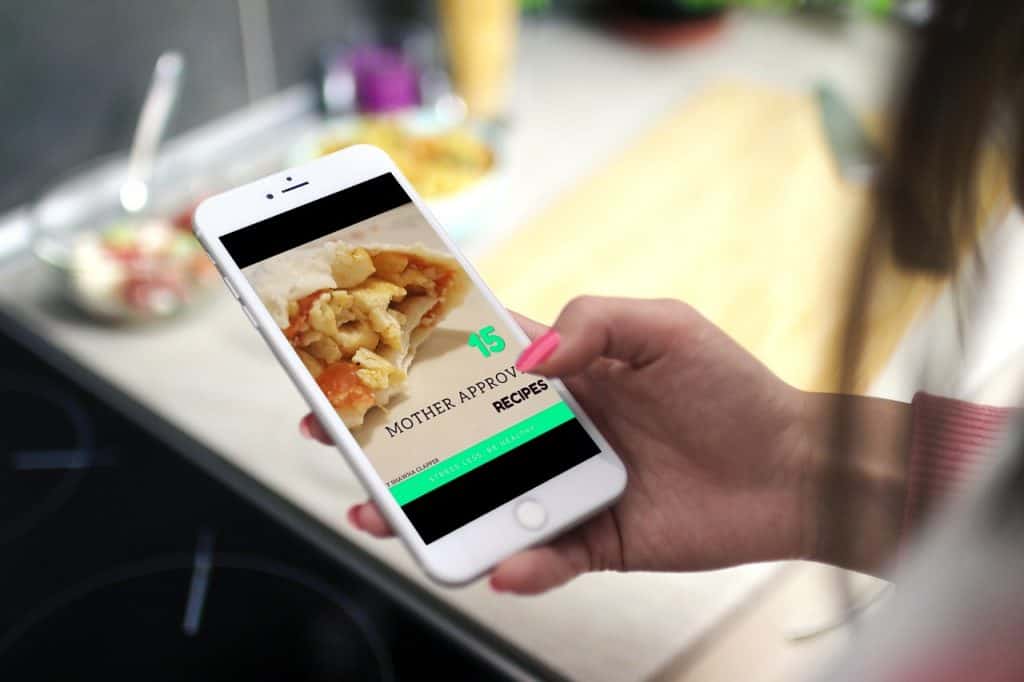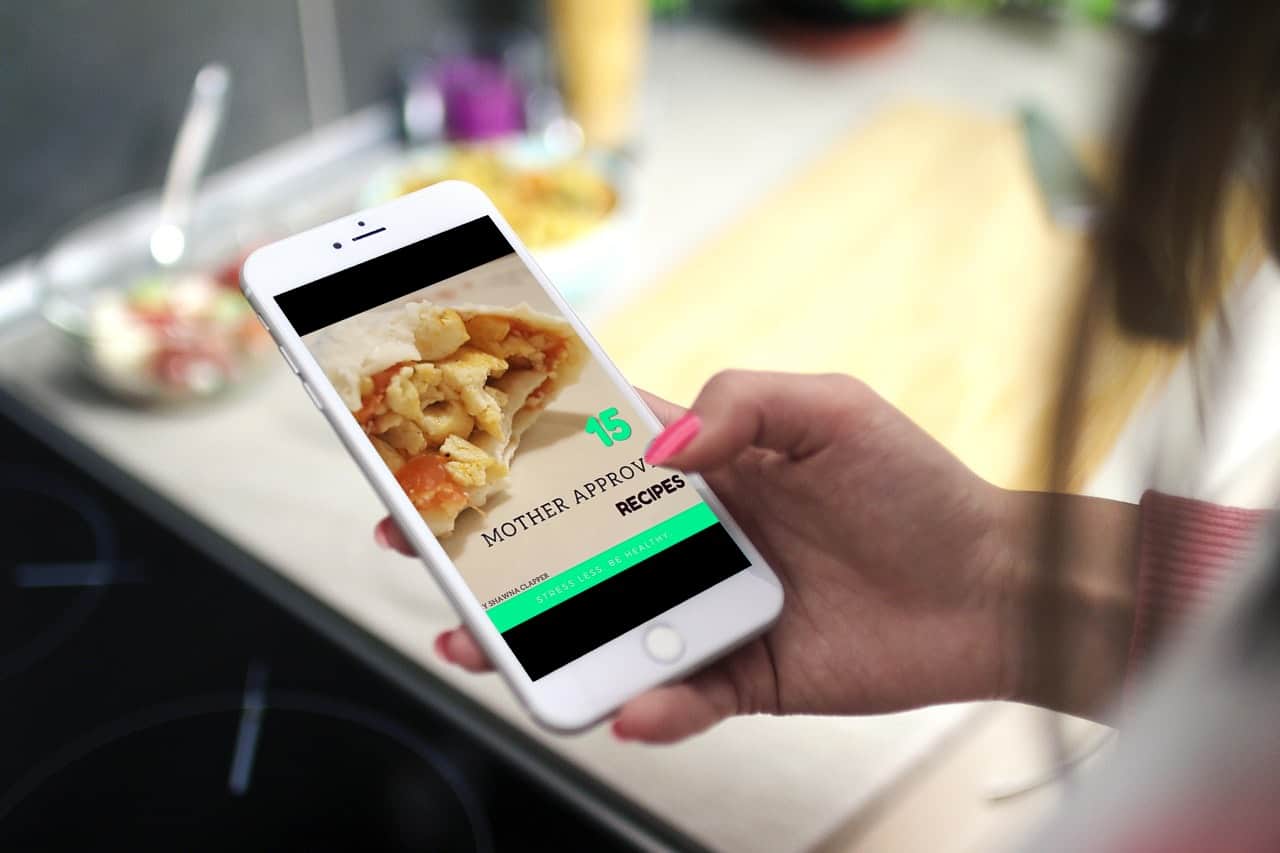 Let's Make this Healthy Vegan Green Smoothie Bowl Recipe!
First, you're going to want to make sure you slice and freeze 1½ to 2 bananas the night before making this. (Or, be like me, and just keep a bag of sliced frozen bananas in the freezer at all times; it's a great way to keep bananas from going bad.)
Once your bananas are frozen and you're ready to make this…
Get out all of the ingredients for this green smoothie bowl recipe
This includes:
kale
frozen bananas
flaxmeal
chia seeds
mixed frozen fruit
soy milk (or another type of non-dairy milk)
sliced fresh banana
sliced fresh strawberries
fresh blueberries
sliced fresh kiwi
Make sure you do not use frozen ingredients for the topping and think it'll be fine to simply thaw them out or heat them up; it will not look as pretty.
Make Your Smoothie
Next, you will make your green smoothie. Fill your appliance (whether it be a blender, nutri ninja, or nutribullet) with all the ingredients except the fresh fruit. Fill it according to the directions as to not damage your appliance, seeing as how we're using frozen fruit in this recipe.
Pour the soy milk in last and start with a half cup. Start blending, add more milk as needed. We want this smoothie to be as thick as possible, but it also needs to be smooth and well blended. It's alright if you use more than 1 cup soy milk, as long as everything is blended well and the smoothie is still thick enough for sliced fruit to float on.
Add the Toppings
Once the smoothie is done, pour it into 3 separate bowls.
Slice up all of the fresh fruit and add it on top of the smoothie however you would like. I prefer to arrange mine in lines and layer the slices; banana and kiwi slices on bottom, strawberry and blueberries (unsliced) on top in the middle. But, it should be beautiful however you do it. In the picture below, I let my 5 year old put the toppings on hers and her sisters.
Now, look at how beautiful your own green smoothie bowl is!
Take a picture of it (#slbhsmoothiebowl) share it with friends and family.
Then, go ahead, dive in and enjoy!
If you gave some to your kids, be ready for them to get the nutrients they need and have smiles on their faces!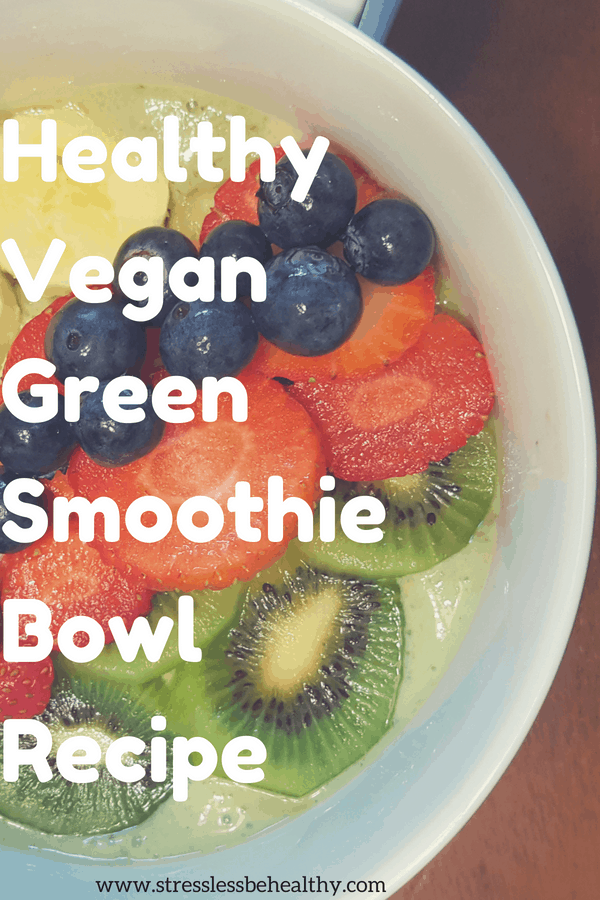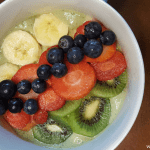 Healthy Vegan Green Smoothie Bowl Recipe
A beautiful smoothie bowl that you and your kids will go crazy for!! Perfect for a quick breakfast right before school.
Ingredients
Smoothie Ingredients:
2

handfuls Kale

1 ½

Frozen Bananas

sliced before freezing

1

tsp

flax meal

1

tsp

chia seeds

1

large handful of frozen mixed fruit

strawberries, peaches, mango, and pineapple

½ to 1

cup

soy milk

or just enough to get everything to blend well
Topping Ingredients:
1

fresh banana

thinly sliced

2-3

kiwis

5-6

strawberries

¼– ½

cup blueberries
Instructions
Fill blender, nutri ninja, or nutribullet with smoothie ingredients (fill according to directions on appliance).

Blend til smooth and pour into bowls.


Slice the toppings and place on top of the smoothies in the bowls. Be careful to not let them sink below the smoothie. Enjoy!!

Don't forget to share this on Facebook to help your friends out on making this delicious smoothie bowl.
Share a picture of your smoothie bowl on instagram #slbhsmoothiebowl
And, make sure you pin it on Pinterest in case you need a refresher on how to make it!
Related Posts:
My Go to Green Smoothie Recipe
Healthy Vegan Blueberry Muffins (Actually Enjoy Your Mornings Again!)