*Disclosure: some links may contain affiliate links (meaning if you end up purchasing something when you click on the link then I may get a commission on it, with no extra cost to you, of course). For more information on what this means, visit my disclosure page.
Chocolate Peanut Butter Overnight Oats [Vegan]
In this article you will find a delicious chocolate peanut butter banana overnight oats recipe that even non-vegans will love! Honestly, they probably won't even realize it's not vegan! It's a kid friendly and mom approved vegan breakfast recipe.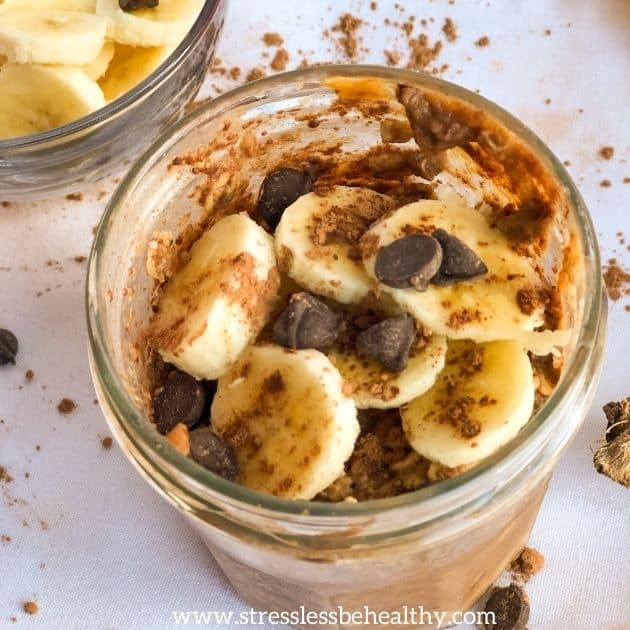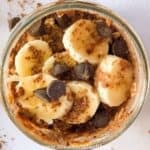 Chocolate Peanut Butter Overnight Oats
One of the easiest and healthiest vegan breakfasts for kids that can be made the night before; enjoy Chocolate Peanut Butter Overnight oats!
Ingredients
½

cup

old fashioned oats

2

tsp

cocoa powder

2

tbsp

peanut butter

½

cup

almond milk

1

tsp

flax meal

¼

tsp

vanilla

1

tbsp

maple syrup
Instructions
Get out all ingredients and a jar with a lid.

Measure all ingredients and add to the jar.

Stir all ingredients together well. Or put lid on tight and shake.

Let sit in fridge over night and enjoy in the morning!

(Optional: add sliced banana and chocolate chips to the top in the morning.)
Recipe Notes
*May sub out or omit peanut butter if need be.
**Allow at least 2 hours to pass with the oats in the fridge before enjoying.
Feel free to experiment with this recipe and have fun, let your kids have at it! Just be sure to add at least the same amount of liquid as the oats, or more, otherwise the oats won't be soft enough to eat.
Learn more about the Chocolate Overnight Oats Recipe
If you're reading this then that means you want to know more about this recipe; maybe how to customize it to yours or your childs liking, what makes this recipe different than a non vegan version, or more about how this is a healthy breakfast for kids.
CONTINUE READING BELOW…
But first, be sure to remember this & Pin Chocolate Peanut Butter Overnight Oats [Vegan] to your favorite Pinterest Board!!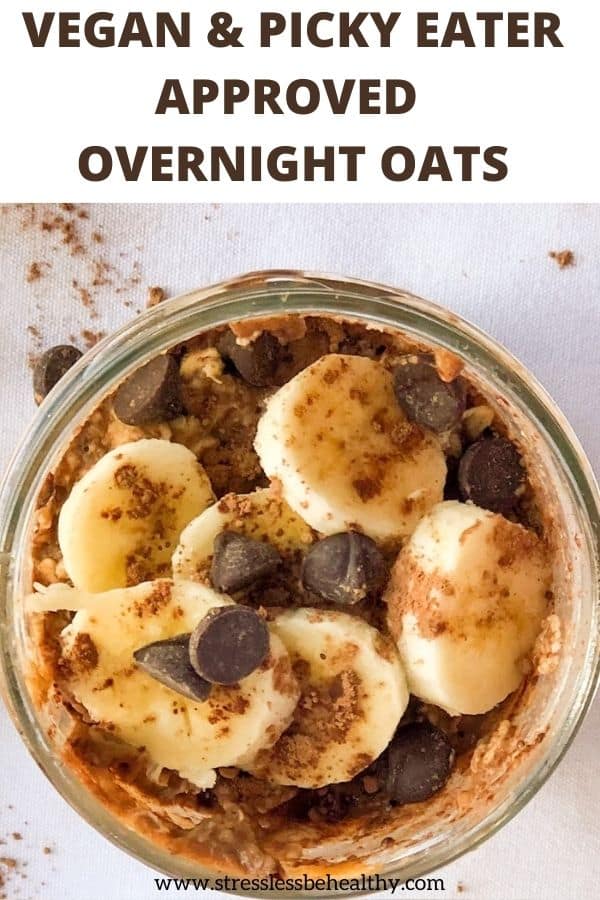 Alrighty then, now that you have this recipe pinned where you can easily find, let's get into what makes this recipe so great!
First off, it's vegan because it uses non-dairy milk, the other ingredients are generally naturally vegan in the first place. So it's not hard to 'veganize' this recipe from a non-vegan version.
*Just make sure you check the ingredients on you cocoa powder to make sure it doesn't include milk or dairy byproducts in it.
Is it healthy to put peanut butter in oatmeal?
If you're wondering this question, then maybe you're concerned with your child gaining too much weight because peanut butter does have a bit of fat in it.
The thing is, the fat that peanut butter has in it is the food kind of fat. (Just be sure to look at the ingredient list, the less ingredients the better!!)
Kids need fat in their diet to thrive.
They also need carbs and protein; we all need all three macronutrients to thrive and survive.
So, to answer this question; YES. It is a great idea, and healthy, to put peanut butter in oatmeal!
Again, the less ingredients in the peanut butter, the better, especially if it's just peanuts and maybe a little salt.
You can also make your own peanut butter by processing peanuts in a food processor. Up to you!
*Please note that if you or your child has an allergy to peanut butter that you should not add peanut butter to this recipe.
Customize your Overnight Oats!
If you or your child does happen to have a peanut allergy, you can customize it by;
replacing with another nut butter, such as almond or cashew
replacing with a seed butter
omitting the peanut butter altogether
Your could even replace it with homemade jam, if you'd like; for a bit of a sweet and slightly sour flavor! Just like these chocolate candies – please note that those candies are not vegan, but my husband and I used to get them before I went vegan and it's the best comparison I could think of.
The Oats
The best kind of oats to use for this recipe are Old Fashioned Oats.
You could experiment with other oats; quick cooking oats may get you a softer texture. I've honestly never used steel cut oats, so I'm not sure what you could expect with that.
If you REALLY want to experiment, you could even try this recipe with quinoa, rice, or any other grain. Depending on the grain, you may need to cook it first, before assembling the overnight 'oats'. If cooking the grains before, you could omit the non dairy milk when assembling.
Learn more about oats HERE.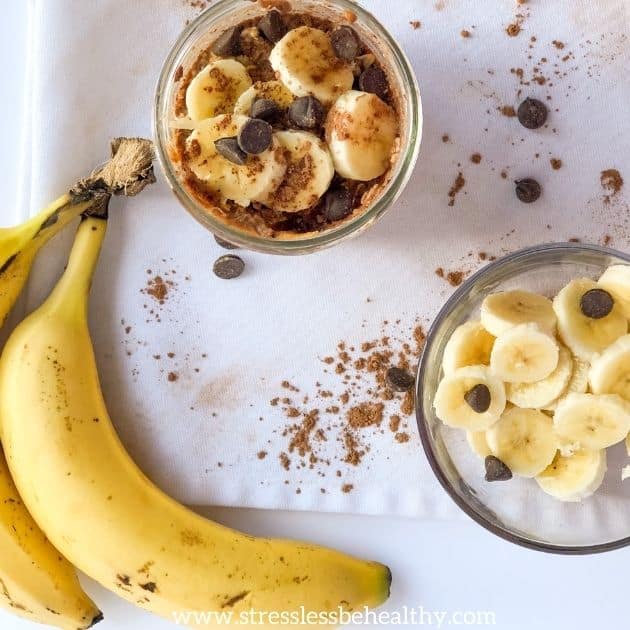 If you like these overnight oats, add a picture to instagram and be sure to tag me @stresslessbehealthy_eatvegan
If you enjoyed this recipe, you may also like:
Want to Remember This? Pin Chocolate Peanut Butter Overnight Oats [Vegan] to your favorite Pinterest Board!!