*Disclosure: some links may contain affiliate links (meaning if you end up purchasing something when you click on the link then I may get a commission on it, with no extra cost to you, of course). For more information on what this means, visit my disclosure page.
In this article you will find a delicious and healthy vegan strawberry muffins recipe!! This recipe actually contains more than just one fruit, it's actually a strawberry and apple muffin recipe!! But, the strawberries in it define it and is what makes it what it is, and helps with being kid approved. Plus, berries are awesome with all their antioxidants, so go try these now and know you're providing your body with food that's good for it!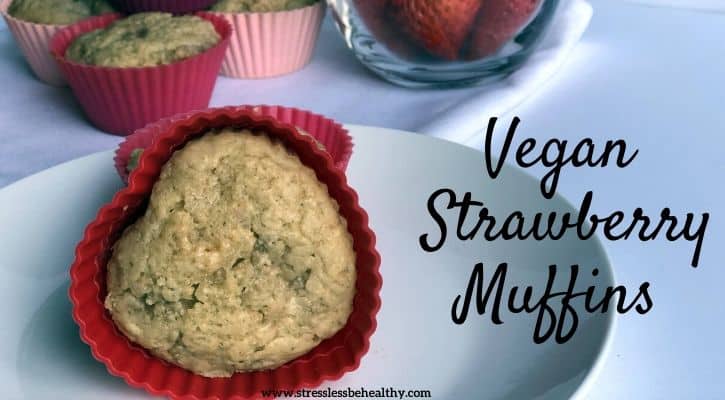 Healthy Strawberry Muffins…with Apples!!
Now that it's summer, or almost summer, berries are a bit cheaper and easier to find!
So, what do you do with all those strawberries? Besides just eat them, of course!
Well, you could make smoothies.…
Or, if you're looking for a little bit more of a special treat, or super easy and satisfying breakfast or snack, go for muffins!
Muffins are the perfect quick breakfast or snack, especially if you make a double batch, or can keep your kids from eating them all the minute they come out of the oven.
Muffins are easy to freeze, easy to thaw, and easy to warm up and serve!
And, the strawberry muffin recipe below is divine!
With the diced apple added in with the tart strawberries, it's a combination that your taste buds will thank you for!
So, head to your kitchen, and let's start making these vegan strawberry muffins!
Want to Remember This? Pin Healthy Vegan Strawberry Muffins to your favorite Pinterest Board!!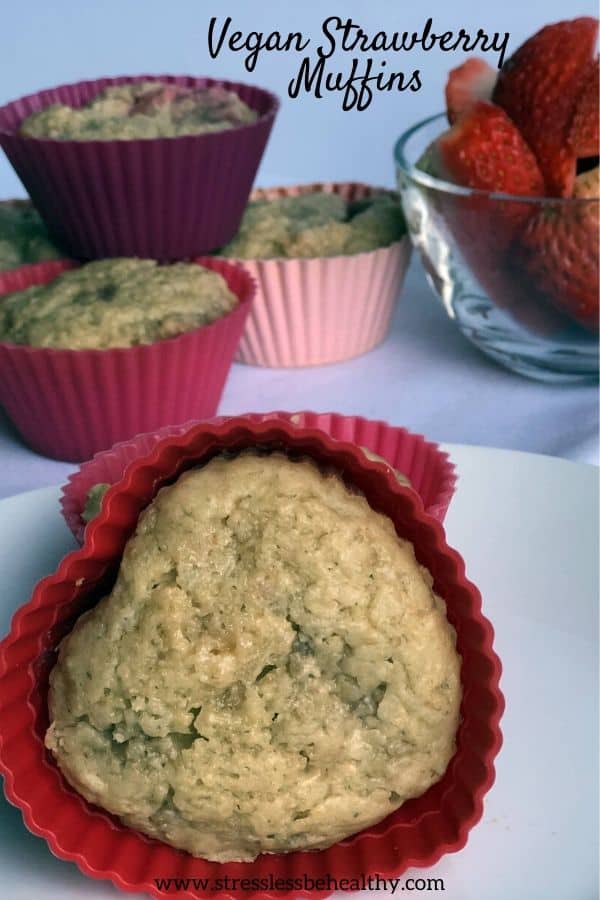 How to make these vegan strawberry oat muffins
First, before anything else, grab your ingredients.
This is important. Because if you don't have any oat flour, you'll need to grind up some oats, and depending on what you have to grind them in, it might take a few minutes.
I feel so fortunate that my husband bought me this for our anniversary this year. The last time I made oat flour, it literally took 10 seconds to make!
Once you have all your ingredients ready to go; preheat your oven to 400°F and set up your favorite baking cups (or line a muffin tray).
Now it's Time to Make the Batter for Your Strawberry Muffins!
Then mash your ripe bananas and add to a mixing bowl. You can mash them with a fork, use a blender, or any other way you can think of. Seriously, it doesn't matter.
If you don't have ripe bananas, fear not!
Simply squeeze your bananas gently, while they are still inside their peel. This will help make them mushy before even opening them up. You can also do this with ripe bananas to make them easier to mash. Just be careful doing this if you bananas are super ripe, as they may start to open by themselves!
Next, add in all your wet ingredients and stir well.
If you're trying to keep this as plant based as possible, or simple don't like using oil in your baked goods, just replace it with applesauce. I always keep a couple of the individual sized applesauce cups on hand for baking, especially when my kids are toddlers!
After the wet, comes the dry ingredients.
Be sure to add everything in and then mix well. I always start by stirring the top layer (aka the dry ingredients) together, before mixing in the wet ingredients.
You may see other muffin recipes, or other baked good recipes, use two bowls, one for wet and one for dry ingredients. Well, I don't do that, I have three kids and I don't have the time to wash any extra dishes. So, if you're like me, just do what I do; it doesn't make a difference with the final outcome of the muffins!
Add in the strawberries and apples
Finally, dice up the apple, small or medium chunks depending on how you like them, and slice up the strawberries.
Gently add and stir them into the batter.
Then scoop the batter into the muffin cups or muffin tray.
Bake for about 20 minutes, then let cool and enjoy!
When done, they shouldn't be dark on top. My kids and I enjoy them lightly golden. Just be sure they aren't mushy on the inside, but moist.
You can test this by poking them in the middle with a toothpick and making sure it comes out clean. If it doesn't come out clean, put them back in the oven for a couple more minutes.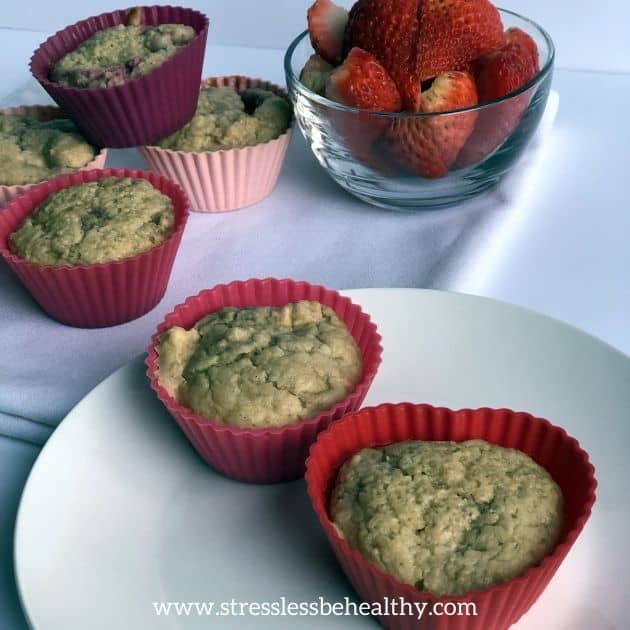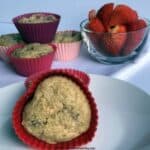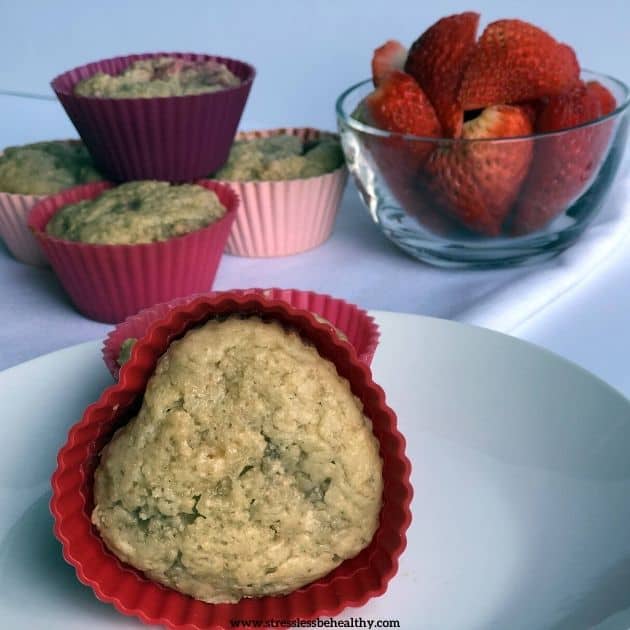 Healthy Vegan Strawberry Muffins
Your kids are going to love this easy and healthy strawberry muffins recipe! Perfect for a nice summer day or anytime!
Ingredients
3

bananas

ripe, mashed

1

cup

non-dairy milk

(I use soy milk)

⅓

cup

veggie oil

(or very thin applesauce)

½

cup

maple syrup

2

tsp

apple cider vinegar

1

tsp

vanilla

1 ¼

cup

oat flour

1

cup

all purpose flour

1

tbsp

baking powder

½

tsp

salt

1

apple

diced

1

cup

strawberries

sliced
Instructions
Preheat the oven to 400°F and set up baking cups (or line a muffin tray).

Mash the bananas and add to a mixing bowl.

Add in all wet ingredients (non-diary milk, veggie oil, syrup,apple cider vinegar, and vanilla) and mix well.

Add in the flours, baking powder, and salt if using, then stir til everything is combined.

Dice the apple, slice the strawberries, and gently mix into the batter.

Fill baking cups, or muffin tray, and bake for about 20 minutes.
Recipe Notes
*To ensure they are done, test with a toothpick by placing one in the middle of a muffin and pulling it out; if there's nothing on it when pulled out, they're done, if there is gooey batter on it, put them back in the oven for a couple of minutes.
If you enjoyed this recipe, you may also like:
Looking for more Strawberry Recipes;
Want to Remember This? Pin Healthy Vegan Strawberry Muffins to your favorite Pinterest Board!!