*Disclosure: some links may contain affiliate links. For more information on what this means, visit my disclosure page.

Strawberry Pineapple Smoothie Recipe
Summer may be coming to an end, and the school year is within reach, maybe your kids already started. But, I wanted to share one more smoothie recipe with you this season; a strawberry pineapple smoothie recipe.
(And, if you're finding this recipe in the middle of winter, I hope it reminds you a little of summer!)
I can't take all the  credit for this recipe, though. My 5 year old helped me decide what to put in it, so we technically co-created it!
This makes me an incredibly proud mommy; my daughter is starting to love combining healthy food to make a delicious concoction!
Sure, she still may love chocolate more, but this is helping set her up for a healthy life when she's older.
Honestly, she'll probably surpass me by the time she's a teen when it comes to making healthy and delicious food. SHhhhh…..let's just pretend that's 20 years into the future and not think about it. My first baby (my 5 year old) is starting school this year, let's not make her grow up any faster.
Let's get to how to make this recipe and why it's so good for us, instead!
Related Posts:
What's so great about this Strawberry Pineapple Smoothie Recipe?
Well, it has strawberries in them, to start with. Strawberries provide a lot of important nutrients, such as:
vitamin C
fiber
antioxidants
manganese
potassium
Plus, they're simply delicious and one food even my picky eater will never refuse to eat! Which is probably why it's a part of this smoothie she helped make.
This smoothie also has pineapple in it. Along with being popular for help with weight loss, this fruit also has some similar nutrients as strawberries, such as vitamin C, fiber, and manganese.
So, this smoothie could also be considered an immune system booster smoothie, too! Pair it with some lemon water and an orange for breakfast, and you're off to a great start to help your child not get sick this year.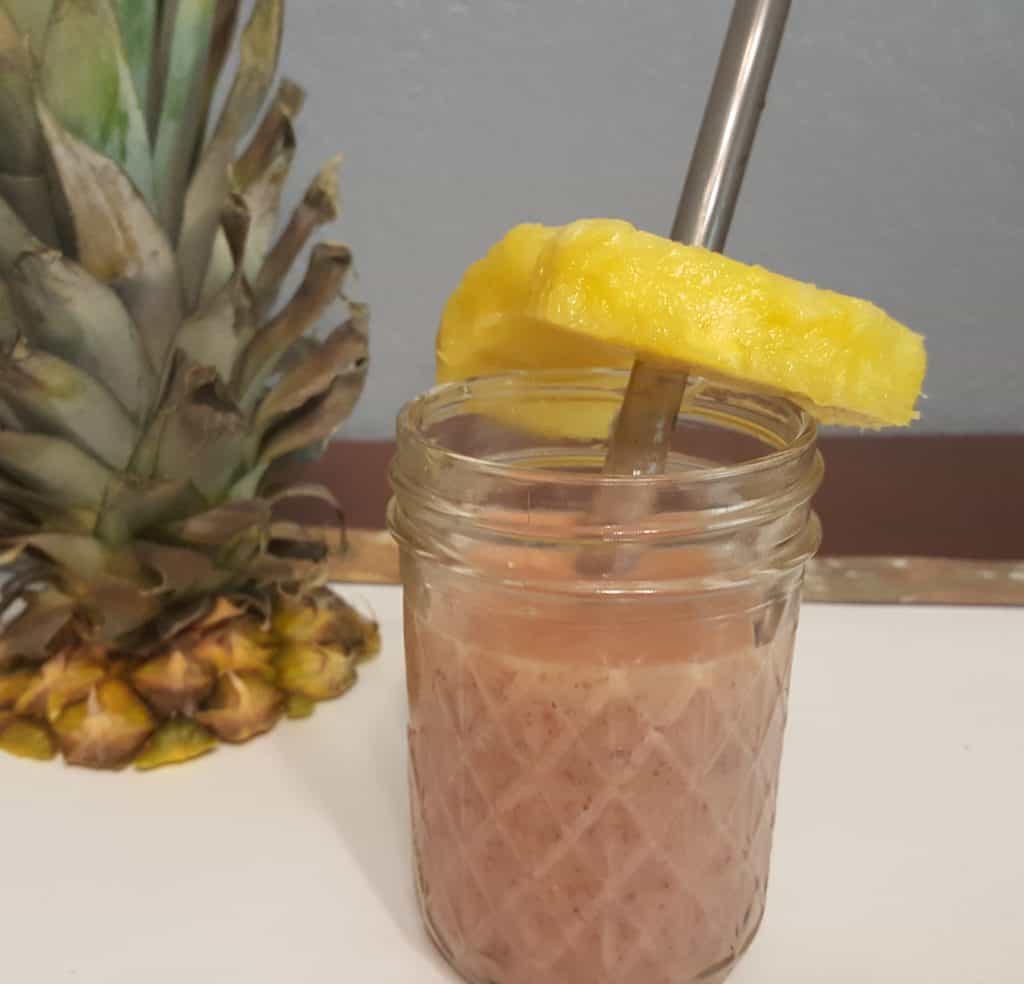 One last benefit of this smoothie, other than being able to choose the milk of your choice, is the chia seeds.
Chia seeds are amazing! They're glutinous little seeds that gel up when mixed with any liquid; their whole job is to absorb stuff, whether it be milk for a smoothie or chia seed pudding outside of your body, or clinging to toxins inside your body to help detoxify. That's not all they do, they also provide us with:
omega-3 fatty acids (see, no need to eat fish or take fish oil pills…eww)
carbs
protein
fiber
antioxidants
calcium
A little can go a long way, too! If you haven't tried them already, get ready to, and buy in bulk to save some money.
Ready to make this Simple Strawberry Pineapple Smoothie?
Let's get started, because seriously, it's so simple my five year old has made it herself! (However, I don't let her cut the pineapple all by herself yet.)
Start with a clean nutri-ninja, nutri-bullet, or some other type of blender.
Cut up your pineapple, if it's not precut. Make sure you cut some pieces int pineapple rings, to make it look prettier!
Then, get out your frozen strawberries, chia seeds, and soymilk.
Toss everything into the blender as instructed by the type of blender you have, and blend.
Add the pineapple ring and straw to the glass you'll be drinking it in and enjoy!
*Hint- if using a nutri-ninja, add fresh fruit first, then seeds, milk, and then the frozen fruit, that's how the manual says to fill it up for this type of nutri-ninja blender.
I hope you enjoy this creamy and tangy smoothie and that it reminds you of a nice summer's day when drinking it!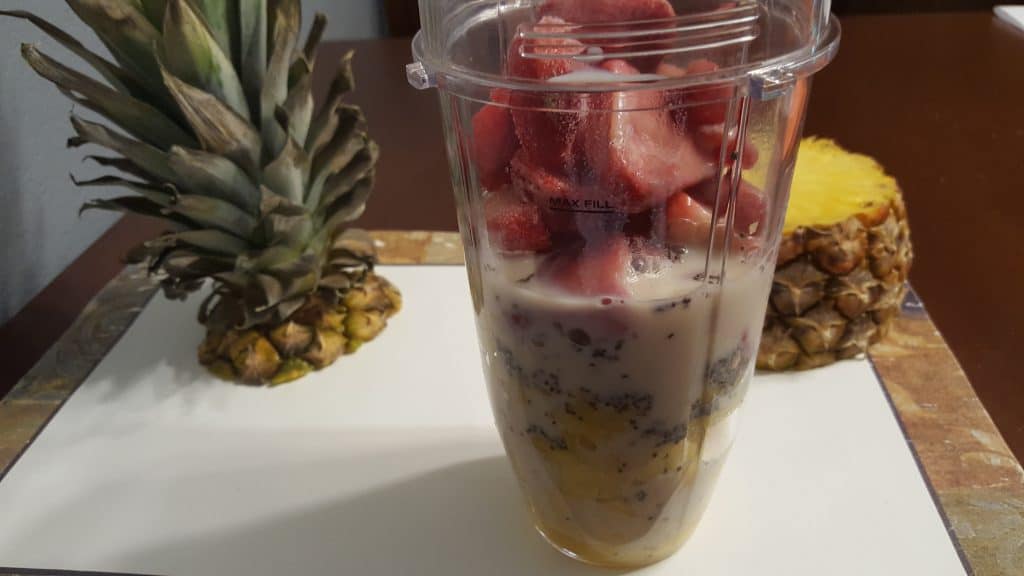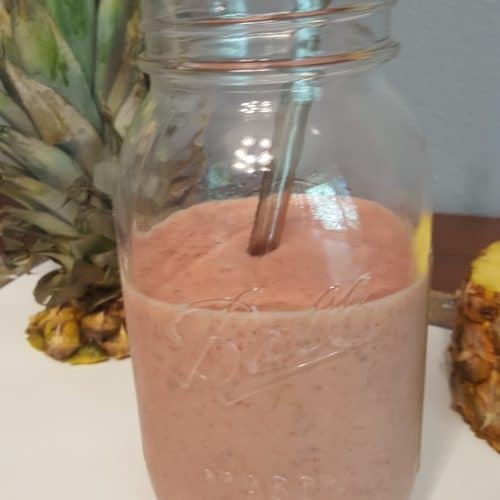 Strawberry Pineapple Smoothie
A refreshing smoothie the whole family will enjoy! And, a little something to remind you of summer!
Ingredients
1½

Cups

Pineapple chunks

Fresh

1

Cup

Strawberries

Frozen

1

tbsp

Chia Seeds

½

Cup

Soymilk

or milk of choice

1

Pineapple ring

for around the straw- if desired
Instructions
Blend everything together in blender, nutribullet, or nutrininja.

Add pineapple ring around straw if desired.