*Disclosure: some links may contain affiliate links (meaning if you end up purchasing something when you click on the link then I may get a commission on it, with no extra cost to you, of course). For more information on what this means, visit my disclosure page.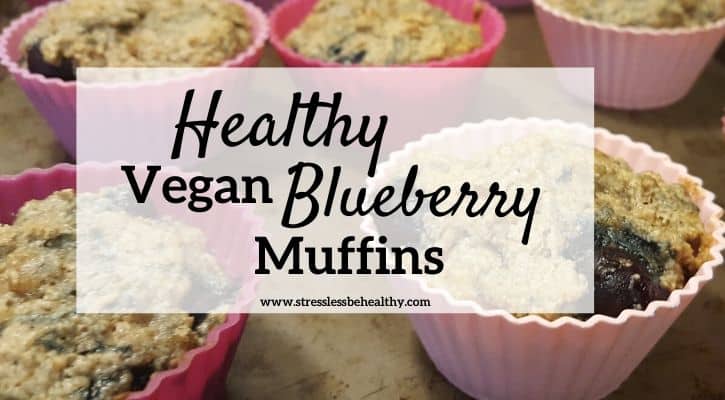 Jump to Recipe
In this article you will learn how to make amazingly delicious and healthy vegan blueberry muffins!
Do you love muffins, but avoid eating them because they tend to not be all that healthy?
(Or, to be more honest, you don't want to develop, or contribute, to a muffin top on yourself?)
Yeah…I'm right there with ya.
And, I wish that was the whole entire reason for creating this recipe. I love being healthy and everything, but this recipe came about as an accident!
See, I was hoping to create a recipe for an apple pie…
But, every way I tried to put ingredients together it seemed like it had either already been done, or just wouldn't work.
…Then I decided I wanted to make an apple crisp recipe (which I eventually did), but at this time I made these muffins I didn't have maple syrup, and that was going to be an important part of the recipe.
And by this time, my older daughter (she was five, by the way) was getting hungry and was expecting me to make apple pie.
I made the mistake of telling her what I was going to make. So, I broke the bad news to her.
Then I remembered that we bought frozen blueberries a few days ago and she loves blueberry muffins!
So, as any good millennial mom would do, I went on pinterest to try to find a good, healthy recipe with ingredients that I already had on hand.
No luck.
Want to Remember This? Pin Healthy Vegan Blueberry Muffins to your favorite Pinterest Board!!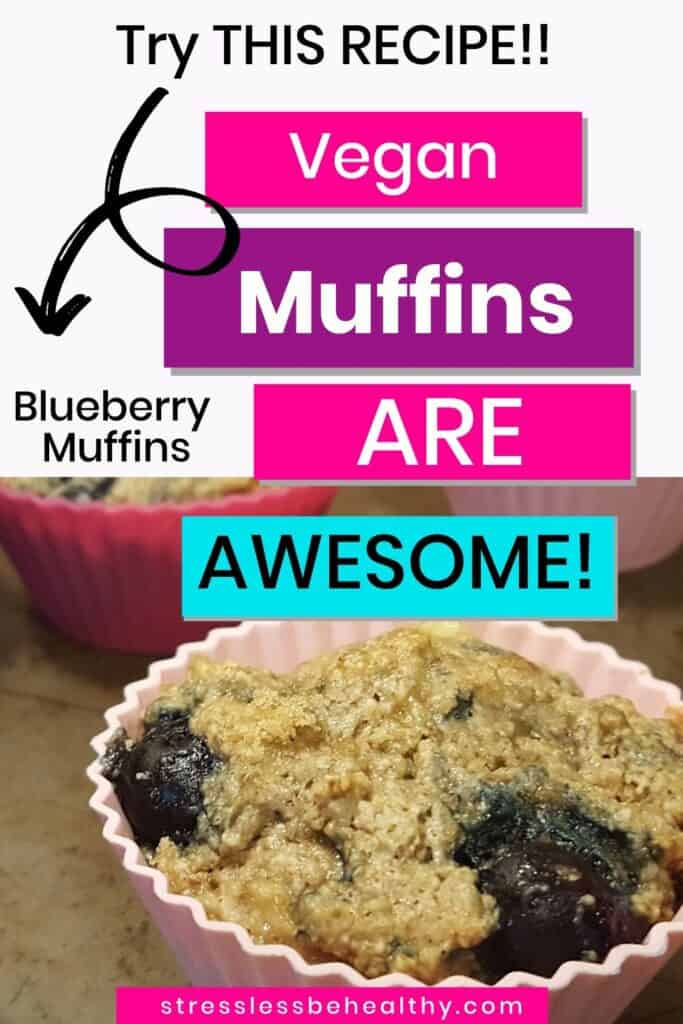 Then I went to the recipes that I had from my mom; no blueberry muffin recipes, but I did find a banana bread recipe…..hmmm….
The banana bread recipe I found, although I loved my mom's banana bread; it wasn't very healthy.
So, I started to make it healthier.
Veganizing a Banana Bread Recipe to turn into a Blueberry Muffin Recipe…
First thing I did was replace the eggs with flax eggs.
Then, I reduced the sugar and opted for oat flour instead of all purpose flour.
Because I'm obviously a little strange and don't mind a little extra work to make healthier, yummy food for my kids!
And, the oddest thing I did, which is what I think makes the muffins so great, is that I swapped out the butter out for cashew butter! (<< see, told you I'm a little strange!)
So, that's my secret to the best blueberry muffins I've ever had; cashew butter!!
And, I'm not just saying that because I created it. I would honestly eat these over the blueberry muffins I used to get at Dunkin Donuts (before we moved away from Dunkin Donuts or became vegan).
Let's Get Baking
Ok, so now that you know how this recipe came about; let's get started making them!!
First, get out your ingredients.
Then, preheat the oven to 375℉ and prepare what you're going to bake them in.
I'm personally obsessed with these silicone baking cups; I use them ALL the time! (From making muffins to home made healthy reese's- yes, it's a thing, to vegan ziti!!)
Now, make your flax eggs. And, don't worry; this isn't as hard as it sounds, for those of you who have never made flax eggs before.
For one flax egg, you simply need to measure out 1 tablespoon of flax meal (ground flaxseeds) and mix with 2 and a half tablespoons of water. Stir and then let sit for at least five minutes and stir again before adding to the rest of the mixture. It' alright if the measurements aren't perfect, just get them close.
Next, stir together the cashew butter and brown sugar until they are completely mixed. This can be difficult and take some time if doing this by hand, like I did. (I have no idea why I didn't use my kitchen aid, it would've made it so much easier.) You'll probably have to scrape the spoon you're using to stir a few times during this process.
Once it is completely mixed, go ahead and add in the oat flour (I grind mine in my food processor to make my own using old fashioned oats), baking powder, baking soda, and salt. stir these in as well as you can. It will be very crumbly, just do your best!
Then add in the flax eggs and mashed banana. When you mix these in well enough, it will start to get to a muffin batter consistency. If it doesn't seem like it's at that consistency; keep stirring. It won't be as liquidy as regular batter, but it shouldn't be completely stiff, either.
Finally, add in the blueberries before dividing into the muffin cups. When you have the batter all set in the baking cups; do yourself a favor and sprinkle some brown sugar on top of each one before throwing them in the oven.
Bake at 375℉ for 20 minutes. When they're done, let them cool. Then enjoy and let them melt in your mouth!! These are moist and delicious. Seriously, they are heavenly, they're so good!
Good luck with not having them disappear the same day you make them.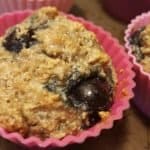 Healthy Vegan Blueberry Muffins
This recipes makes heavenly delicious, and vegan, blueberry muffins.
Ingredients
1/3

cup

cashew butter

1/2

brown sugar

plus a little more for sprinkling on top

2

flax eggs

mix 2 tbsp flaxmeal with 5 tbsp water and let sit 5 minutes, then stir again

1

cup

oat flour

1

tsp

baking powder

1/2

tsp

baking soda

1/2

tsp

salt

1

large mashed banana

either really ripe, or squeeze the banana while in the peel until it gets squishy

1

cup

blueberries

or more!!
Instructions
Preheat the oven to 375℉.

Stir the cashew butter and sugar til completely mixed.


Then mix in oat flour, baking powder, baking soda, and salt. Stir til as combined as can be (it may be quite crumbly at this point).


Add flax eggs and mashed banana. Stir til combined.


Fold in blueberries and separate into baking cups.


Optional: sprinkle a little brown sugar on top of each muffin.


Bake for 20 minutes and let cool. Enjoy!!

Yay!! Now you know my secret to making heavenly blueberry muffins that are healthy, and that your kids will love!!
Make these for get together's or a snack for your child's class (since it's peanut free and is pretty low on it's sugar content- just a little over a tsp per muffin)!!
Let me know what you think in the comments, and don't forget to pin this or share with friends and family!!
Want to Remember This? Pin Healthy Vegan Blueberry Muffins to your favorite Pinterest Board!!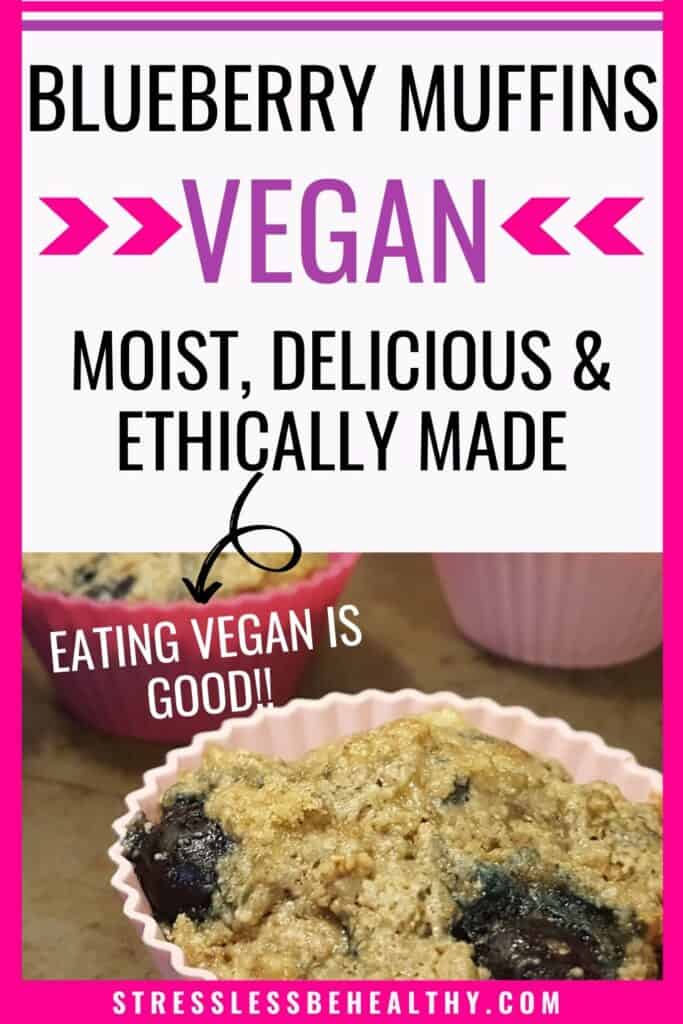 Related Posts:
Healthy Blueberry Oatmeal Recipe
Surprisingly Delicious Healthy Apple Muffin Recipe!!!
6 Snacks for Kids that Start with the Letter B
130+ Healthy Snacks From A to Z
13 of the BEST After School Snacks for Kids