*Disclosure: some links may contain affiliate links (meaning if you end up purchasing something when you click on the link then I may get a commission on it, with no extra cost to you, of course). For more information on what this means, visit my disclosure page.
Vegan Baked Ziti Recipe
If you're looking for a vegan baked ziti recipe without cheese, no cashews, full of veggies and actually tastes cheesy and delicious, then click the jump to recipe link below; you found it!
The recipe below is kid approved and picky eater friendly…I should know, I have a picky eater of my own, and my 3 kids (and myself) devour this every time I make it!
The first time I made it (about 5 years ago), it turned out way better than I had imagined it would.
It seriously almost tastes like the ziti, or even stuffed shells, I remember from my childhood; even though the meals I remember from childhood had a ton of cheese in them.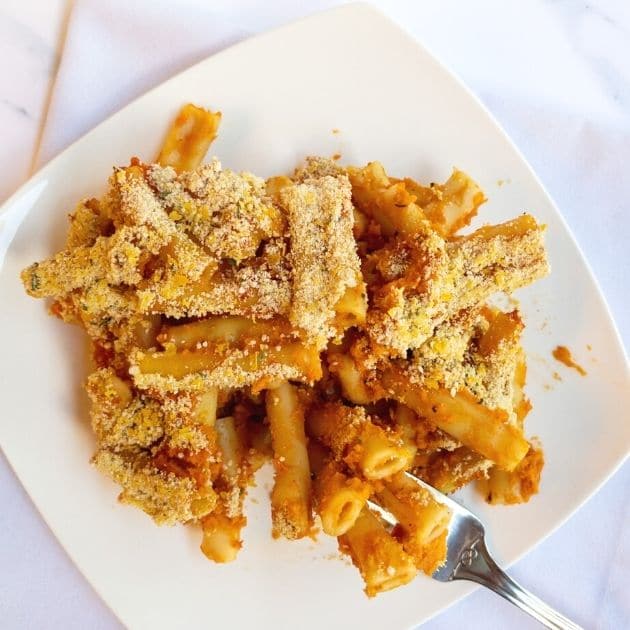 This recipe works perfectly for 9inchX13inch baking dishes, or use cute little muffin cups to make it even more kid friendly (you'll need about 18 of them)!
The baking time will vary; with the baking dish it takes about 35-40 minutes, with the baking cups it takes about 20-25.
I originally made these as a snack for the A to Z healthy snacks series, that's why I know they work in the baking cups. But, add two or three of the baking cups together and you have yourself a meal!
(Or use the baking dish and dish up how you normally would!)
Want to Remember This? Pin THIS Easy vegan baked ziti recipe to your favorite Pinterest Board!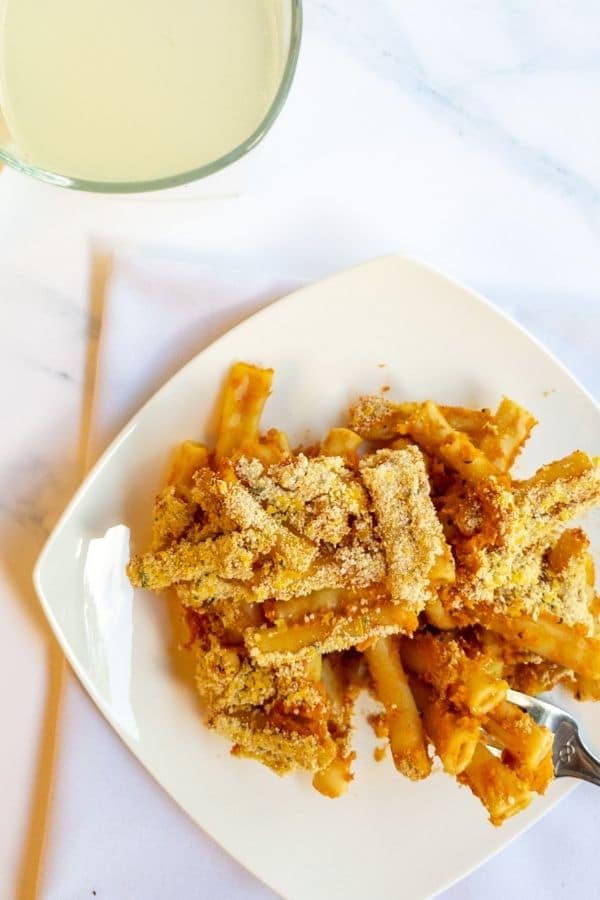 Let's Cook- Supplies & Ingredients for this Vegan Baked Ziti
The easiest way to start is by getting out all of your ingredients and supplies.
You'll need:
Equipment & supplies
a food processor
9X13inch baking dish
1-2 pots with lid (for boiling veggies and then pasta in)
measuring cups and spoons
Ingredients
sweet potatoes
carrots
nutritional yeast
soy milk
veggie broth
marinara sauce
garlic powder
onion powder
paprika
salt (optional)
black pepper
ziti
breadcrumbs
You need a food processor for this recipe, there's not really a way around it (depending on the strength of your blender).
Seriously, if you're trying to eat vegan or plant-based, a food processor will make your life loads easier and much more pleasant (and fun) to eat! There are SO many things you can make with one.
If you've never used a food processor before, this is the one I use (and it hasn't failed me in the past almost 6 years).
Let's Cook- for real this time
You'll want to start the actual cooking process by peeling and chopping the potatoes & carrots.
Boil them until you can easily stick a fork through them. This can take awhile, which is why it's first. Once these are soft you then have to wait for them to cool before making the "cheese".
In the mean time, preheat the oven to 375 ℉ and go ahead and cook the ziti.
This certainly doesn't take as long as cooking the veggies. When it's done, make sure to drain and then cover until the "cheese" can be poured in and mixed with it.
While you wait for the veggies to cool or the pasta to cook, go ahead and make the breadcrumb topping at this point.
Simply mix the breadcrumbs with nutritional yeast.
Make the "cheese"
Once the veggie cool, go ahead and drain them and transfer them to the food processor.
Then add in all of the other ingredients, besides the marinara sauce and breadcrumbs.
Process them until they have a good consistency; it should be like a thick sauce.
Once it's at a good consistency, go ahead and pour it over the cooked and drained ziti.
Stir the "cheese" sauce in and add in the marinara sauce. Make sure everything gets mixed evenly.
When you have the ziti evenly coated pour into your baking dish. Then add the topping.
Cook for about 35-40 minutes, or until the ziti starts to feel firm when you poke it.
Enjoy your cruelty free, delicious ziti!!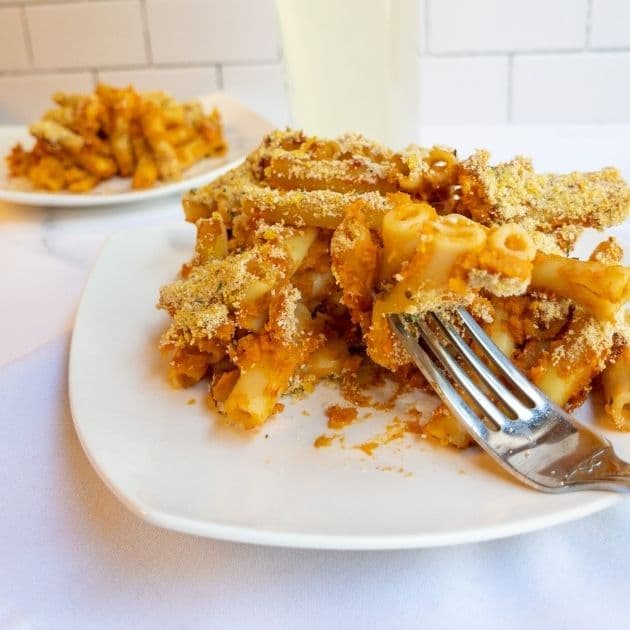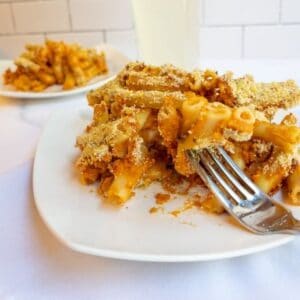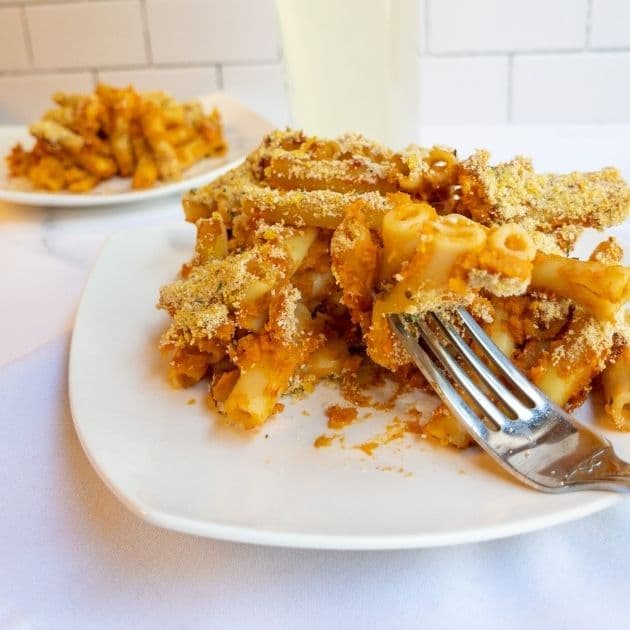 Vegan Baked Ziti
You and your kids are going to love this cheezy, gooey vegan baked ziti! It's healthy and amazingly delicious!
Ingredients
2

sweet potatoes

2-3

medium to large carrots

3

cups

dried ziti

¼

cup

nutritional yeast

2

tbsp

veggie broth

(or olive oil)

2

tbsp

soy milk

(or other non-dairy milk)

½

tsp

garlic powder

¼

tsp

onion powder

a pinch

paprika

a pinch

black pepper

¼

tsp

salt

optional

¾ + ½

cup

marinara sauce
Topping
¼

cup

breadcrumbs

2

tbsp

nutritional yeast
Instructions
Preheat the oven to 375℉.
Peel, chop, and cook the sweet potatoes and carrots; then cool when soft. Cook the ziti, when done; drain and cover.

Place veggies in food processor with all other ingredients, besides the 1/2 cup marinara sauce and topping ingredients. Process til it turns into a thick sauce.

Mix the "cheese" sauce in with the drained ziti, also add in more marinara sauce at this time. Make sure the ziti gets completely covered then pour it into a 9inx13in baking dish.

Mix the topping ingredients together and add to the top of the ziti.

Bake for 35-40 minutes, let cool and enjoy!
Enjoy!! and don't forget to share this vegan baked ziti recipe with your friends and family!
If you like this ziti recipe, you may also enjoy:
7 Awesome meals for beginner vegans!
Excellent Eggplant Fries Recipe
Delicious Diced Veggie Vegan Burritos
Want to Remember This? Pin THIS Easy vegan baked ziti recipe to your favorite Pinterest Board!