*Disclosure: some links may contain affiliate links (meaning if you end up purchasing something when you click on the link then I may get a commission on it, with no extra cost to you, of course). For more information on what this means, visit my disclosure page.
White Bean Cookie Dough (The Vegan Bean Cookbook Review)
I'm so excited to share with you about The Vegan Bean Cookbook by Andrea Soranidis!
I received a complimentary copy of her cookbook to share with you about it, but how great is that; a whole cookbook around beans!
I don't know about you, but growing up I didn't eat beans (or veggies, except for potatoes & corn), so I've spent the past ten years learning how to eat right.
Beans are super important for your health! And I feel like I've been almost obsessed with trying to find new ways to get them into mine and my kids diets; this book is a tremendous help with that! You will not regret it if you decide to order it.
For now, let's get to the white bean cookie dough recipe…
This is my picky eaters NEW FAVORITE cookie dough recipe!!
To be honest, I was quite impressed myself. I've made cookies with chickpeas before, but using beans in desserts is a bit new for my family.
Luckily, this recipe was delicious…even though I couldn't find all of the exact ingredients I needed for it.
Want to Remember This? Pin This Vegan Cookie Dough Recipe to your favorite Pinterest Board!!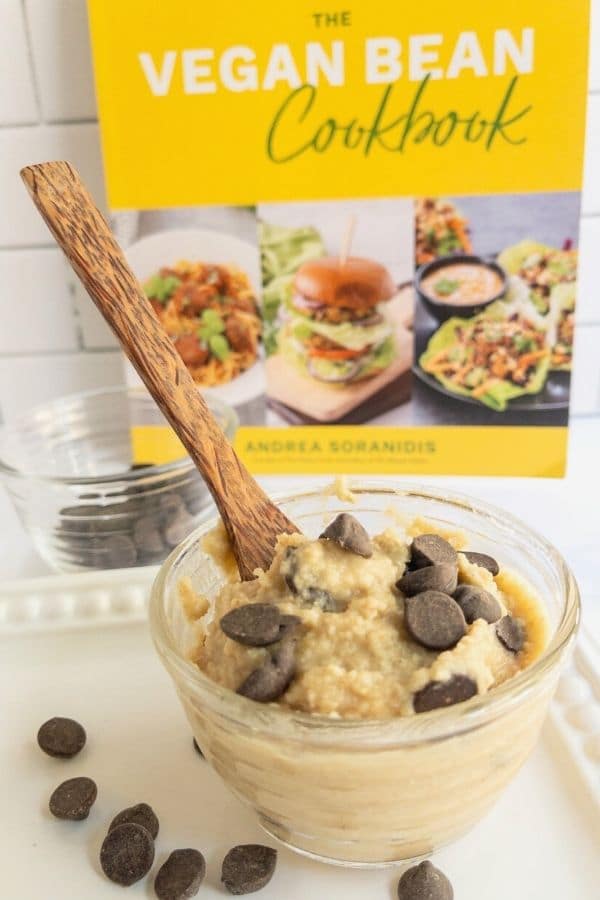 So, how do you make this vegan white bean cookie dough?
Simple.
First, find all of the ingredients (or use the substitutes I did or use your own substitutes) & make sure you have a food processor; you absolutely NEED a food processor for this recipe, no getting around it. This is the one I have and have been using for the past 6 years.
You'll need:
oats (I use old fashioned)
almond flour
non-diary milk (the recipe calls for almond, I only ever have soy on hand)
almond butter
coconut sugar (I only had white sugar on hand)
maple syrup
vanilla
sea salt flakes (I didn't use these, as I didn't have them)
butter beans (which I went to 3 different stores and still could not find them– I used cannellini beans instead)(You can find butter beans here if you like using the exact recipe.)
dark chocolate chips (we love the Enjoy Life brand)
Once you have all the ingredients, you'll need to grind the oats into a flour, add in the rest of the ingredients into the food processor (with the oats that you ground in it), process for about a minute.
Then separate into tiny serving bowls, add in chocolate chips, stir, and enjoy!
It's really not that hard, and it's quite delicious
Why you'll love this white bean dessert recipe…
Well, you already know it's easy and you can make it in just about 5 to 10 minutes.
It's also a great way to get your kids eating more beans.
Beans are super important for our health (read more on that here) and if you have kids I'm sure you know that it isn't always easy to get them to eat what's good for them. This is.
This recipe will help you get some important nutrients into your kids without complaints.
Look at the ingredients in the steps below;
You see beans- something we should all be eating more of.
Oats- which is also great for your health!
Almond butter, non-dairy milk, and more!
The sweeteners may not be so great, but sometimes you need to add a little bit of the more processed foods to eat the super healthy ones, and that's ok.
Flipping through the beautifully photographed pictures in The Vegan Bean Cookbook, I can't tell you how excited I am to try another recipe; they all look so delicious! You can grab your own copy on Amazon.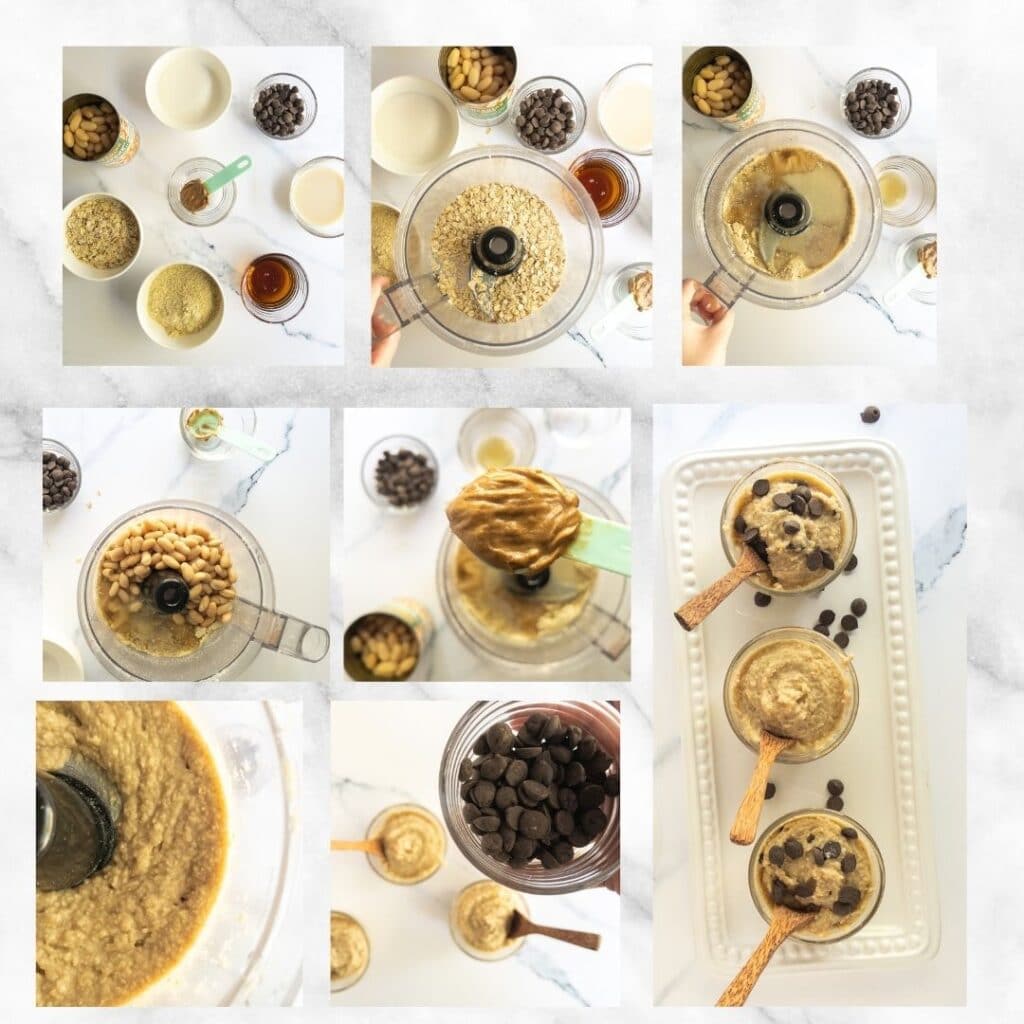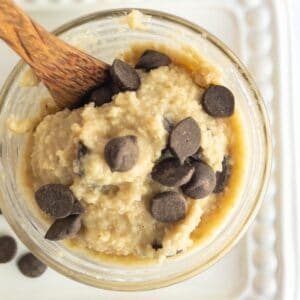 White Bean Cookie Dough (AKA- Butter Bean-licious Cookie Dough)
A kid friendly way to eat more beans! You're going to love this white bean cookie dough; it's divine!
Ingredients
⅔

cup

oats

old fashioned

⅔

cup

almond flour

plus possible more

¼

cup

non-dairy milk

1

tbsp

almond butter

⅓

cup

coconut sugar

(or any kind)

¼

cup

maple syrup

1

tsp

vanilla

¼

tsp

sea salt flakes

(optional)

1

can

butter beans

(or other white bean)

1

tbsp

dark chocolate chips

(or more!)
Instructions
Add oats and almond flour to the food processor and blend til it turns to a fine flour.

Add in all of the other ingredients, except chocolate chips; blend til smooth. Be sure to scrape sides (stop the food processor, scrape, then start it again).

Add in extra almond flour if needed and continue to process til you reach the right consistency.

Place into servings bowls, add chocolate chips if wanted, serve and enjoy!
Notes
*You will probably need more than the listed amount of almond flour, I used at least another quarter cup to help the cookie dough thicken up, add about a tablespoon at a time and then test for the consistency you want.
If you like this recipe, you may also enjoy:
Peanut Butter Chickpea Cookies
Chickpea Chocolate Chip Cookies
Vegan No-Bake Chocolate Oatmeal Cookies
Want to Remember This? Pin THIS White Bean Cookie Dough Recipe to your favorite Pinterest Board!!