*Disclosure: some links may contain affiliate links (meaning if you end up purchasing something when you click on the link then I may get a commission on it, with no extra cost to you, of course). For more information on what this means, visit my disclosure page.
Healthy Blueberry Oatmeal Recipe
When blueberries aren't in season, they're a treat in our home; and usually bought frozen. My two girls will go through blueberries like they're candy. So, I was not surprised when they told me they loved this blueberry oatmeal!
Coming from a picky eater, who claims to hate most food I make, and an almost 3 year old; that's saying something. If I ever plan to save any of this oatmeal for another day, I have to double the recipe.
The recipe below is gone in less time than it takes to make it! Which is quite impressive, seeing as how it only takes about 10 minutes to make it, with hungry kids at my feet.
What makes this recipe even better than other oatmeal recipes I make is that is has absolutely no add sugar, not even brown sugar. It uses the sweetness from ripe, mashed bananas and a little bit of maple syrup. So, it's not only vegan and healthy, but also 100% plant based.
It is full of antioxidants, with the oats and the blueberries, and is perfect for any busy morning. Or, really, any morning at all, because it's quick to make and will make eating breakfast taste like a treat. Kind of like these blueberry muffins.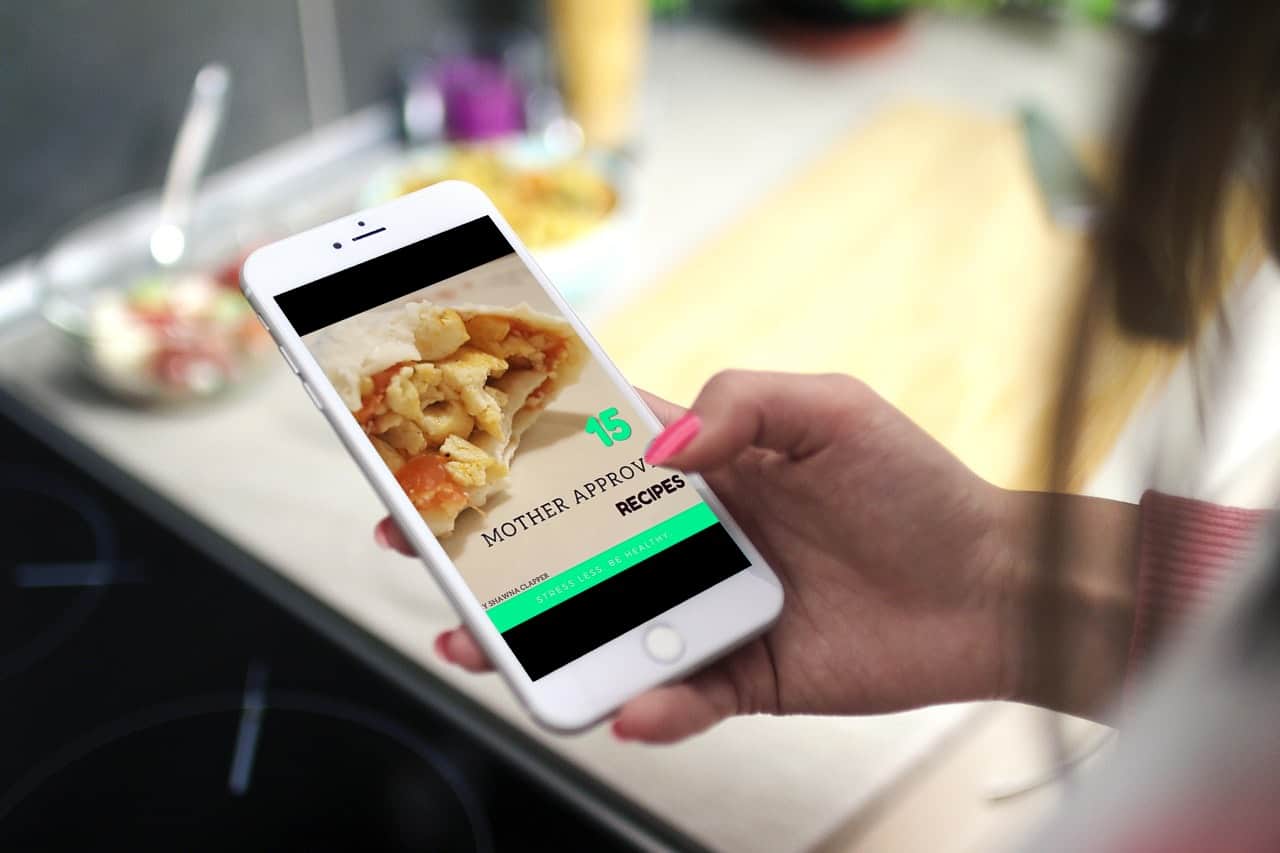 Related Posts:
Let's make this blueberry oatmeal!
After finding out how healthy this oatmeal is, I'm sure you're ready to get started and just make it. And, it's really not that hard, either. It's almost as simple to make as my simple homemade applesauce.
First, measure and cook the oats on the stove on medium to high heat. Stir occasionally to make sure none stick to the pot.
Mash the banana while the oats cook. Or not, it really doesn't matter.
Add the blueberries, maple syrup, and bananas to the cooked oats. Stir well, making sure to mash up the banana even more.
If using frozen blueberries, make sure all of the ingredients are warm before serving.
Serve and enjoy!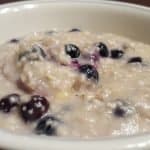 Blueberry Oatmeal
Delicious and perfect for a cold fall morning! Plus, it's quick enough to make on a busy school day morning. You're kids will love it!
Ingredients
1

cup

oats

2

cups

water

1

cup

blueberries

fresh or frozen

1/4

cup

maple syrup

1

ripe banana

mashed (can be mashed in pot with rest of oatmeal)
Instructions
Once oats are mostly cooked, add in blueberries, maple syrup and banana.

Mash banana in oats if not already mashed.

Stir everything together well and make sure all ingredients are warm.
Recipe Notes
*You may want to double this recipe, it tends to disappear pretty quickly, especially with little ones around.
**The 10 minutes to make this recipe was tested with two kids 5 and under in the kitchen with me, asking questions and trying to 'help'. So, it may not take as long for you.
Make sure you share this blueberry oatmeal recipe with anyone who loves blueberries, or who has kids!
And, feel free to pick up a free copy of my recipe ebook here, it's mother and child approved!