*Disclosure: some links may contain affiliate links (meaning if you end up purchasing something when you click on the link then I may get a commission on it, with no extra cost to you, of course). For more information on what this means, visit my disclosure page.
My Easy Homemade Applesauce (that you'll regret not making)!!
In this article you will learn how to make easy homemade applesauce that is ridiculously hard to resist! Perfect for fall, Thanksgiving, or anytime of the year!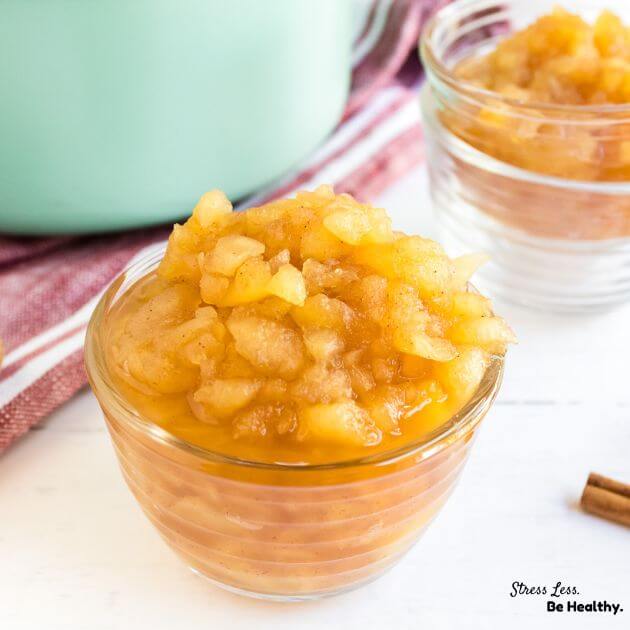 Need an easy homemade applesauce recipe to impress your relatives this year at Thanksgiving?
Or, just craving the nurturing flavor of right off the stove apple sauce?
I don't want to brag or anything, but my apple sauce is pretty good, and really simple. It calls for only 3 ingredients plus water. If you're ready to learn my secrets then go ahead and continue reading!
I started making my own apple sauce after my first daughter was born, or maybe a year or so after. So, I've been using this recipe for about 4 or 5 9 or 10 years. Sure, it may not be as good as my aunts recipe (who has been making home made applesauce for every Thanksgiving since I can remember). But, it's still pretty good!!
I honestly have to limit how much of this apple sauce my girls, and myself, have at one time to make it last past the day I make it.
It's that good!!
Want to Remember This? Pin My Easy Homemade Applesauce (that you'll regret not making)!! to your favorite Pinterest Board!!
How to Make Applesauce
IT ALL STARTS WITH Simple INGREDIENTS and EQUIPMENT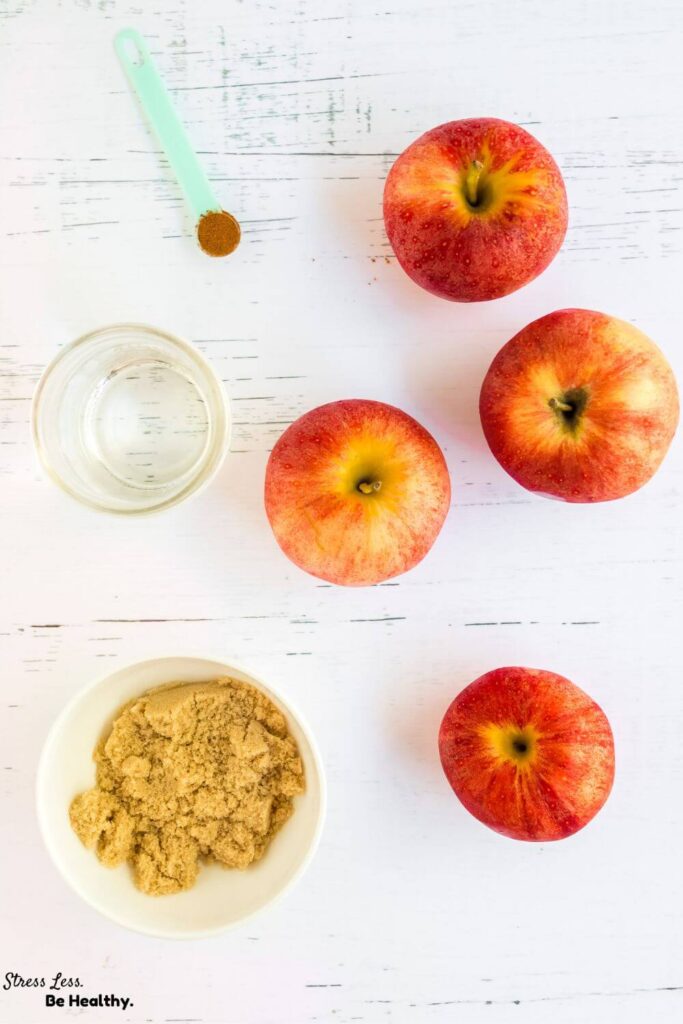 4 Simple Ingredients
Apples
Brown Sugar
Cinnamon
Water
Yep, that's really it!
6 VERY Low Tech Pieces of 'Equipment'
a teaspoon
a measuring cup
a pot with a lid to cook in
a peeler (optional)
a knife
a whisk
Yep, that's all you need to make your future favorite recipe!
Once you have your ingredients, go ahead and peel and chop the apples.
If you don't want to peel the apples; you don't have to, but it may not be as smooth and delicious!
And, as you can see with the picture below, I simply break off small chunks of apples with a knife rather than truly chop it up evenly.
It makes cleaning up easier; no cutting board to wash.
Once you have the apples in the pot, add just enough water to be able to see it through the apples.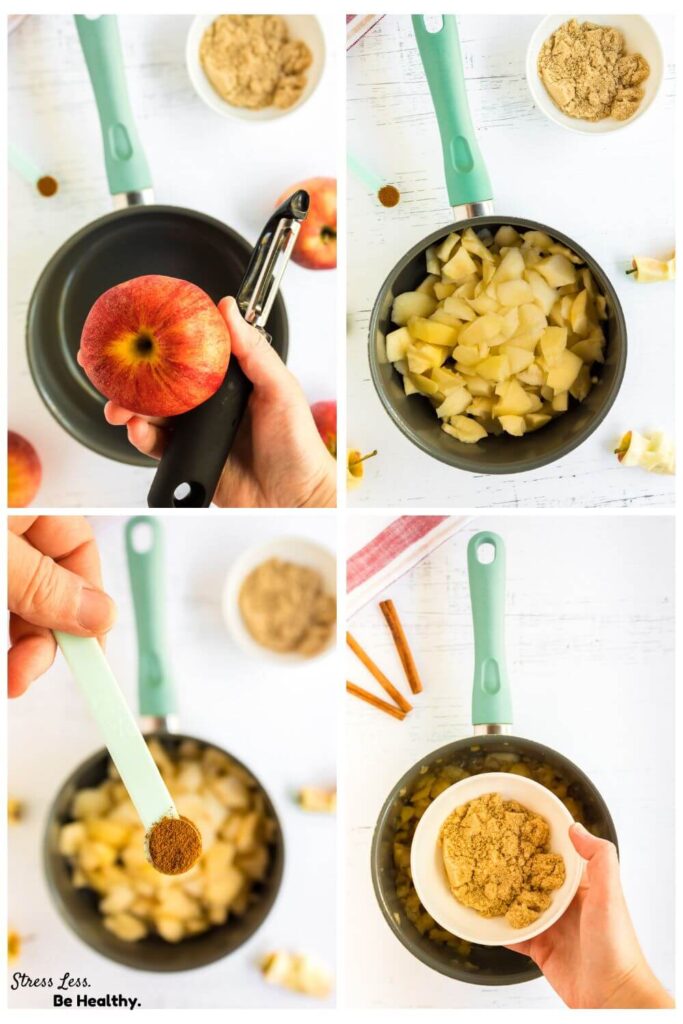 Then, cover the pot of apples with a lid and let boil until the apples are soft.
This can take up to an hour or more if you have it set to medium heat, which is what I do.
You could also add in the cinnamon at this time, or wait til the end. I usually add half in when the apples are boiling and the other half right before I add the brown sugar.
Remove any excess water when needed.
By this I mean that once in awhile, maybe every 10 to 15 minutes, check the water to see if there's too much. If you're able to press your measuring cup into the apples and water fills the cup at all; remove the water from the pot. This will prevent runny applesauce. We want this to be nice and chunky.
This is one of the secrets I have for making delicious applesauce.
The other secret I have is to whisk the apples into applesauce with a whisk.
When the apples are soft, whisk them to see if it'll turn into applesauce. If the apple pieces don't separate well enough yet, keep boiling and try whisking every 5 to 10 minutes til you can get a get consistency.
It is not going to be completely smooth and that's alright!
If you want your applesauce to be completely smooth, wait til all of the ingredients are added and the sauce is cool, then blend in a blender or food processor. I don't personally do this, though.
Once the consistency is good; stir in the brown sugar, and the rest of the cinnamon. Let cool, and Enjoy!!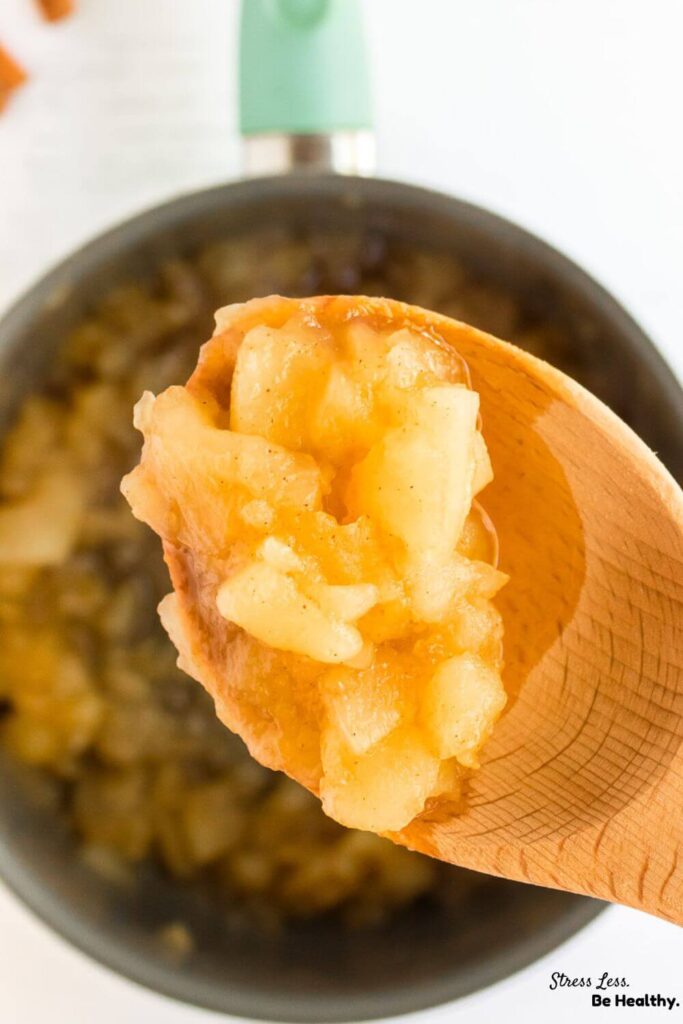 This is the perfect warming healthy snack recipe for the winter ahead of us. Or, anytime of the year!
When you have it once, and have it with kids, they'll start asking it for you all through out the year; yes, even summer!
It's also the perfect side dish to bring to a family gathering. You may need to double or triple the recipe, though!!
My Simple Homemade Applesauce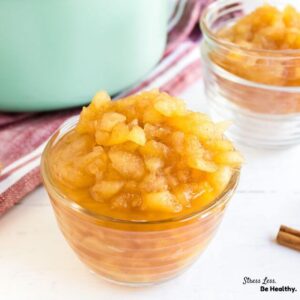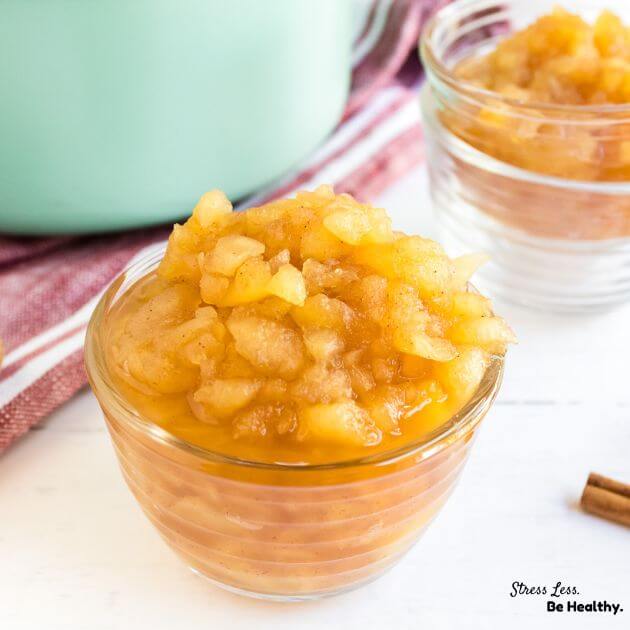 My Easy Homemade Applesauce (that you'll regret not making)!!
Delicious and Easy Homemade Applesauce that's chunky and that you and your kids will love! It will become a fall (or anytime) favorite!
Ingredients
10

Apples  

½ 

tsp

cinnamon

½

cup

brown sugar

water

enough to peek through the apples in the pot
Instructions
Start by peeling and chopping apples into cooking pot.

Then add enough water so that you can see it through the apples.

Boil the apples until they start to get soft (on medium heat; this can take up to an hour or longer).


Add in cinnamon and whisk. If apples aren't soft enough to break apart yet with the whisk, keep boiling.


Remove excess water as necessary to keep the applesauce from being too runny.


Once you can get the apples at a good consistency with whisking it, add in the brown sugar and stir(or whisk) it in.


Let cook and enjoy!!

Notes
*Store in fridge for 5-7 days.
*Feel free to add more or less cinnamon and sugar, as you desire.
-Nutmeg would be another good spice to add.
See, wasn't that simple! Make a double or triple batch to bring to a large family event; you'll need at least that much or they'll be begging you to make more!
How Long Will homemade applesauce last?
5-7 days in the fridge, longer in the freezer. Do not store on the counter.
Can you use any apples for applesauce?
Absolutely! I recommend gala, fuji, and honey crisp, but others also work just as well. Just know that any green apples will make apple sauce that is a bit more sour.
Do you need lemon juice for applesauce?
You do not! You can certainly add it if you'd like, as lemon juice helps apples from going bad. But cooking the apples and adding sugar, and then keeping it in the fridge is plenty for keeping this applesauce good.
Is homemade applesauce healthy?
Yes, well, it depends on the amount of sugar you use; the more sugar used, the less healthy it will be.
Do you have to refrigerate homemade applesauce?
Yes, unless you know better and how to can it without refrigerating it, please refrigerate your homemade applesauce!
---
More Apple Recipes and Snacks:
Apple Spice Energy Bites (the Perfect Energy Bites for Autumn)
13 of the BEST SIMPLE After School Snacks for Kids
Surprisingly Delicious Healthy Apple Muffin Recipe!!!
More Super Simple Recipes:
Simple Homemade Vegan Banana Bread Recipe
The Easiest Vegan Oatmeal Pancakes (no eggs, no milk, no banana)
---
Be sure to save My Easy Homemade Applesauce (that you'll regret not making)!! on Pinterest and Share with friends and family on Facebook so they can make this, too!