*Disclosure: some links may contain affiliate links. For more information on what this means, visit my disclosure page.
This homemade, easy to make vegan caramel sauce is rich, decadent, and super sweet! It tastes almost like store bought, but is way healthier!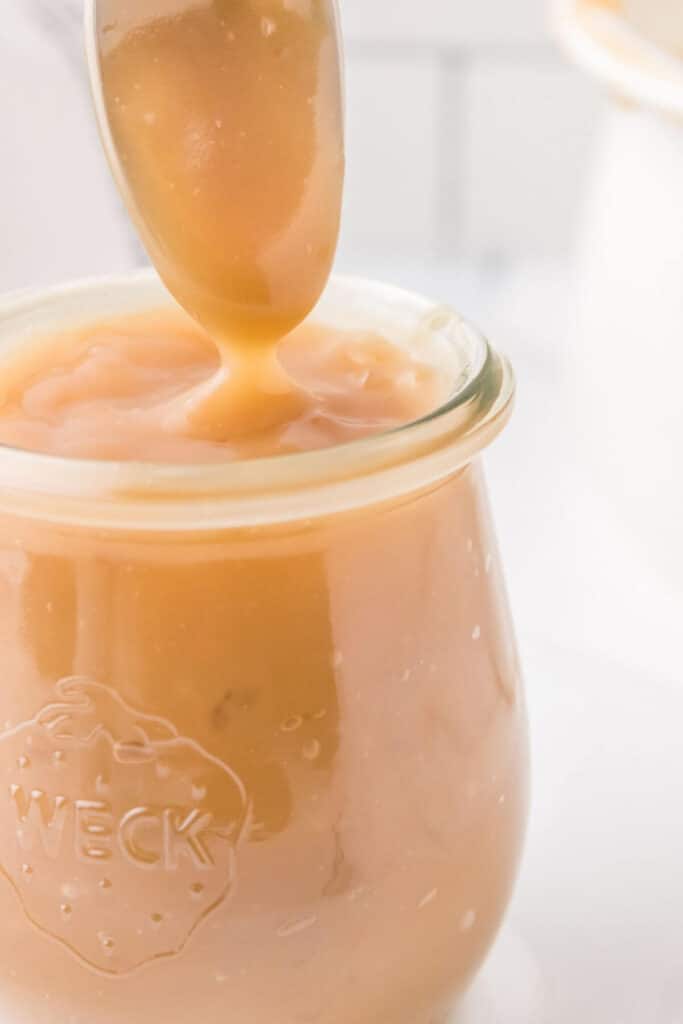 This dairy-free caramel sauce would go great with this ice cream sundae, apple burritos, and even this vegan French toast recipe!
Ingredients You'll Need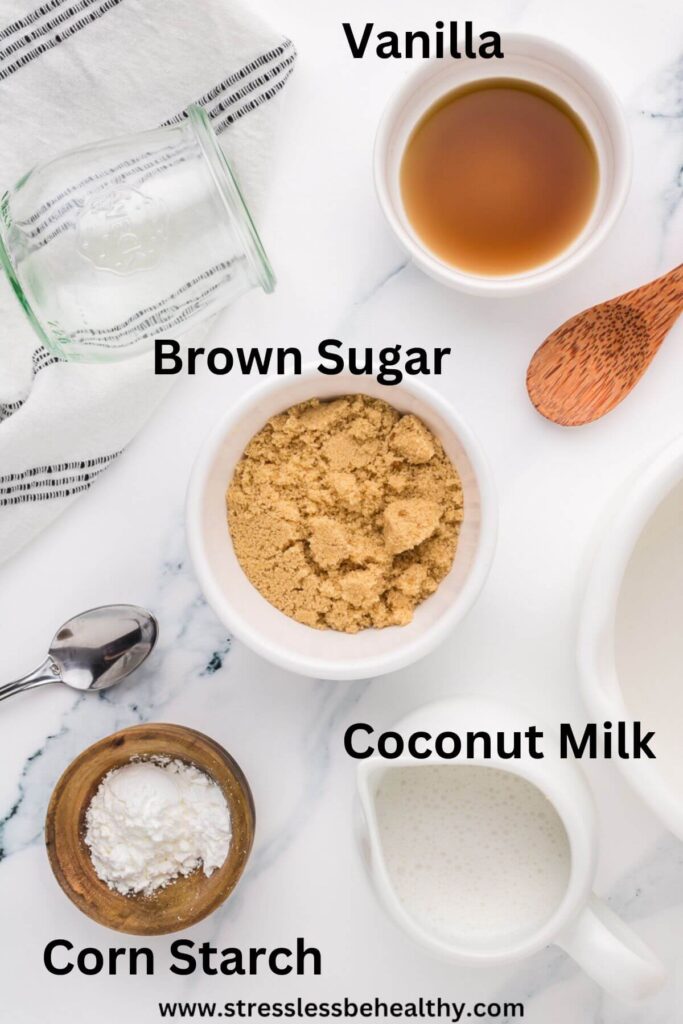 Coconut Milk: This caramel sauce calls for full fat coconut milk, the kind you would find in a can, or shelf stable – not the kind you would find in the milk section of the store. It's also important to note that this recipe will not work with coconut water, it needs to be full fat coconut milk (not even lite coconut milk).
Brown Sugar: Brown sugar works best in this recipe as it helps with making the color caramel-y, as well as sweetens the sauce.
Cornstarch: Cornstarch is needed to help thicken the sauce. It does a good job of thickening while setting in the fridge, but without the cornstarch, it would stay a bit too thin.
Vanilla Extract: Vanilla is optional, but it takes the flavor of this sauce to a new level and helps make it decadent!
Substitutions/Additions/Toppings
Sugar: The type of sugar in this recipe can easily be changed. The next best sugar would be coconut sugar, but white sugar also works (however, the color may be lighter once set).
Sea Salt: If you're looking for a salted caramel sauce, feel free to add ¼ to ¾ teaspoon sea salt to the caramel sauce either while cooking or once done, add in with the vanilla, to make this a vegan salted caramel sauce!
How to Make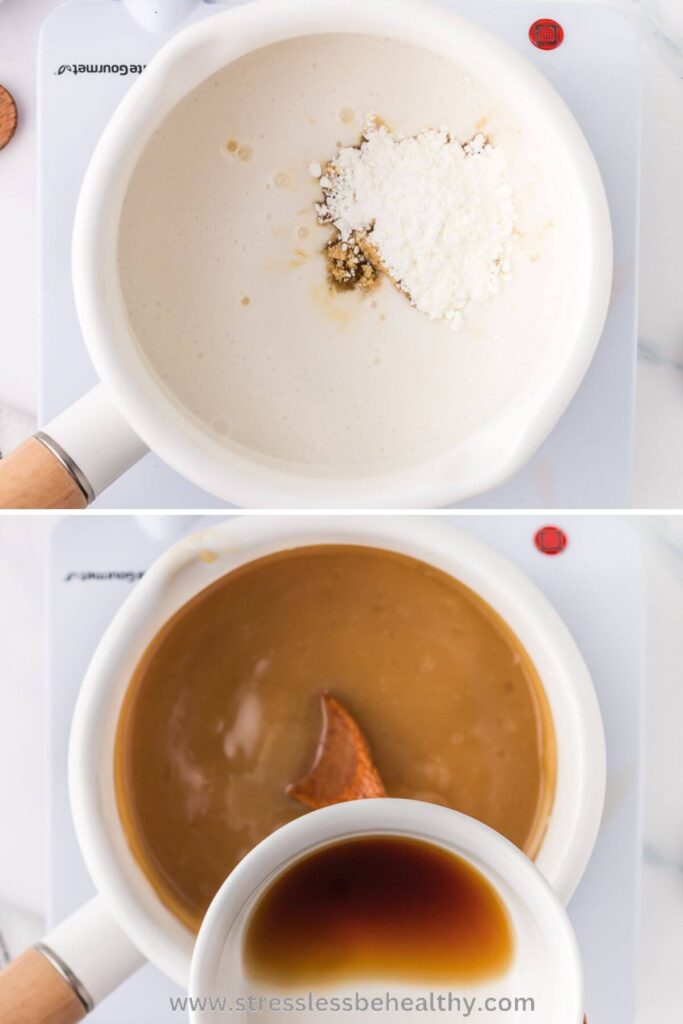 Step one: Whisk coconut milk, sugar, and cornstarch on medium heat until it thickens. This should take anywhere from 10-13 minutes.
Step two: Stir in vanilla and enjoy over ice cream, apple burritos, fruit, and more!
Expert Tips
If the sauce starts to boil, be sure to turn the heat down.
Stirring constantly will help it thicken and ensure no lumps from the cornstarch.
If it still seems too thin after 10-13 minutes, pour into a glass jar and allow to set in the fridge.
If the caramel sauce gets too thick in the fridge, heat it up in the microwave for about 30 seconds to get it drizzling again!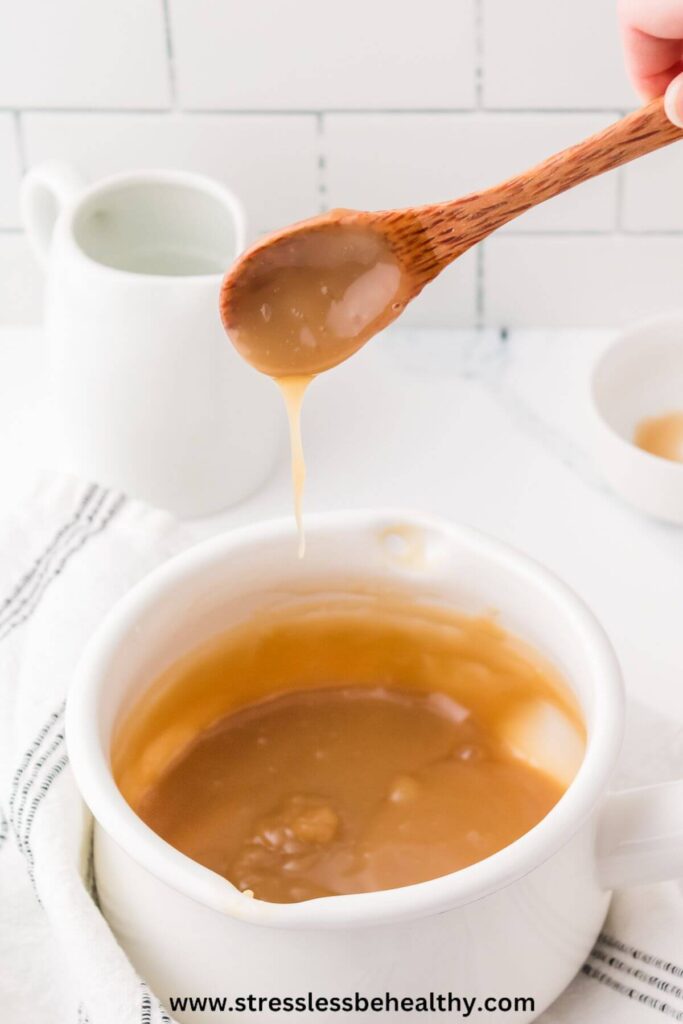 How to Serve
Vegan caramel sauce is best served warm, drizzling over your favorite dessert!
Drizzle it over non-dairy ice cream, on pies, tarts, cakes, and more! You can even bake it into muffins or quick breads for a swirl of sweetness!
More ways to enjoy it are:
On pancakes or vegan French toast
In coffee
Drizzled over pretzels
In non-dairy yogurt or in yogurt bark
In oatmeal
With fruit, like apples
On top of cake
In energy bites
And more!
One of my favorite ways to use this vegan caramel sauce is on top of my apple enchiladas (or apple pie burritos), that is actually why I decided to come up with my own caramel sauce, to drizzle on top of that!
How to Store
Fridge: This caramel sauce stays good for up to a week in the fridge in an airtight container.
Freezer: Stores in the freezer in a freezer safe container for up to one month.
What is vegan caramel made of?
Vegan caramel sauces can be made in different ways with different types of ingredients. But in general, they need a type of vegan milk or cream, vanilla, sugar (or dates), and some type of ingredient that will thicken it, such as cornstarch or arrowroot.

Why is caramel sauce not vegan?
Store bought caramel sauce usually contains dairy, and is therefore not vegan. Luckily there are some vegan brands that sell caramel sauce, or you can easily make the recipe below for much cheaper!
Is Ghirardelli caramel sauce vegan?

No, unfortunately they use skim milk and heavy cream in their caramel sauce, so it is not vegan.

Is Werther's caramel vegan?

No! They use condensed skim milk, cream, whey, and butter in their caramels, so they are not vegan.

What should I do if the caramel sauce starts to separate while cooking?
This shouldn't happen, but if it does, whisk well and turn the heat down or off for a bit. Then turn the heat back on to help it come back together and then let set in the fridge to firm up. I have never had this issue though.
More Recipes You'll Love
Check out the Web Story HERE.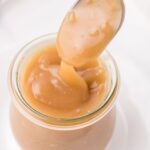 Vegan Caramel Sauce
Rich, sweet, and caramel-y! This vegan caramel sauce almost tastes just like the store bought, you'll barely be able to tell the difference!
Ingredients
1

cup

Coconut Milk

from can or shelf-stable

1/2

cup + 2 tablespoons

Brown Sugar

1 1/2

tablespoon

Cornstarch

2

teaspoons

Vanilla Extract
Instructions
Pour your coconut milk, sugar, and cornstarch into a small saucepan and cook on medium heat.

Whisk constantly to avoid lumps in the caramel sauce, turn to medium/low heat if it starts to bubble.

After about 10 minutes it should start to thicken, add the vanilla and remove from the heat.

Allow to cool and enjoy. If too thin, allow to 'set' in the fridge before enjoying!
Recipe Video
Recipe Notes
*If too thick after setting in the fridge, microwave for about 30 seconds.
This recipe makes about 3/4 cup of caramel sauce.
Calories are based on 1/6th of the final recipe- about 2 tablespoons. Calorie amount is estimated and may vary, please use your own calculations if necessary.