*Disclosure: some links may contain affiliate links. For more information on what this means, visit my disclosure page.
You're going to love these easy and delicious stovetop Candied Cashews! With only 3 simple ingredients, they can be made in less than half an hour. Dairy free, egg-free, and vegan- they will please everyone any day and would also make a great holiday gift in a decorated mason jar!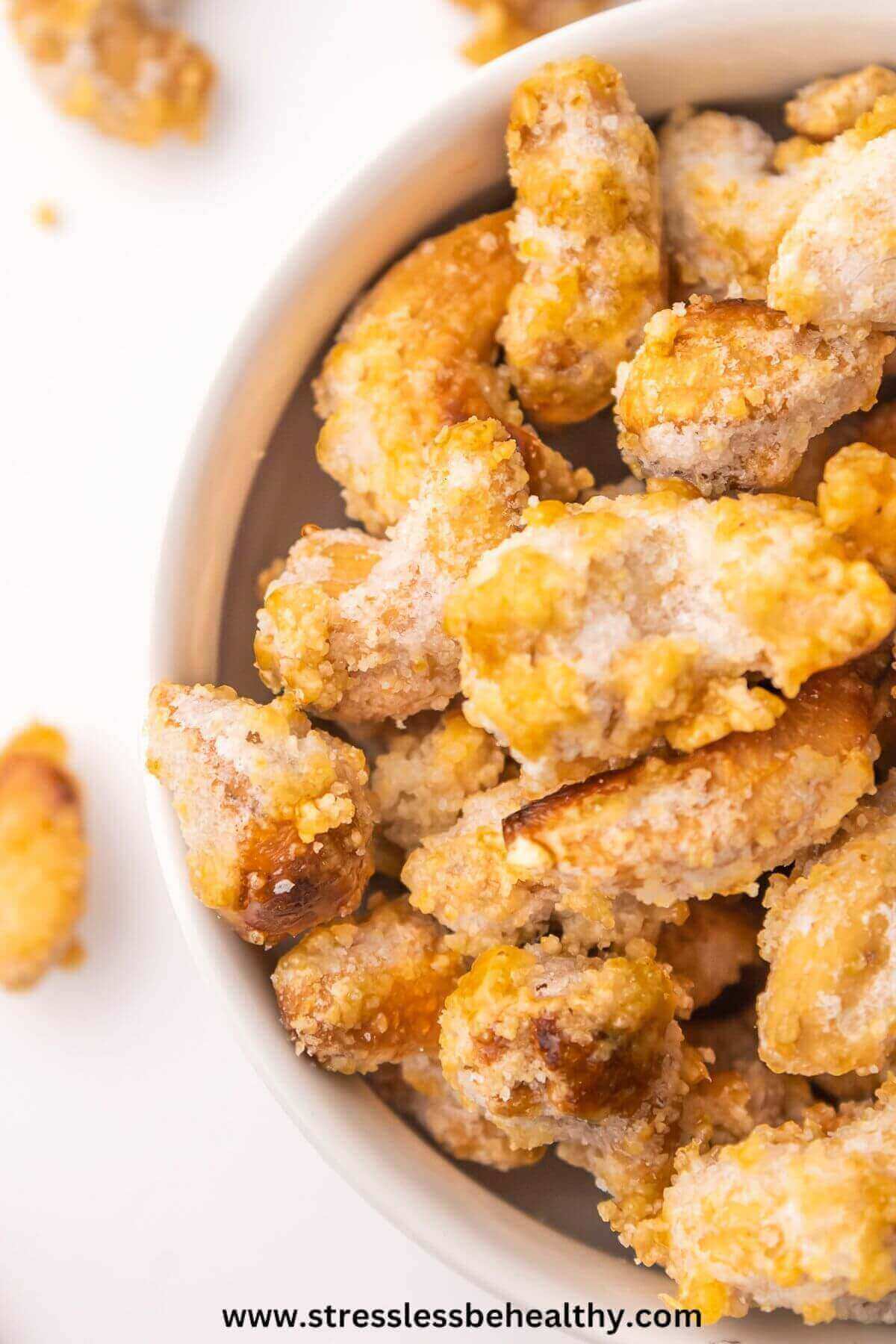 This candied cashew recipe is a huge hit for snack time in my house, especially around the Holiday season when I'm also making candied pecans (my husbands favorite)! Other recipes we love for snacks that are similar to this recipe are my vegan muddy buddies and homemade Cinnamon Toast Crunch Cereal!
Ingredients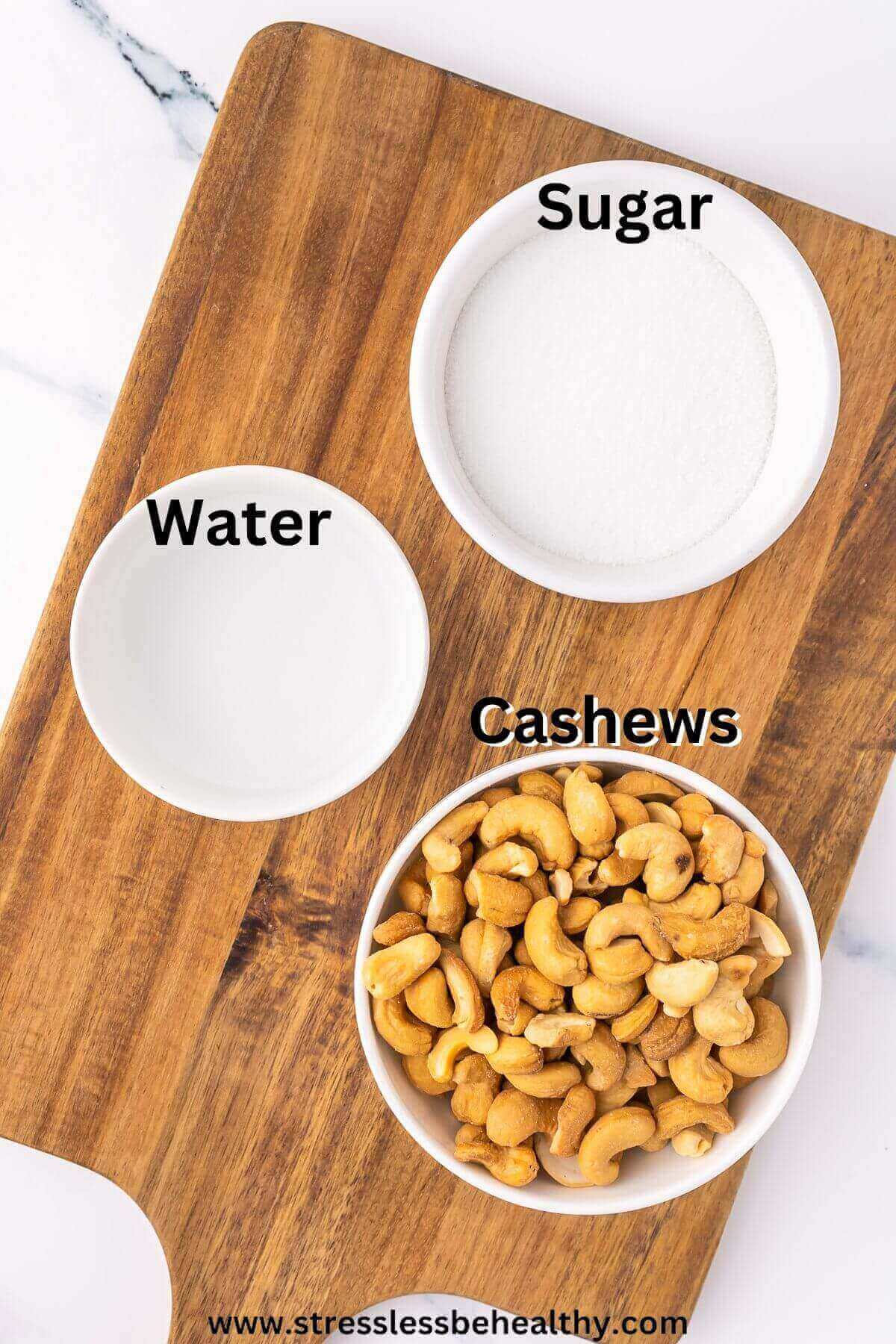 Cashews: Both roasted & salted or raw (but obviously lightly roasted from the store, as all nuts tend to be, even if not noted on the package) cashews are excellent choices for this recipe! Cashews that should not be used would be any cashews that include weird flavorings, or that contain honey (as this is a vegan recipe and honey is technically not vegan).
Sugar: This recipe uses white granulated sugar. Be sure the sugar you choose is vegan, most are now, but some may not be (the ones that aren't are due to the way it's processed). Other sugars also work and are listed below.
Water: Water is water. Just don't use flavored water and make sure the water you use is clean.
Substitutions & Additions
Vanilla: If you're looking for an easy way to improve the flavor of these cashews, adding 1 teaspoon of vanilla will do the trick! Add at the same time as the water.
Brown Sugar: For a richer, less white sugar, flavor, try brown sugar! Using dark brown sugar will add a bit of molasses flavor to the cashews, making the flavor profile deeper and richer. Light brown sugar will also work and is half way between the white and dark brown sugar.
Other Sugars: Other sugars have not yet been tested with this recipe. However, coconut sugar may be another good alternative.
Cooking Candied Cashews on the Stove
Making these caramelized candied cashews is really simple!
If you're more of a paper and pencil type of person, feel free to print this recipe out below, from the recipe card!
Step One: Heat up a large pan on medium heat and add the water.
Step Two: Add the sugar and gently stir until all has dissolved.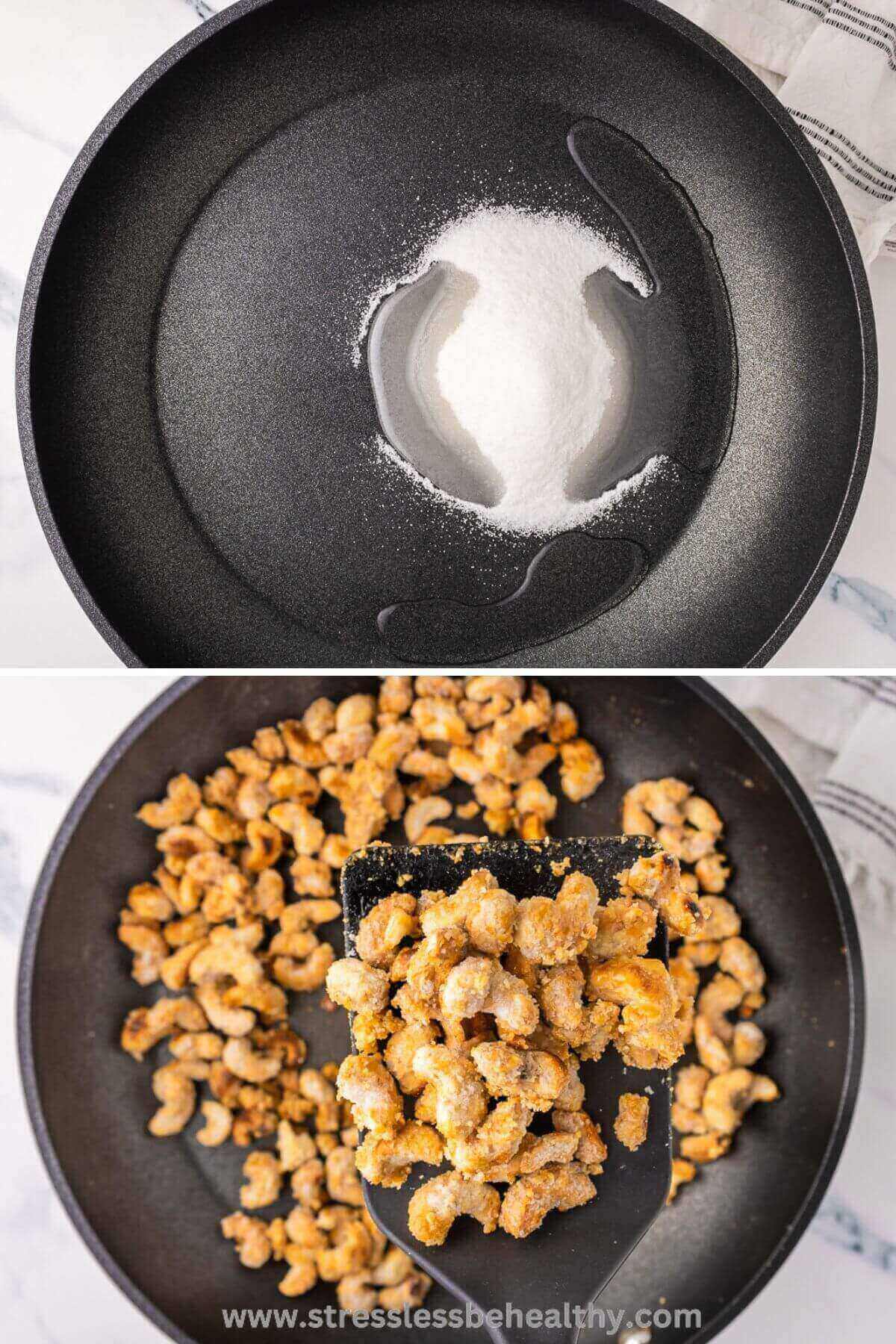 Step Three: Add the cashews and stir until well coated.
Step Four: Stir every few minutes until sugar crystalizes onto the cashews and then starts to caramelize.
Step Five: Allow to cool before enjoying!
Helpful Tips
This is a fairly simple recipe, however, it is possible to mess it up, just like with any recipe.
I only know this because I am a mom, and between going through the sleep deprivation part of parenthood 3 times with newborns and with teaching my kids to make food, any recipe can be messed up.
With that said, let's go over some tips and ways to prevent ingredients from being wasted.
Use the stovetop recipe in this post (there are cooking methods, but stovetop will give you the best results).
Make sure the water is bubbling before adding the sugar.
Make sure the sugar is liquified before adding the cashews.
DO NOT stir constantly; coat the cashews in the liquid sugar, then let sit 1-2 minutes before stirring, and continue stirring every 1-3 minutes until the cashews caramelize.
DO NOT leave the stove while cooking these.
When removing from the pan, when finished, place on a parchment lined cookie sheet to cool.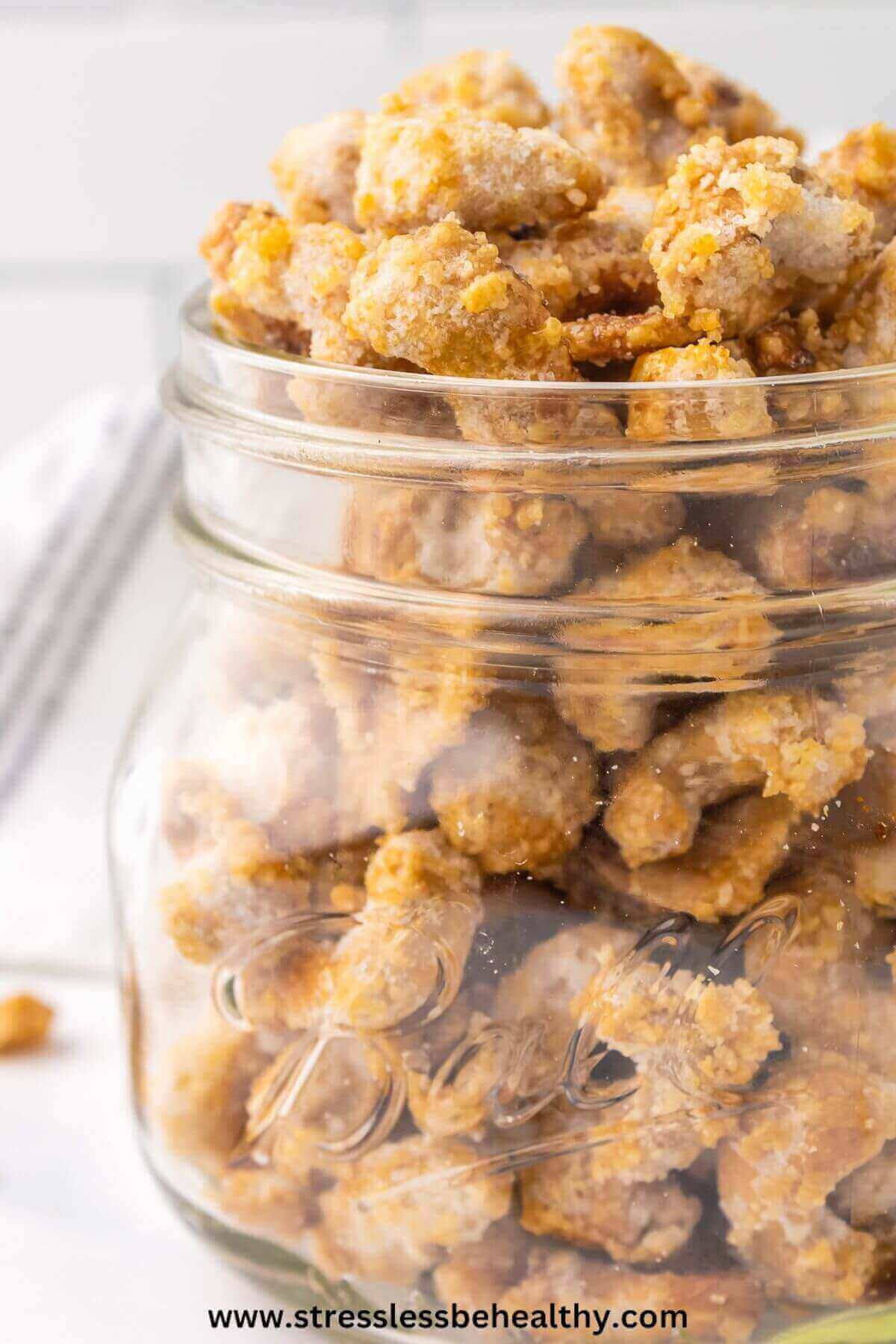 Alternative Ways to Make Candied Cashews
The easiest way to make candied cashew, with guaranteed delicious results, is the way described in this recipe, however, there are other ways to make them.
Some people like to make candied cashews in the oven.
If you'd prefer to make these in the oven then they may need some oil to help prevent them from drying out.
Directions for baking Candied Cashews in the Oven
Preheat the oven to 325℉ and line a cookie sheet with parchment paper.
Mix together 1 ½ to 2 cups cashews with 1 tablespoon melted coconut oil, 1 tablespoon maple syrup, and two tablespoons sugar (I use brown sugar for this). (Optional if using raw or unsalted cashews, add a pinch of salt.)
Pour the mixture on the parchment lined cookie sheet and bake for 10-12 minutes stirring halfway through, or every 4-5 minutes to make sure they get cooked evenly.
Allow to cool before enjoying.
This way may seem easier to some, but I can't seem to ever remember to stir the mixture in the oven while they're cooking.
Baking them in the oven also doesn't always lead to the best results; the sugar doesn't always crystalize or even stick to the cashews.
Cooking them on the stove, such as the recipe below, will ensure the best results for candied cashews; they'll be slightly caramelized and covered in sugar crystals, just the way they should be!
The recipe in this post, found below, will also force you to almost constantly be stirring the cashews on the stove, which helps make sure they don't burn and ensures that they turn out perfect every time!
It may also be possible to make these in an air fryer, contact me if you would like me to test this out!
How to Serve
The best way to eat these is by the handful as a snack!
You could also decorate a small mason jar, fill it up with these candied cashews and give as a nice homemade gift this Holiday season!
The fact that they are vegan should make it safe to give to just about anybody for Christmas (or another holiday), granted they aren't allergic to nuts or trying to avoid sugar.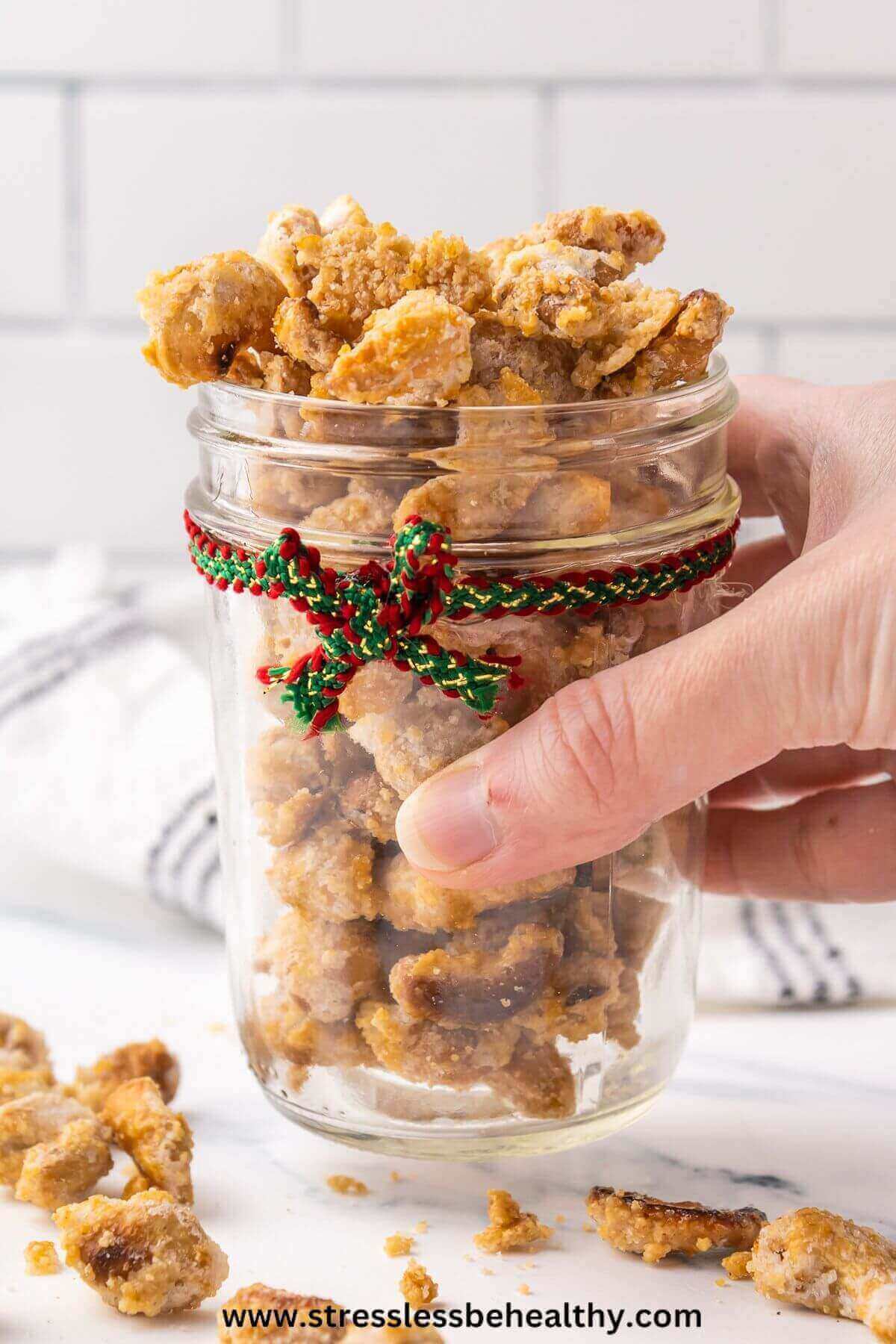 These candied nuts are so good by themselves, you don't really need to serve them with another food. They are more of a snack or to help quickly cure a sweet tooth craving.
However, you could enjoy them on top of ice cream, on salads (if looking to sweeten it up a bit with a crunch), crushed in cookie dough or other baked goods, in trail mix, on a charcuterie board, or even on top of yogurt or oatmeal!
How to Store Candied Nuts
Room Temperature: Store in an airtight container, preferably glass, for 2-4 weeks. I personally can guarantee 1-2 weeks (my family loves them and I haven't been able to get them to stay away from them longer than this), but others have said they are still good at 4 weeks.
You will know if they've gone bad if the cashews taste bitter inside.
I love storing them in these cute little mason jars!
Freezer: I have not had a chance to attempt freezing these myself, but if you are to freeze these be sure you let them cool down completely and store in a freezer safe bag. I've heard they last for 2 months in the freezer, but can not personally guarantee this.
FAQ's
Should cashews be soaked before adding into this recipe?
No! You do not and should not soak cashews before making stovetop candied cashews.
When will I know when to add the cashews?
Be sure to add the cashews once the sugar has turned to a liquid.
Should I stir the cashews constantly, I've been trying to but then the sugar doesn't crystalize?
No need to stir constantly! The cashews need a little time staying still to help accumulate the sugar onto it and then crystalize.
How will I know when these are done?
You'll know these are done cooking when they start to golden. This will be after the sugar has crystalized and some sugar may start to turn back to a dark golden liquid.
How do I store these?
These are best stored in a glass jar with a tight lid at room temperature. They should last for up to at least 2 weeks, possibly longer, but my family and I can't seem to go a full 2 weeks without eating them all!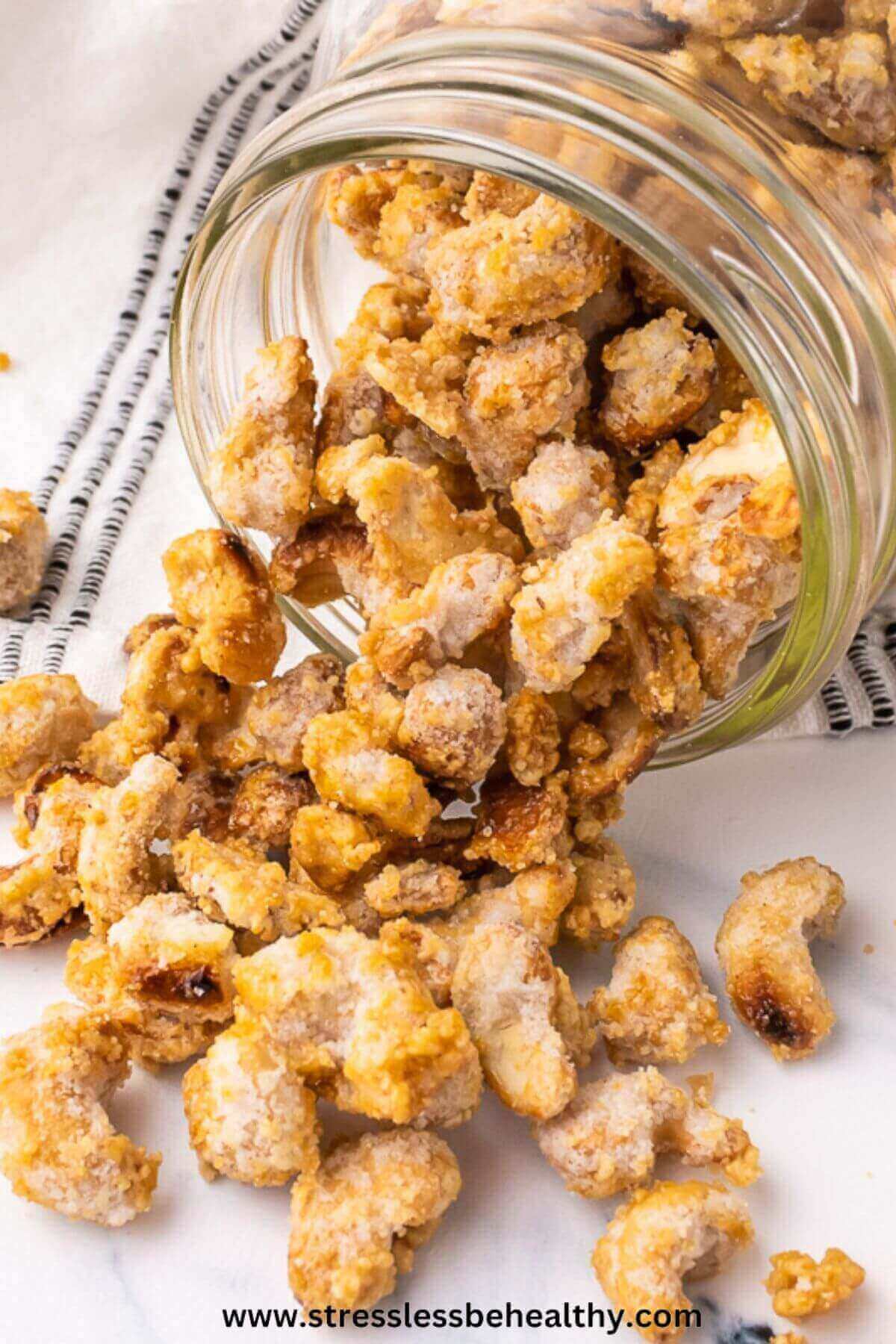 More Recipes You'll Love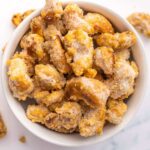 Easy Stovetop Candied Cashews (Vegan, No Egg)
Everyone will love these candied cashews! They're easy to make, sweet with a bit of a crunch, and they're vegan friendly so you can feel good making these and sending them off as Holiday Gifts (after you enjoy some first)!
Ingredients
2

tablespoon

Water

1/2

cup

White Sugar

1 1/2

cups

Cashews

whole
Instructions
Heat a large pan (or skillet) on medium heat and add the water.

Once the water starts to bubble, add the sugar and melt, stir constantly.

Once the sugar is liquid, add in the nuts, stir to coat and let the sugar crystallize, scraping the pan to prevent the nuts from sticking to it.

Remove from pan and allow to cool before enjoying.
Recipe Notes
This recipe works well with white or brown sugar, other types of sugar have not been tested. The sugar can not be omitted.
Roasted & salted or unroasted/unsalted cashews both work excellently for this recipe. Choose roasted if you want a stronger salty & sweet snack, unroasted/unsalted if you're looking for a more sweet of a treat, without much salty flavor.
*Calories are an estimate based on 12 servings (approximately one handful per serving), amount of calories will vary, please do your own calculations if required.
*This recipe makes a total of 1 1/2 cups of candied cashews.