*Disclosure: some links may contain affiliate links (meaning if you end up purchasing something when you click on the link then I may get a commission on it, with no extra cost to you, of course). For more information on what this means, visit my disclosure page.
Classic Trail Mix Recipe
In this article you will find a delicious classic trail mix recipe that even non-vegans will love! Honestly, they probably won't even realize it's not vegan!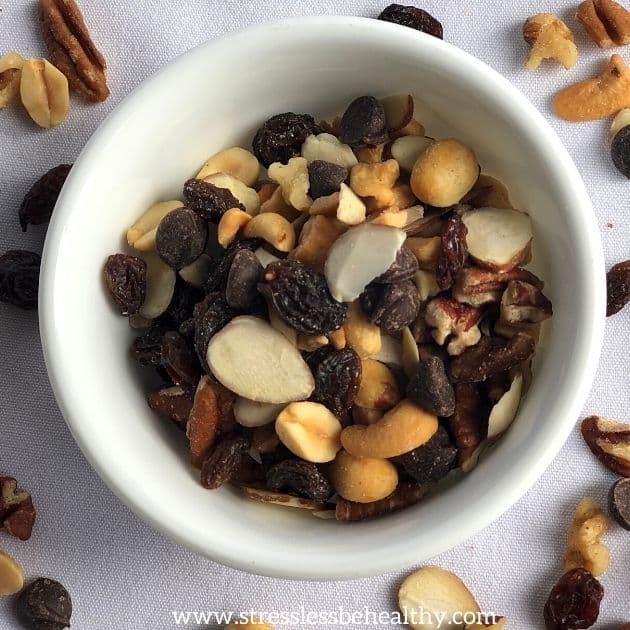 Trail mix is not something I really had as a child.
Sure, I'd see it at the stores, usually with m&m's mixed into it. But I don't think my mom ever bought it.
And to be honest, I don't remember ever eating nuts and seeds as a kid, unless it was peanut butter. Though, I was never made to eat veggies either…
MY KIDS, on the other hand, have been growing up with trail mix in their life and in their diet!
They LOVE trail mix! Of course they love some nuts and seeds more than others, and the dried fruit is their favorite.
But they have trail mix just about every other day, trading off with some type of energy bites and the other days!
What can I say, we love snacks!
And, snacks like trail mix are great, they are;
easy to grab and go
can be made by kids
are super nutrient dense!
The super simple recipe for trail mix that I make for my girls is below, though sometimes we add craisins (dried cranberries) in, too!
Want to Remember This? Pin Classic Trail Mix Recipe to your favorite Pinterest Board!!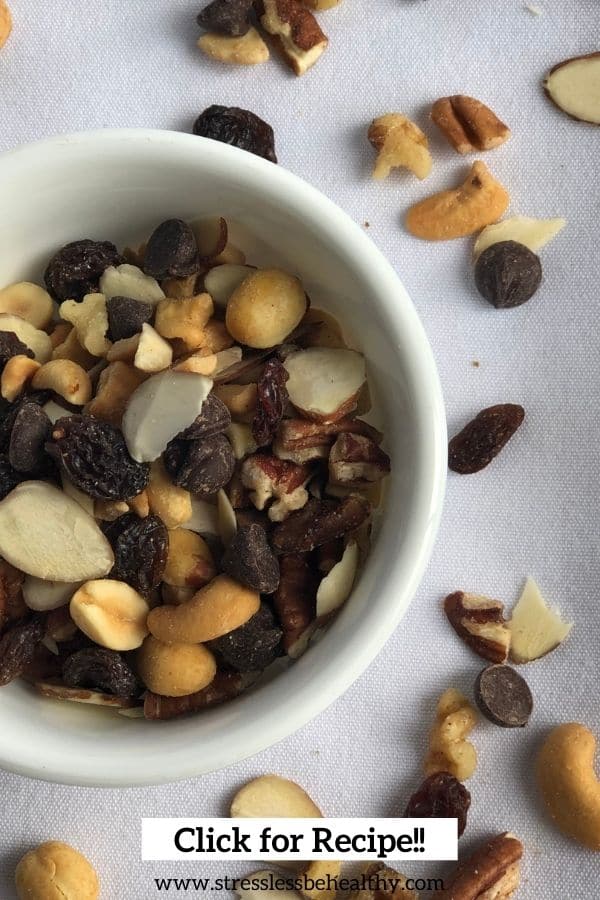 How to Make This Classic Trail Mix Recipe
Trail mix is probably one of the easiest foods to make.
You literally measure out the ingredients you want…
Pour them into a container big enough to fit them all…
Shake it all about, and enjoy!
This recipe calls for a 1/4 of each of;
cashews
peanuts
chocolate chips
raisins
chopped walnuts
almond slices
chopped pecans
And you can even throw in some craisins if you want!
A few Notes and Q&A About Trail Mix
Before making any trail mix, if you have a child with any nut allergy, be sure to either omit that nut entirely while making this, or make theirs completely separate and before making everyone else's. Though, I'm sure I didn't need to tell you that.
Also, do not give nuts to infants or toddlers who won't be able to chew the nuts up well enough to not choke on them.
I only very recently started giving my 15 month old ground up nuts in tiny energy bites that you can find here; that way she could get all the nutrients from nuts without as much of a choking hazard. Do note that my 15 month old did baby led weaning, so she learned how to chew sooner than if she was fed purees. If I remember correctly, I didn't give my other daughters nuts til they were at least 2; they did not do baby led weaning.
What is usually in trail mix?
Trail mix usually consists of nuts and dried fruit.
That is the simplest a trail mix will be.
Fortunately, there are tons of different ways you can make trail mix and you can customize it to your liking!
Items in trail mix may include;
chocolate chips/chunks
raisins
dried cranberries
other dried fruit
nuts
seeds
colored candies
small pretzels
some cereals
and possibly even more!
What is a good trail mix?
A good trail mix will have a mixture of sweet and salty foods in them.
A good trail mix will also be loaded with calories, fat, protein, and carbs (with the dried fruit) to help you keep your energy up and feel full.
It's a perfect snack for a run, a hike, a long car ride, or for everyday!
Is it cheaper to make your own trail mix?
Absolutely!
Of course, the initial grocery trip getting all of the nuts, seeds, dried fruit, etc. is not going to be cheap. But, if you buy in bulk then you'll be able to make tons more trail mix much cheaper (and healthier) than if you bought premade trail mix at the store.
To make buying all of the ingredients for trail mix cheaper, try buying one type of nut and dried fruit/ other cheaper add in per week. Otherwise you might freak out seeing a $100 grocery bill just on trail mix ingredients (depending on how many ingredients you bought)!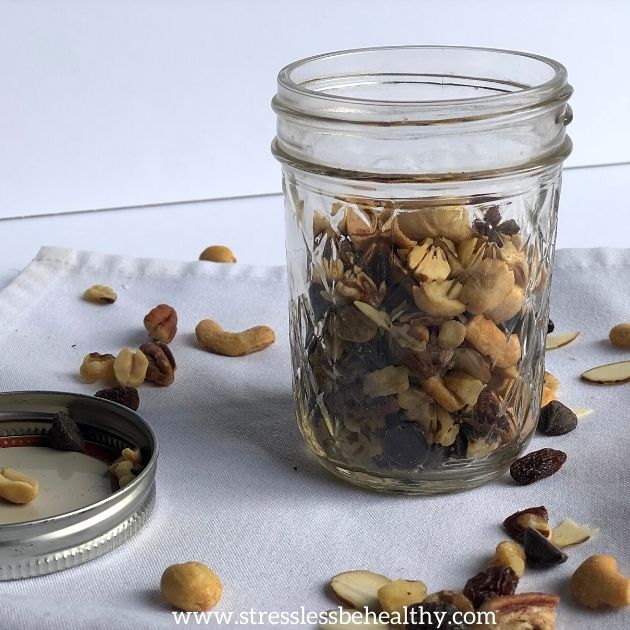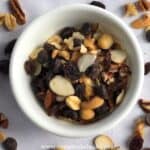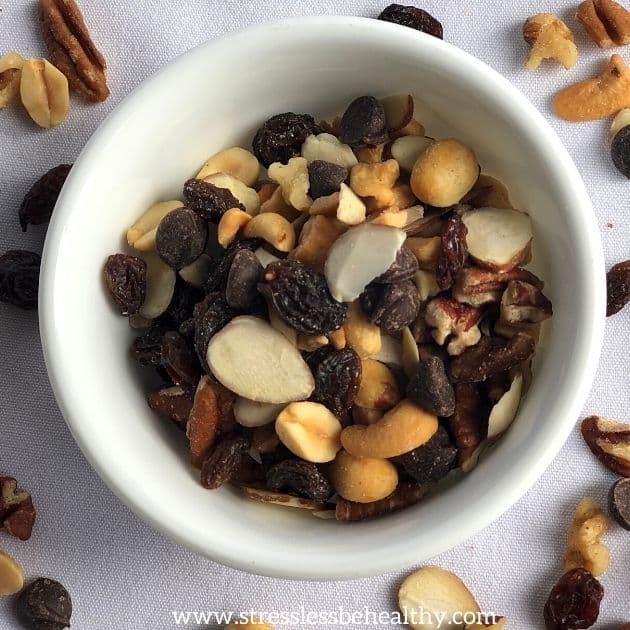 Classic Trail Mix Recipe
This trail mix is the perfect combination of salty and sweet, satiating and delicious! A great snack for on the go, or to put into small containers for an easy snack for your kids to get by themselves!
Ingredients
¼

cup

Cashews

¼

cup

Peanuts

¼

cup

Chocolate Chips

¼

cup

Raisins

¼

cup

Chopped Walnuts

¼

cup

Sliced Almonds

¼

cup

Chopped Pecans
Instructions
Get out all ingredients and a container to keep the trail mix in.

Measure out all ingredients and pour into the container; shake well to mix everything up and enjoy!¼

(Optional) Divide into smaller containers as an easy to grab snack for your kids!
Recipe Notes
*1 serving = 1/4 cup
Feel free to sub in any other nut or dried fruit!
If you enjoyed this recipe, you may also like: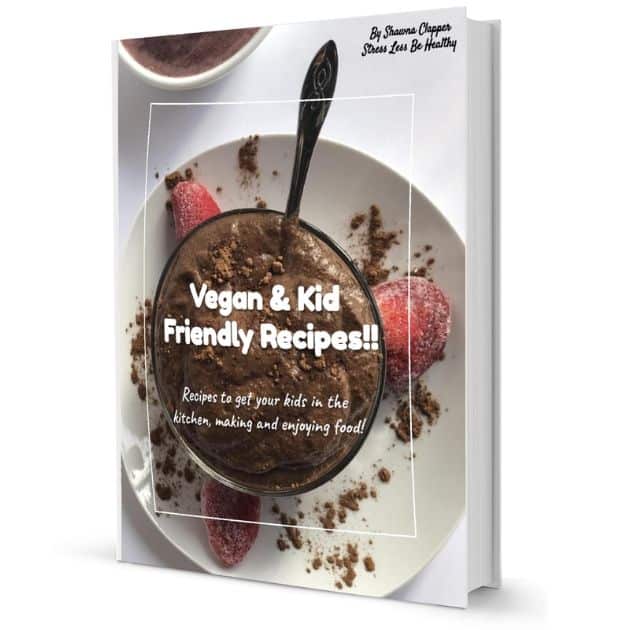 Want to Remember This? Pin Classic Trail Mix Recipe to your favorite Pinterest Board!!