*Disclosure: some links may contain affiliate links (meaning if you end up purchasing something when you click on the link then I may get a commission on it, with no extra cost to you, of course). For more information on what this means, visit my disclosure page.
Cranberry Energy Bites (Kid Friendly Vegan Snack To Go!)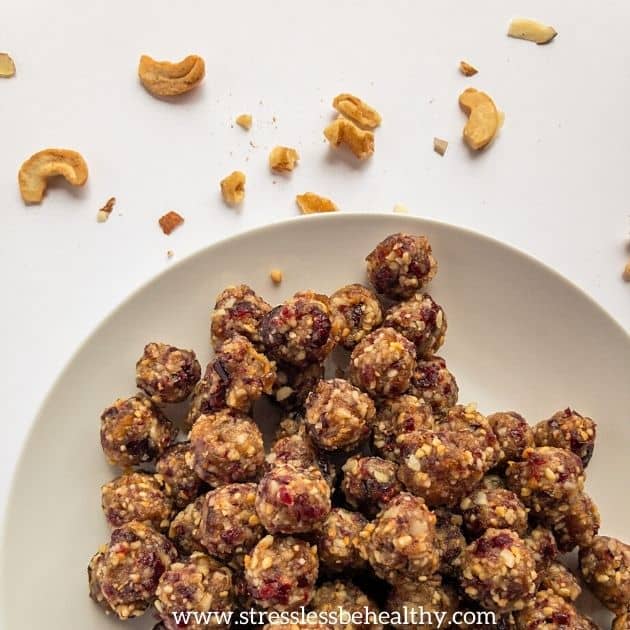 In this article you will find a nutrient dense healthy snack for kids and adults! These cranberry energy bites are vegan friendly and could be considered a high protein vegan snack, also high in omega-3's!
Do your kids love energy bites?
Do you love getting vital nutrients into your kids with snacks they love?
Are you struggling finding snacks they love that are also packed full of nutrients?
Well, fear not! These energy bites are just what you need!!
Ok, so in all seriousness, these cranberry almond energy bites are amazing!
They are sweetened with dates and cranberries, so no worrying about refined sugars.
The rest of the ingredients are nuts, vanilla extract, and water!
So, if you're looking for a super healthy snack with healthy protein and fats, that kids will love (this is the important part, am I right?) then keep reading for the recipe!
Want to Remember This? Pin Cranberry Energy Bites (Kid Friendly Vegan Snack To Go!) to your favorite Pinterest Board!!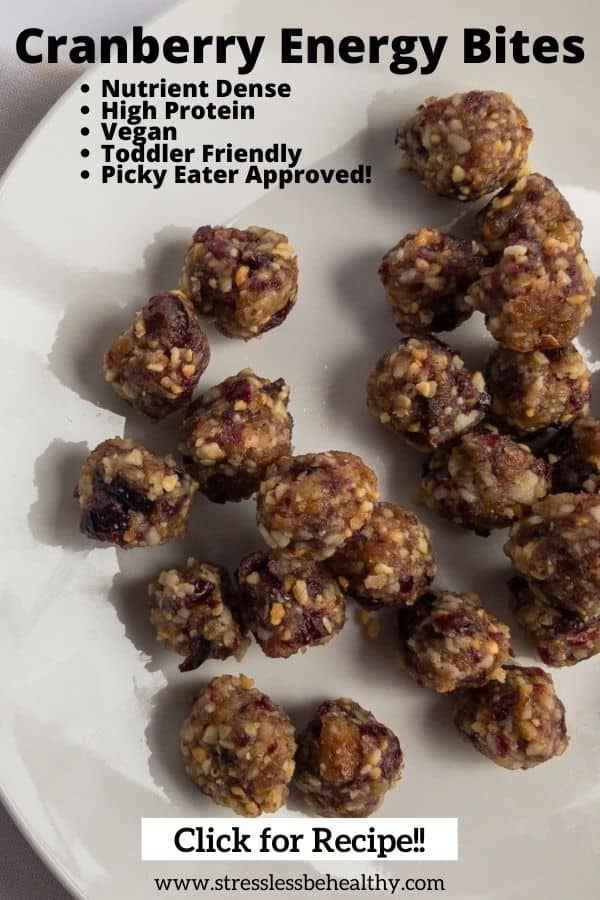 What Makes These Dried Cranberry Snacks So Great?
Kids love these energy balls!
And you will too!
They're made in a food processor and the nuts are ground fine enough that I felt comfortable giving them to my toddler. She did baby led weaning, so up to you if you feed them to your toddler or not; I know the feeling of little ones trying new foods!
They are picky eater approved; I have an official picky eater in the house. And no, it's not just a phase with her; we're working through it, and I have an arsenal of tricks up my sleeves to help with picky eaters now because of it.
They are parent approved!!! Yay!!
Seriously, there's nothing 'bad' in these little bites.
There are walnuts, which are an excellent vegan source of omega-3 fatty acids. (Omega-3's don't just come from fish!)
Almonds are also included in the recipe and are an excellent source of calcium, and we all know growing kids need more of that! (They don't need to get their calcium from milk!)
AND, one strategy I've used to make them extra picky eater friendly for kids, at least for girls, is by making them super small; they are 'baby' energy balls!
I don't know about your kids, but mine love anything if I say it's a baby of whatever it is.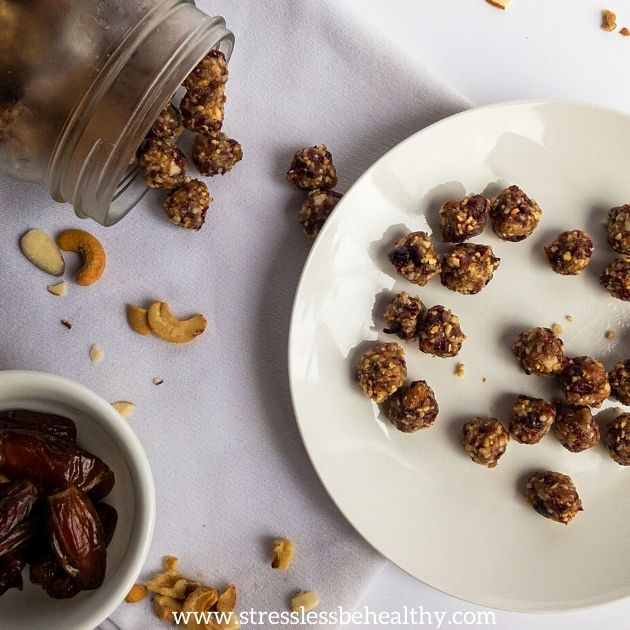 How to Make Cranberry Energy Bites
The first thing you need to do to make these is process all of the nuts (cashews, almonds, and walnuts) in a food processor until they are in tiny pieces.
They should be well ground, and for the last few seconds, you may need to use the pulse feature if your food processor has it (this is the one I have). You'll need to be sure not to turn it into a nut butter!
Once the nuts are ground, add the cranberries and dates into the food processor and process again.
This time you'll know you're done once the mixture starts to stick a little. It won't be able to be pinched together very well at this time, but it will start to feel like it might.
Then add the water and vanilla.
Process.
Once it's sticking, it's ready to be squished into little energy balls.
Now comes the fun part! And the part that you can certainly have your kids help with, if they haven't been helping the entire time.
Roll the nut/dried fruit mixture into tiny balls!
Be sure to wash hands first and dry your hands well.
It works best with dry hands, and you'll mostly be using your finger tips to pinch the mixture into cute little bite sized snacks.
Place them on a plate as you're making them and chill in the fridge before eating or storing them.
They can be stored in the fridge for up to a week. Possibly longer, but I can't keep even one saved for more than a week; my girls eat them right up within 2-5 days. They'd eat them all the day I made them if I let them!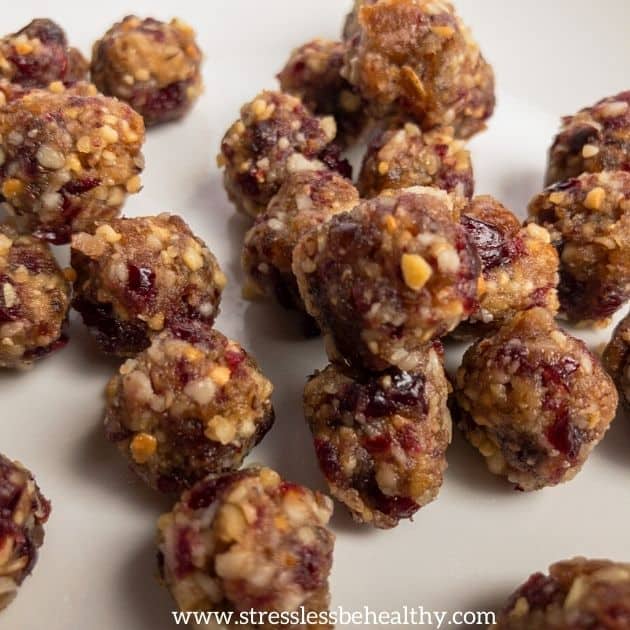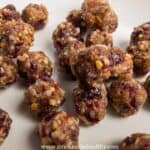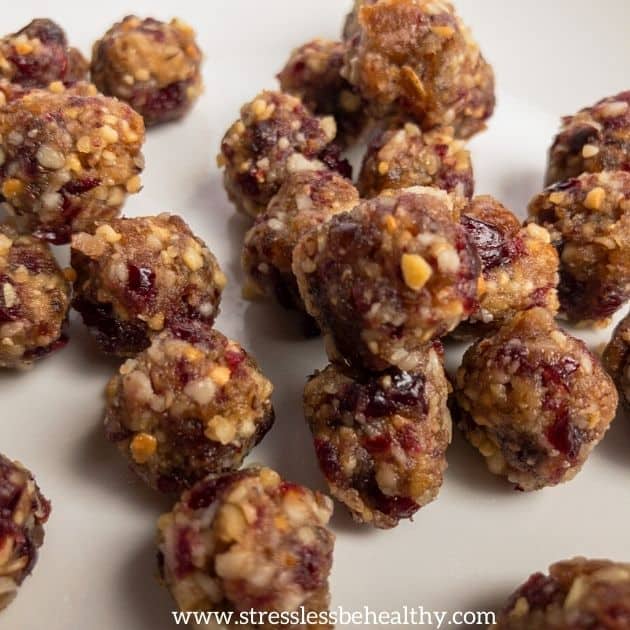 Cranberry Energy Bites
Your kids will love these high protein, nutrient dense energy bites that taste like candy!
Ingredients
½

cup

cashews

½

cup

walnuts

½

cup

sliced almonds

½

cup

dried cranberries

½

cup

dates

½

tsp

vanilla

(optional)

1

tbsp

water
Instructions
Process all of the nuts in a food processor til well ground, but be careful not to turn into nut butter

Add in dried cranberries and dates; process til everything starts to slightly stick

Add in water and vanilla and process til well blended

Let chill in the fridge for at least an hour. Enjoy!
Recipe Notes
*Store in fridge for up to one week.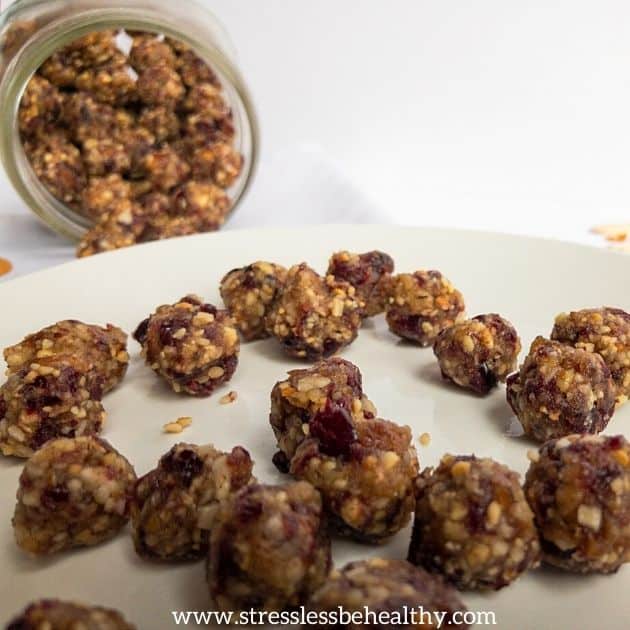 Find more Energy Ball and Cranberry Recipes below:
Want to Remember This? Pin Cranberry Energy Bites (Kid Friendly Vegan Snack To Go!) to your favorite Pinterest Board!!